Have you ever wondered how to capture the moments of the intimacy of a bride or groom who have a disability? A disability doesn't make a person any less of a human. And that is the key point to remember while you photograph someone who is in a wheelchair.
If you're a professional wedding photographer, you'll come across different types of couples with varied concerns. Physical disability of the bride or the groom could be one such concern that photographers need to address creatively. Wheelchair wedding photography is a challenge in itself.
But that should not deter you from trying out new poses, style, and angles on to capture the couple in the best possible manner. In this mini-guide, we will share some tips to confidently and gracefully photograph a bride or groom in a wheelchair.
Never focus on the disability
A disability is not a choice. It is something natural. So, as a wedding photographer, you should never focus on someone's disability. Shoot the photos as normally as you would with your other clients.
Encourage your client to give amazing wedding poses. Relax and make them comfortable for the shoot. Remember not to highlight their disability as a weakness, but rather think of creative angles to draw focus away from it.
Understand their view
Your client would have thought about different wedding poses and photograph styles beforehand. It is highly recommended that you listen to their ideas and brainstorm wedding poses together. This will not only make them feel comfortable but will show that you care for them and understand their challenges.
Capture the wedding outfits
More often than not, a bride or groom in a wheelchair may wear a custom-made outfit. Don't forget to shoot the couples dresses and shoes before the wedding. The outfits can be a little different from others, hence capture them in an innovative way.
Apart from dresses and shoes, shoot the bride's jewellery too. Highlight the way they prep-up for their wedding look by capturing the bride's makeup session or the groom's friends getting him ready.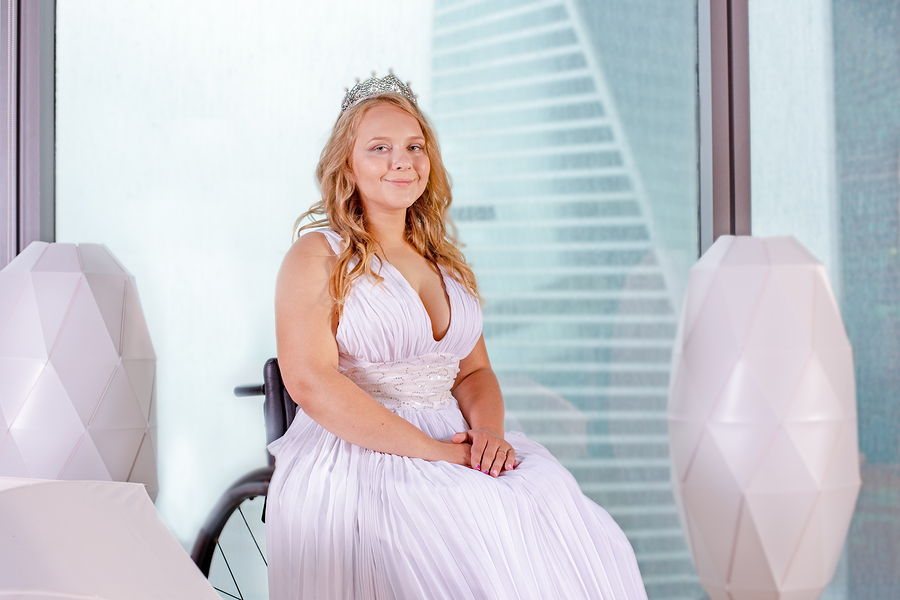 Always have extra time and energy
Posing with a wheelchair is a little daunting task. So, as a wedding photographer, you should always have extra time and patience to help your client out with any difficulty they face. Add more time to your schedule. To save yourself from a rush job, having an assistant or junior photographer with you will also help.
Be kind to them
Remaining calm, friendly, and caring towards your client is a prerequisite if your client has a physical disability. Make sure that you have a friendly relationship with your client and a caring attitude towards them.
Without being patronising, treat them as another normal adult. As a person with a disability, your client will surely have some hesitations. Your friendly and warm behaviour will make them feel comfortable and pose their best during the shoot.
Be respectful
People with disability are subjected to harsh behaviour from others more than often. It is imperative that you maintain respect for them. You should always make eye contact and speak with them directly and not through their partners.
Being respectful of your client is an essential part of being a photographer. By respecting your disabled client, you are not only helping them feel relaxed and warm on a big day but also making them feel empowered.
Be confident and calm
Is this the first time you are photographing someone in a wheelchair? Relax. There will be times when you need to chin up and remain confident to handle the situations. We recommend that you meditate and sleep well before the big day.
Plan in advance
Meet the couple before the wedding day. Discuss in advance what the couple wants, what are they expecting out of the photo shoot and what are the challenges they might face.
Ask the groom or bride in a wheelchair about their thoughts regarding different wedding shots and themes. Ask them what all they are most comfortable in doing. Planning will save you from unnecessary delay on the big day.
Mind your words
Lastly, as the chief photographer of the wedding, you are sure to face difficult situations. Maybe the couple is not able to pose as previously thought. Maybe the day is not going according to the plan. All of this can make you feel stressed or agitated, but you need to be watchful of your words. Do not at any point lose your cool and say something hurtful, especially to the bride or groom who is on the wheelchair.
Wheelchair wedding photography poses some challenges. As the wedding photographer, try to maintain your calm and do your job with utmost professionalism. Some very beautiful shots of an emotional wedding day will make the entire pain worth it.
Remember that the wedding is not about a disabled person getting married, but it is about two beautiful hearts who are in love. Disability should not be the focal point of the wedding. Your professional and creative photo shoot can make their day all the more special, gifting them with a treasure chest of memories.