In case you have a graduate in your family, the celebration must be in order, right?
Chances that your grad might already go through the college or high school virtual graduation or in-person graduation celebration held by their institutions. So now it's your chance to make your grad feel extra special. And a graduation party is always a perfect way to celebrate the once-in-a-lifetime event.
But are you on a budget? Don't have major funds to spend much on entertainment?
Never fear!
Celebrate on a budget! Time to plan a lovely casual, inexpensive graduation party and host an unforgettable bash without burning a hole in your wallet.
Add some dazzle to your graduation party on a budget
For a low-key yet stellar graduation party, you can consider celebrating as a family at home to make the celebration more sentimental and personal. And if you are keeping the celebration intimate, why not do so outdoors to stun your dear graduate?
Move the celebration to your backyard for a brunch or dinner with the handful of guests who are near and dear to your graduate because the success of any graduation party is never dependent on things like the most lavish halls or fine dining. Instead, party planning on a tight budget can add more fun to the planning, as setting limits lets your creativity flow and forces you to put in your best effort. Spending responsibly will even allow you to enjoy yourself a bit more.
So get creative with your graduation party ideas and raise your glasses to a memorable celebration.
Enjoy these fun yet budget-friendly ideas for an outdoor graduation party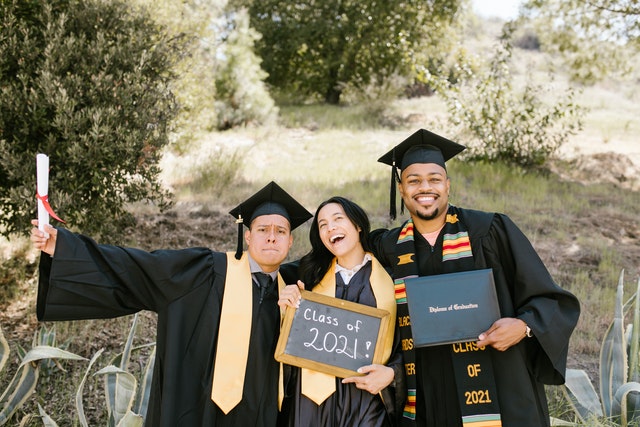 Use these fun yet budget-friendly graduation party ideas and throw an awesome graduation party your graduate will thank you for.
Keep a DIY photo booth
Create an excellent Instagram opportunity for your guests. Get creative with the outdoorsy DIY photo booth idea and offer guests a way to have fun while making memories. You can utilize the brick wall or pallet wood of your backyard as a perfect backdrop. Add some lanterns, fake ferns, or flowers and hang string lights to decorate it. Also, leave some fun props near the booth to contextualize your graduation party.
Add balloons to the decoration
Use the timeless party décor at your graduation party. Try to use it in some unique and unexpected way. Such as, you can keep surprise-note balloons with a message written on the balloons for the guest of honour. You can even décor a backdrop with the number or letter balloons or can create a balloon arch that fits your party's colour scheme.
Showcase a photo memory board
Show off some of your favourite moments of your dear grad to your guests. For example, make a stringed photo garland with pictures of every year of your grad's school/college career and attach those to the board of memories, giving guests a trip down memory lane. Or create a rustic display simply with some stick of wood to hang photos with the pieces of rope in your backyard trees.
Offer homemade food and refreshments
Celebrate your graduate's success in style with homemade party drinks and foods. It would definitely be more affordable than ordering takeout foods. Also, there is something much more personal about preparing meals for your own people. So prioritize your grad's favourite meals, add some personal touch (the way your grad likes) and keep it casual.
Get creative with food decoration
You can cut the cost of your expenses while being creative with food décor. For example, you can display your simple homemade vanilla cupcakes on a tiered stand while topping those with frosting in your grad's favourite colour. Or, to highlight the main course, you can add toppers or surround the item with chocolate graduation caps and diploma cookies. Even you can make fruit skewers to make it look on the platter.
Put a memory table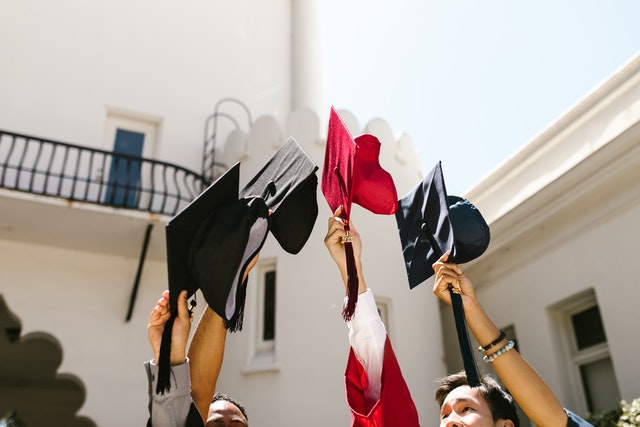 A graduation memory table is a great way to honour your hardworking graduate. Start by gathering your grad's childhood clothing items, favourite toys, sports or club uniform, hobby implements, certificates, trophies, or medals. Make the memory table reflect the personality of your grad. Don't forget to garnish the table with tablecloths, banners, and tassels to fill the gaps among the personal objects.
Use a projector screen outside
Get a projector, hang a screen between trees and dive into the commencement video. Often institutions use various software for virtual graduation and leave a recorded copy for the graduates that they can enjoy later. With a projector, you can watch the footage of the graduation program together with friends and family. Or you can even host a movie night for a memorable outdoor experience.
Include outdoor games
Add outdoor graduation games to your party plan. All you need to do is just gather some cheap and easy-to-find materials like disposable cups, straws, tassels, balloons, dice, ping pong balls, baskets, etc. Or you can go for games with no material too! For example, you can play charades, who in the room, or guess who challenges.
Add low-cost accessories
From catering supplies to decoration supplies, look for cheap party accessories while shopping around. Visit thrift or dollar stores or search online for sales to get a good deal. And if possible, come up with some DIY projects skipping the super fancy stores. Such as, you can hang some DIY hanging flower pots, paper lanterns, paper streamers, or mason jars filled with candles.
Keep outdoor furnishing minimal
There's no need to appoint a party planner or buy expensive furniture while arranging your outdoor graduation party. Instead, fix up what you already have for outdoor furnishing. Or, if possible, borrow from friends, family, or neighbours. And in case you need to buy, invest in affordable backyard furniture pieces.
So to have a better handle on all aspects of your budget-friendly outdoor graduation party, you should go for the budget-conscious decorations, catering, and furnishing. Take some ideas from the mentioned points before planning a grad bash and gear up to celebrate your grad. But whatever you do, just make sure your grad enjoys every bit of it. It is their day, after all.