There is not one day on the calendar for a photographer that comes with more pressure than a couple's wedding day. These are images that will be shared, replicated and showcased for decades to come as family and friends continue to cherish those heartfelt moments.
Needless to say that the hiring of wedding photography on the big day is paramount to translate these iconic moments to the lens.
From behind the camera, there is a series of elements at play to ensure that the optics are in working order. Whether that involves the positioning of the bride and groom, the imagery of the guests in attendance or the aesthetics of the scenery in the background.
There is science to this craft that goes beyond the casual smartphone snapper and puts wedding photography on another level.
If the expertise of the photographer was one serious consideration, then the scope and variety of the market in Sydney is quite another. Australia's largest city is a thriving hub of classic and digital photographers desperate to get their cut of the action, each offering their unique style and experience to the table.
Therefore it pays to know which enterprises stand out from the wedding crowd. Here we will offer a comprehensive rundown of the top 5 wedding photography firms in Sydney, ranking them on their individual portfolios.
Who are the best wedding photographers in Sydney?
AZ Wedding Photographers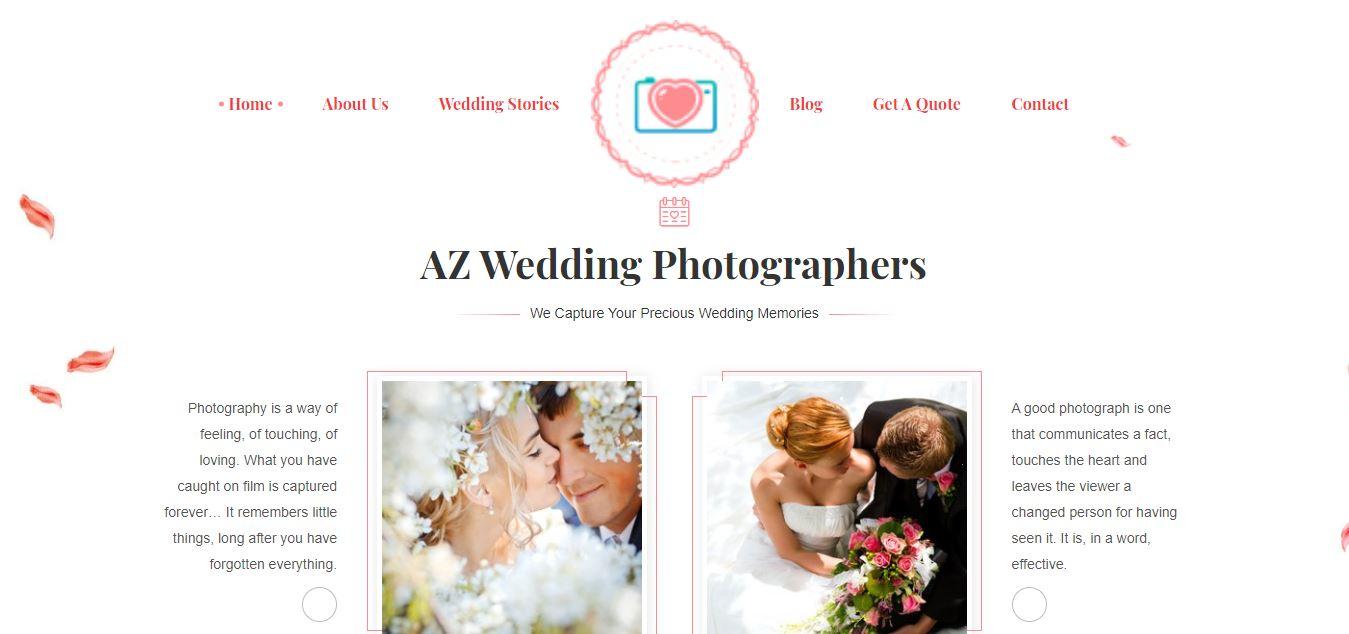 Banking on class, quality and reliability of service, AZ Wedding Photographers have every right to be proud of their portfolio. Supported by the tagline "We Capture Your Precious Wedding Memories," the site's testimonials are littered with examples of unbridled joy.
From Richard and Anna to Walter and Kerry, George and Sophie, Dylan and Hannah, and Sai and Anika, the variety in the styles and presentation are underlined by one consistent theme – clarity in presentation.
AZ Wedding's blog postings illustrate that they want to offer the client far more than a catalogue of images in the days that follow the main event.
There is an appreciation of the stresses and expectations that the groom and specifically the bride will undertake as the moment approached, offering advice and clarity on floral arrangements, dealing with pregnancy and means of saving money on unnecessary expenses.
The enterprise issues a customer guarantee on reliable photography that will be treasured for years to come.
Yet it is their assertion of delivering a budget-friendly array of options that will be music to the ears of many couples, already burdened with the need to secure an event space, host a large function for guests and throw in all the bells and whistles to make it a memorable day.
This Sydney-centered operation continues to stress that they have a team of the most highly skilled wedding photographers in the industry, happy to compare them to any peer.
Some visitors might prefer seeing a comprehensive price list laid out like Studio RL, but others could prefer the flexibility that AZ Wedding Photographers provide, crafting a photo and video package that suits their circumstances and tastes.
The emphasis from this company is to make it your perfect day and AZ Wedding Photographers are simply there to reflect that. As valid an option as any in a dense and convoluted Sydney market.
At Dusk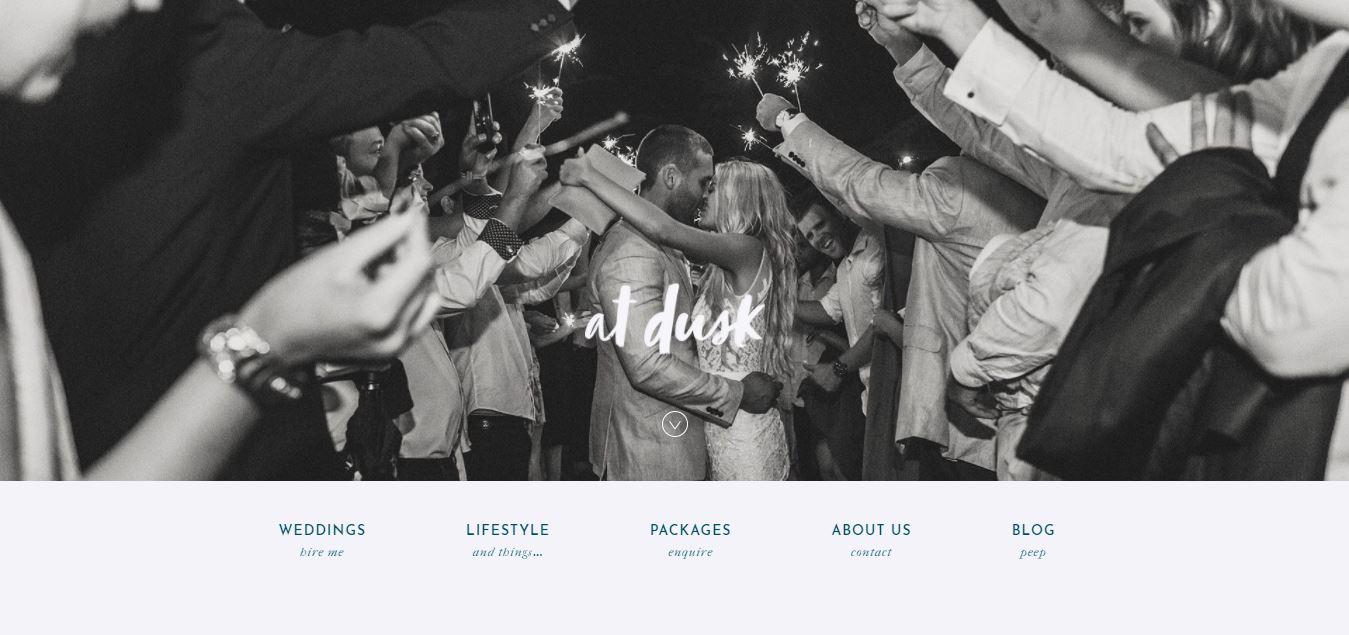 Traveling anywhere within Sydney, out of town, interstate or overseas if required, certified wedding photographer Chris Prestidge is on hand to cater to you at your destination of choice.
The operation of At Dusk is very much in the realm of a photographer's photographer, offering layflat albums, full image wraps, covers and additional extras that illustrates Prestidge's expertise.
Very few freelancers would have the understanding or capacity to issue a wedding album through any of these colour themes:
Vanilla Latte
Black Espresso
French Roast Brown
Mocha Medium Brown
Caramel Latte Lite Brown
Cinnamon Spice Red
These coffee-flavoured textures can be portrayed in either a 12 x 12 or 16 x 12 format, also allowing for hardcovers to ensure long-term viability of album preservation.
Prestidge's eye for the artistic frame is matched by his efficient process. The wedding photography is cut into three distinct domains: pre-wedding, wedding and post-wedding function.
From the musical performances to the seaside scenery, intimate gazes, group poses, food and decor, At Dusk offers a quality that speaks volumes for the man behind the camera.
Chris' work has been detailed in some of Australia's leading wedding publications, including the Knot, Women's Health Magazine, Hello May, Capture Magazine, Cosmo Bride and more.
His background having been based in Sydney's idyllic eastern suburb Tamarama has given the photographer a window into the luxurious, yet it is his appetite for travel that has allowed the artist to push the boundaries and expand his own horizons.
That personal drive to find the emotion captured in the image is a consistent theme running throughout his work. Combining his wedding portfolio with albums catered to the worlds of fashion and maternity, Prestidge's global perspective gives him a point of difference from other outlets that have a tunnel vision focus.
Take a closer look At Dusk and see for yourself why the award-winning photographer comes so highly recommended. At Dusk pricing can be deduced to one of three different options, depending on your tastes and styles.
Studio RL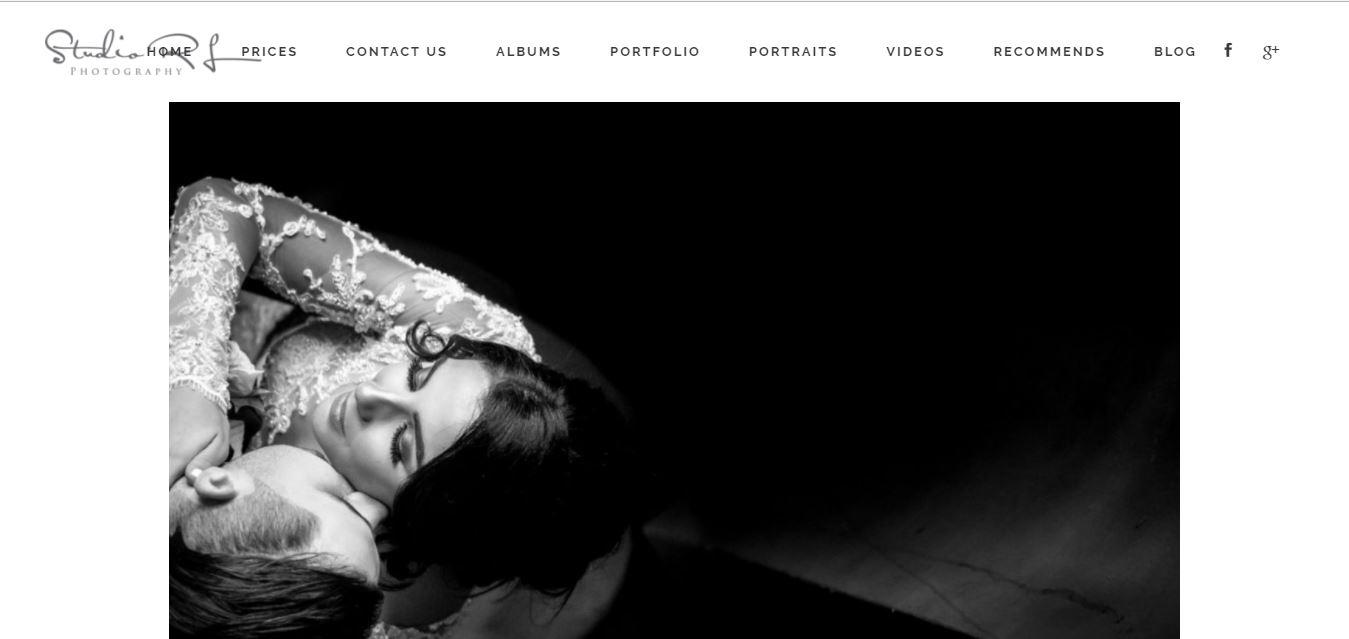 Don't be thrown off Studio RL's statement that they take a "fun and quirky" approach to wedding photography as a lack of professionalism. Such is their dedication to the craft, their love for the industry verges on obsession, utilising a number of tricks of the trade that few are savvy enough to execute.
This is a company that is known to go above the call of duty to include some of the most advanced technological techniques in the business. Their studio services include:
Photography and Video Packages
Engagement Shoots – Local & Destination
Drone Video Capture
Album Design and Printing
Design and Editing
This package flexibility caters to couples and families of most persuasions, going the extra mile for those that literally want to showcase the event from a bird's eye perspective.
Should the wedding be held beyond the greater Sydney region, they are willing to send photographers out to either the Hunter or Southern Highlands as well. Most studio's will insist that they stay inside the parameters of Sydney, so don't take this detail for granted if you are an hour or two drive outside the city.
The operation are strident in their belief that a wedding photographer takes a creative yet unobtrusive philosophy to their work, capturing moments that would normally occur unnoticed to portray the emotions of joy, love and goodwill amongst the party.
Wedding images in 2018 should be so much more than cutouts designed for a frame on the living room table. Studio RL delivers copies that are easily shareable on mobile devices and social media, eliminating the hassle of uploading or converting files at late notice.
One of the genuine standout features that Studio RL includes is their affiliates with wedding vendors and a regular blog post that gives the bride and groom a greater appreciation for the day ahead.
Partnered with seven different bridal hair and makeup studios in Sydney, four celebrant and flower providers, nine venue/hotels and five planning and stylist brands, Studio RL's services enable couples to design their entire event beyond the photography.
The company is a popular destination for weddings with a multicultural flavour as well, tailoring themed weddings for Filipino, Japanese, Chinese and Asian ceremonies to great acclaim.
Yet it is the images that speak for themselves, painting a glittering portrait of the bride and groom parties as they transition from the preparation phase to the after party when night falls.
Studio RL's pricing will vary depending on your circumstances and need. This will range from the classical package to issue digital prints for $2,750 right up to the luxury package, giving premium prints alongside digital copies at $8,000.
There are alternative options for those couples looking for something in between, providing a premium wedding package at $3,850 and a silver wedding package at $5,850 that comes highly recommended.
Easy Weddings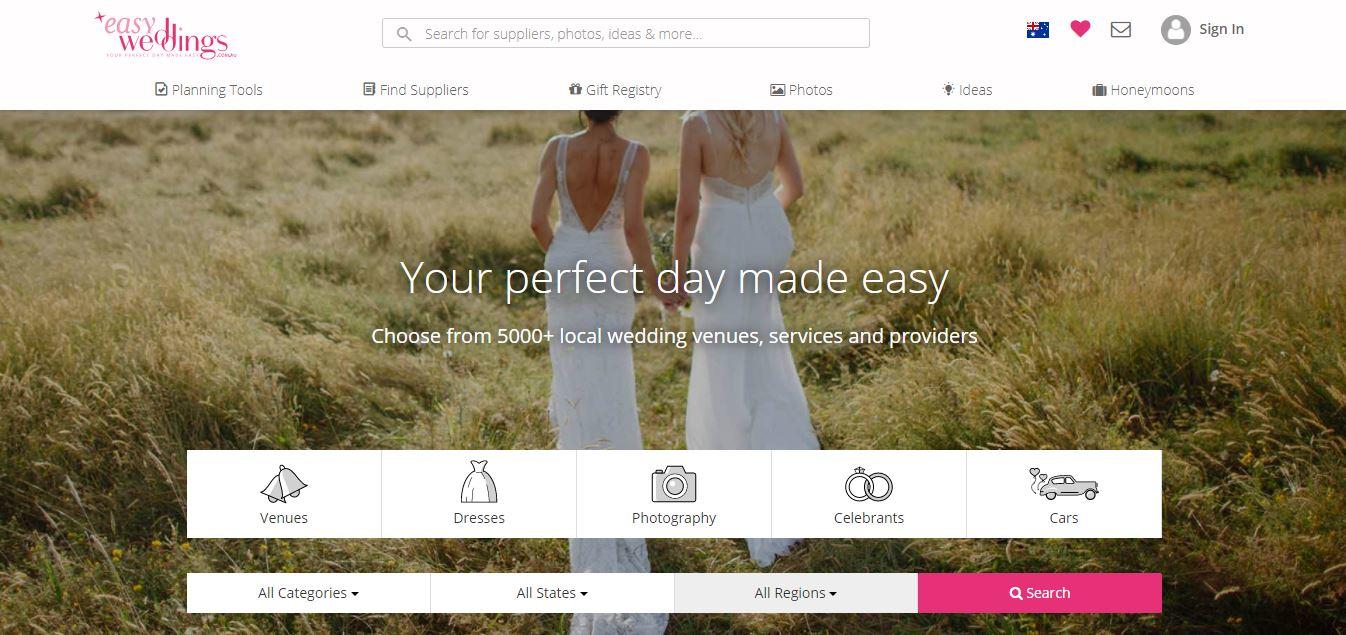 A strong advocate for the successful marriage equality movement, Easy Weddings strives to be just that – a "fuss-free" planning process the operates as an extension to the festivities.
Alongside a handy gift registry application that takes the confusion and stress away from the gift-giving domain, this enterprise places its emphasis on convenience above all other priorities.
To make this a practical reality rather than a friendly marketing slogan, Easy Weddings have developed an app interface that can be downloaded from the Apple store or on Google Play for Android users. If you should so decide to join as a customer, you will be privy to their helpful features to have a one-stop wedding shop at your fingertips:
To do list
Budget Calculator
Supplier Planner
Guest List
Seating Planner
Wedding Website
This philosophy transitions a fairly mundane preamble to be something that is tangible and interactive, giving guests a window into the all the moving parts that are taking place.
The only downside to this incredible service is the array of choice given to the couple, opening every avenue possible from the accommodation to dress designers, honeymoon plans, jewelry and so much more.
For the photography, customers can utilise their catalogue of affiliated freelancers within the Sydney region. Price arrangements can be filtered depending on preferences and like any great application created in the shared economy, photographers are ranked and rated based on a 5-star review process like any other type of service.
Be careful though not to be caught out by Easy Weddings large catchment area, as they service every state throughout the entire country. You will need to be geo-specific.
Dreamlife Wedding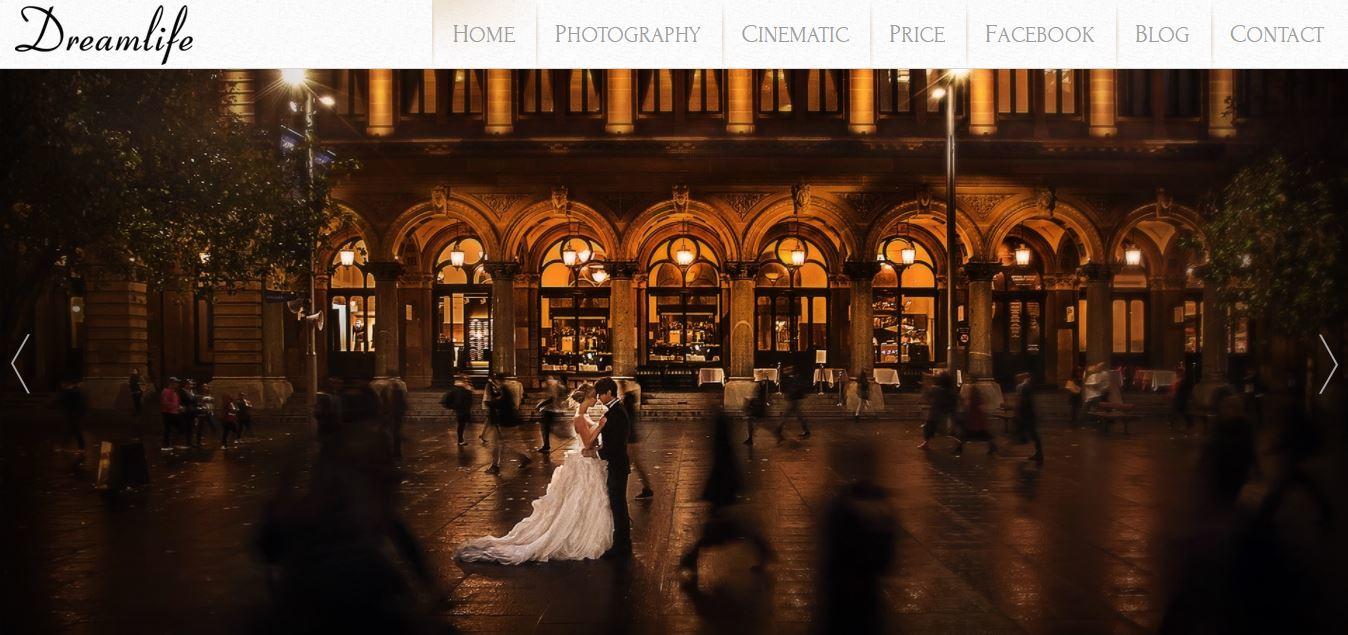 Home to Australia's finest collection of wedding photographers, there is a reason why Dreamlife Wedding hold a monopoly over the competition.
A multi-award winner that is consistently recognised by their peers, this enterprise has a depth of work that compares favorably to any other collection of albums from ceremonies anywhere in the country, let alone wedding images for the Sydney market.
From night walks in the park to a rustic farm scenery in the bush to riding horses on the beach – DreamLife's freelancing crew have the eye for a perfect photo that will fit neatly into a gallery of your choosing.
Each and every one of the photographers also come prepared with the graphic skills to add text, headings, message and filters across each snapshot. Should one picture carry unique significance, then the Dreamlife photographer's can include that texture to provide the couple with something a little extra special.
Rather than go into detail to promote their own cause, Dreamlife let their own gallery of artwork do the talking for them. Browse through to see the greatest day in the life of many happily married couples.
Dreamlife Wedding Pricing is sorted into Packages A, B, C and D which all provide a different but high quality service.
Additional packages are available, including cinematic or a combination with photography.
Which wedding photography company suits you best?
Your wedding day is (hopefully!) a once in a lifetime moment for you so you want to make sure its captured in the best way possible. Luckily the best wedding photographers understand this and provide a great range of services.
Choosing between them will mean browsing their galleries and price structures to find a package that works best for you. You know your wedding will have excellent photography if you get any of these 5 companies to do what they do best.