Sydney is known for its beaches and is home to some of the best coastline in Australia. If you're a surfer in Sydney you're certainly not at a shortage of fantastic beaches to visit. Sydney's beaches are well served by public transport links and often offer top-notch dining options, barbeque areas, sporting clubs, marine life and the iconic Sydney beach rock pools.
There's nothing better than hitting the beach and Sydney has something for everyone when it comes to its beaches.
If you're visiting Sydney or looking to enjoy a day out in the sun and experience some of the most beautiful scenery in NSW, then check out our carefully researched list below of Sydney's top 10 best beaches.
Here are the top favourite and best beaches in Sydney:
1. Bronte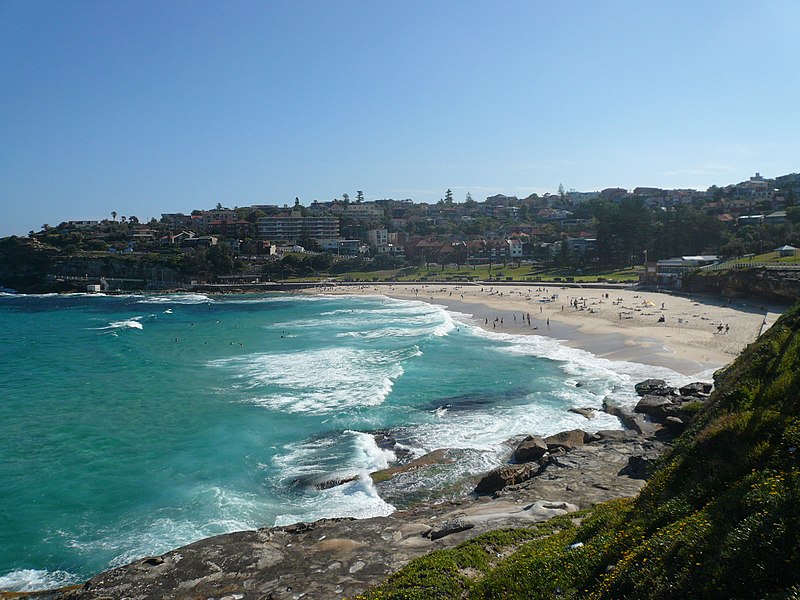 Close to the famous Bondi, Bronte beach has a lot to offer visitors. This beautiful beach is a little bit quieter than its famous counterpart and slightly more family orientated but no less stunning.
Part of the coastal walk from Bondi to Coogee beach, Bronte is easy to access and offers gorgeous views, white sand and a sea bath, free to use by the public.
Bronte beach is the perfect day out for families, eat lunch at one of the quaint little cafes or the extremely well regarded Three Blue Ducks and enjoy swimming in the clear blue water.
Be wary however, Bronte is home to a dangerous rip tide called the Bronte express so keep an eye on small children and maybe stick to the safe rock pools and sea bath when enjoying a day on the beach.
2. Manly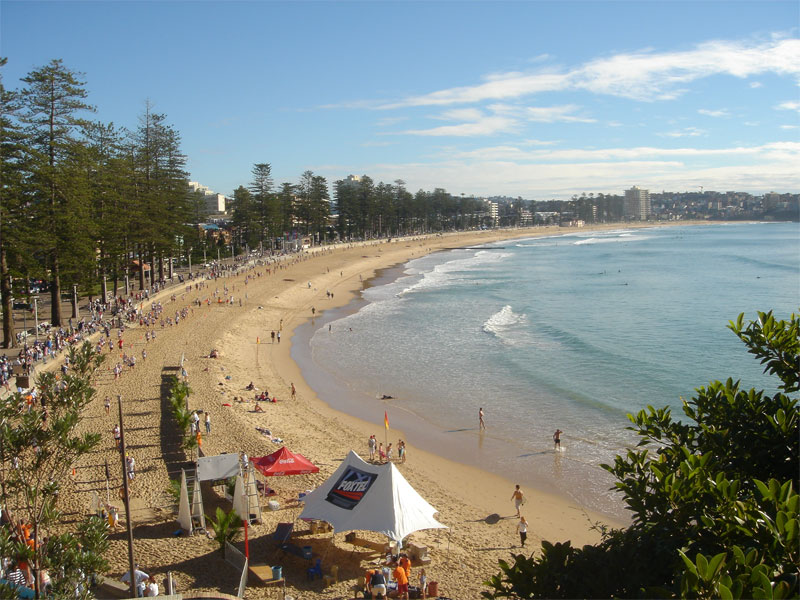 Part of Manly's charm is catching the Manly Ferry to the Wharf from Circular Quay. It's an excellent way to enjoy some of Sydney's best sights.
The beach itself has a lot to offer with its grassy tree-lined promenade, long stretch of sand and excellent waves.
Manly beach is surrounded by a vibrant shopping and eating area, so once you've had enough of the beach go and enjoy some time at the Manly Markets or wander through the Corso, a lively shopping boulevard leading to the beach.
You can swim in the Fairy Bower Baths or lap at the beautiful scenery with a walk along the coastline.
For those wanting to learn how to dive, Manly Diving School is one of the best places to learn in Sydney.
Manly Beach is one of the largest, most easily accessible beaches in Sydney and one of the best experiences visitors to Sydney can have.
3. Bondi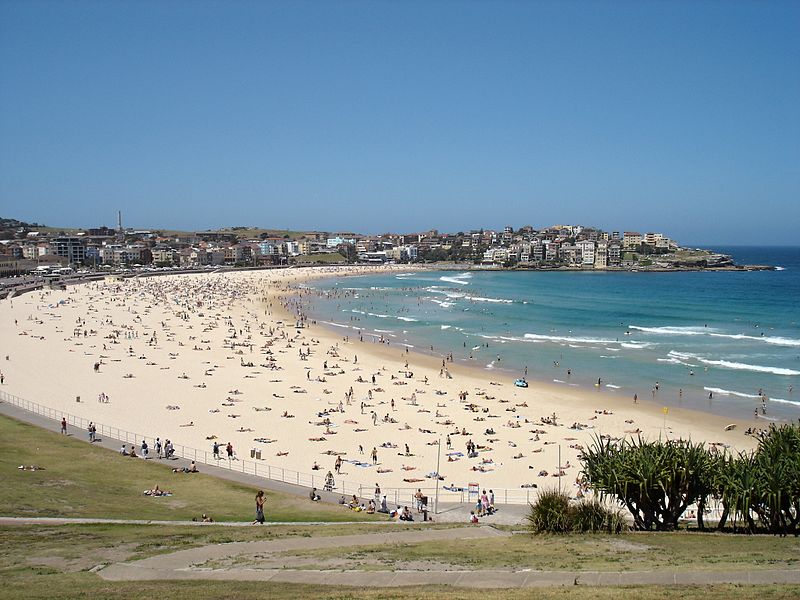 Bondi is by far the most popular and well-known beach in Sydney. The world famous beach is popular for a reason, it's only 8km from the city making it one of the most accessible beaches in the city, offers great surfing waves and has two rock pool baths for swimmers, making it very family friendly.
While the beach is often crowded because of its status and worldwide recognition, it's a big beach with plenty of surrounding amenities including a vibrant café scene for people to enjoy and it's definitely worth visiting and enjoying.
Bondi is a big beach, and whilst the northern end of it is rated as quite safe, the southern end of the beach can be quite dangerous and a rip called the 'Backpackers Rip' is often present. It is called the 'Backpackers rip' because backpackers getting off the bus and entering the beach often do not realise that the smooth patch of water is a dangerous rip.
Bondi I home to regular events and several sports team, include the Icebergs Swimming Club.
Bondi Beach is one of Sydney's most recognisable and iconic landmarks and makes the perfect day out for everyone.
4. Tamarama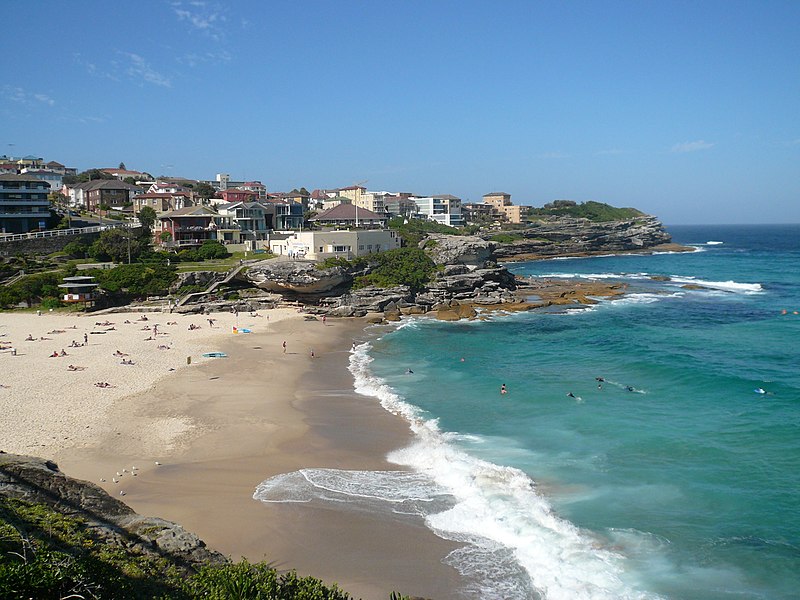 Tamarama beach represents some of Sydney's most dramatic coastline and its most expensive real estate. Visitors to Tamarama beach can expect to see beautiful mansions and even more beautiful people enjoying the scenery that the beach has to offer.
Tamarama lies between two headlands and offers some of Sydney's best surf, and also some of the strongest currents in Sydney, making it a hazardous beach. Tamarama is considered to be one of the most dangerous beaches in Sydney and lifeguards have to more frequently rescue swimmers here than any other beach.
Tamarama can be reached by walkers of the Bronte beach coastal walk and is close to Bondi.
For those wanting to enjoy a coastal walk and to get a taste of how the other half lives, Tamarama is one of the best beaches in Sydney.
5. Bilgola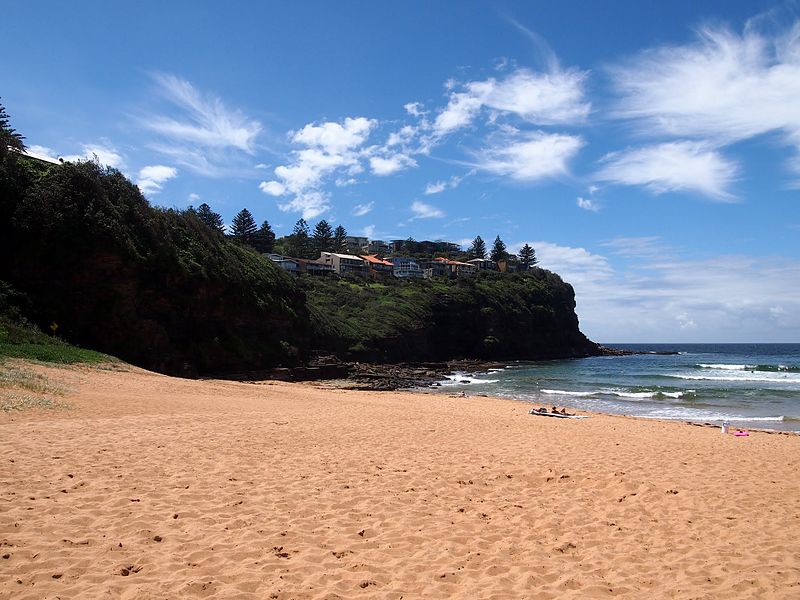 Little Bilgola beach in Sydney might not be the largest beach, but it certainly one of its most beautiful. Bilgola beach is family friendly an easy to access for people of all ages. It has a number of grassy areas, barbeques, a rock pool and cafes for visitors to enjoy.
Bilgola beach was owned in the 1900's by the McLurkin family, and since becoming public has offered many years of fun and enjoyment to visitors.
If you like your beaches to be then Bilgola is perfect, this quiet beach is one of Sydney's best kept secrets.
6. Shelley Beach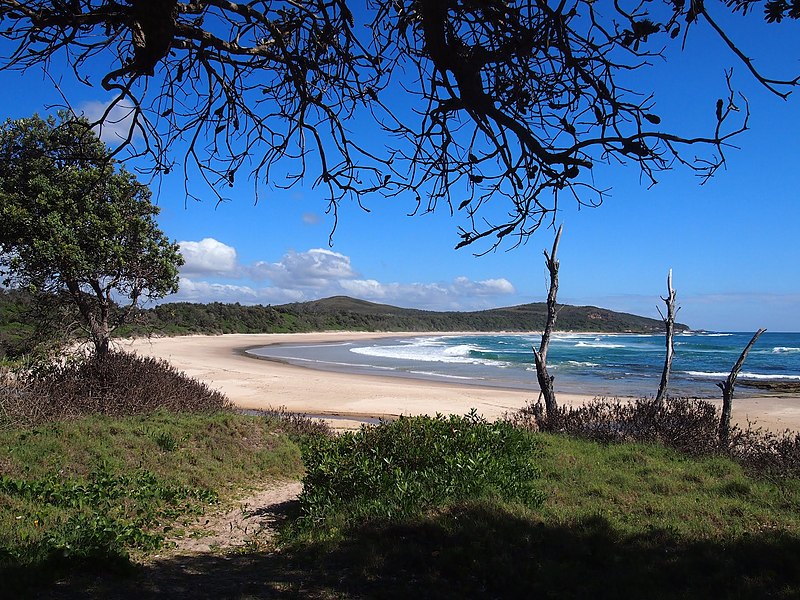 Just a short walk down the coastline from Manly Beach, this protected little cove is perfect for families. There are no big waves at Shelley Beach, instead enjoy paddling around in the shady cove. Set up on the large grassed area of enjoy a coffee at the café beside the beach cove whilst the kids enjoy a swim.
Shelley Beach is a part of Cabbage Tree reserve, a protected marine reserve and has a fantastic bush walking track in the area.
The shallow water of Shelley Bay has made it popular with snorkelers who can enjoy the abundant marine life surrounding the cove.
If you're in the Manly beach area then stop by the Shelley Beach for a paddle and enjoy the shallow, tranquil water. Shelley Beach is one of Sydney's best beaches for a day out with the kids.
7. Freshwater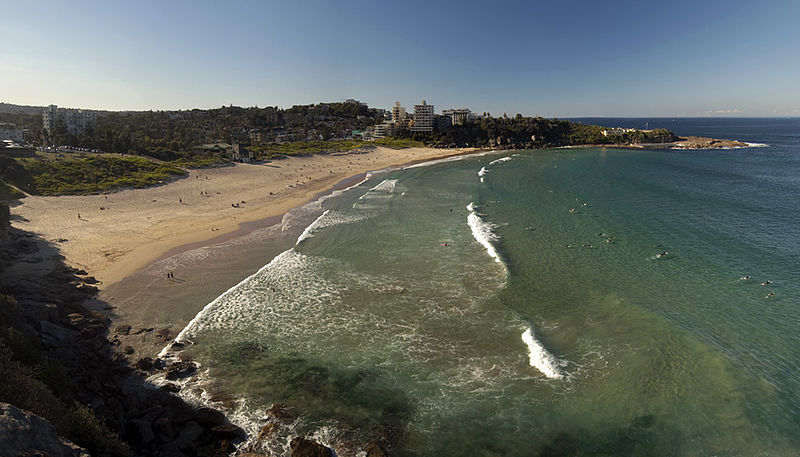 Freshwater beach is only a short walk from Manly and is a popular family beach in Sydney. Wedged between two headlands, Freshwater has been a popular swimming spot for Sydney locals since the 1900's. Uniquely, surfing was originally popularised in Australia at this beach in 1915.
The beach gained its name because of the small freshwater creek that runs in the area that campers would drink from in visits back in the 1900's.
Freshwater beach is part of the Manly-Freshwater national and world surfing reserve and is a popular spot for surfers to come down and catch the breaks. If you're a learner surfer then this is the beach for you, as it's known for its beginner waves.
The beach is regularly patrolled by lifesavers and usually open, so it's a great spot to visit with the family.
The beach offers public amenities like a picnic area, barbeques, a playground for kids, parking, a viewing platform and public showers and toilets. Being only a short walk from Manly makes it a highly accessible beach and a top pick for a beach day in Sydney, if you'd prefer to drive there is parking available but spots can fill up on hot weekend days, so prepare to potentially walk a few blocks.
8. Avalon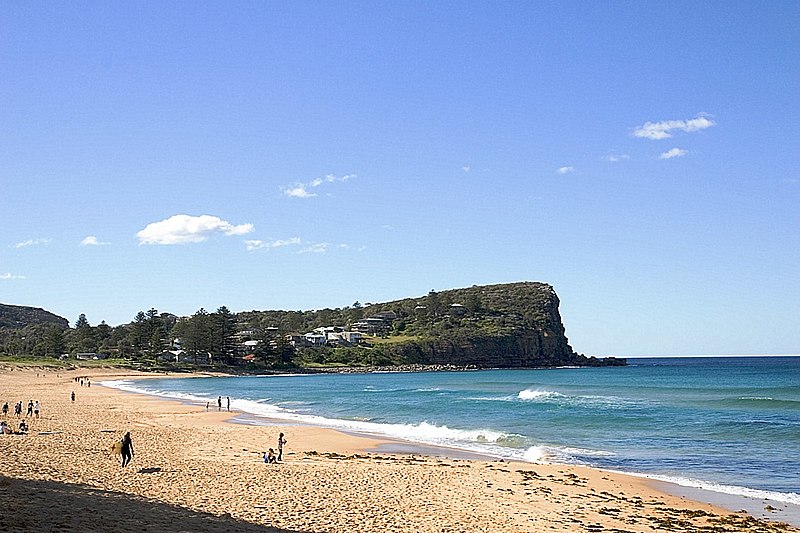 Avalon beach is an excellent swimming beach located 35 km North of Sydney's CBD. The beach has excellent surfing breaks, especially in the North of the beach and facilities such as a public picnic area, a rock pool, playground, public toilets and showers and a surf lifesaving club. It's on the way to Palm Beach and makes an excellent spot to pull over and enjoy a break from driving.
Avalon is much quieter than some of the other Northern beaches, so it's a great choice for those who don't like a crowd but still want to be able to enjoy cafes after a swim.
9. Palm Beach
The famous Palm Beach is a tv regular on Australia's most beloved soap opera Home and Away. Palm Beach is an extremely scenic beach and surprisingly quiet and not as developed as you might expect.
A popular holiday spot for celebrities you might just come across an A-lister when visiting. Mick Jagger was rumoured to have visited in the past. If you want to rub shoulder with the wealthy or spot the Home and Away team filming for the show then this is the place to do it.
Spend the day enjoying the hike up to Barrenjoy lighthouse, dine at the Boathouse Palm Beach or rent a kayak and get out on the water. There's plenty of wild life to enjoy, including dolphins, whales and fairy penguins.
The beach is about an hour's drive from Sydney CBD and makes a perfect luxury vacation spot.
Palm Beach has some fantastic luxury accommodation for visitors to the area, if you're looking to enjoy the area in style then staying at one of the luxury estates on the beach or boutique hotels in the area might be just the ticket.
Palm Beach has it all and is a must-do for visitors to Sydney, regardless of whether or not you're a Home and Away fan, the beach is one of the best in Sydney.
10. Clovelly
Unusually Clovelly beach is a concrete-edged ocean channel, and also a surprisingly good place to enjoy swimming and sunbathing.
This small beach at the end of a narrow bay has excellent visibility and is home to a large blue grouper 'Bluey' that snorkelers might come across.
There's also a large saltwater pool located at the platform at the end of the beach. For visitors there are a number of amenities in the area including free parking (highly unusual in Sydney!).
Whilst you won't catch any waves here, this is one of the best places in Sydney to enjoy the sun and swim in the safety of the well protected channel.
Clovelly is home to one of the first surf lifesavers clubs in the world, still there to look out for swimmers today.
Whilst Clovelly is usually calm to swim in, swimmers should be conscious that the beach can still present a danger to swimmers, especially those who are inexperienced.
It's good to keep in mind that dogs, alcohol and glass bottles are not allowed at Clovelly, so if you plan to bring the esky down or take the dog for a run this is not the place to do it.
Spearfishing and collecting marine invertebrates is absolutely forbidden as well, so feel free to look at Bluey, but certainly don't touch him.