If you're in the mood to splash about but don't want to hit up the beach you're in luck because Sydney has many great spots to get some sun and get wet! Whether they're serious lap swimming pools or glistening ocean pools, Sydney has something for everyone to enjoy. But because of this many people get overwhelmed with all the options available to them that they end up going to the same sub-par pool that they have been visiting for years.
To help get you out of this comfort rut we have done the hard yards and come up with the 5 top pools that Sydney has to offer. Regardless of your swimming style or strength we're certain that you will be able to find something that you love.
So without a further ado, get ready to dive into our list of the swimming pools in Sydney.
List of swimming pools that Sydney has to offer:
Bondi Icebergs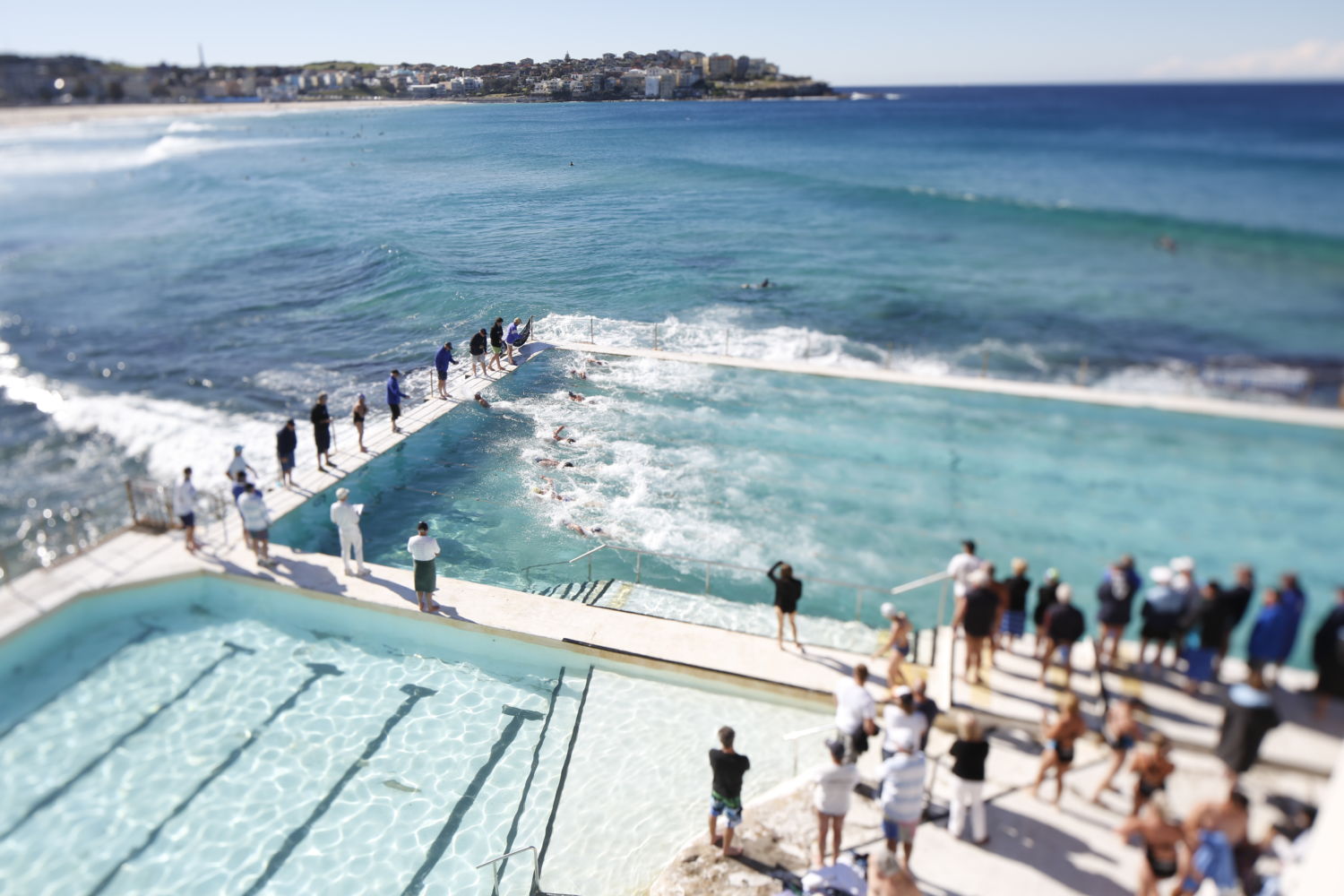 Address: 1 Notts Ave, Bondi NSW 2026
Phone: (02) 9130 3120
To top the list is none other than Australia's probably most famous swimming pool which is Bondi Icebergs. The picturesque setting accompanied with Sydney's most famous beach makes for some incredible views and photos that you have to experience in person at least once in your life. Due to its popularity and amazing views, you will find that this swimming pool is busy every month of the year yes even in winter! However don't let the crowds deter you from what is easily one of the best swimming experiences in Sydney.
If you are brave enough to battle the crowds admission for the pool costs a mere $7.  This price also includes entry to the sauna that they have inside as well! If you are bringing little kids with you or are not a strong swimmer yourself, you can rest assured knowing that there are qualified life guards on duty as well as a kids pool for the little tackers.
Once you are inside and have worked up an appetite you can make your way upstairs to the amazing waterside bistro. Keep in mind that this place is open year round 11am to 11pm on weekdays and 9am to 11pm on the weekend so you have every opportunity to squeeze in at least one lap of the pool.
North Sydney Olympic Pool
Address: 4 Alfred St S, Milsons Point NSW 2061
Phone: (02) 9955 2309

The North Sydney Olympic Pool is one of the more heritage pools that we have featured on our list. In total this site has seen 86 world records being set by many swimming greats. The venue is wedged in between Luna Park and the Sydney Harbour Bridge which makes it another swimming pool location with an incredible view.
Inside there is a 25 metre pool as well as full equipped gym. The Lane 9 Gym is perfect for resident who live nearby in North Sydney or the CBD. The fully qualified and experienced staff on hand are there to help you with any questions that you may have about the gym or the swimming pools as well.
If that wasn't enough, the main attraction for this site is the incredible 50-metre pool that overlooks the harbour. If you aren't in the mood for swimming laps, you can treat yourself to some sunbaking while taking in the incredible view. At the very least you will get one hell of an Instagram photo out of it!
The pool is also available to the community and has been a hotspot for many school swimming carnivals and other activities.
Sydney Olympic Park Aquatic Centre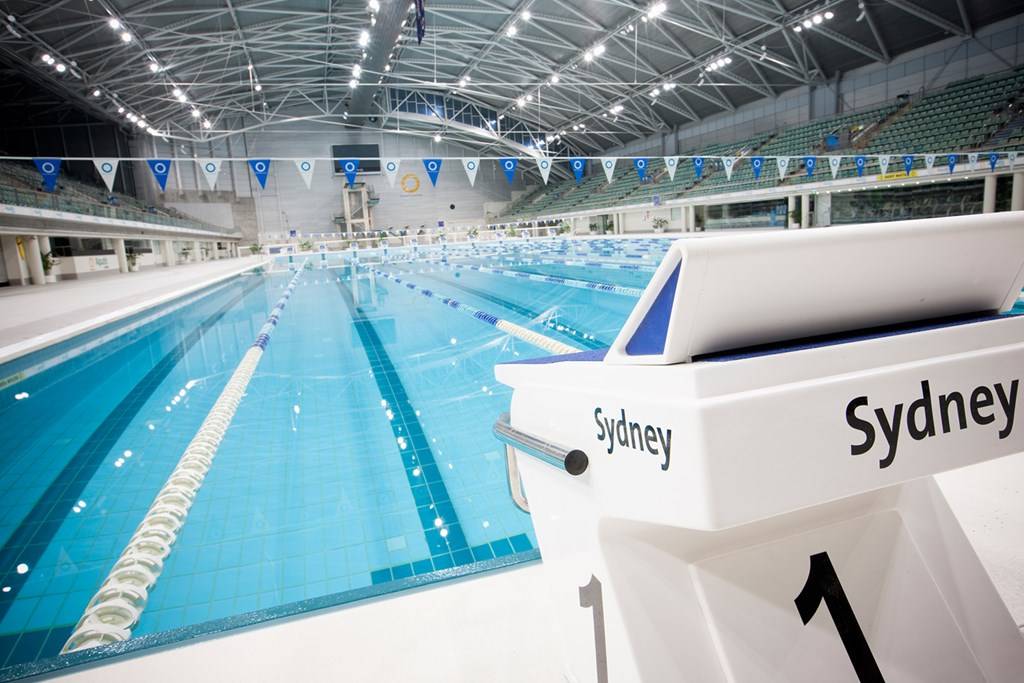 Address: Olympic Blvd, Sydney Olympic Park NSW 2127
Phone: (02) 9714 7500
Sydney Olympic Park Aquatic Centre features the incredible state of the art pool that was originally constructed for the 2000 Sydney Olympic Games. These days you can now shred up the same water that Ian Thorpe himself swam in 18 years ago! This swimming pool is obviously fantastic for individuals who are in the mood for swimming laps and improving their endurance. However if you also like to have leisure options you can be sure that there is something for everyone.
The aquatic centre is also home to Splasher's Water Playground which features an amazing playground and heated pool for children and even you adults who never did grow up. The playground is open year round and is included within your admission fee so you don't have to worry about paying extra.
Admission will set you back $8 but you really do get a good bang for your buck. A giant water playground isn't the only added bonus. There's also a bunch of fitness courses, events and an inflatable obstacle course.
Doors open at 5am during the week and shut at 9pm. During the weekend these hours are reduced to 6am to 7pm.
Wylie's Baths
Address: 4B Neptune St, Coogee NSW 2034
Phone: (02) 9665 2838
These stunning heritage listed baths are just a short walk south from Coogee Beach. If you have walked towards Maroubra from Coogee Beach, chances are you have ran into Wylie's Baths before. The baths are located just below an elevated boardwalk with has some stunning views overlooking Wedding Cake Island and the Pacific Ocean.
As the baths are connected to the ocean, swimming conditions are subject to change but their helpful website has a daily report and how the conditions are as well as what the swell and tide are like for any given day. This also includes the temperature of the water, the outside temperature and the wind conditions.
Entry for adults is only $5.50 which is much lower than all the other places we have previously mentioned. Additionally you can get family passes and a month pass which will save you even more money.
The upper boardwalk also features a bunch of events that also take advantage of the incredible view. Upstairs you will find a wellness therapy as well as a massage therapy. Additionally this location has been used for a lot of private functions as you can't really beat a view like that for a wedding reception.
Prince Alfred Park Public Pool
Address: 105 Chalmers St, Surry Hills NSW 2010
Phone: (02) 9319 2727
While Surry Hills is better known as being one of the best neighbourhoods in Sydney for dining, they also have a very impressive public pool. In Prince Alfred Park, right next to Central Station is one of the city's most modern swimming pools which is Prince Alfred Park Public Pool. The incredible 50 metre lap pool also comes with a kid and family friendly swimming area as well as a bunch of umbrellas to dodge the Sydney sun.
The venue also offers a bunch of facilities including a splash deck, change rooms, cutting edge filtration systems as well as other energy efficient systems. It is also one of the few public swimming pools that is open all year round. Currently they are open every day of the week except for Good Friday and Christmas Day.
As an adult entry will set you back $6.60 where you can also purchase a family pass. Doors are open from 6am to 7pm every day of the week except for public holidays where they open one hour later (7am).