Whether you're a tourist looking to try out something a little bit different or a local wanting to make the most out of your beautiful city, look no further – we've got activities for every season of the year.
Here's a list of top 20 activities to enjoy in Sydney for each season of the year:
Summer
There's no place like Sydney to be in the summertime. Glittering beaches, post-work drinks and fish and chips make for one heck of a good time. Here are some things to look forward to this year:
Sydney International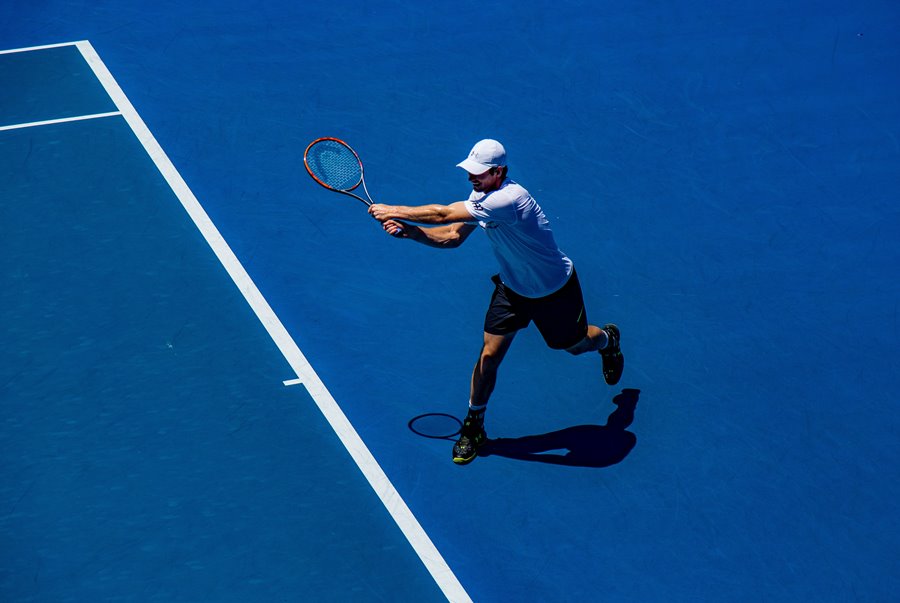 From January 6-12, Sydney Olympic Park will host some of the best tennis players on the planet. With eight Grand Slam champions, eight of the globe's top ten women players, Australia's highest-ranked tennis players and a range of next-gen players, tennis fans will be spoiled for action.
The tournament has previously featured players such as Lleyton Hewitt, Roger Federer and Martina Hingis. This year Angelique Kerber – world number four and defending women's champion – will return to fight, with defending men's champion Daniil Medvedev right behind her.
There'll be lots of fun off the court, too, with the opportunity to nab an autograph from one of your favourite stars between matches. ANZ Tennis Hot Shots will be holding free tennis lessons for kids and giving away racquets.
More information on ticketing and how to get to the venue can be found on the official website. Sydney International is located at the Sydney Olympic Park Tennis Centre in Sydney Olympic Park. A courtesy bus runs from Olympic Park station and event tickets include train fares to and from the station.
Pedal Boating in Cockle Bay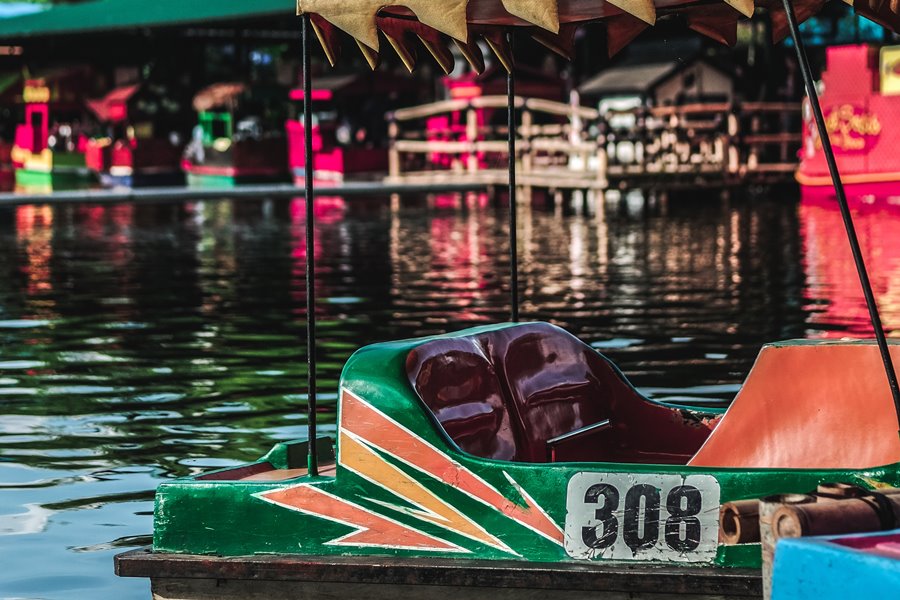 An oldie but a goldie, Cockle Bay's classic pedal boats offer a leisurely way to enjoy Darling Harbour during the summer. The boats are fitted with a shade to protect you from the scorching summer sun and are equipped with four seats (so you can bring all your pals or enjoy a double date). Have a pedal, enjoy the stunning scenery and a revel in a bit of conversation.
Running from January 4-28, you can have a go at one of these leg-powered boats for a $30 half an hour session.  There are no online bookings so you'll have to show up and wait your turn (they operate between 11am and 8:30pm). Thankfully, Darling Harbour has a ton of restaurants for you to chill out at while you wait.
The pedal boats are located at The Promenade Cockle Bay Wharf 1 Wheat Road Sydney, which is within walking distance of Town Hall Station. See their website for more information.
Tuff Nutterz Obstacle Course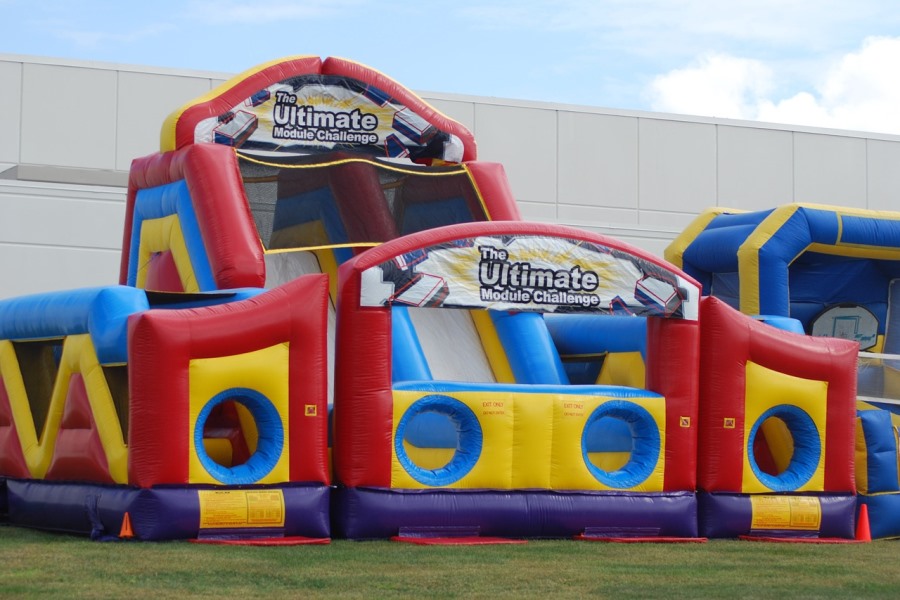 Feeling a bit giddy after all the Chrissy and New Years festivities? Keep the party going and unleash your inner child at the world's biggest inflatable obstacle course. Running from January 4-6 at Nolan Reserve in Manly and January 18-20 in Centennial Park, Tuff Nutterz is a 270 metre long obstacle course that takes about 30 minutes to complete.
For $45 you can dash through cones, worm through holes and shimmy down slides, all whilst trying to beat (and not bump into) the kids next to you. This is meant for kiddies, but it's advertised as open to anyone over the age of 8. Feel free to bring your kids, your younger siblings or your best friends!
There will also be a range of food trucks available, offering classic burgers, ice cream and coffee to get you through the day.
Check out their website for more information and to book your tickets online.
(Relatively) Secret swimming spots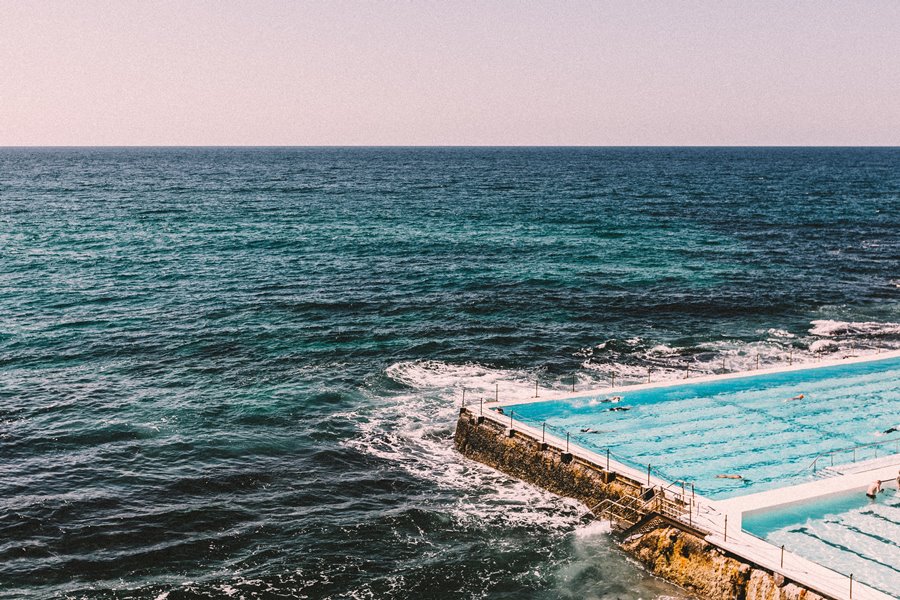 There's a special swimming spot for everyone in Sydney. Gledhill Falls is perfect for those who want something secluded – challenging to find and involving a bit of rock climbing, the effort makes this one worth it. Hidden by forest and ten metres wide, this is a gorgeous spot – though the water is a little chilly. Find it at McCarrs Creek Rd in Ku-Ring-Gai Chase, after the McCarrs Creek Bridge.
Mahon Pool is a great spot for those after some wave action. An ocean pool nestled by the rocks, Mahon is frequently battered by some big waves, especially at high tide – perfect for adrenaline junkies. Head down the stairs from Marine Parade car park in Maroubra and you'll see it.
You'd be forgiven if you thought Lake Parramatta wasn't suitable for swimming – up until January 2015 it was closed due to pollution. However, clean-up programs have left the lake in pristine condition and it's now open for swimming – it even has lifeguards! Enjoy the freshwater but look out for red-bellied black snakes. Access via car at Lackey Street off Bourke Street or catch Hills Bus number 609, which stops at Bourke Street.
Moonlight Cinema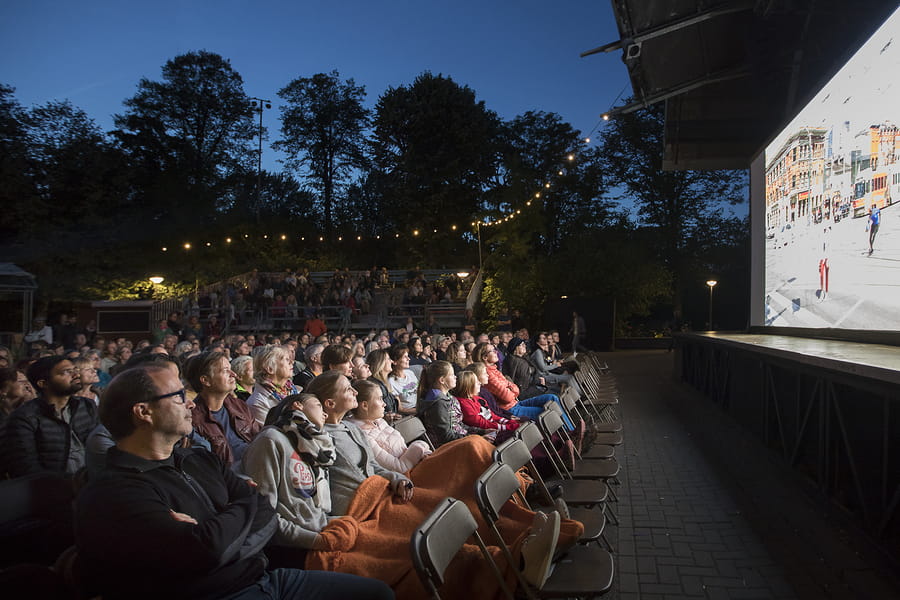 Why go to a regular cinema when you could go to the Moonlight Cinema? Located in Centennial Park, Moonlight is an outdoor cinema offering the latest movies as well as beloved classics. Pack your picnic rug and get ready for a night of entertainment beneath the stars.
Some of the new films we recommend include Bad Times at the El Royale, Crazy Rich Asians, A Star Is Born, Bohemian Rhapsody and Venom. You'll also be able to catch films like Robin Hood, Aquaman, Spider-Man: Into the Spider-Verse, Second Act, First Man, Ladies in Black, Mortal Engines and advanced screenings of Storm Boy and Mary Queen of Scots. Fan-favourites like Back to the Future, Dirty Dancing and Love Actually will also be screening.
Moonlight Cinema has been running since November 29 2018 and will continue up until the end of March 2019. You'll be able to grab food and drink at the food trucks located on site. It's located at the Belvedere Amphitheatre in Centennial Park, Paddington. The closest gates are the Woollahra Gates on Oxford Street. See their website for more information.
Autumn
Fear not – the fun doesn't end with summer! Autumn in Sydney is peppered with some of the best events of the year, from fashion shows to LGBTIQ celebrations.
Sydney Comedy Festival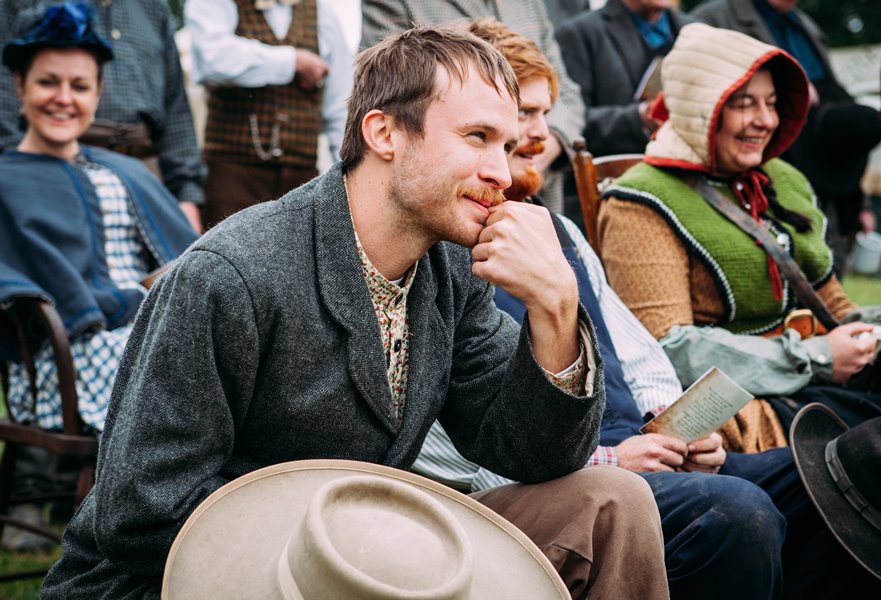 Who doesn't love to laugh? The Sydney Comedy Festival is a nearly month long comedy extravaganza, with acts like Kitty Flanagan and YouTube sensation Neel Kolhatkar gracing the multiple stages across the city. The festival offers a refreshing, contemporary and hilarious take on Australian culture and modern living.
The festival will be held throughout the city, with venues set to include the Enmore Theatre, Factory Theatre, The Comedy Store, Sydney Opera House, UNSW Roundhouse, Riverside Theatre and even those as far out as Penrith and Dee Why. Tickets range in price and are already on sale, so get in on it now! Have a look at their website for more details and to buy your tickets.
Mercedes Benz Fashion Weekend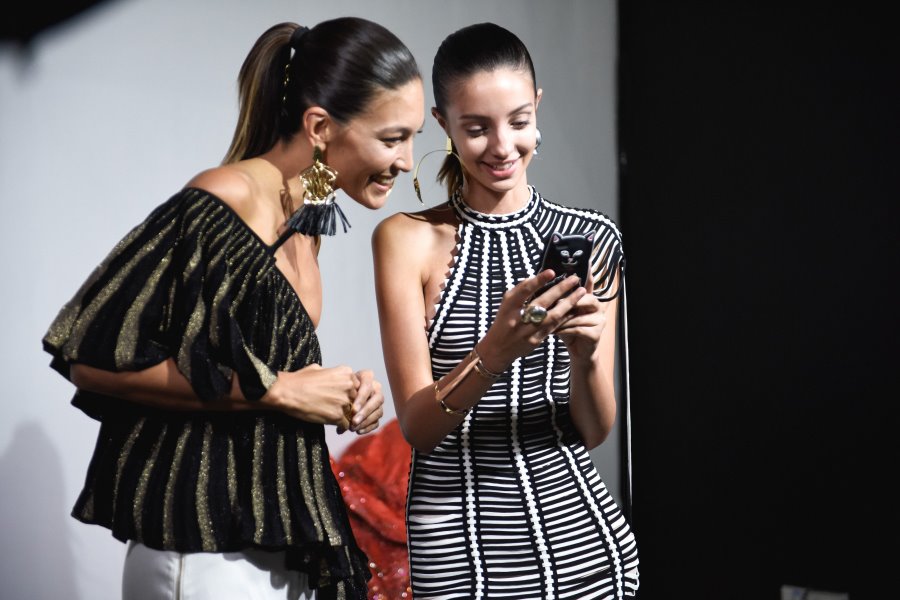 Take your place inside the biggest fashion week in Sydney, where you can enjoy two days of fashion seminars and style sessions, photography classes, behind the scenes access and designer runways. Catch a glimpse of Instagram celebs, models and world-class designers as you experience the latest in up and coming fashion.
The Mercedes Benz Fashion Weekend has been running in Australia for over 20 years, celebrating the work of designers young and old from across the globe. It is supported by the NSW Government, valued for its ability to place Sydney as a global fashion city. Featured designers in 2018 included Camilla and Marc, Akira, Holly Ryan, We Are Kindred and Macgraw.
The date and location of the Mercedes Benz Fashion Weekend is yet to be announced. Stay up-to-date using their website.
Sydney Royal Easter Show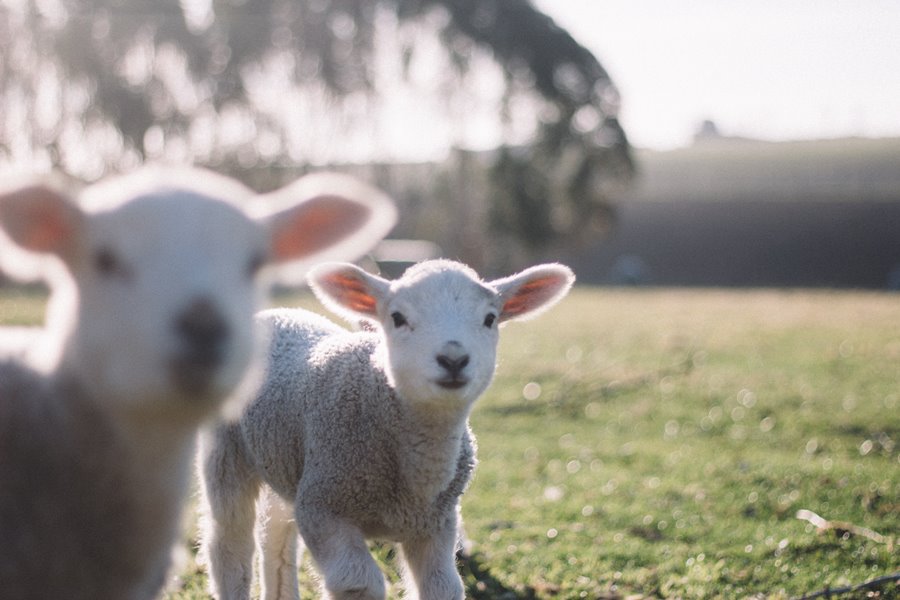 The Sydney Royal Easter Show is a family favourite. Each year during Easter, families gather to celebrate the affair with show bags, rides and the petting of cute farm animals. As usual, 2019 will host a range of competitions, including the Baby Puppy Competition, Goat Competition, Pig Competition, Woodchopping Competition and Arts and Crafts Competitions. There will also be fireworks, music and even polo.
Held at the Sydney Showground from 12-23 April, tickets range from $10-$47. You'll get discounted tickets if you're a senior, a concession or a child. They also offer a range of carnival coupons and corporate packages. For more information on how to get to the venue, see here.
Mardi Gras Parade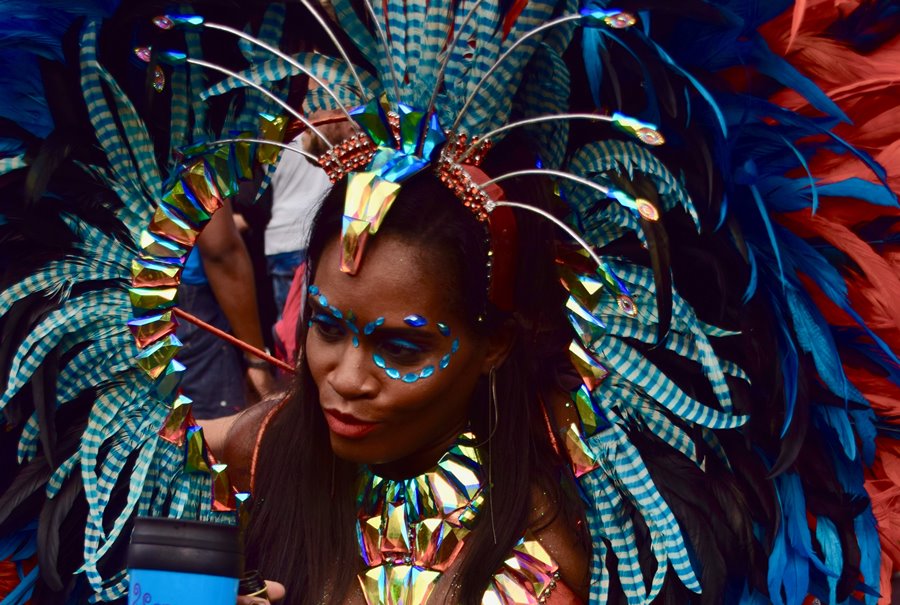 From February 15 – March 3, the country's biggest celebration of LGBTIQ equality will dazzle the streets of Sydney once again with a range of events. Kick off the celebrations with Fair Day on February 17, where up and coming LGBTIQ musicians will perform live – there will be food, stalls, games and puppies.
In the lead up to the main parade, enjoy a host of entertainment including music, burlesque, dance, circus, seminars and circus running in venues around Sydney. Then, on March 2, head over to catch the parade in Oxford St, Darlinghurst (kids are welcome to join, too!). There will be a range of awesome floats, food stalls and more.
Afterwards, be sure to attend the Mardi Gras Party – it's arguably the biggest party of the year, with an awesome line-up of DJs, live performers and more. Be sure to book your tickets now as they typically sell out at the start of January.
Locations vary, however the map for the main parade can be found here.
Vivid Sydney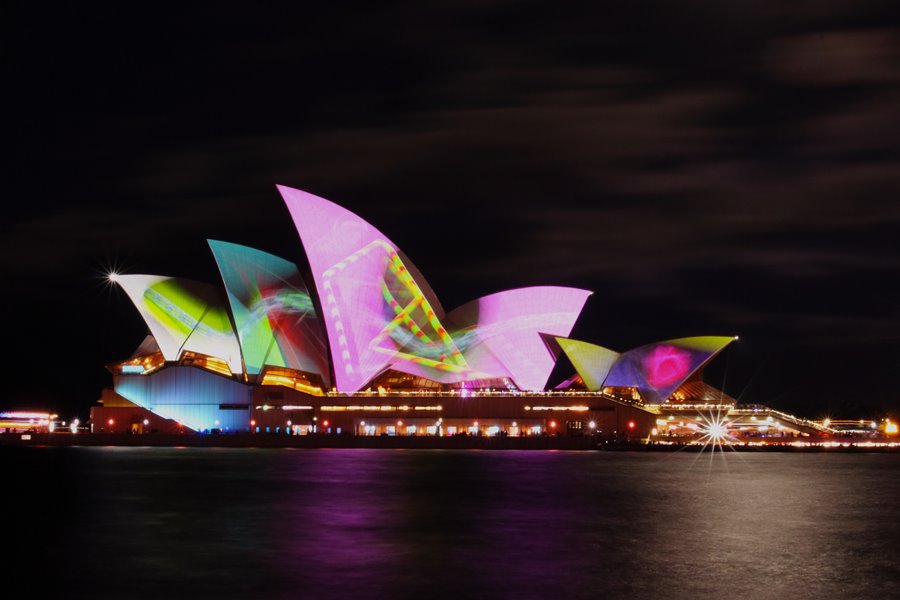 The planet's biggest festival of light, music and ideas runs through the end of autumn and start of winter. Award-winning Vivid Sydney is a feast for the senses, and it seems to be getting bigger and bigger each year (unfortunately so too are the crowds). Whether you're marvelling at the projections on the Sydney Opera House and skyscrapers or exploring the illuminated Royal Botanic Gardens, Vivid is a fun night all-round.
The event also hosts a range of musical performances. Previous acts have included Cat Power, Iron & Wine, St. Vincent and Solange.
Catch it May 25 – June 16; there are a range of free and paid events to suit all budgets. If you're after something to impress a date, consider buying a dinner cruise where you can admire the lights from the sea.
Locations are yet to be announced, though the main show takes place at Circular Quay, Sydney, which can be accessed by walking from Circular Quay Station. Stay up to date using the official Vivid Sydney website.
Winter
When the weather gets chilly it can be tempting to stay hidden under the blankets. However, Sydney rarely sleeps, and there are a range of exciting (and heated!) activities waiting for you.
Bondi Winter Magic Festival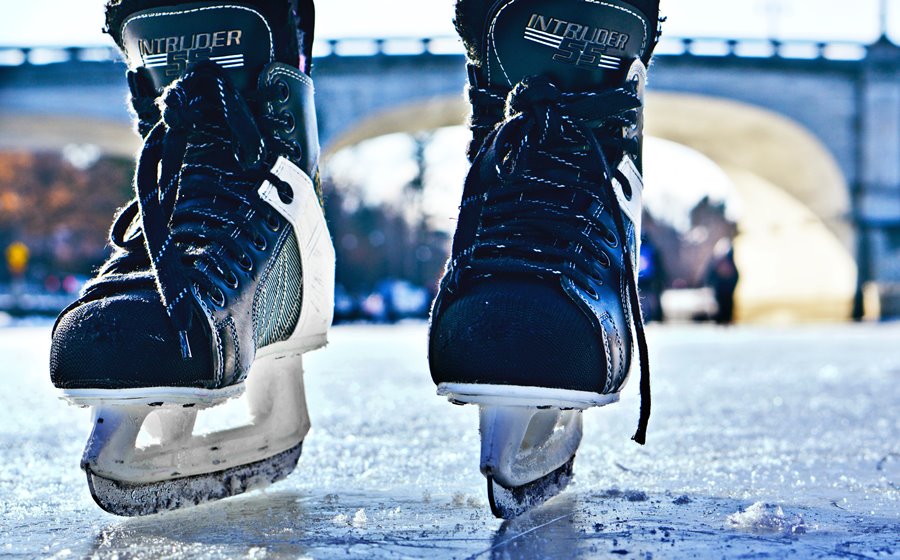 While you wouldn't traditionally expect to be spending winter at Bondi Beach, the Winter Magic festival makes it possible. Skating on an ice-rink on the beach is a curious but fun experience – one that over 40,000 people have enjoyed in previous years. It's great for the kids, allowing them to take part in skating lessons (with plastic penguin skating aids to guide them) and enjoy craft activities afterwards.
When evening strikes you can enjoy performances by Australian ice skating champions, as well as ice show and hockey demonstrations on weekends. Skating lessons take place on Saturdays. The festival also runs Art off the Streets (where local artists exhibit their work in an open-air gallery), Music on the Street and a range of history walks. Dates and location are TBA – stay up-to-date here.
Winter Garden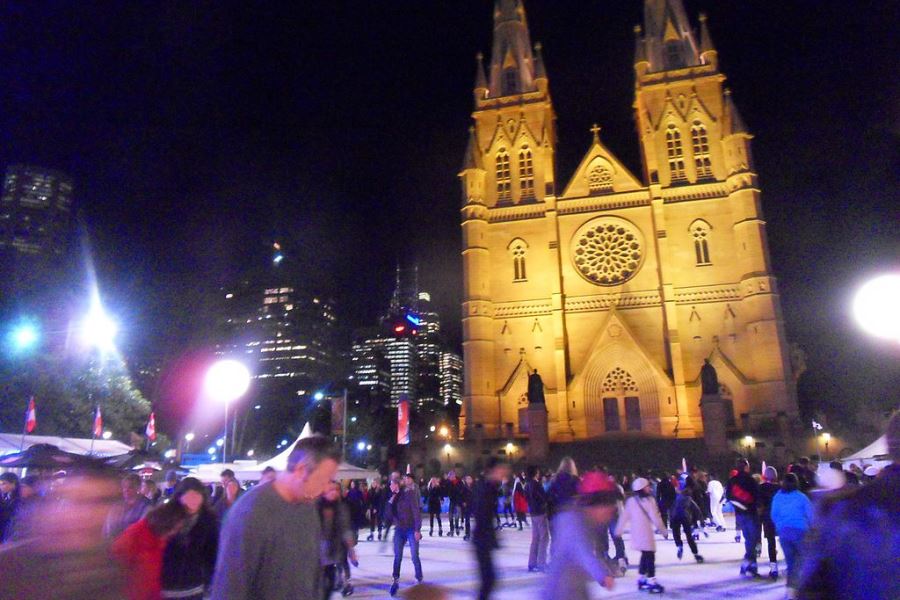 One of our favourite things to do in winter is ice-skate. And this activity has been made even more awesome by Winter Garden, an open air ice-skating rink located in Cook and Phillip Park where you can admire St Mary's Cathedral while you skate.
The Winter Garden Lounge is the event's gathering space, where everyone can snuggle up together in front of an open fire and enjoy live entertainment including music, DJs, skating pros and themed nights. The pop-up Lindt Chocolate Café offers visitors yummy hot chocolate to keep warm, and there are plenty of food stalls to satiate your hunger.
They also host a garden party where you can enjoy a steaming mug of gluhwein, with profits going to charity. There will also be a big inflatable slide and a mechanical snowboard for the brave. Dates and locations are TBA, though it's likely to run from late June to late July. Expect information to be released on the City of Sydney's website.
Sydney Film Festival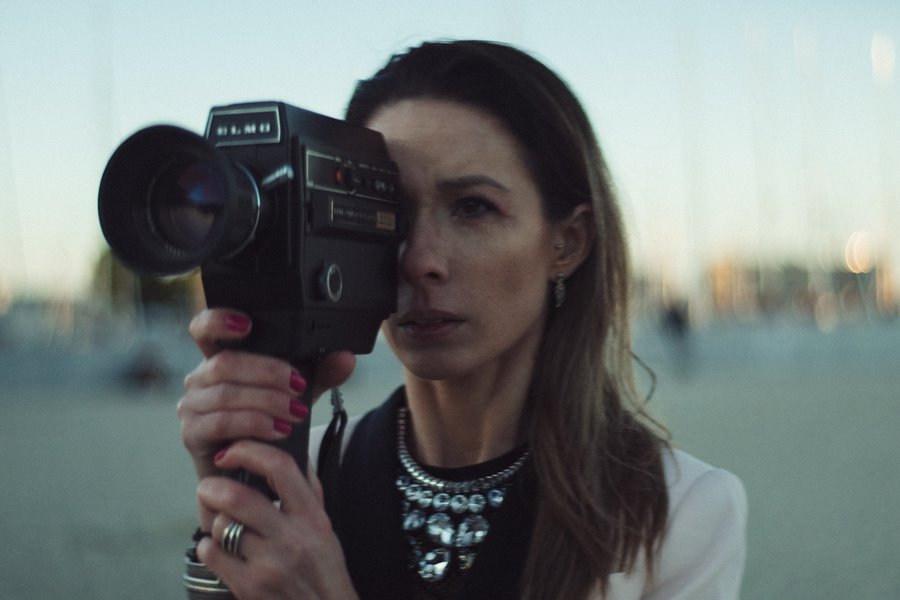 Cosy up in a Sydney theatre near you to enjoy some homemade filmic gems. Home to Oscar winning films like Call Me by Your Name and indie flicks like comedy The Breaker Upperers, the Sydney Film Festival is one not to be missed. If previous years are anything to go by, the 2019 program is likely to be packed to the brim with awesome Aussie films.
The Sydney Film Festival is Australia's longest running film festival, giving up and coming Australian and international filmmakers the chance to showcase their work. They also travel the nation with their Travelling Film Festival, where they screen films at regional centres such as Alice Springs and Ulladulla.
The festival also runs talks and parties, so be sure to start planning ASAP! The Sydney Film Festival runs for 12 days from June 6-17 across the city, from The State Theatre to Western Sydney. Ticket prices vary. See the Sydney Film Festival website for more details.
Australian Museum Night Talks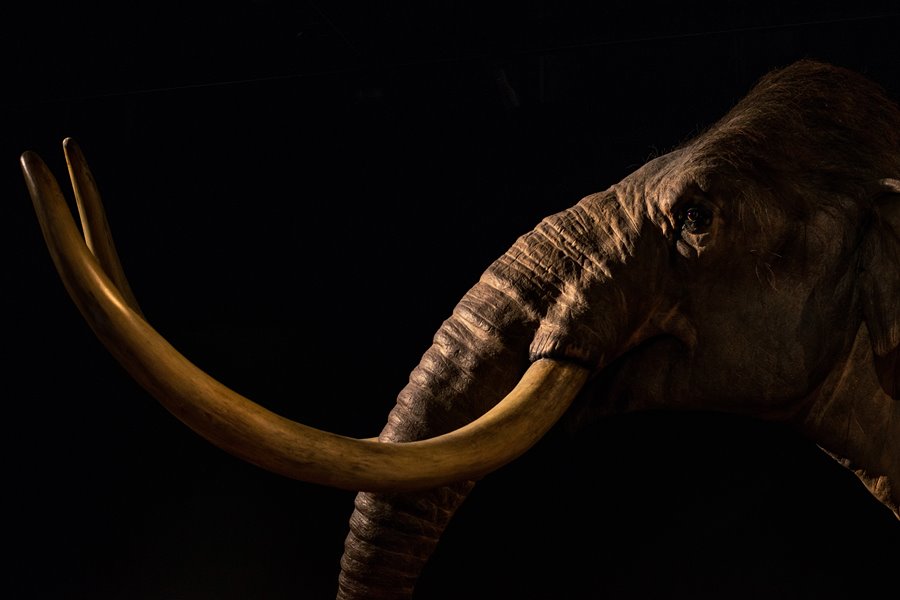 The cold season is the perfect time to cosy up together for a chat in the halls of the Australian Museum. Bring your family for an after-hours sleepover or a night talk to learn more about science and nature with experts in the field. Sleepovers start at 5pm and include dinner, games and torchlight tours – this is a lot of fun for the younger ones.
Some of the exhibitions they're running include Whales, where you can learn more about the ocean's biggest creatures, and Australian Geographic Nature Photographer of the Year, where you can see some spectacular snaps of nature and wildlife.
The museum also runs tours and workshops, including an Aboriginal weaving workshop. Once you're done with your tour, feel free to grab a bite to eat at the café and nab yourself a goodie from the museum store (proceeds fund the museum's programs). They offer free admission for kids, with adult tickets going for $15 and concession tickets for $8.
The museum is located at the corner of College Street and William Street near Town Hall station. There is no parking at the museum; park at a nearby car park or walk from Town Hall or Museum station.
TedX Sydney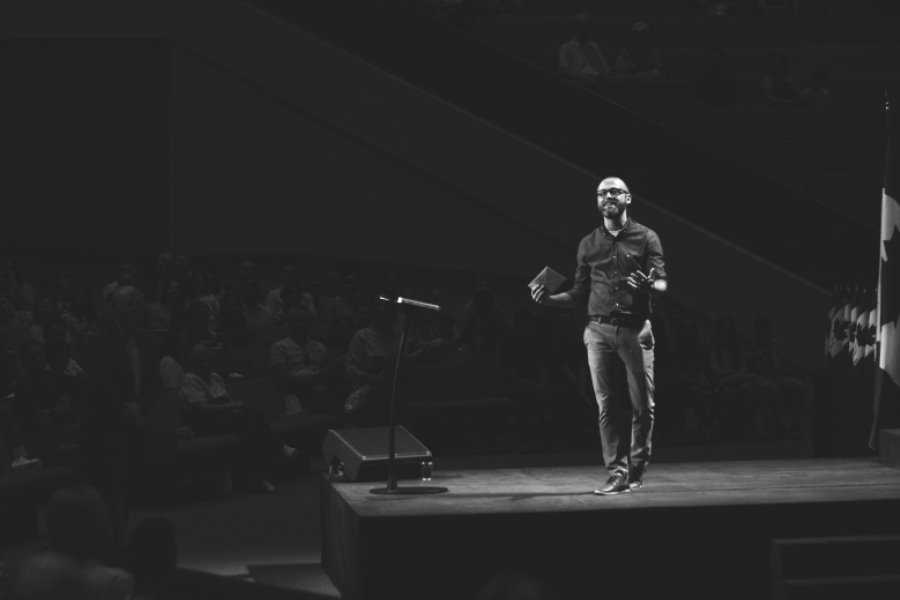 TedX Sydney is the nation's leading hub for inspiring innovation, creativity and fresh thinking. In 2018 over 5,000 people came together at the ICC Sydney to savour performances, conversation, debate, films and connection. From a 13-year-old poet passionate about environmental justice to an exploration of what happens to the throat whilst beatboxing, TedX Sydney doesn't shy away from any topic. The official date of TedX Sydney is TBA, though last year it was held in June.
In 2019 they will also host TedX Youth@Sydney, with a line-up of speakers under the age of 30 exploring the theme 'Cusp'; the point of transition between two states. The speakers will explore new ideas and approaches to the social problems of the now and the future. Tickets are on sale now for April 4 for $55 concession and $80 standard.
Visit their official website for more information and to make a booking.
Spring
Make the most of Sydney in bloom (and gather up some Instagram-worthy photos while you're at it) by getting outdoors and exploring the greater Sydney region.
Leura Gardens Festival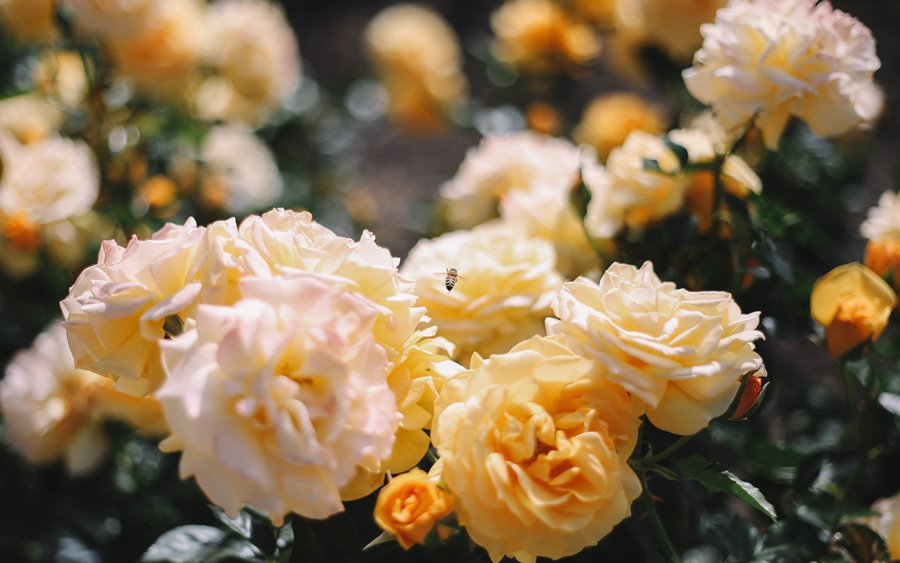 Take a trip to the stunning world-heritage listed Blue Mountains this spring while the flowers are in full bloom. Located in Leura, around 100km west of Sydney, this festival is a celebration of well-kept gardens and stunning flowers. Each garden is unique, with a range of small and large gardens available for you to meander through.
You'll see an incredible selection of Australian natives, cool climate exotics and flowering bulbs, perennials and annuals. From the century-old garden Rustlings to the modern Hill of Grace (a vertical garden with incredible views), you're sure to find something amazing.
Ticket prices are yet to be released, though in 2018 a combined ticket was $25 and a single garden ticket was $8 (with children under 16 free). If you need to take public transport to get to the festival there will be a bus service running every 30 minutes (between 9:30am – 4:30pm), with $10 all-day tickets.
The gardens can be accessed by driving up the Great Western Highway from Sydney or by catching the train to Leura station and taking a bus. More information on access can be found here.
Sydney Fringe Festival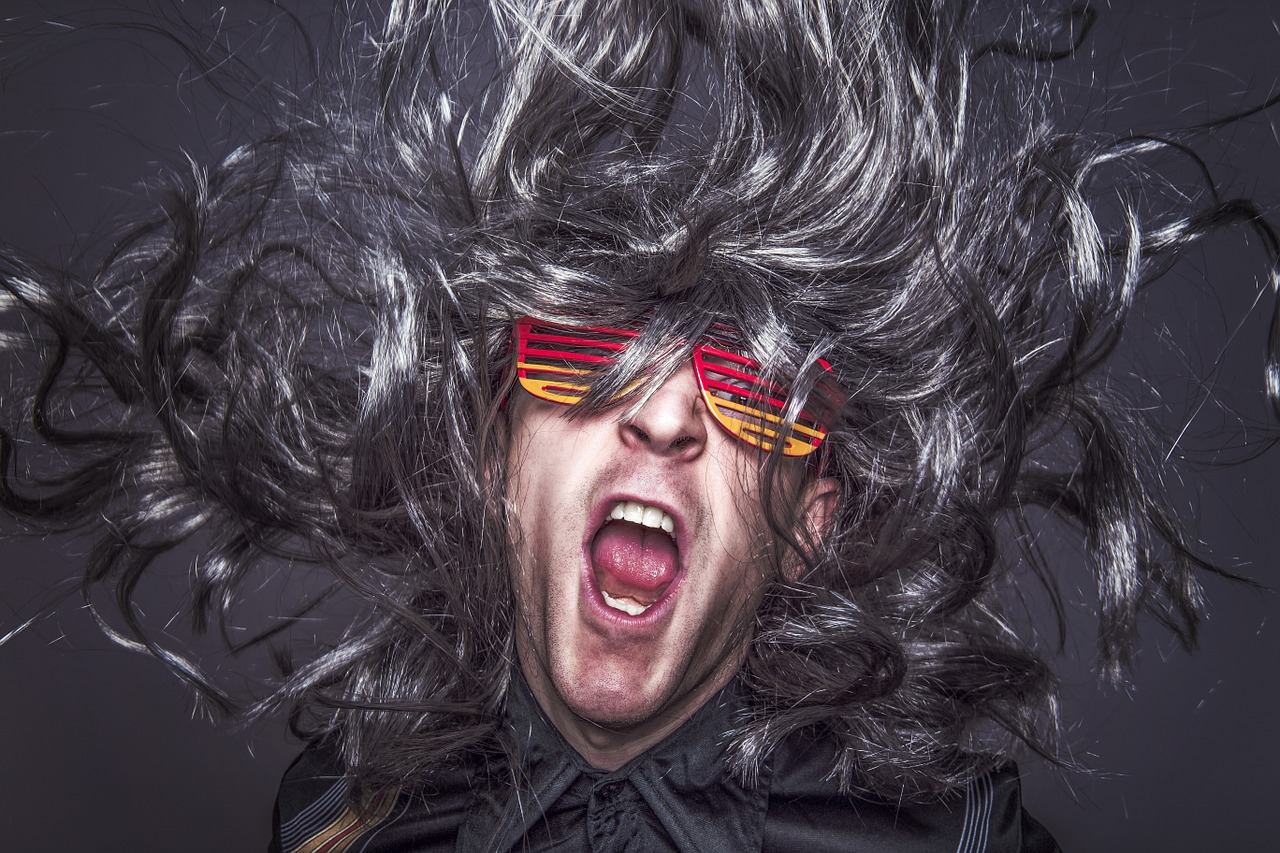 The Sydney Fringe Festival is an arts and cultural festival which celebrates independent art and innovation. It runs from 1-30 September and is essentially a month-long bunch of fun. It's also big – in 2018 it spanned across 21 postcodes and over 60 venues throughout the city. Between all the art, performance, dance, music, circus, parties and talks, you'll be kept busy for days!
Artists take note – the festival is open access, meaning anyone can apply to run a show. It's also not totally curated, which means most artists who apply will get a spot in the festival. This is a great opportunity to showcase your work and meet your fellow creatives! The festival also offers internships, volunteer and work opportunities.
Locations and dates are TBA; stay up-to-date using their website.
Foraging tour and Aboriginal bush food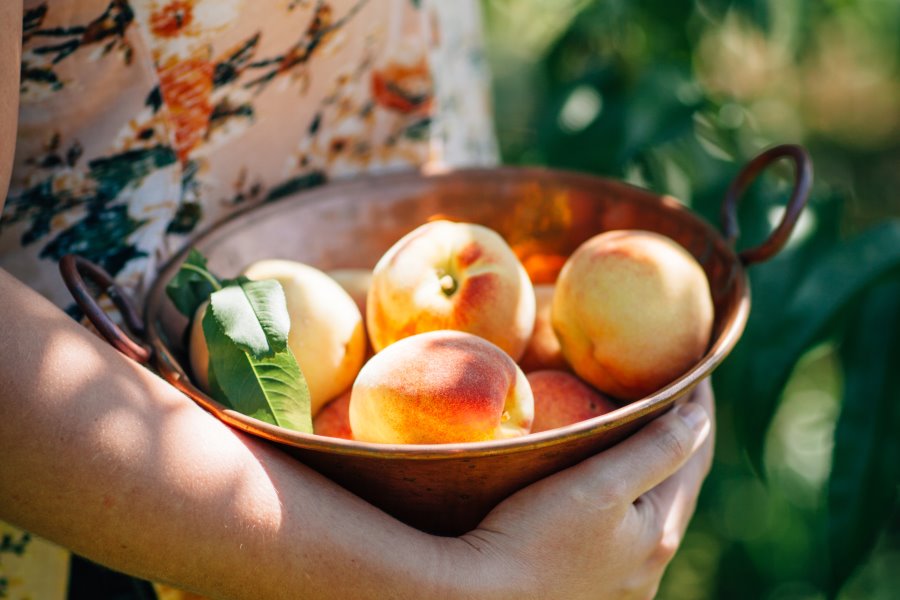 There's nothing like picking your own fresh fruit! Take the kids out for a trip to some of Sydney's stunning orchards and savour the bountiful harvest. Between the fresh strawberries, ripe peaches, crisp apples and tart raspberries you'll hardly need lunch!
For something a bit more daring, try a foraging tour. Wild food tours can teach you how to identify edible plants in the wild, and you'll get to enjoy them as a meal afterwards. Aboriginal bush food tours are also available, where you can learn more about edible native fruits, vegetables and seeds and learn how to prepare them according to traditional Aboriginal methods.
Food tours are a great educational activity for children (and are also a lot of fun). They range in price, from a few dollars to upwards of $100.
Carriageworks Farmers Market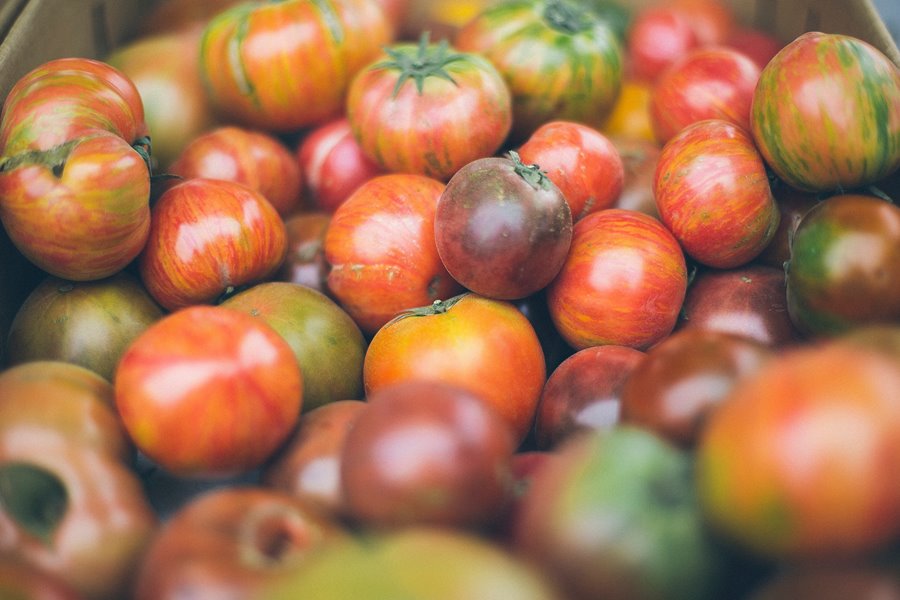 This farmers' market is next level, with gourmet, seasonal and biodynamic produce offered by some of the top foodies and farmers in the country. The markets are creatively directed by one of Australia's top chefs, Mike McEnearney (who has previously worked at Michelin-star restaurant Pied a Terre and Neil Perry's Rockpool), who intends for it to become a world-renowned foodie heaven along the lines of London's Borough Market.
The market offers over 70 stalls which feature not only fresh produce but live cooking demonstrations. Make sure you fast before you go! Carriageworks Farmers Market runs Saturdays from 8am-1pm at 245 Wilson St, Eveleigh, with free entry. It is a short walk from Redfern Station.
Sculpture by the Sea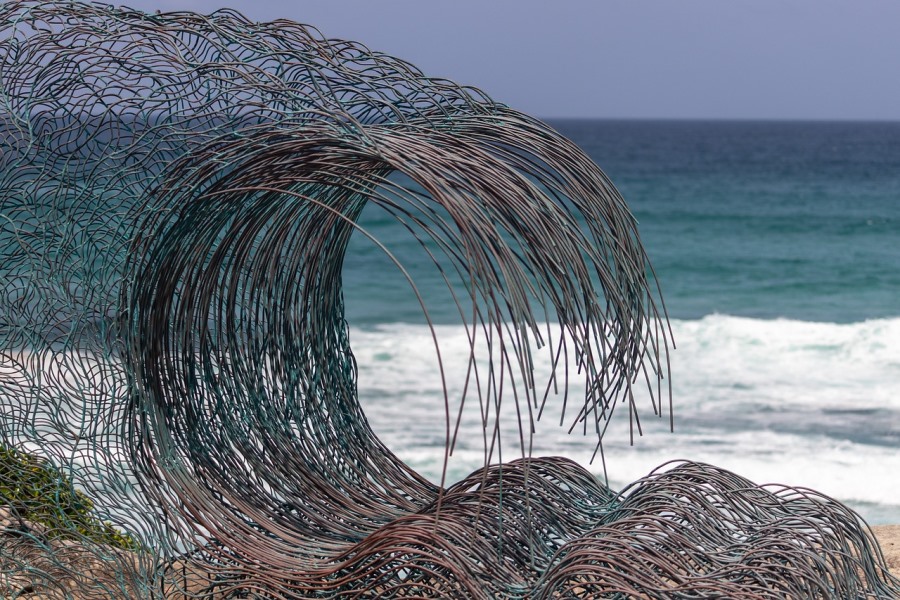 If you're into art and you're into the ocean, you'll love Sculpture by the Sea. Enjoy a scenic walk down the coast whilst savouring the world's biggest public (and free!) sculpture exhibition. With more than 100 pieces created by local and international artists across a 2km stretch, this could take you a while.
Be sure to wear sun protection (and maybe a jacket; it could get breezy!) and pack some lunch as you stroll past the sculptures. There will be plenty of opportunities for photos! Artists who have previously been involved in the festival include Mu Boyan, Albert Paley, Yu Fan and Deborah Halpern.
The exhibition is displayed along the Bondi Beach – Tamarama Beach coastal walk for three weeks, from 24 October – 10 November. Sculpture by the Sea also offers Helen Lempriere Scholarships to selected Australian sculptors as chosen by the exhibition's panel of curators.
This event is really busy on weekends so make sure you catch public transport to save yourself the hassle of finding a parking spot. Buses run regularly from the city to Bondi Junction and to Bondi Beach.
Conclusion
From flower festivals to sleepovers at the museum, our 2019 calendars are packed full of fun the whole year round.