Given the rise of the COVID-19 pandemic across the globe, it is only natural for households to want to isolate as much as practically possible. Indeed, many national governments throughout the world have legislated many of these temporary changes (like social distancing), mandating that people stay indoors throughout the crisis.
Fortunately, there are a variety of high-quality, reliable providers of telehealth services throughout Australia, who can assist ill people who cannot get to a doctor or medical practice.
Naturally, these services are crucial during times of crisis, however, they remain useful to those who are perhaps geographically isolated (like rural Australia).
Where to make telehealth appointments?
Here are the top telehealth consultation services in Australia:
Instant Consult – offering 24/7 easy appointments in all states and territories
GP2U Telehealth Australia – partnered with Sonic Healthcare and HCF
Doctoroo – the app now has over 9000 registered users
iCliniq – a safe online community for patients and qualified doctors
Docto Online Hospital – one of very first online medical providers
Telehealth Serivces are offered in:
New South Wales – NSW
Queensland – QLD
South Australia – SA
Tasmania – TAS
Victoria – VIC
Western Australia – WA
Australian Capital Territory – ACT
Jervis Bay Territory-  JBT
Northern Territory-  NT
#1 Instant Consult
Instant Consult:
Website: www.instantconsult.com.au
Phone: 1300 003 310
Appointments: click here
Download the App:
– Apple Store: click here
– Android: click here
Instant Consult is one of Australia's best providers of telehealth consultation services. They provide Australians across the country with ongoing, 24/7 access to essential healthcare resources, such as prescriptions for medications, referrals for specialists, radiology requests, pathology requests and medical certificates for workers/students taking sick days.
The Instant Consult online platform connects users with qualified, Australian doctors via a video-call format. This way, patients can still have that face-to-face interaction with their healthcare provider without having to leave their home or place of residence. While it's a lot more convenient for the average patient, Instant Consult is also taking the strain off traditional medical clinics who often see a lot of patients in-person for minor ailments. Instant Consult's operational model is very cost effective, in the sense that while their services are not covered by Medicare, users still save money in terms of reduced travel expenses and foregone income.
Instant Consult's online app also allows users to evaluate the quality of service provided by their doctor. This system of feedback ensures that Instant Consult can provide the highest standard of telehealth to its users and pinpoint specific doctors in need of further telehealth training. In addition, ongoing evaluation guarantees that weaker aspects of the process will properly be identified, refined and resolved.
Some patients are hesitant to reach out to an online doctor because of security concerns. Thankfully, this is something you don't need to worry about when working with Instant Consult. In fact, their app uses 256-bit SSL Certificates and data encryption to ascertain that your private medical information remains confidential between you and your doctor.
Likewise, all services provided by Instant Consult are administered completely online. This means that all correspondence you receive from the service are paperless and digital. When you receive a prescription from your online doctor, it will be forwarded to one of Instant Consult's affiliated pharmacies, where you can pick it up for collection. Other medical documents, like referrals or medical certificates are similarly emailed to the user and will appear in their inbox. The centralisation of all communications makes all correspondence and workflow highly accessible and efficient!
In terms of technology, don't be alarmed if your computer, laptop, phone or tablet isn't completely up to date with the most recent software. Instant Consult's online platform doesn't require any additional hardware or software to run. Simply download the app, make an account and sign in. The iOS app is compatible with iPhones and iPads, whilst the Android app is compatible with Android devices. When accessing the portal via a web browser on your tablet or computer, use either Google Chrome or Mozilla Firefox. The only thing you need to remember is you can't access Instant Consult via a web browser on your mobile phone – you must download the app if you wish to access it on your phone.
So, if you are strapped for time or living through a period of quarantine or isolation, you should certainly consider downloading the Instant Consult app for your future medical needs. Their doctors are qualified and professionally trained, while the online platform is easily accessible and straightforward to use.
#2 GP2U Telehealth Australia
GP2U
Website: https://gp2u.com.au
Phone: 1300 472 866
Founded in 2011, GP2U is an online telehealth consultation practice that delivers healthcare to users in need of medical attention and advice. Their software facilitates video-based consultations, enabling them to provide referrals, pathology requests and prescriptions to online patients. Their application works on phones, laptops, PCs and tablets.
Since 2015, GP2U has been partnered with Sonic Healthcare and HCF (a health insurer), thereby bolstering their available capital. In fact, GP2U received over $1.5 million in funding from HCF in 2016 and have been featured in a variety of national news stories. In 2015, Sonic Healthcare also pledged a $1.5 million investment to GP2U.
In addition, GP2U has ongoing partnerships with Priceline and Terry White, which ensures that patients have quick and easy access to filling their medical prescriptions. Because of this video consultation format, long gone are the days when patients needed to wait in line with other sick people to have their symptoms treated or diagnosed.
GP2U is also aware that some patients prefer to discuss more personal ailments with an anonymous doctor. Sometimes, seeing the local family doctor isn't always the most comfortable, appealing option. As a result, they won't pass on any information to your regular GP unless you specifically ask us to do so – otherwise, the details of your online consultation will remain secure and confidential.
Setting up a video conference is relatively straightforward. However, you must have a stable internet connection to ensure the conference runs smoothly. Before booking in your appointment, make sure that your internet speed is adequate and that all your hardware is working, like your device's camera, speaker and microphone. Remember that cheaper laptops have poorer cameras and microphones, so if you are concerned about the quality of your call, see if you can borrow a better piece of equipment from a friend or relative.
The app also has a great user interface, so regardless of how strong your computer acumen is, you'll cope well with GP2U. Building upon their accessible user interface, GP2U also lists doctors who are available at all times of the day, each with expertise in different areas. GP2U can also be billed through Medicare, which means lower costs for online patients. Patients in need of dermatological advice can also hop onto the GP2U platform because they have been working with Skin By Derms – a leading provider of online dermatological advice since 2014.
Sarah Richardson is the current general manager of GP2U and with over 15 years of experience in the health care industry, it's no wonder why GP2U operates so efficiently. Dr James Freeman is the founder of GP2U and brings 20 years' worth of clinical experience to the company. He is a Lecturer in Medicine at the University of Tasmania. In addition, Mr Amit Vohra is the Chairman of the Board and has an extensive history in primary health, business development, industrial relations and medical training.
#3 Doctoroo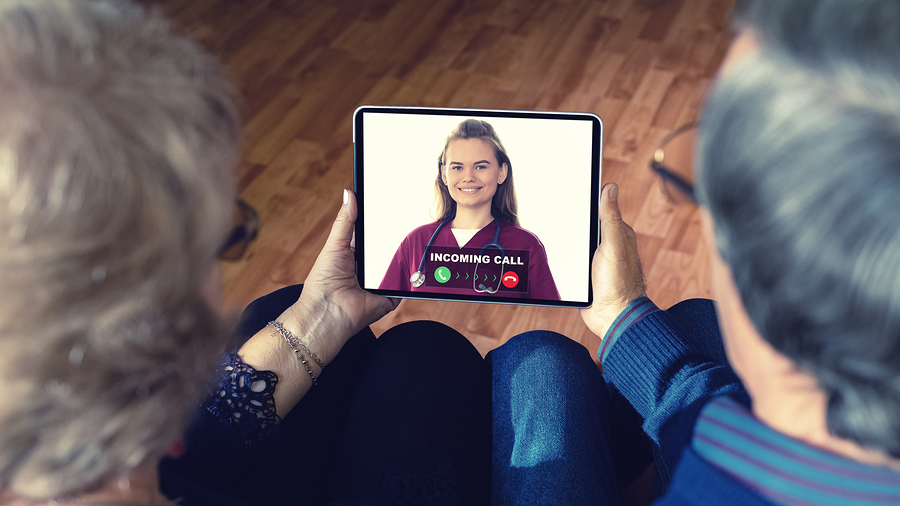 Doctoroo
Website: www.doctoroo.com.au
Phone: (02) 9159 6660
The idea behind Doctoroo was slowly developed and critiqued between 2015 and 2016. After many months of discussion, hard work and critique, the first version of Doctoroo was officially launched in early 2016. Since 2017, Doctoroo has slowly grown their network of general practitioners, pharmacists and other necessary stakeholders. The app now has over 9000 registered users, more than 22 registered providers and is available Australia-wide (seven states). Through this, their reliable doctors have saved patients over $100 000 worth of Medicare costs.
Unlike other online telehealth applications, Doctoroo has made a concerted effort to provide a comprehensive range of services, which includes specialists in mental health. Indeed, their range goes beyond conventional GPs, and includes counsellors, psychologists and other mental health care support services.
So, what else can Doctoroo assist with? Well, Doctoroo can provide patients with generic medical advice, prescriptions, referrals for specialist doctors and NDIS services. Because they are an NDIS provider, they can connect patients in need of disability support with the relevant service provider, where they can begin creating an NDIS plan. On top of this, Doctoroo helps with medication management, which is designed for patients who are on several types of medication or those prone to forgetting to take their meds. Their platform encourages users to input their medication details, which will then set timely reminders for when your medication needs to be taken.
All doctors that work on the app are accredited in Australia, with some doctors having up to 30 years' worth of practical industry experience. Likewise, some of the telehealth providers speak various languages, which is perfect for users that aren't fluent in English or are more capable communicating in a different dialect.
Doctoroo's medical consultants are available 24 hours a day, including Saturday and Sunday. There are no costs affiliated with making an account and setting up an appointment is very simple. All you need to do is pick an available time that suits you, before paying and confirming your booking. Five minutes before your appointment, you will be sent a reminder. Once you receive this reminder, simply log in and wait for your doctor to call you – it's that simple.
As a result, anyone who is over 18 years of age and unable to leave their home due to isolation requirements should be downloading the Doctoroo app. It's a great way to get much-needed medical attention for those who are busy, time-poor, geographically remote, or too sick to leave their home!
#4 iCliniq
iCliniq
Website: www.icliniq.com
iCliniq is a safe online community for patients and qualified doctors. Using the iCliniq app, patients can consult with doctors anywhere and anytime, via four different modes of communication: query, chat, phone call and video call. Designed to be a "second opinion" platform, iCliniq is an easy to use online source of medical expertise where patients can get much-needed advice from a qualified doctor.
Boasting a diverse and extensive medical panel of more than 3500 doctors from over 80 medical specialties, iCliniq allows patients to ask a doctor a question through the "query" function. Users need to make an account and their first query is always free! Simply ask your question (including symptoms and other relevant information) and await a response from one of iCliniq's doctors. This mechanism works very well for patients with minor, less serious ailments.
The question and answer function of the app is also great for individuals just looking for further information about some symptoms they might be experiencing. If you don't believe you need to see a doctor but have some strange, albeit mild symptoms, a quick read-through of some of the answers on iCliniq might steer you in the right direction.
iCliniq has a wide variety of consulting specialties, including but not limited to dermatology, dentistry, general medicine, cardiology, child health and allergies. Their application even shows doctors available via geography, so simply search your state or city (e.g. "New South Wales" or "Baulkham Hills") to verify if there are any local doctors available for an online consultation.
You can choose to chat online, phone or even video conference with your chosen medical professional. The online chat function allows users to post as many questions/issues they want for either a 50 hour or 100-hour period. During this time, your doctor will respond promptly to your questions.
If that isn't your style, you can choose to schedule a call with a doctor at a time of your choosing. This service is available 24/7 and allows you to receive real-time, immediate advice when you need it most. Similarly, the video consultation option is available for people who are unable to leave their home, like those isolating because of COVID-19, elderly Australians or people who live in remote areas. Their video conferencing software relies on highly secured HIPAA compliant encryption, ensuring that your personal medical information remains confidential and private. This is a great option for people who feel that a face-to-face consultation is required (like showing visual symptoms – a rash, hives or some form of swelling).
#5 Docto Online Hospital
Docto Online Hospital
Website: www.docto.com.au
The final entry into our top 5 list of best telehealth providers is the Docto Online Hospital. Docto is highly regarded for many reasons, one of which is the fact that it was one of Australia's very first online medical providers. They have been providing online medical advice, prescriptions, medical certificates and referrals to patients for many, many years.
Docto uses a centralised database that consists of some of the country's leading medical specialists in their fields. Once you register your interest or desire for an online consultation, Docto will match you with the most appropriate provider. They have a well-developed, comprehensive range of specialties and because of their awesome cost structure, consultations start at a low $35 for regional customers.
Docto is great for those not able to leave their home or unable to access necessary medical services. Having said that, the service is for everyone and anyone, so if you aren't up to travelling to your local GP, rest assured that you don't have to! Because of the global coronavirus pandemic, public health services are being inundated with people getting tested for COVID-19. Because of the strain this can put on the public health sector, telehealth services, like Docto, have an important part to play in navigating the crisis. Docto can even assist those who believe they have been injured while working. Indeed, Docto's online medical personnel can provide workers with treatment advice and necessary worker compensation forms if the injured worker deems it necessary.
Docto's services are incredibly valuable to parents with young children. When young children come down with influenza, whooping cough or croup, their immune systems may not be able to fight off the disease without urgent assistance. It is common for this to occur at night or when the child is resting, so having access to a qualified medical opinion without having to leave your home is invaluable. Your online doctor can even help you locate the closest hospital if he/she deems it necessary.
Users and other doctors can even choose to refer their patients to the Docto service if they believe it will provide them with accelerated access. In this case, Docto uses a dual consultation format to enhance the standard of medical advice provided. Indeed, a dual consultation means that a GP and a consulting specialist take part in the consultation with the patient concurrently. This encourages real-time discussion between all three parties and ensures that there is a shared understanding when moving forward.
Conclusion
At the end of the day, it is paramount that sick and vulnerable individuals have access to the medical information they need to get better. During times of crisis, isolation or because of other factors (like limited mobility), some people are simply unable to meet face-to-face with their local GP or consulting specialist.
If this applies to you, make sure you download any or all the five online telehealth platforms stipulated in this article. All the providers listed above are qualified, well-respected and offer comprehensive services designed to treat a wide variety of ailments and medical conditions. Don't hesitate and be proactive when it comes to you and your family's medical health!