Online doctors are growing quickly in popularity in Australia, and for a good reason. Their ease and convenience take a lot of the frustration out of dealing with health problems. Online doctor services cut out the need for doctor's waiting rooms, long wait times, or expensive travel time to try and get an appointment.
The majority of medical consultations are straightforward and can easily be done online, so why not save yourself the headache and use one of the great online services available in Australia.
Here are online doctors in Australia:
Instant Consult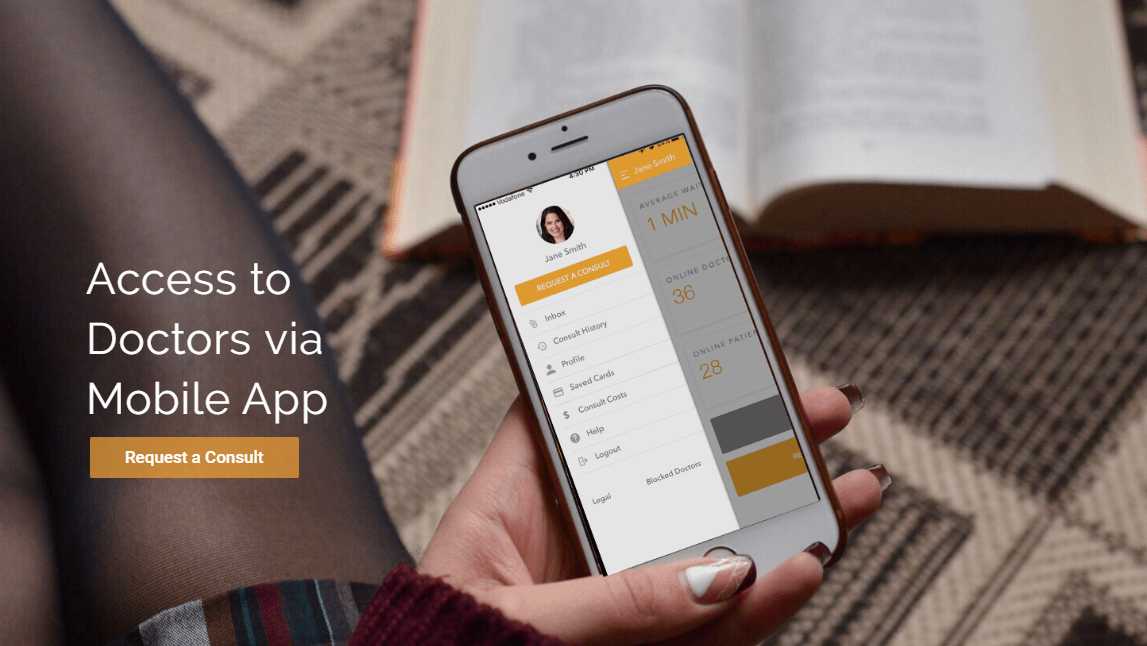 Instant Consult is an online doctor service that provides Australian's with 24/7 access to a variety of healthcare services including medical certificates, prescriptions, referrals, pathology requests and radiology requests. Their app and online platform also provides patients with access to video calls with doctors, so you can have a full consult face to face with your healthcare professional.
Their service takes a lot of the hassle out of seeing your GP and takes the pressure of in-person clinics that see a high patient volume for minor consults. Online services free up the public healthcare system to deal with medical emergencies or more serious health issues.
Instant Consults' online services are perfect for time poor patients who don't wish to take time off work to see their GP, or who are home sick and don't feel up to going in for an appointment.
Instant Consult are not yet covered by Medicare but their online nature means that they are very cost effective, and their easy accessibility means that they often save you money in travel expenses and lost income or annual leave.
Instant Consult should not be used in case of emergency but their services make up over 80% of the types of medical consults usually seen at practices, so it's highly likely that this service could be very handy for you.
Next time you need to visit the doctor, consider downloading the app or seeking the advice of one of Instant Consults highly trained and professional doctors.
Simple Online Doctor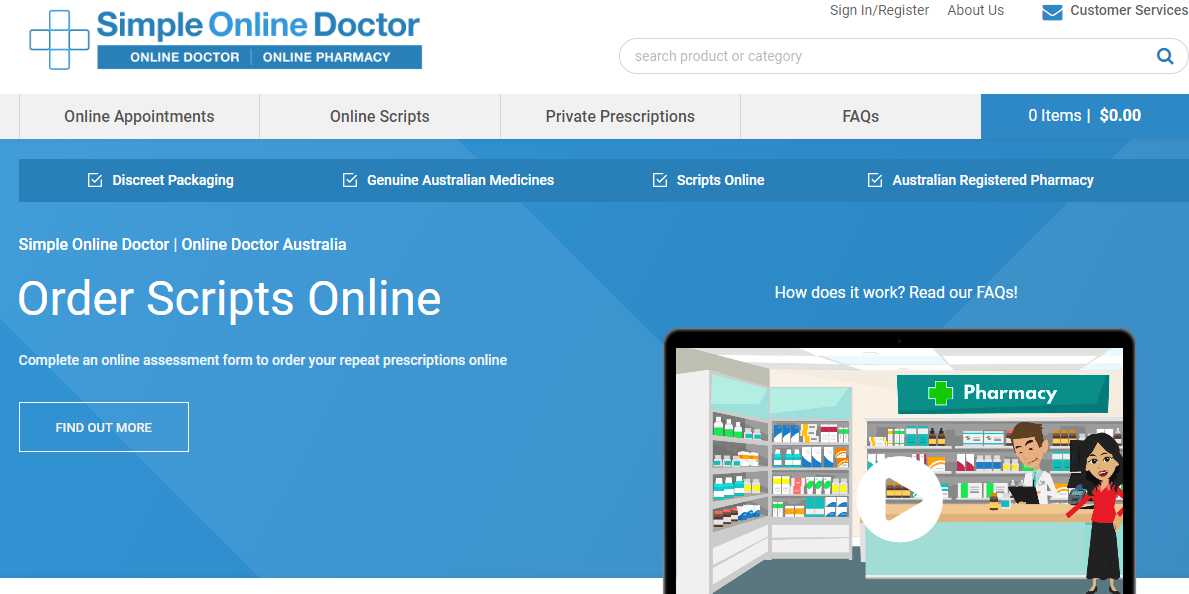 Simple Online Doctor offers both online doctor services and an online pharmacy, so you can have your prescription made out and then filled all with one easy service provider.
Simple Online Doctor has a number of both GP's and psychologist's employed and so have a wide consultation offering that covers common complaints like sexual health as well as needs such as doctors certificates, whilst their psychologists can assist with mental health concerns.
The online scripts and prescription fulfilment service is extremely helpful, especially for items you may be embarrassed to pick up in the pharmacy, as everything is sent with very discrete packaging.
The pharmacy service requires prescriptions to be posted but is extremely simple and easy to use. This is a great option for people who are time poor and don't have the opportunity to attend the doctor's office and wait in line at the pharmacy for their script.
This is a great service for those needing a specific prescription and can save patients a lot of time at the doctor's office.
Doctors on Demand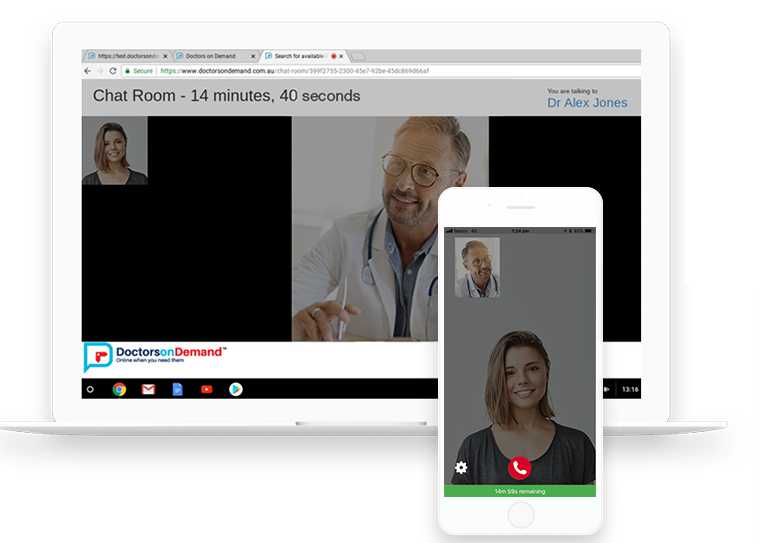 Doctors on Demand has online services that include consultations, prescriptions and doctors certificate, they operate 24/7 so you can always access a doctor when you need one.
In addition to their GP consultations, they also have psychologists on call to assist with mental health concerns. The online video services for mental health can be extremely helpful for those suffering mental health problems as it can often be difficult for those suffering from anxiety, depression or phobias to make appointments outside of their home.
All of Doctors on Demand doctors are top notch registered Australian doctors who can provide consultations, prescriptions and referrals.
Doctor's on Demand has very reasonable fees at $60 per consultation, and can save people substantial time and money. One of the best things about Doctor's on Demand is that you don't hve to deal with doctors waiting rooms – no long waits for healthcare. For busy people, or people who just don't want to wait for simple services like prescriptions, this service is a lifesaver.
Doctors on Demand can help with many conditions, including topics that may be embarrassing to discuss in person with your usual GP.
This is a great service for those wanting fast on demand healthcare services.
Doctor Online Hospital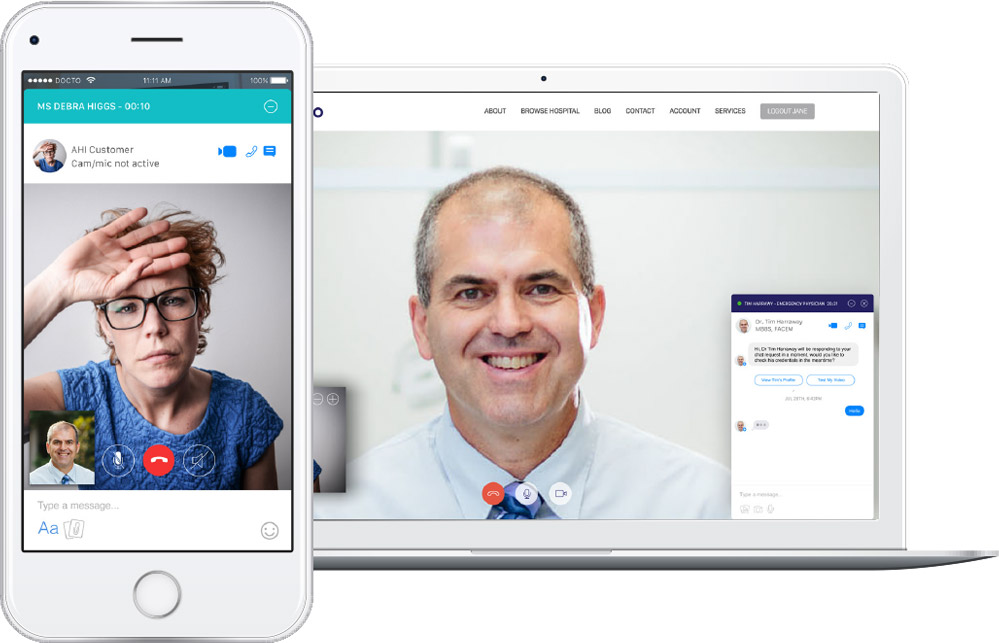 Doctor Online Hospital has the distinction of being Australia's very first online hospital, with that in mind they have animpressive level of experience with their online services and have successfully conducted thousands of consults.
Healthcare professionals are available at all hours through the Doctor Online web portal and they are able to provide services in treatment advice, medical requests for investigations, prescriptions and medical certificates, as well as referrals to specialists.
They also uniquely offer a range of specialist services, similar to a real hospital you can access a number of specialist and allied health care professionals for just about every specialisation there is whether it be neurology, orthopaedic surgery, dermatology, haematology – you name it and they can get a specialist to see you via video call.
The ability to see a specialist online can massively reduce the amount of time that patients have to wait for an appointment and reduce the costs for seeing a specialist in Australia.
Their general practices solutions are on demand and can save patients a great deal of time and money. Their pricing is extremely reasonable at only $87 per consult for first time patients and $57 for repeat patients.
They have been featured in a number of prominent publications including The Australian and Australian Doctor.
If you need specialist or on demand expert consultations then Doctor Hospital is the perfect choice for online healthcare providers in Australia.
GP2U Telehealth Australia
GP2U Telehealth Australia are an online service for doctor consults that allow you to consult with a doctor through Skype.
They have partnerships with Terry White Chemists and Priceline, making it easy and convenient to fill prescriptions after consulting with your doctor. Through their partnerships they are able to seamlessly provide access to a medications and post or courier them directly to you.
GP2U allows you to see a doctor promptly, no waiting in line with sick people, you can be consulting with  doctor within minutes.
GP2U video platform is proprietary and extremely easy to use. It is completely integrated within healthcare systems and makes the consult run smoothly.
One of the best things about GP2U is that it can be billed through Medicare, reducing the costs for patients.
The appointment software is very straightforward and easy to use, so that anyone can quickly book an appointment and use the service. Doctors are available at all times of the day and can help with a range of medical needs.
If you need an online doctor service, then GP2U is very intuitive and easy to use as a service.