Many weddings have been ruined unintentionally by guests who pull out their smart phones, video recording equipment and stumble over each other during the ceremony, leaving a sea of arms and devices in the background taken by the professional wedding photographer.
Having a professional wedding photographer attend a wedding ceremony and reception means that you will be pleased with the outcome of the photos, and the guests and members of the wedding party can relax and trust the results of the image capturing to the hands of a professional.
Benefits of professional wedding photographer
Often many couples are choosing to have guests and family members have all their smart phones and devices banned from the ceremony, and place a moratorium on photos being posted to social media, in order to prevent stray and unflattering images from crawling across the internet.
Often couples will want to have their own Facebook page, or Instagram page for their wedding, so ensuring that a professional photographer is contracted and that all of the images of the wedding are of a professional grade will prevent shameful humiliation and embarrassment.
Scenarios where unflattering photos being circulated on social media can be prevented by ensuring that all guests are required to refrain from taking photos until dedicated times and designated areas within the reception and after the ceremony. Generally people are much better prepared to face a sea of cameras when they are in a better more relaxed mindset.
Some couples have instead decided to institute a complete ban on family amateur photography in order to protect their precious memories from being destroyed by being subjected to blogs where "top humiliating wedding photos" surface.
Professional wedding photographers offer discretion
Professional wedding photographer discretion is guaranteed when giving images to the married couple, and the couple can discuss image retouching services prior to any photographs being distributed via social media in order to preserve and promote the beauty and loveliness of a ceremony.
Some guests choose to share unflattering images of other guests in attendance, or moments that are less dignifying of the wedding party, causing a great deal of distress to the married couple and close friends and family.
Prevention of this type of social media mayhem is best through banning devices, smart phones and cameras being brought in by guests, and in contracting of the digital media professional. A qualified professional understands and sympathises with the wedding organisers, and will always work with the client in order to create and distribute the most beautiful and flattering images.
During a wedding, it is deeply respectful to simply participate as a guest, provide well wishes for the marrying couple, and pose with the bride and groom (bride and bride or groom and groom) as invited in order to assist the couple in having and preserving happy memories with their valued and treasured guests.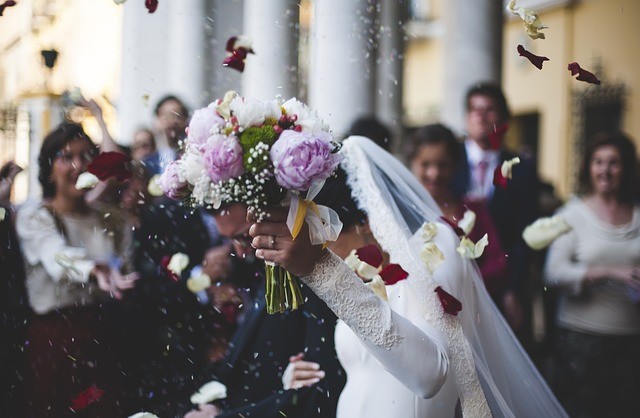 A professional wedding photographer helps all photography subjects at a formal occasion to feel relaxed, enjoy the process and to feel at their very best. Working with a highly trained and skilled individual is recommended for all couples considering having their formal ceremony recorded, regardless of the size or budget of the occasion.
This ensures that the right images and most lovely moments are recorded for posterity, and people who attended the wedding can then be appreciative of the professionalism and discretion done by the photographer years down the track where there are no regrettable moments caught on film by guests who are perhaps inebriated or acting inappropriately.
Trained industry professional can offer peace of mind
People generally spend thousands of dollars on a formal ceremony for their wedding or commitment ceremony, and even in microweddings where the budget is typically under $5000, the marrying couple generally still allocate a large budget for professional images and videography.
This ensures that the memories of the occasion are ones that they would prefer to see and to remember, and that years down the track as they are reviewing images and videos of the ceremony they are filled with joy and pleasure as to the investment of funds in contracting a professional with high recommendations.
Peace of mind can be gained from hiring a recognised industry expert, who has a portfolio of work that demonstrates clearly his or her attitude towards the work they do. Experience and attitude are evident in the portfolio of a wedding photographer, and he or she should also make available previous customer testimonials, and offer a back up or contingency plan in order to give peace of mind to his or her clients.
A wedding ceremony is generally a once off event in the life of a couple (or in the case of second marriages a very special occasion) and having a professional attend and record the day will give definite peace of mind that all of the time, money and effort expended by the couple will be shown in the images captured on the day. Beautiful memories should be respectfully captured, and only by the most trusted and reputable professionals.