Preparing for an event is always stressful – you need to think about what to wear, the guest list, the venue, entertainment, lighting, impressing the boss, avoiding Janet and bringing the conversation – and of course the food. In fact, the food is probably the most stressful part right? What if it's shit? Imagine a room full of hungry people. Life. Over.
Yes, there are catering services – but how often have you turned up to an event and had the same old catered food? It does the job but you've seen it time and again. You know the ones, sushi platters, salt n pepper calamari or the equally dull crisp bread with some sort of spread and salmon ensemble. It's not very exciting is it?
And those are the foods on the fancy end of the catering scale. Boring sandwiches – cut in to exciting triangles – no thanks. Sausage rolls are so 90s – and unhealthy – and besides, isn't everyone a vegetarian or coeliac these days anyway?
Luckily, we've found two totally insta-worthy, crowd pleasers sure to get you off the catering hook next time you need to cater.
Poke
There's no denying that poke is the hottest food trend of the last two years – in Sydney anyway. Poke (pronounced po-kay) or Poke Bowls are like a jumbled sushi salad that originally hails from Hawaii of all places. Back in the day, fisherman used to make salads using their catch off-cuts. These pieces is what poke is named after.
Granted, they probably weren't using $40 per kilo Ora King Salmon out of New Zealand but they have created a dish that has exploded in popularity around the word. It's huge in places like New York and LA.
What's great about these is they are simple, healthy and high impact. A poké bowl is always full, vibrant and colourful. They're naturally gluten free and for our vegan friends, take out the fish and add marinated tofu, eggplant, or just about any other vegan-friendly protein.
Famous fish restaurateurs, Salmon & Bear, are the original bringers of poke to Sydney, and now offer poke catering trays for events. Poke catering ticks a lot of boxes: Healthy, delicious, on trend, gluten free and pescetarian / vegetarian.
Mobile Pizza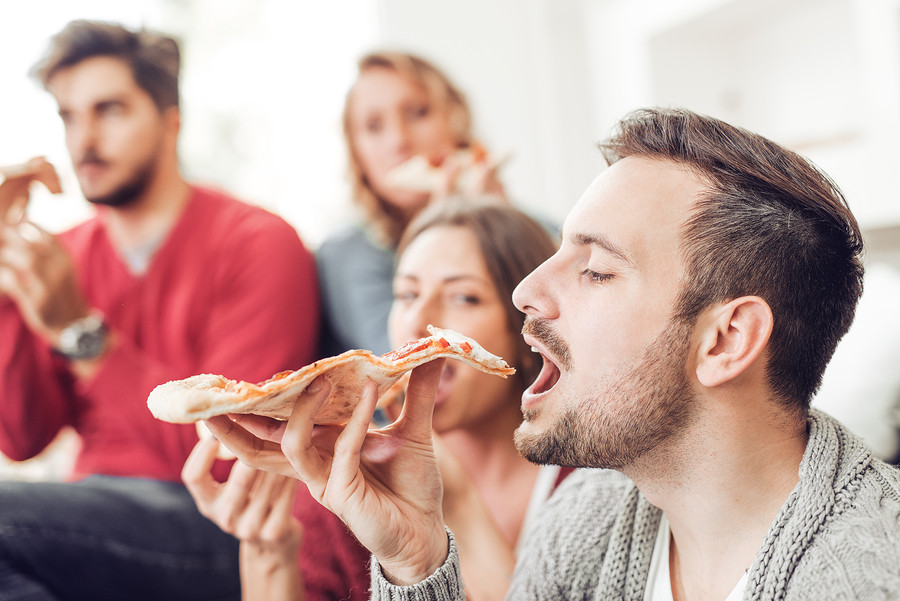 Not sure about using raw fish? Don't really care about being healthy? Go straight for the world's favourite food – pizza – but with a twist of entertainment.
I don't like pizza. Said no-one ever. Everyone loves pizza – especially at a party; easy, delicious and the epitome of party food. But there's no fun in ordering online and waiting 60 mins to get some soggy boxes of semi-hot pizza.
Then there's the issue of what to order. Who likes what? How many vegetarians are there? Who doesn't like olives (that would be me!)? Can you cut them into squares rather than slices?
Mobile Pizza Caterers, The Pizza Chefs, bring the pizza party. They have a portable pizza oven, set up all the food and toppings in front of the party guests and make everything, from scratch, in full view. They take care of everything and even clean up.
This is a great way to keep guests entertained whilst you nail the other items on your event planning itinerary. Guests are encouraged to learn how to spin the dough (make sure you have high ceilings) and top their own pizza using a variety of ingredients laid out on the front table.
This is especially great if you have kids. They love getting their hands dirty, kneading the dough and spinning it. From that point of view, it's a great photo opportunity too.
Amazingly, the pizza oven can be used indoors – with a little ventilation – which means the room can fill with the wonderful aromas of freshly baked pizza.
So there you have it. Two fabulous catering ideas for your next event. If you're planning a party, the food should be one less thing to worry about.