With mindfulness, mental health and physical wellbeing becoming more vital components of our everyday working lives, it's no wonder why standing desks are only growing in popularity. Emerging health advice has confirmed that incorporating the use of standing desks into your daily routine could reap a variety of amazing benefits for both your physical and mental health.
These benefits range from reduced back pain, lower chances of weight gain and obesity, enhanced energy levels and increased productivity.
Consequently, if you're a business manager, it's certainly worth investing in standing desks for your employees. Having said this, it can be hard to know which standing desks available in Australia are the best and most practical. Thankfully, this article will list the 13 best standing desks in Australia, putting all your worries and confusion to bed.
13 Best Standing Desks in Australia for Home & Work:
Here are 13 best standing desks in Australia:
NorthDay in Australia – highest performance standing desk
UpDown Desk with Bamboo Desktop – sophistication and quality
Stand Desk – most feature rich standing desk
UpDown Desk with Melamine Desktop – enabling it to carry weights of up to 140kg
MOVI Standing Desk Converter – large productive work area
Omnidesk Pro – premium technical specifications
Stilford S2 Pro Desk – good with a tight budget
IDASEN Sit Stand Desk – used for a home office space
BEKANT Sit Stand Desk – its aesthetic style
The Vari Electric Standing Desk – takes about 5 minutes to assemble
The Artiss Mobile Twin Laptop Desk – ergonomic to the max
Brateck Height Adjustable Standing Desk – ultra-simplicity
Zen Solid Rubberwood Sit Stand Desk – carry weights of up to 140kg
1. NorthDay in Australia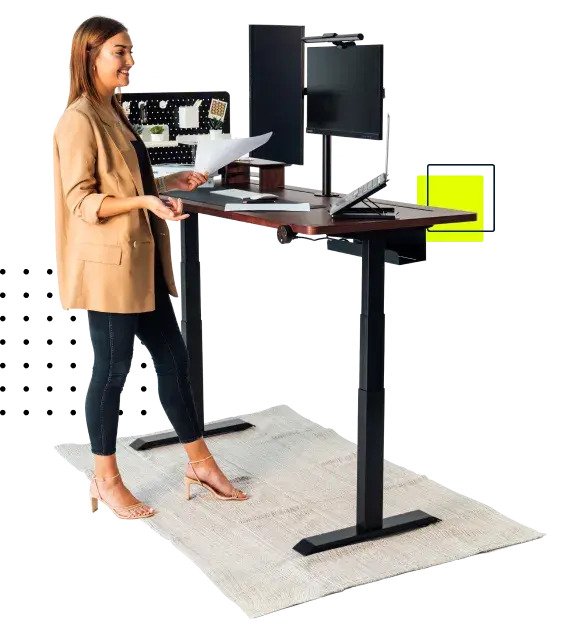 NorthDay in Australia
>>You can buy it here<<<
The NorthDay EverDesk is the outstanding product developed from over 2000 hours of dedicated research. The desk was created to foster productivity and is enjoyed by countless Australians for its intricate and practical design. Whether you require a desk for gaming purposes, for work purposes, or for other activities, the NorthDay EverDesk is here to support you and your unique needs.
One of the most innovative features of the EverDesk is the customisable height presets that include a sit-stand alarm. Built to help you take care of your health, your desk will remind you when it's time to stretch your legs and do some work standing up (something which is proven to have health benefits). The desk also includes over 1000 possible setup options so that you can adjust the layout to optimise your workflow. The multipurpose organiser and dual motor system are also ideal for keeping your space organised and functional.
With a 10 year warranty also in place, you are sure to get the most out of your workday thanks to the innovative ergonomic technology from the NorthDay EverDesk.
2. UpDown Desk with Bamboo Desktop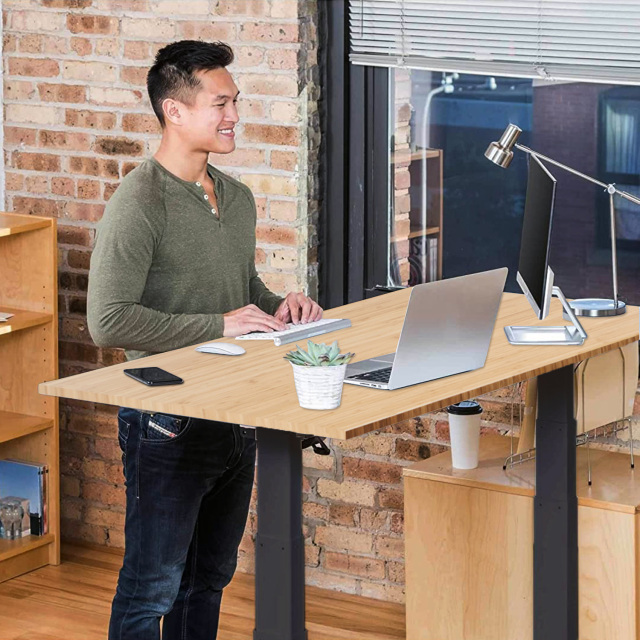 UpDown Desk PRO Series Electric Standing Desk with Bamboo Desktop
>>>You can buy it here<<<
The desktops are also available in luxury, Australian made Vic Ash. If you want a standing desk that breathes charm, sophistication and quality, then this bamboo desktop from UpDown Desk should be at the top of your list (like it is on ours). It is the most popular option from UpDown Desk, primarily because of four main reasons:
Unparalleled stability
100% eco-friendly bamboo desktop
Powerful lifting mechanism
4-button memory control functionality
This desk offers everything you could need in an office, and even more! Your employees shouldn't have to sit at a boring desk, hunched over their laptops and computers all day. Give them the freedom and autonomy to mix up their day, which will reduce fatigue and promote better health outcomes. You can even add a range of fabulous accessories to compliment your standing desks, like an anti-fatigue or a cable management tray. If you want to get the most out of your UpDown Desk PRO, then you want to ensure that your workspace is as productive, efficient and organised as possible!
3. Stand Desk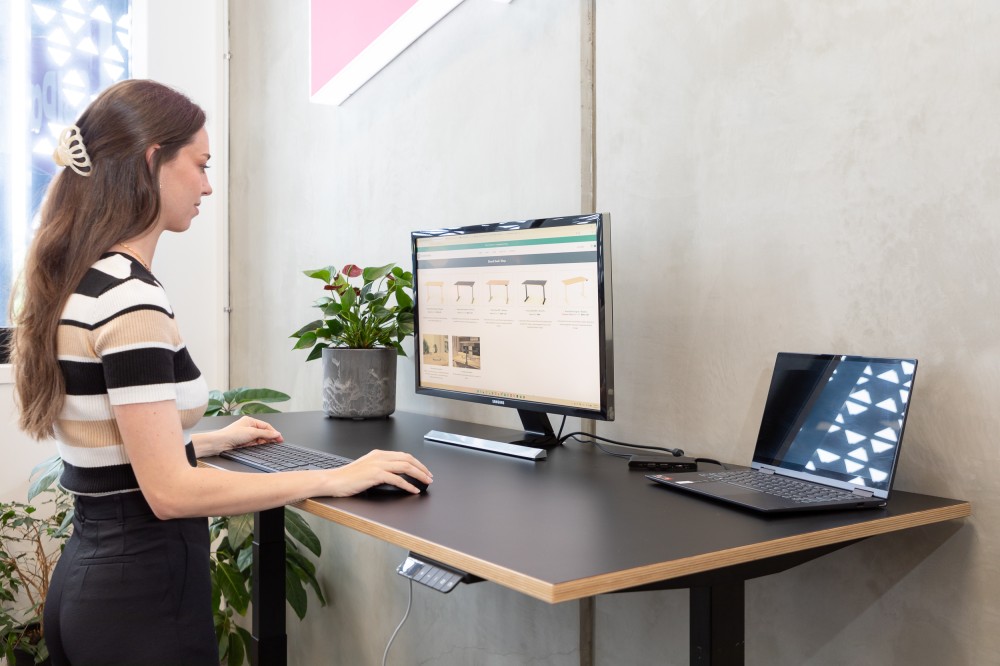 Stand Desk PRO – Bamboo
Stand Desk Australia have the highest specified and most feature rich standing desk in the Australian market with very competitive pricing. The Stand Desk PRO model moves at an industry leading speed of 8cm per second. By the time you have stood up the desk will already be at its standing height (and vice versa for sitting down). It has rock solid stability at all heights and comes with an app which connects to your desk via bluetooth. This provides the ability to have personal height settings for hot desking environments, a module that provides custom sit – stand scheduling (with reminders) and (a bit gimmicky but kinda cool) voice control to tell your desk to go up or down.
All Stand Desk models come with an integrated cable management tray as standard and their PRO model comes with an under desk wireless charger to charge your phone.
You can match your Stand Desk frame with 2 shades of bamboo desktops or white and black HPL faced birch plywood desk tops. The desk come in 3 sizes (1800 x800, 1500 x800 and 1200 x700).
Stand desk offers free shipping both ways and a 100 day trial so you can try their products totally risk free. They are backed with a 10 year warranty on all parts.
4. The Movi Standing Desk Converter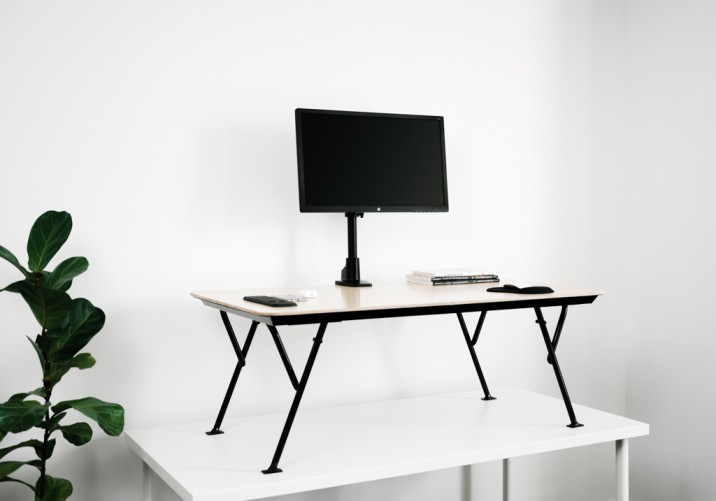 MOVI Standing Desk Converter
>>>YOU CAN BUY IT HERE<<<
The Movi Standing Desk Converter is a state of the art standing desk that both looks good in your workspace and does wonders for your body. 100% Australian, this desk is incredibly effective and easy to use, it even arrives fully assembled so you don't have to mess around constructing it! With 4x more usable space than any other standing desk, the Movi optimises your work space to ensure that your productivity is not compromised. This desk will truly help you feel more energised as you work while reducing the limitations that typically accompany the use of a standing desk.
At Movi, your safety is of paramount importance. The standing desk converter is made of natural wood and is incredibly durable so it won't wobble around on top of your existing desk. It also has an electric button for operation which will reduce the likelihood of injury. While manual lift converters can be bad for your back, Movi's high-speed electric lift is safe and effective. This desk has truly thought of everything when it comes to relieving discomfort and doing what's best for both your body and your work.
Main features:
Get set up in seconds. Arrives fully assembled, plug into power and get standing.
Easy electric sit-stand. Automated, push-button electric lift for ultimate back support and safety.
Large productive work area. Completely flat benchtop with maximum usable space.
Adjusts to suit everybody. Raise it to your exact height up to 6'4″ for outstanding comfort and ergonomics.
Revolutionary quiet motor. Provides strong stable lifting for two monitors, laptop, tablet and more.
5. UpDown Desk with Melamine Desktop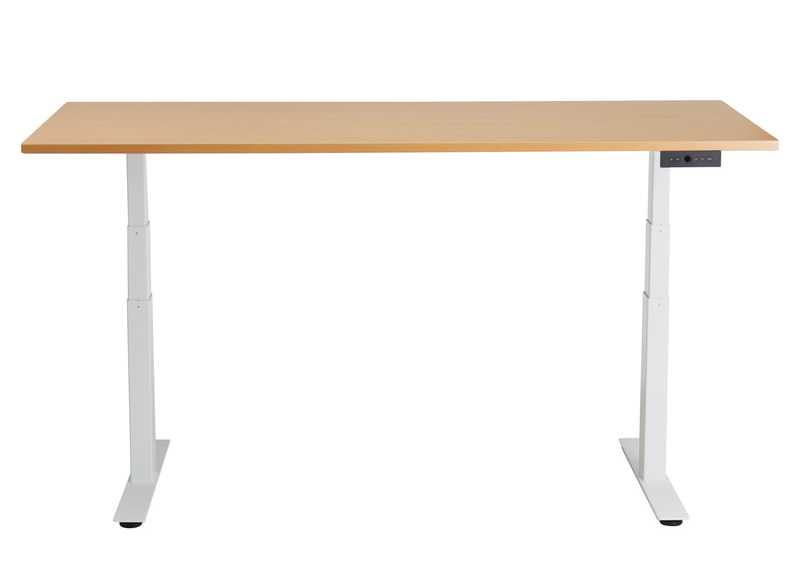 UpDown Desk PRO Series Electric Standing Desk with Melamine Desktop
>>>You can buy it here<<<
This is another winner in 2020 as one of the best electric desk, also also available in luxury, Australian made Vic Ash. While this melamine desktop is slightly cheaper than the bamboo, there's no way you're compromising on quality or style. Equipped with a perfect frame and a sense of modern elegance, this electric standing desk is the only thing you need to revolutionise your office space in the chicest way possible.
There are several great things about this specific standing desktop. Firstly, it has a lifting capacity of over 120kg, meaning you could have anything from multiple desktops to a printer stationed on the desk. Moreover, the frame comes in three distinct colours; silver, white and black, while the desktop is available in white or beech. The diversity of colourings available ensures that this desk will suit any internal office décor or style. Finally, you'll have access to a five-year warranty just for peace of mind, and excellent post-sales customer support!
6. Omnidesk Pro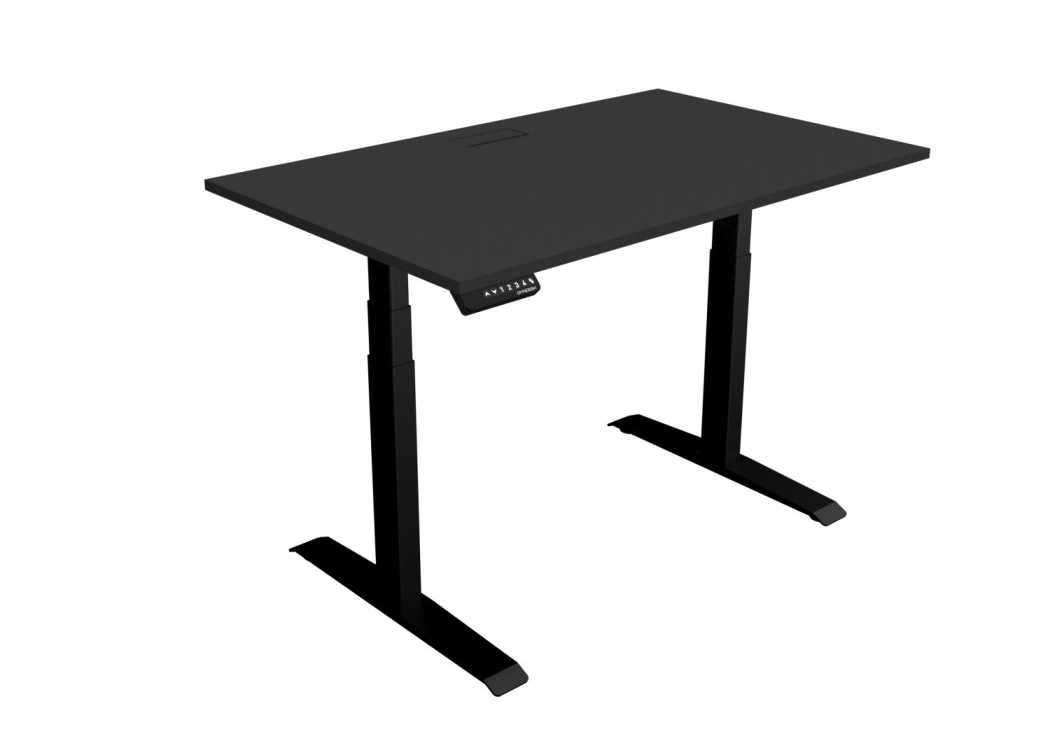 Omnidesk Pro 2020
>>>You can buy it here<<<
Coming in at number 4 on our list is the Omnidesk Pro 2020. It is an electric standing desk with premium technical specifications and an insane amount of customisations. You can get the desk frame in two beautiful block colours: black or white, while the desktop colour comes in three colours: white, black or bamboo. You can even slightly customise the conventional design of the Pro 2020, opting for the desk's signature straight edge or Omnidesk's signature ergo curve. While the straight edge model appeals to more traditional office owners, the ergo curve is growing in popularity amongst more innovative, independent businesses.
You can purchase an Omnidesk Pro 2020 in three distinct sizes: small (48"), large (60") or extra-large (72"). If you purchase a desk but find yourself unhappy with the size (or any other aspects of the desk), then you can utilise Omnidesk's 100-day risk-free trial. Flatpack delivery should only take 5-9 days, and you can get access to a warranty of up to 7 years. There's also a massive range of accessories that are compatible with the desk, including mounts for your PC, speakers and headphones.
7. Stilford S2 Pro Desk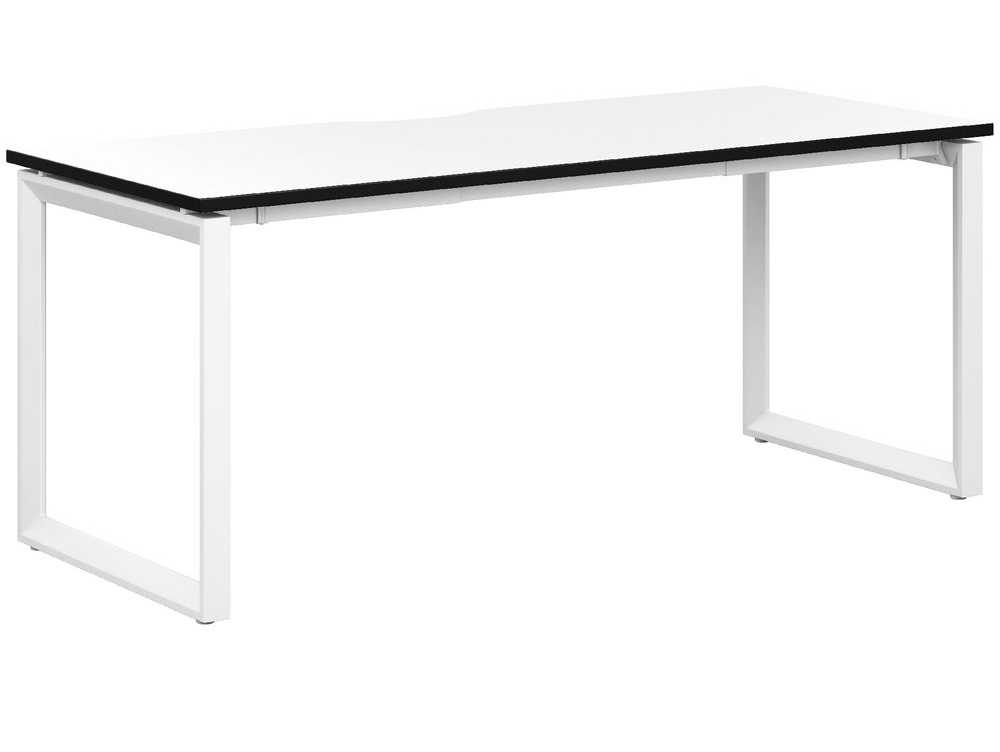 Stilford S2 Pro Desk
>>You can buy it here<<<
There's a vast range of Stilford S2 desks available at Officeworks. One of the best things about the Stilford models is how affordable they are; they are consistently at least $400 – $800 cheaper than the other listed standing desks. This is largely because the desk doesn't come equipped with a motor or automated height adjustments, meaning its height is set. Nonetheless, the Stilford S2 Pro still has a range of fantastic benefits and is the perfect option for any business owner on a tight budget.
Once assembled (which takes approximately 20 minutes), you'll notice that the standing desk as a powder-coated steel frame and a scratch-resistant melamine finish, per Australian standards. What does this mean? It means that you can expect your standing desk to be strong and durable; however, don't be alarmed if something does happen or it becomes defective – because each desk comes with a 15-year warranty. It also comes with a "scalloped design", which means you can keep your cables together in a neat and orderly fashion. Let's face it, no one likes a messy desk, and the Stilford S2 Pro's design is conducive to a clean, organised workspace.
8. IDASEN Sit Stand Desk
>>>You can buy it here<<<
Available at IKEA outlets across Australia, the IDASEN Sit Stand Desk is incredibly popular because of its minimalist design and elegant frame. Like many of IKEA's products, the IDASEN Sit Stand Desk has a very strong postmodern, understated aesthetic. However, that doesn't mean it won't fulfil all your needs as an office worker, whether it be used for a home office space or your workstation at your place of work.
The IDASEN Sit Stand Desk has a plethora of advantages. Firstly, it's an incredibly sturdy desk, so you won't have to worry about load-bearing requirements. It comes with a 10-year warranty, and you can easily adjust the height of the desk, ranging from 63cm to 127cm. While it isn't automated, it is still effortless to use the handle, which is responsible for adjusting the height. Another advantage of using this sit-stand desk is how easy it is to blend this desk with other workspace necessities. Whether it be a drawer unit, a lamp or an ergonomic chair, the minimalist colourings ensure that it blends succinctly into any office space (regardless of the décor or interior design style).
9. BEKANT Sit Stand Desk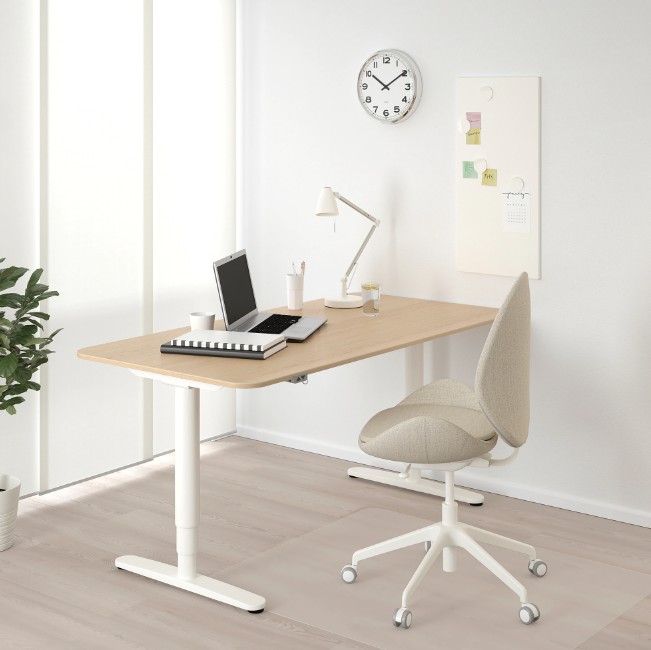 BEKANT Sit Stand Desk
>>You can buy it here<<<
The BEKANT Sit Stand Desk is another popular product available at IKEA stores in Australia. While slightly cheaper than their IDASEN counterpart, the BEKANT standing desktop comes in at number 7 on our list of best standing desks in Australia. Why is this the case? Well, there are several simple reasons for this. Firstly, its aesthetic style is simple, understated and universal, meaning it will seamlessly fit into almost any type of workplace. The tabletop is made from oak veneer, particleboard, ABS plastic and clear acrylic lacquer. Its cable management consists of stainless steel, 30% polyester and 70% rubber.
To get the most out of your BEKANT standing desktop, we recommend regularly checking that all assembly fastenings are tightened and secured. We recommend retightening them at some stage, so frequent inspections will prevent any unnecessary wear and tear. Like any other standing desk on this list, we also recommend that you wipe your desk clean at least once a week (regardless of how often it is used). You'll be surprised as to how much dust can collect on the surface of your desk and how quickly it can build up without frequent cleanings. All you'll need is a mild soapy solution and a clean cloth. Once the solution has been applied, make sure you wipe the desk dry with another clean towel.
10. The Vari Electric Standing Desk
The Vari Electric Standing Desk
>>You can buy it here<<<
Nabbing 8th spot on our list of best standing desks is a premium model from Vari Australia. One of the best things about the Vari Electric Standing Desk is that it's perfect for both commercial and residential use. Its height can be set between 64.5cm and 128cm, and it also offers plenty of area for several monitors and another tech. It also comes equipped with an effective stability crossbar, which ascertains that the table remains stable and secure at any height within its range. What's also great about this standing desk is that it only takes about 5 minutes to assemble it completely. You won't need any specialist tools or equipment to put it together either, and the instructions are very straightforward.
The desk has three programmable height settings, and the height motor is as quiet as a mouse. Even if you must adjust your desk mid-meeting, you can rest assured that the sound (or lack thereof) won't be a distraction during the meeting. Finally, this standing desk comes with a 5-year limited warranty, so should you encounter any issues at that time, simply get in touch with Vari for assistance.
11. The Artiss Mobile Twin Laptop Desk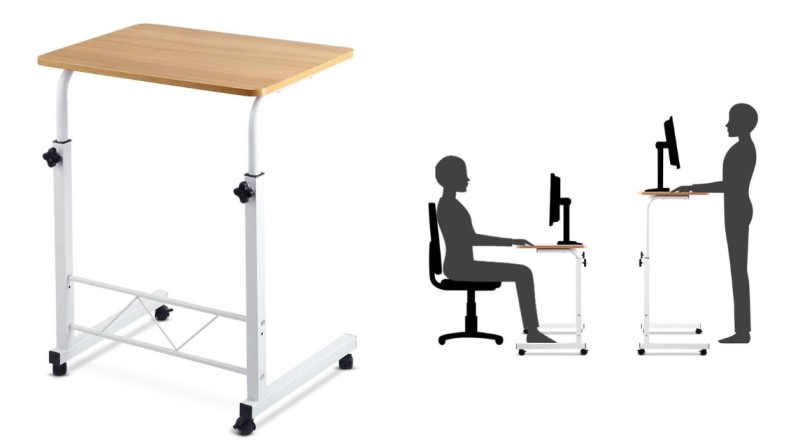 The Artiss Mobile Twin Laptop Desk
>>>You can buy it here<<<
The Artiss Mobile Twin Laptop Desk is one of the few standing desktops that offers users two separate desk areas. This set-up works exceptionally well for employees who are continually working across multiple laptops or devices. It also keeps your workplace clear and uncluttered, since you can space everything out across several desktops. Above all else, the design is sleek, streamlined and ergonomic to the max.
What's also great about the Artiss standing desktop is its affordability. On top of this, it's also very light, which makes it incredibly easy to move. So, if you're someone who is perpetually moving around office spaces or across different work sites, then this desk is a definite contender because of its mobility. The designers have covered all bases as well, installing an anti-slip bar, which is designed to keep your keyboard or textbook in place when you have a desktop placed on the slanted upper tabletop.
12. Brateck Height Adjustable Standing Desk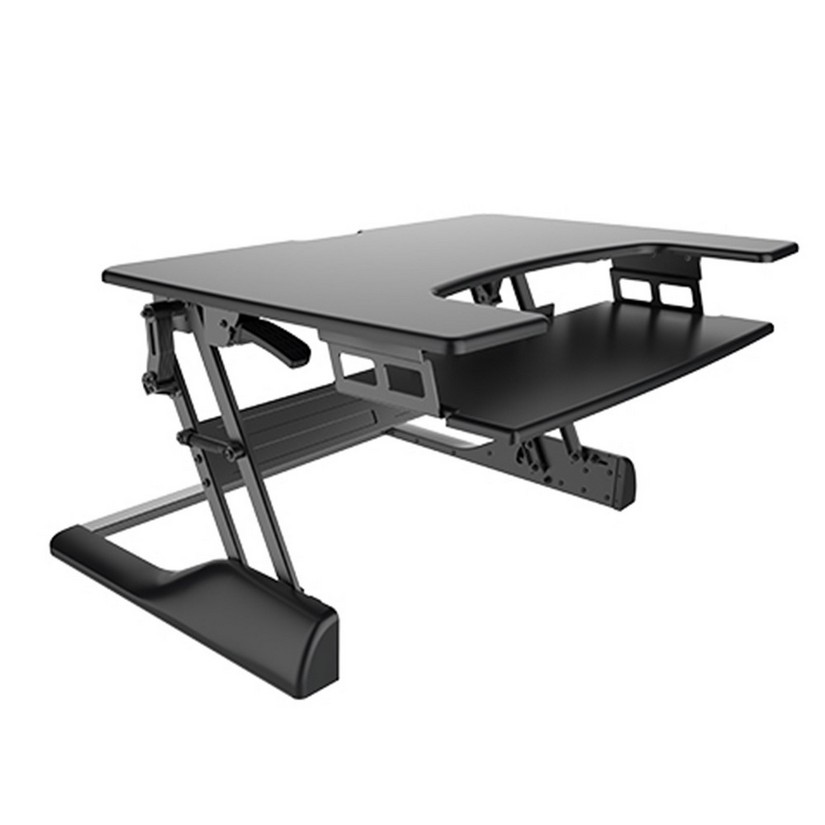 Brateck Height Adjustable Standing Desk
>>>You can buy it here<<<
The final entry into our list of the top 10 standing desks in Australia must be the Brateck Adjusting Standing Desk. The Brateck Standing Desk is spacious, neat and very sturdy and offers users an incredible 10 different height settings. Like the Artiss desktop, the Brateck model comes equipped with two functioning tiers. The upper section has plenty of space for a few monitors, while the bottom part has the perfect amount of space for a keyboard or book. The desk is stable, robust and highly accessible, underpinned by its understated, sleek design, consisting of dark block colours for ultra-simplicity.
13. Zen Solid Rubberwood Sit Stand Desk
Zen Solid Rubberwood Sit Stand Desk
>>You can buy it here<<<
Available from Zen Space Desks, the Zen Solid Rubberwood Sit Stand Desk is one of the best standing desktops available in Australia. Why? Well, it's powered by Zen's Pro Series lifting mechanism, enabling it to carry weights of up to 140kg. It has four pre-set heights and boasts seamless automated movements. Underscored by its rock-solid stability and a beautiful natural or walnut coloured finishing, this desktop from Zen Space Desks is one of the most premium standing desks on the market.
What else is great about Zen Space Desks? Well, they offer 10-year warranties on all parts included their desks, while the Rubberwood Sit Stand Desk moves at a graceful, yet rapid 38mm per second. It also has a height range of 60 to 125cm, so your height won't be a factor in whether you can use this desk effectively.
Conclusion
Thus, there are heaps of amazing standing desktops available in Australia. It doesn't matter how stringent or tight your budget might be, because there are many products available that will fulfil your ergonomic needs without demanding a high price tag. However, if money isn't a problem for you, then you should invest in a premium, high-quality standing desk for both your personal and professional use.
They are suitable for your physical health, reduce back pain and muscle stress, while enhancing productivity, efficiency and energy levels. Better energy levels are better for your work ethic and mental health. So, it's a win-win.