Christmas gifts are stressful to have a consensus on. When it comes to gifting your mother, it's even more confusing. She has everything and almost never wishes for the tangibles. Give her something that will really add value to your relationship or bring something new in her life, for her. She has cared enough, it's high time you start caring about her life and future.
Gifts ideas for the mothers who have everything
We have accumulated a list of beautiful gift ideas for your mother to help you decide the best!
1.    A royal tea set
"I don't like tea sets collection in my home", said no mother ever. Every mother would like a high-end tea set in her house, if not for the guests then for the family. It's not about show-off anymore. It's about lifestyle.
Gift her a royal tea set from a limited-edition collection and she will forget every-time you broke some expensive crockeries in the past! If you can't afford an expensive set, you can always opt for standard company sets, of course the ones she doesn't already own.
2.    A new dress
You may be thinking, what if she doesn't like it? Then ask for help from fashion experts around you or even better take her with you. Just don't let her see the price tag and get mad over the prices!
If you decide to buy it yourself, be careful about her wardrobe collection and her likes and dislikes. Get her something new to try this time. You may also get matching mom and daughter Christmas dresses to make her realize that she is the ultimate twinning partner you love. A little PDA with mum didn't kill anyone!
3.    Luxurious bathtub caddy and tray
The first thing your mother needs after a busy festive season is a relaxing bathtub session. But as you know this is the last thing she would do. So better you give her a lucrative reason to do so.
Gift her a luxurious bathtub caddy and tray where she can comfortably arrange her wine glass, a book or her tablet, her shampoos and body wash range, all in one. Look for more space and more compartments. Mothers love them!
4.    Antiques
Antiques revalue the house better and that rejuvenates your mother. Mothers have inbuilt interior designing instincts. They like to decorate the home with antiques, as they think of every room as an empty canvas.
You can get either a big Chinese vase for your drawing room, an antique golden table clock for the master bedroom, a one of a kind bird or animal statue, a stone carved article or even a museum collection piece if you can manage that.
5.    Kitchenware and crockeries
This may sound too simple but it isn't. Your mother would have many kitchenware, machines, and crockeries but nothing is enough for the work that goes into cooking.
You can always gift her the latest chopping machines, juicers or cutters. Even better you can gift her a classic chopping board and knives set that she sees other chefs using. After all, she's the chef of your house. Garnishing and presenting are other fun aspects of cooking. You can get some crockeries for home and let the chef in her explore the new heights. Search for the best options available for your chef.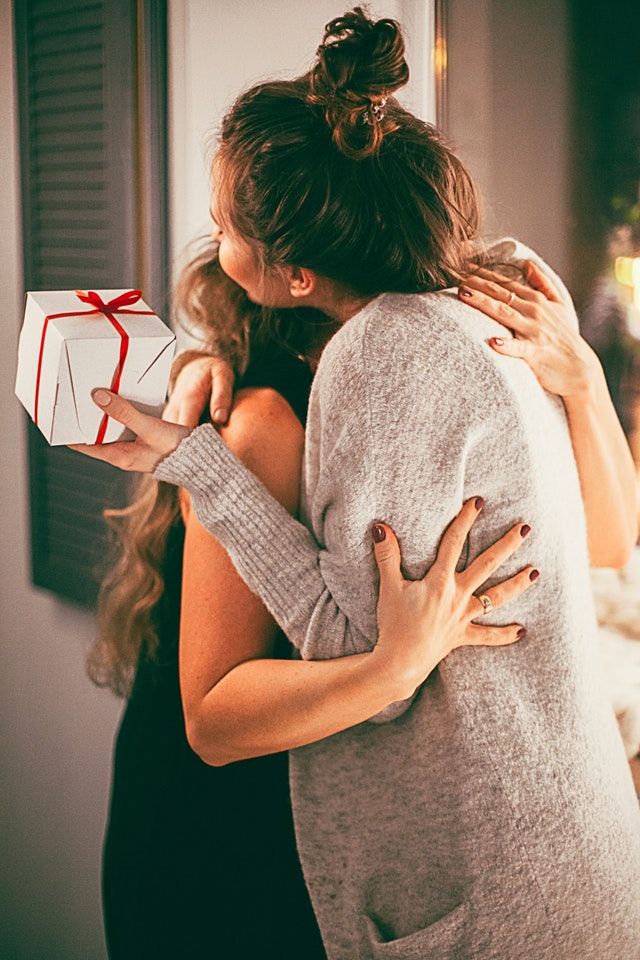 6.    Personalized coffee mug
What a cliched gift! Don't worry. We have something extraordinary for this. Mug prints can be the traditional cute pictures of you, your mum and the family. There is nothing boring about it for your mother. After all, she is the glue that holds your family.
But if you want something extraordinary in your mug gift, you can go for a minimal describing her personality, her caricatures or a logo for her business if she has one.  You can also choose a designer mug with different shapes. A ribbon or a keychain-like accessory hanging in the designer hole of the mug suits well.
7.    Smart gears
Technology is a gift to mankind. Bestow some extra technology gifts upon your mother too. You can gift her a smart band to keep a track of her health. If used effectively, she can monitor the health of the whole family from the sets of applications that are available. You may also gift a set of earphones and other mobile accessories.
If your mother is already savvy about the gadgets mentioned above, you may go for a voice-controlled personal assistant for the house. Initially, it may go a little tough managing that, but as you know, later on, it is the most useful tool for maintaining comfort and managing time. Who better than a mother to gift this time management and fun tool!
8.    Family illustration frame
 Illustrations are cute. Period.
Pick up a perfect family picture of yours, make an illustration or outsource it, apply a classic frame to it and you are ready to see that big smile on your mother's face. These are cheap yet effective; tried and tested.
9.    Exercise / yoga mat
What can a mat do? Keep her fit.
If a working woman, you can gift her a yoga mat which she can use at home whenever she gets time for exercise. If a housewife, you can gift the same mat as a motivation for joining a fitness or yoga class for her benefit. Exercise and meditation are the necessity for the technological age we are living in. Let your mother extract benefits from it!
10.    Make-up
She must be having a whole make-up empire in her dressing table, but eventually, everything goes out of trend. Make-up as a gift is always a useful option. If not now then later on in time, she would need the trend or thing you have gifted her.
You can focus on individual shades of lipstick or a whole range of shades in a single set. Concealers are expensive and people resist buying them in regular shopping. Gifting a concealer set to your mother would be thus beneficial.
Conclusion
Spreading happiness with a Christmas gift is a difficult task. Select your gifts wisely! We have tried to make your task easy by this list for your mother. You can try these innovative ideas and let her feel the love you have for her.