Unified Lawyers are a family law firm based in the Sydney CBD, that specialises in family law issues such as divorce, property transfers, contractual disputes, immigrations, wills and estate planning. This law firm is one of the best in Sydney. The legal team at the firm specialise in different areas, so their clients are always getting the services of an expert. The first consult is also free!
Website: www.unifiedlawyers.com.au
Address: Level 6, Suite 2, 287 Elizabeth Street Sydney NSW 2000
Phone: 1300 667 461
Apart from the main office in Marrickville, Unified Lawyers also has offices in the Sydney CBD and Surry Hills. Because they specialise in helping people with personal agreements and disputes (as opposed to criminal law or large-scale commercial matters) they need to be accessible to people across Sydney.
The specialist lawyers at the firm are able to help clients with anything from negotiating child custody arrangements during a divorce to conveyancing in a property sale. This means that they are good people to contact whenever you have a question about family law!
The range of expertise that is available also makes Unified Lawyers ideal for helping you with complicated matters. For example, if your divorce involves the sale of property then they can help you with both – and then also help you to update your will!
The firm was founded in 2012, and since then has grown steadily by relying on word-of-mouth referrals. This means that the lawyers at Unified are dedicated to keeping their clients happy, and on building personal relationships that will help to attract more business in the future.
The founders, Mark Machaalani and Dominic Nguyen, used to work at large corporate law firms, and felt that there had to be a better way. They wanted to work at a legal business with a personal touch that would put their client's interests over profits, so they started their own and Unified has grown from there!
Marrickville is a very multicultural area, and the team wants to make sure they can adequately communicate with their clients. Because of this they have lawyers who speak fluent Arabic, French, Spanish and Vietnamese, as well as all being educated in Australia and being able to explain legal terms and jargon in simple English.
The specialist training that the lawyers at Unified have each received means that any client who comes to the firm will be directed to the right lawyer. In addition to Dominic and Mark, the founders of the firm, some of the other lawyers include Marianela Raimundo, Mark Mahfouz, Stephen Ooi and Frances Maatouk.
Despite being new, Unified Lawyers are very highly regarded and boast an enviable 4.9 out of 5 average rating on Google Reviews. This speaks very highly of not only their legal skills, but also customer service!
Unified Lawyers reviews:
Google Reviews: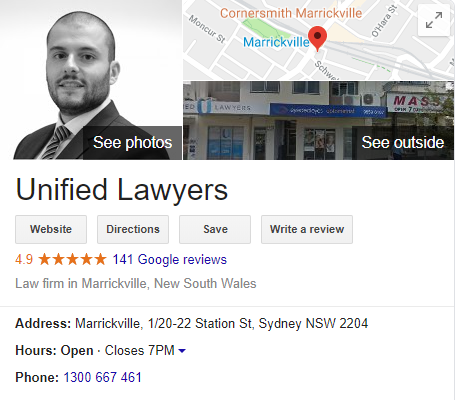 "I recently engaged Unified Lawyers to act on my behalf in the purchase of a property and I recommend them highly.
Unlike many lawyers, Dominic was down to earth (no God complex), warm and friendly and was quick to return my calls when he was not able to take them immediately. He patiently explained everything to me.
Dominic was well supported by Marianela who was also competent, warm, friendly and courteous.
They were efficient and did not overcharge.
Well done to Unified Lawyers.
Tony Purcell
A Happy Customer."
Tony Purcell – Source
"Frances has helped me put together my will and made it a smooth and easy experience, despite my initial worries that it'd be a daunting task. She was very reliable and patient, promptly answering my (many) questions and helping me turn my loose ideas into a valid and consistent legal document. All that at a very reasonable cost too. Highly recommended!"
Dariusz Kordonski – Source
"Marianela and Dominic have been been professional, friendly, knowledgeable and considerate throughout our whole settlement process. They have made it so much easier to go through the whole process considering my mum resides overseas. They would always reply to us promptly and answered all questions patiently. We couldn't have asked for better property lawyers to help us with this and are so glad we found them. Cannot thank them enough for helping with our property sales. Would highly recommend them!"
Vivian Yeung – Source
Facebook Reviews: