With the internet being such a ubiquitous and pervasive part of our modern society, it's no surprise that people are meeting each other and forming new relationships through it. In fact, there are a variety of websites that are dedicated exclusively to helping people make new friends wherever they are.
If you want to use a website to make friends in Australia – great! However, it can be hard to know which website to go with. To help you out, take a look at the following list of the best sites for making friends in Australia.
Best Sites for Making Friends in Australia:
5050 Café Friends
Spice of Life
Companions
1. 5050 Café Friends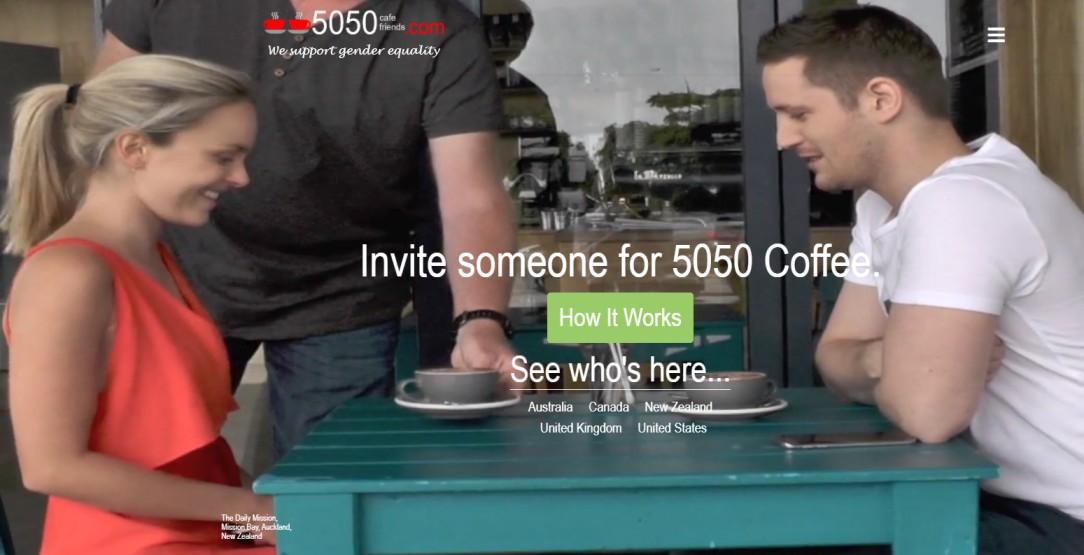 Website: 5050cafefriends.com
Originating in New Zealand, the 5050 Café Friends concept has crossed the Tasman and is available as a means for people to make friends in Australia and form lifelong connections. The way it works is all in the name; 5050 Café Friends is about meeting people for coffee where, once at the café, both parties pay for their own beverage (this is also known as 'Going Dutch').
The 5050 Meeting Protocol sets some basic guidelines that ensure the interactions are completely equitable. When people meet with the understanding they will be paying for their own coffee, it puts them on an even keel and removes any obligations that may have otherwise been implied.
Open to all sexualities and gender identities, 5050 Café Friends is creating gender equity, which paves the way for gender equality. The site makes it easy for people to connect over common interests, break the ice, and verify the authenticity of the person they are planning to meet for coffee.
This is all accomplished through the advanced social network that 5050 users sign up to. Rather than fill out a form like other sites, users can record a quick vlog stating who they are, their interests, and their eagerness to be invited for coffee. When users sign up with a vlog, they get a '5050 Verified' badge attached to their profile, allowing others to know they are genuine and have more confidence in meeting them for coffee.
The main attraction of 5050 Café Friends is that it allows users to meet on an even keel with no obligations, implied or otherwise. Everyone who joins and uses 5050 Café Friends is required to acknowledge the '5050 Meeting Protocol' and abide by it when they meet someone new for coffee.
2. Spice of Life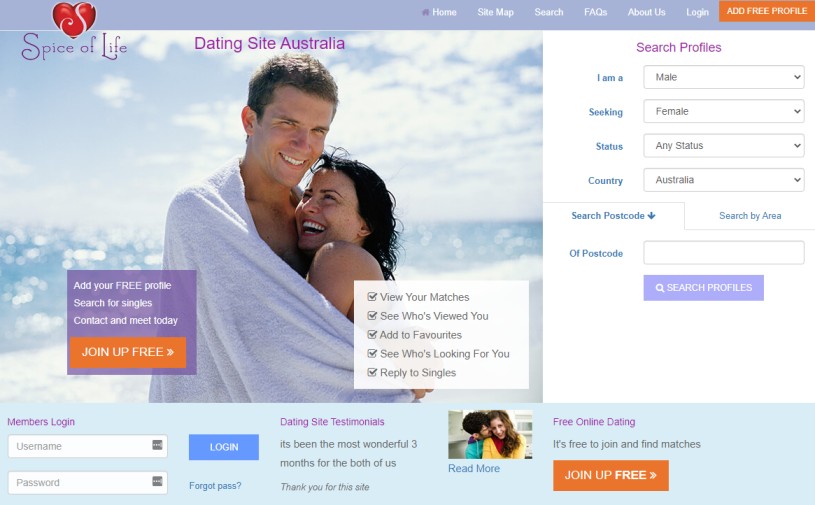 Website: www.spiceoflife.com.au
Spice of Life is a website that allows people to make new friends in Australia. Described as an online introduction agency, Spice of Life allows people to meet online to form any kind of relationships they desire, not just for dating and romance.
Those seeking to simply make new friends (perhaps because they have just moved to a new area), can do so easily with Spice of Life. All of the interactions on Spice of Life are completely discreet and secure, allowing people full control over the free personals ads they put onto the website.
Users can sign up and make a profile for free, and immediately start looking for people to meet based on the parameters they set. The site has thousands of members, making it easy to find people in your local area.
The website has a very open and 'anything could happen' vibe to it, encouraging users to 'Spice Up' their life by meeting someone new. The website talks about all the possibilities that can be enabled by taking the chance to meet someone new.
3. Companions

Website: www.companions.com.au
Companions is a website where people can upload their profile and meet new people to become friends with all around Australia. The site describes itself as a simple and fun way for people to meet each other and discuss their common interests and choose to meet up in real life if that suits them.
Members can connect over shared interests which are like hashtags, getting more popular as people relate to them. For example, certain TV shows or activities like 'beaching' are common points of interests that members can connect with each other and use as an icebreaker.
The website is free to use and has a chatroom functionally built into it, as well as forums. The website is an easy way to meet new people online and potentially form a friendship with them over shared interests.
Which will you choose?
There's plenty of options for websites you can use to make friends in Australia, and the 3 listed above are just the best based on our evaluation. What will you choose?