It's no secret that the internet has changed the way we live and has had a huge impact on how we go about daily functions. The online world has altered the way we do everything, from shopping online instead of visiting stores, to meeting potential partners online.
Being single is difficult and it can often be challenging to meet the right person for you, this is why dating sites have become increasingly popular. One of the major advantages of online dating and dating apps is that they enable you to meet people that you would not usually cross paths with.
The process gives you the ability to get outside your comfort zone and your normal social circles in order to meet someone that could turn out to be the love of your life.
Making the decision to sign up to a dating site is one thing, but actually doing it is a completely different story. It can be scary to set up a profile and put yourself out there for the first time, but this leap of faith could change your life completely.
With so many dating sites to choose from, it can be hard to know which one to sign up on and which one best suits your needs. As with anything, there are good and bad dating sites, but don't let this deter you from signing up to one.
In order to help you decide which dating site is best for you, and help you avoid the ones that will be a waste of your time, here is a list of the 10 best dating websites – free dating sites and paid and premium dating sites. Keep reading to find out more about them.
Here are 10 top and best dating sites for singles in Australia:
1. Zoosk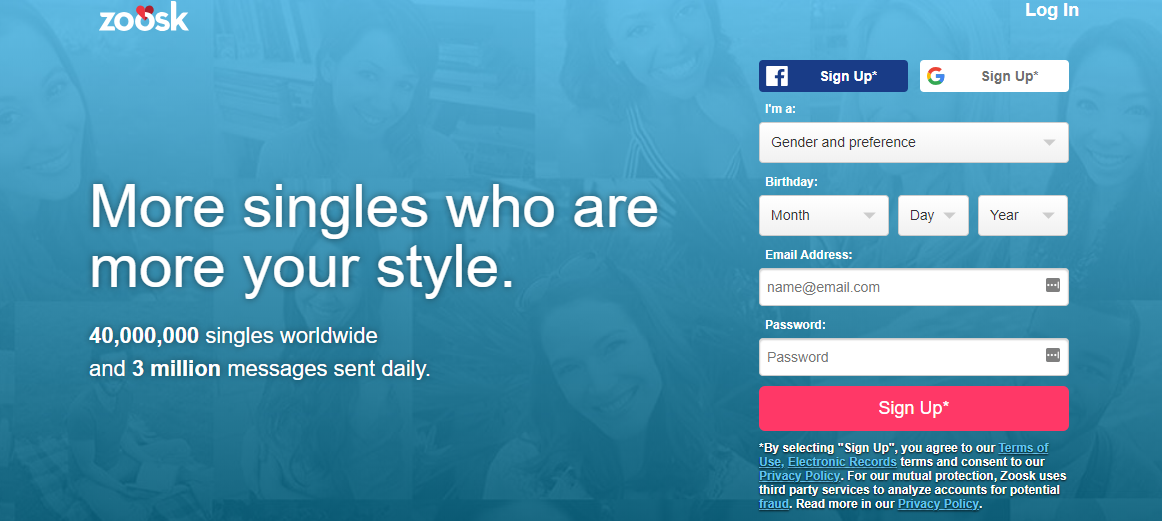 Zoosk is one of the most popular and widely used dating websites in Australia, with 1.1 million members. One of the benefits of this website is that it is free so you won't need to pay to use it, however, the app also has subscription options that will give you access to additional features.
When you first sign up to the website, you will be asked to complete a profile and compatibility quiz. This allows the app to use an algorithm to find "smart matches" or people that suit your specified criteria and that you will have things in common with.
The format of the app attempts to combine the more traditional approach to dating sites by allowing you to fill out a profile, with the newer Tinder- style swiping approach. Essentially, the app will try to match you with users that it believes suit your needs, but also allows you to browse through user profiles at random.
Zoosk is one of the few dating sites that is aimed at a slightly more mature audience, with the majority of the users being over 30. If you are looking for a real relationship, rather than just a hook-up, Zoosk might be the best dating site to create a profile on.
2. eHarmony

This is a dating website aimed at straight people who are looking to find a long term relationship and ultimately get married. The site is not designed for hook-ups or casual flings and boasts an algorithm that helps users to find their perfect match. Interestingly, the website uses a formula that identifies users best possible matches based on their dimensions of compatibility.
As with many other dating sites, eHarmony does offer free membership, but this is quite restricted. If you want to really make use of the app and find a long term partner, you will need to pay for their subscription. Although eHarmony gets results and helps people find lasting connections, it is one of the more expensive dating sites to sign up for.
3. Elite Singles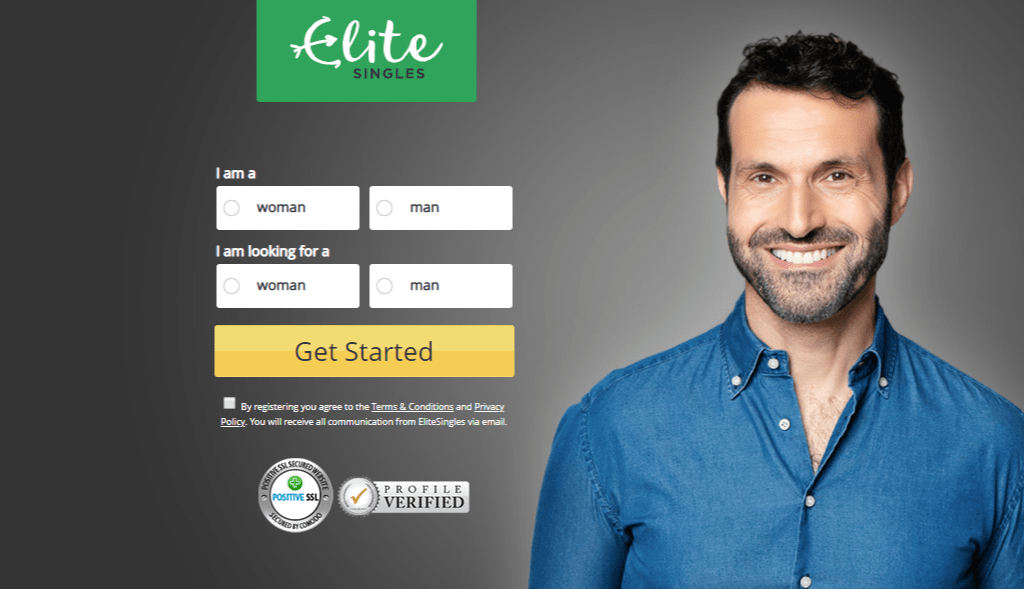 Elite Singles is known for being one of the higher end dating sites and is primarily aimed at educated professionals who are looking for love. This is another website that is aimed at finding lasting connections as opposed to casual hook-ups.
The website allows users to fill out a highly detailed personality profile which will then help you to get in contact with people that have similar interests and values. The app asks users a wide range of questions and not just the basics, which means you are more likely to get relevant matches.
If you want to take full advantage of this website, you will need to pay for a subscription, as it is incredibly limited without it. However, if you are picky and struggling to find someone that meets your high standards, Elite Singles might be the best website for you.
4. OkCupid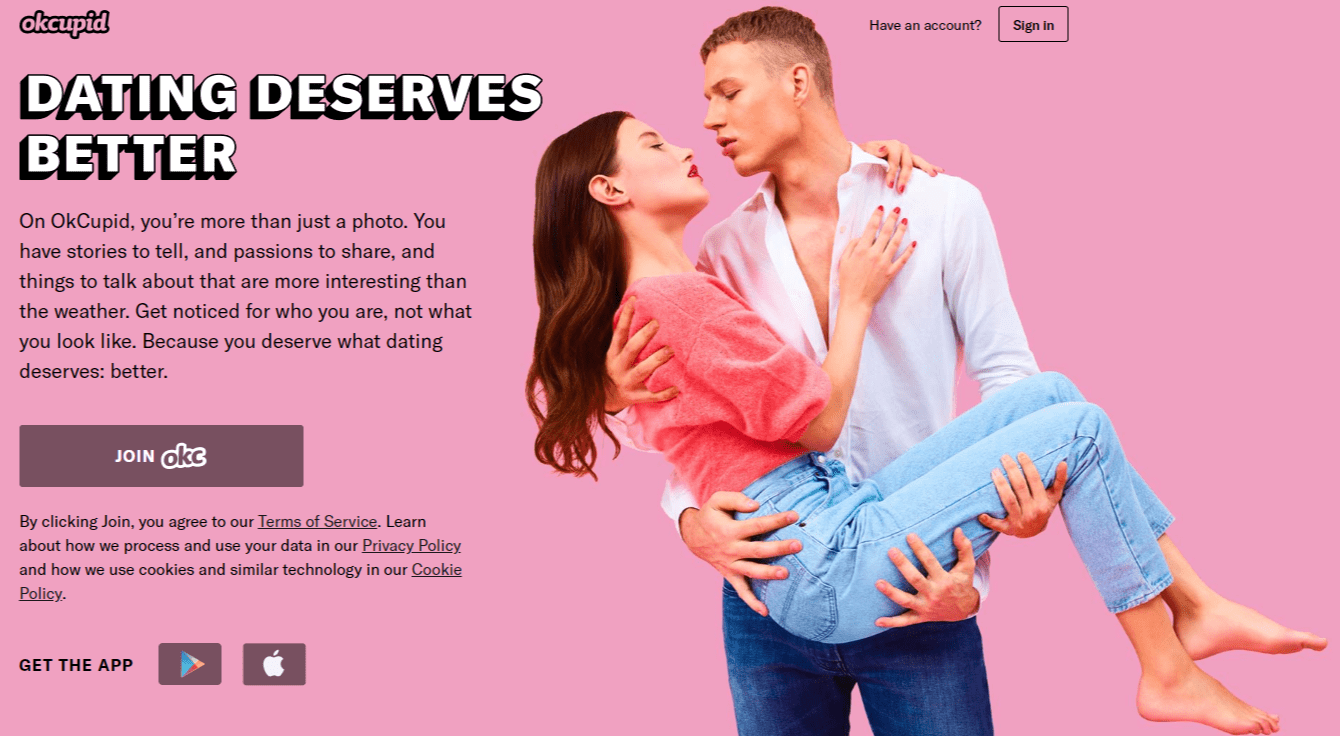 OKCupid is a great option for almost anyone because messaging and viewing profiles is free and it is really simple to use. The app is also inclusive and is known for being LGBTQI friendly.
Regardless of what you are looking for OKCupid caters to you. As soon as you sign up, you will be asked to specify what type of relationship you are looking for, whether that be marriage, a hook-up or just new friends.
Although there are paid membership options, it is free to send messages and view profiles on the website. This means that you do not need to pay a premium to meet people while you are using this app.
https://www.instagram.com/p/BuMhWlrBXxm/
5. Tinder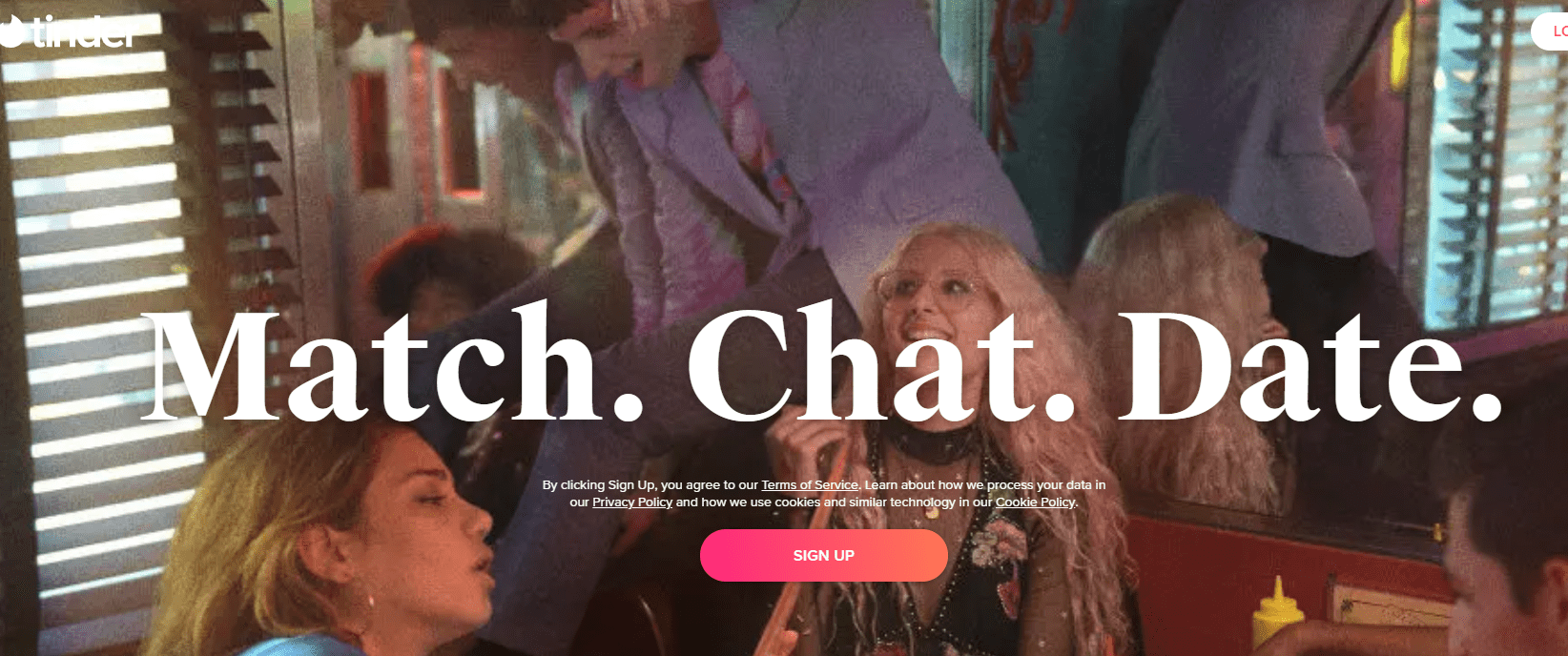 No list of dating websites is complete without mentioning Tinder. It's undeniable that Tinder changed the game when it comes to online dating and the iconic swipe method has been implemented by many other apps.
Being able to swipe left and right to state if you are interested in someone or not makes the process of finding a match not only incredibly simple, but also fun. The entire process is quick and hassle free. Although there are subscription options which give you added features (such as the ability to "super like" someone) you can match and message people for free.
Tinder is an app that is certainly aimed at the younger market and is not necessarily the best place to look for a long term relationship. So if you are looking for a marriage, this may not be the best dating site for you. However, if you are hoping to meet people to casually date and hook-up with, Tinder is a great app to use.
6. Bumble

Although Bumble is not the number one dating app yet, it is certainly making a name for itself. In saying this, there are already about 1.1 million Australian members, so your chances of finding the perfect match are quite high.
The app is a twist on Tinder and users swipe left and right to match with each other, however, once a match is made the woman has to send the first message. This is designed in order to make women feel empowered and prevent them from being bombarded with hundreds of messages from men.
Bumble helps users to make the first move by putting a time constraint on matches, essentially you will have 24 hours to send a message after matching with someone, and they will have 24 hours to reply. If this does not happen, you will automatically unmatch.
This is another free app that gives you the option to pay for added features, however, you are still able to match, send and receive messages without paying for a subscription.
7. Plenty of Fish
https://www.youtube.com/watch?v=S8cBBg1pQ_I&feature=youtu.be
Plenty of Fish is one of the original dating websites and started all the way back in 2003; the website has now got it's own easy to use app.
This app is aimed at those who are looking for a long term relationship, and therefore has an algorithm designed to help users meet that special person. The goal is to help users find the person that is most suited to their romantic interests. Due to this, it is generally geared to an older crowd than that of Tinder or Bumble.
This is another app that has both free features and features you have to pay for. However, there are a lot of free features, meaning you don't need to pay extra to get the most out of it.
https://www.instagram.com/p/BvC4vEEg2VP/
8. Hater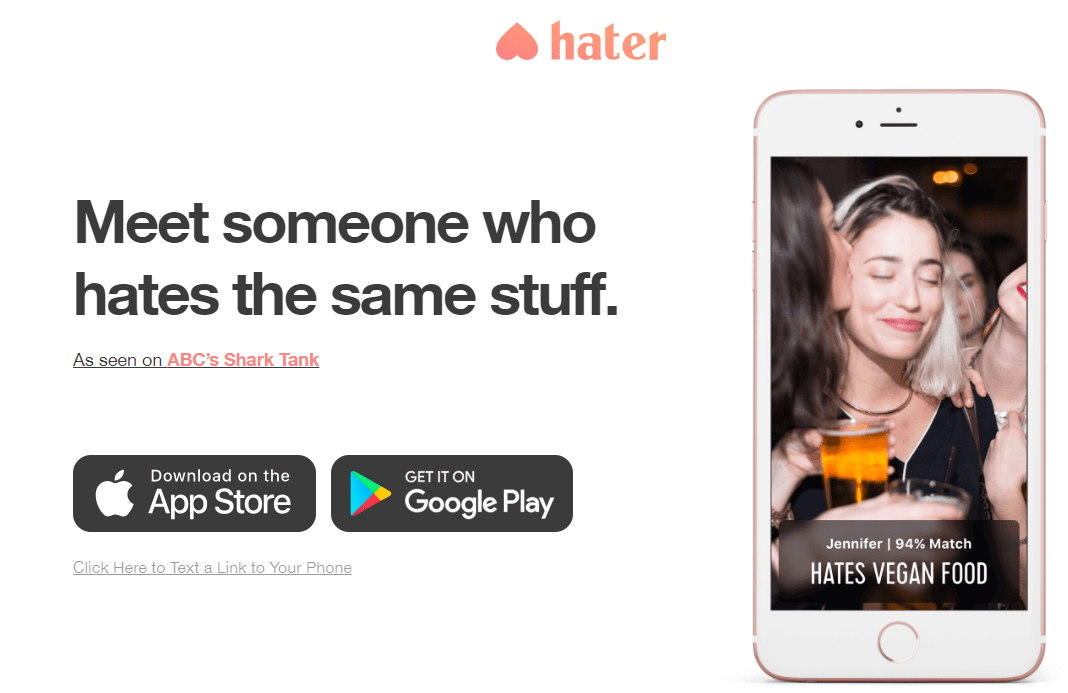 Hater is a less well known app, but it is certainly an interesting one. It takes the traditional concept of helping people connect via shared likes or interests and flips it on its head. Instead, the dating app creates matches based on mutual dislikes.
If you are frustrated and bored of the standard questionnaires and sign up procedures, this could be the perfect dating site for you. When signing up, you will be presented a range of topics that you will swipe to indicate if you love them or hate them. Once you have done this, you will then be able to see user profiles who match your preferred age, location and dislikes.
9. Clover
Clover is another lesser known dating website, but it does have plenty of Australian members. Like many apps, Clover allows you to scroll through members and swipe left and right depending on if you are interested or not. However, Clover also has a few added features that apps such as Tinder do not offer.
This app will allow you to filter members based on your preferences, interests and relationship intention. Essentially, you won't have to scroll through everyone, instead you can filter members and only look through those who meet your requirements. This not only saves time but also allows you to feel secure knowing that anyone you match with has something in common with you.
Another interesting feature the app offers is on demand dating. This basically allows members to skip the small talk and go straight to setting up a meeting.
The app also has a nifty little feature that allows you to play twenty questions with people you match with. This will give you the opportunity to see how similar, or how different you are and is also a great ice breaker.
As with many other dating websites, the app is free, and you will still be able to take advantage of many of the features without a paid membership. However, in order to set up a search filter on profiles, you will need to pay for the premium version.
https://www.instagram.com/p/Bu7C0pGBoWA/
10. Happn
https://www.youtube.com/watch?v=ZH6ZnofSJS0&feature=youtu.be
Happn is an interesting app that takes a unique approach to online dating. The app tries to merge online dating with your daily life through only showing you profiles of people you have actually met. So if you are someone that walks past people in the street but is too shy to approach them, this could be the perfect app for you.
The app will show people in chronological order and allows you to click on their profile in order to create a like. The creators of the app thought everything through to save embarrassment; the other person won't know you liked them unless they liked you back! Once both parties have liked each other, the app will allow you to start a conversation.
The app is free but does offer premium features such as the ability to see who liked you without liking them back if you pay for a premium membership.
Although the thought of online dating can be intimidating, it can also be one of the best ways of finding someone to go on a few dates with, and potentially spend the rest of your life with. With so many different dating websites and apps, there is certainly one out there that suits your style and personal preferences. It is important to choose a dating site that fits your budget, your age group and your specific requirements. This will give you the best chance of meeting the perfect person for you.