AI-chatbots are used by businesses across the business world. An AI-chatbot is an AI-software that can simulate a conversation with a user using real natural language. These are usually used on websites, messaging applications, mobile apps and over the telephone. AI-chatbots are an exciting innovation for businesses across the world, as they eliminate the need for further labour costs regarding customer service and other aspects of business.
They have often been described as one of the most promising and advanced expressions of interaction between machines and humans.
Technologically, an AI-chatbot is the product of the natural evolution of a question answering system. Through the use of Natural Language Processing (NLP), the AI-chatbot is able to formulate responses to questions in natural language. The AI-chatbot is one of the most common and typical examples of Natural Language Processing (NLP) being applied in enterprise end-use applications.
AI-chatbots work within a certain method, with two tasks being at the core of any chatbot, user request analysis and returning the response.
User request analysis is the very first task that a chatbot will perform. This involves analysing the user's message in order to identify the user's intent as well as to extract relevant entities. The first condition is to identify the user's intent and extract the relevant data, as if you cannot correctly understand the user's request and intent, you won't be able to provide a correct answer.
The next step is returning an answer. Once the chatbot has identified the user's intent, it must answer with the most appropriate response to the user's request. These answers can be generic and predefined texts, answers coming from a knowledge database, the result of an action based on an action performed by the chatbot through the interaction of one or more backend applications or a question that helps the chatbot to further understand the user's request.
So after knowing how chatbots work, why are they considered to be so important within the business world?
AI-chatbots have the ability to streamline business processes involving interactions between people and services, thereby enhancing the customer's experience. Simultaneously, they allow companies to create new opportunities and experiment with customer engagement and service, as well as improving their operational efficiency through the reduction of costs involving typical customer service methods.
For a chatbot to be successful in customer support, service and engagement, it must be able to efficiently and effectively provide a solution that can perform the tasks stated above. Whilst AI-chatbots have the ability to work autonomously and independently, human support plays a crucial role in the configuration, training and optimization of the chatbot support system.
This being said, many people are recognizing the important of AI-chatbots, and there are currently quite a lot of providers on the market who offer chatbot services and applications for businesses.
With so many of them out there, how can you know which one to choose for your specific business situation?
Top and best AI-chat-bots for e-commerce:
Here are the 7 best AI-chatbots that you should use on your e-commerce website:
1. CommBox AI-Powered Omnichannel Chatbot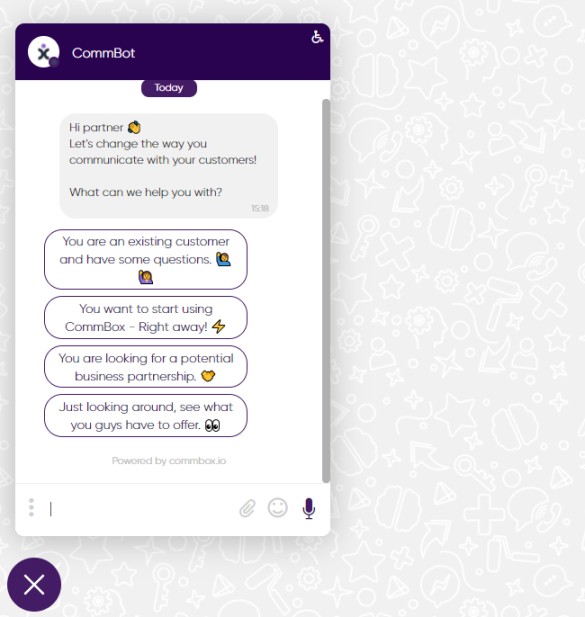 Website: www.commbox.io/use-cases-for-ai-powered-chatbots/
CommBox offers an omnichannel platform that provides a variety of different services. This omnichannel platform is powered by AI, and provides a complete experience for a variety of different platforms including SMS, WhatsApp, social media, Email, video and voice, and so on, see their demo here.
All of these communications are handled through one smart inbox.
Since the CommBox omnichannel chatbot runs on an open platform, customization is very high and functional, allowing JavaScript functions to be added, CSS customizations and the use of other advanced features. All channels can be worked through seamlessly using only a single script, eliminating the need to have a script for each dedicated channel. CommBox uses a smart inbox method in which the chatbot can engage with customers through all communication channels in one inbox, without compromising each channel's native features.
Moreover, they support the use of browser-based integrations and customizations which will help in the embedding of CommBox functions into current existing systems. This means that CommBox is able to easily blend with your current business, and makes the integration of it much less disrupting to business operations. This functionality, efficiency and effectiveness means that CommBox is a top choice for an AI-chatbot.
Here is also a short video explaining what else you can do with them😀
2. Intercom business messenger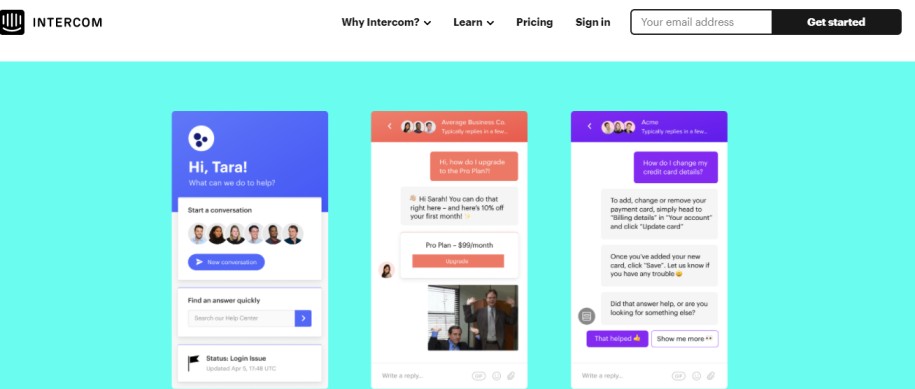 Website: www.intercom.com
The Intercom conversational relationship platform offers a stack of features put together into one platform for businesses to use with customer support and engagement. The primary part of the conversational relationship platform is the business messenger, which is used to engage and support customers through the use of conversational chatbots, self-service tools, interactive applications and proactive product tours.
This allows businesses to automate their customer service due to the amount of support Intercom provides with their business messenger stack of features.
Intercom also provides management tools such as collaborative inboxes, reporting and automated workflows. In addition to all this, Intercom has features used to use customer, behavioural and company data in order to personalize and target customer interactions. All of these features placed into one stack can easily take a business to the next level of customer service, targeting and integration. Furthermore, the ability to visualise all of this including the use of customer, company and behavioural data into one platform is very valuable to any company involved with customer engagement and buying.
Thereby, Intercom is a good choice for a platform which includes an AI-chatbot, Intercom business messenger, and so much more.
3. Drift chatbot software
https://www.youtube.com/watch?v=0-1GGTwcXuY&feature=emb_title
Website: www.drift.com/product/chatbots/
Drift's chatbot software is a powerful tool which can be used to ask qualification questions and create leads in your CRM. The chatbot is able to respond quickly and effectively to any customer questions that it may come across. Not only is the chatbot feature available, but the use of AI in many other instances in business is also available with the Drift chatbot software.
These features include a bot which connects business team's calendars in order to be able to schedule meetings by pulling availabilities, comparing them and therefore booking the meeting(s). Furthermore, the bot is able to route conversations based on routing rules that you place on them. However your business routes new leads based on your CRM, is how the bot will do so as well.
There is a lot of functionality included in the platform, such as if a lead starts a conversation, it will route the conversation to the lead owner assigned within your CRM. Moreover, the bots run 24/7 on your business website, which helps to significantly reduce labour costs associated with customer support for long hours.
The Drift chatbots will provide intelligent and helpful content to website visitors and curious customers, as well as qualifying leads, routing conversations and booking meetings 24/7. The software runs autonomously and independently in the background of your business operation.
4. Zendesk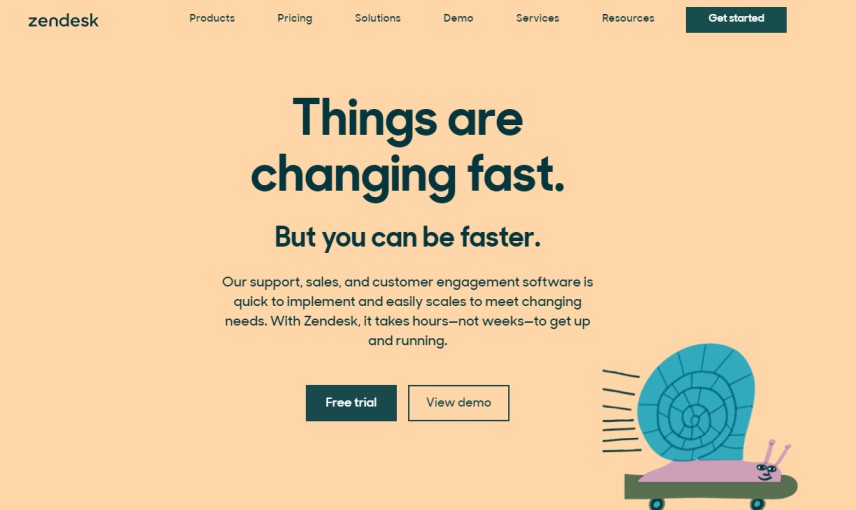 Website: www.zendesk.com
Zendesk's integrated customer support is a simple system used for the tracking, prioritizing and solving of customer support tickets. The platform puts all customer support interactions into one place, making communication with customers personal, seamless and efficient. Zendesk believes in giving customers what they want, by providing quick and easy resolutions to their issues. It does this by providing personalized support to customers when and where they need it.
The Zendesk support platform is very intuitive and puts customer interactions and the support system into one single, dynamic help desk platform. The Zendesk provides a number of features such as web-widgets, customer search histories and pre-defined ticket responses in order to make customer support efficient and effective. This allows your business to give faster support on the customer's preferred channels at the moment that they need it.
Furthermore, the Zendesk is customizable and can be personalized to how your business wants it to be. Right out of the box, the platform is able to be customized and changed in order to fit your business goals and vision. This can be done through the customization of workflow and/or the use of applications and integrations. Any way you choose to use it, Zendesk help and support is flexible enough to meet your needs.
5. Trengo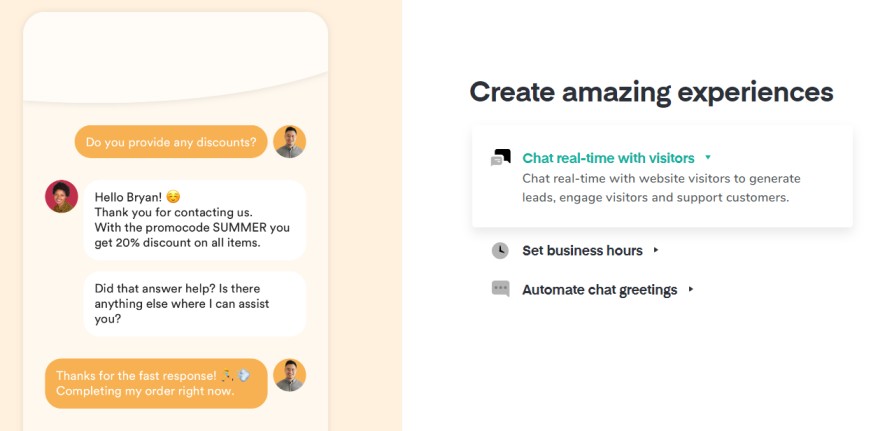 Website: https://trengo.com/en
Trengo's chatbots are the perfect digital assistant in order to answer frequently asked questions and route site visitors to where they need to be to find the support for their situation, all whilst collecting leads simultaneously.
The Trengo chatbot can be deployed on every channel, and automatically answer questions, allowing customers to receive answers to frequently asked questions in no time at all. Moreover, the chatbot can request customer information in order to collect leads. Finally, it is also able to route the conversation to the right employee, in order to give the customer the best support agent possible for their situation.
Trengo also uses one chatbot for all communication channels, eliminating the need to build different chatbots for different communication channels. One chatbot can be used to be implemented via Facebook messenger, WhatsApp, Telegram, WeChat and so on.
In addition to this, the chatbot can be built with no code whatsoever, so you do not need to know how to code to build one. This makes the platform very user-friendly, with no extra costs required in terms of hiring a developer. The chatbot can be constantly active, or active when you want it to be, thanks to Trengo's customizability.
6. LivePerson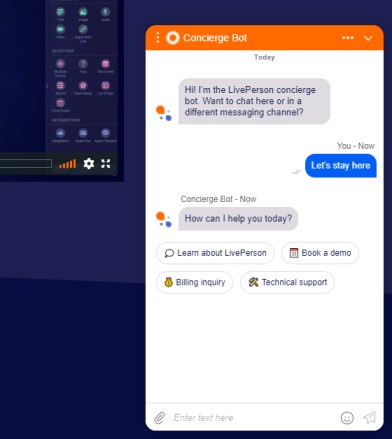 Website: www.liveperson.com/products/conversation-builder/
LivePerson provides a chatbot that even non-technical staff can build and optimize. The Conversation Builder program provided by LivePerson gives a point-and-click interface as well as a guided assistant that can help to walk users through the process of creating and optimizing automated conversations and messaging.
It also allows you to build an automated conversation that flows, then run this on every communication channel. You can also easily integrate the back-end system including the use of CRM, order and inventory, scheduling tools, management systems, payment platforms and so much more.
The conversational cloud that is built by LivePerson also involves the functionality of the intent manager (used to configure, detect and analyse consumer intents in real time), the conversation manager (used to supervise and manage all bot and human agents across your business platform) and the conversation orchestrator (uses intent and contextual data to determine the best agent, bot      or other resource to handle a conversation).
7. Kustomer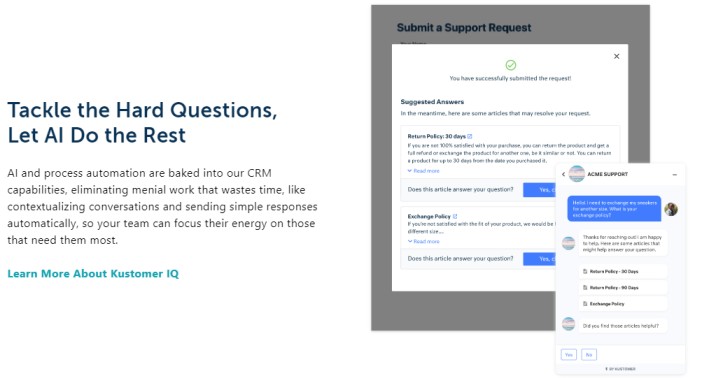 Website: www.kustomer.com
Kustomer IQ aims to empower your business to automate low-level customer support questions at any time without having to hire more labour. Kustomer chatbots enable end-to-end customer support resolutions across chat, social and messaging applications. They do this by answering repetitive questions and helping customers to get the answers and support they need without having to involve an employee. Kustomer IQ integrates with your knowledge base in order to deflect questions that are repetitive and can be answered quickly.
Kustomer also provides real-time analytics to visualize how well your bots are doing in providing customer support, through the use of conversation insights and success metrics. Moreover, Kustomer's visual flow builder makes the creation and optimization of a chatbot and its deployment very easy. They offer templates that make this very easy to do for anybody, and you do not need a technical background to do so. They also provide support for the building of these chatbots with their own software engineers to assist in their development and deployment.
In summary, AI-chatbots are the future of customer support for businesses across the entire world, and many businesses have already implemented them into their own business operation. However, with many tech companies realising this, there are so many platforms that have been developed and released on the market. With this amount of choices, it can be difficult to choose which one would be best for your business.
This list can help to narrow down the best ones, however it is important to research each of these companies and find the best one to fit your business. This is because whilst many will share the same features, some will have better support or certain emphasis on features that would suit your specific business situation better.