Cloud computing has paved the way for several technological advancements that businesses utilise today. A perfect example of such technologies is enterprise resource planning (ERP) software.
The history of ERP is dated back in the 1960s. However, it was only in the 2010s where servers are deployed on the Internet (or cloud) to store and access data rather than on a local server or personal computer. This deployment model gave birth to what's currently known as cloud ERP software.
A decade after the invention of a cloud ERP system, its relevance in the business world remains untouched. Keep reading to find out why this software solution will carry on this 2020 and in the years to come.
High adoption rate
Cloud-based ERP programs are guaranteed to gain momentum this year and beyond because of the tech's high adoption rate.
Small to midsize enterprises and businesses (SMEs) and (SMBs) have adopted and incorporated the tool into their processes. This is evidenced by different studies including one from the Aberdeen Group.
Aberdeen's 2019 research found that 96% of growing businesses who excel in their respective fields have implemented an enterprise resource planning system. Through this tool, organisations get remote data access in a single platform without complex technical configurations.
In a Panorama Consulting Group 2018 research, it's reported that 95% of companies improve their processes following ERP implementation. Among the popular reasons for implementing ERP are to improve business performance (64%), to position a company for growth (57%), and to reduce working capital (57%).
The above figures show the increasing demand for ERP applications. In fact, ERP vendors are now offering much more innovative software at competitive pricing, thus, alluring more companies to adopt ERP systems.
Customer centricity
As compared to the ancient ERP software solution, today's tech has a greater focus on the customer's needs.
The traditional ERP system is limited to accounts, audits, supply chain and warehouses. It's housed on a company's own servers and maintained by IT staff. It also requires regular updates and investments in the hardware for the program to run.
Contrariwise, modern ERP programs offer customer-centricity. There's the option to run the software on the cloud (cloud ERP software), which eliminates the need to buy hardware and updates because everything is provided by the ERP supplier.
In addition to scalability, a cloud-based ERP application delivers many capabilities that cater to businesses' needs. It cuts down IT costs as everything is stored in centralised ERP—not in disparate systems.
Such a tool also provides users access to important processes and information. Since everyone enjoys total visibility, it will be easier to encourage collaboration across departments and streamline business operations.
Mobility and functionality
Another reason why companies are now more inclined to using enterprise resource planning software is because of the tool's mobility and functionality.
With these features, businesses can manage their resources (i.e. personnel, funds, processes, etc.) efficiently and transparently. ERP system provides a one-stop solution for every business' data needs and shared access to every member of an organisation.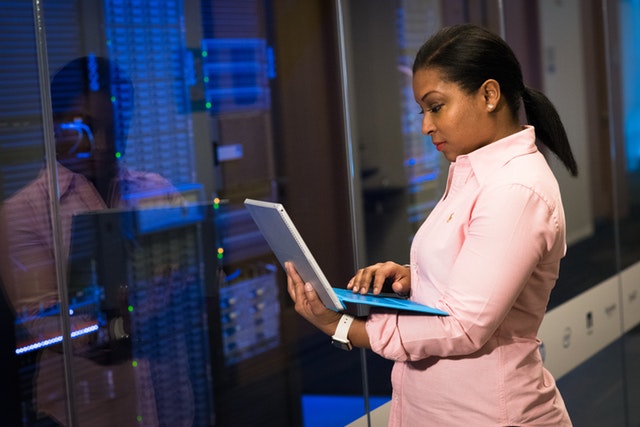 The mobility feature, specifically, helps to drive business growth, increase flexibility, boost productivity, and so on. Simply put, the mobile ERP program is a reliable tool that enhances the user's overall satisfaction.
In the past years, companies have realised the value of connectivity on-the-go. Everyone wanted to find their ways onto mobile devices, tablets, and other gadgets to relish on the benefits above.
This 2020 the demand for mobility within software applications in the business space remains the same. That's why cloud ERP software is still more likely to be the preferred choice for scaling businesses with ease and making the operations running smoothly.
Technological advancements
ERP systems are here to stay because of one thing: they're continually evolving. These software solutions have undergone many changes, making them appealing to most modern businesses.
Business leaders can expect more from the tool as there are relevant trends that will transform the enterprise resource planning industry. The technological advancements will sway more people to adopt ERP and embrace a digital way of managing business operations and processes.
Among the ERP trends to watch out for this year is the integration of AI and other intelligent technologies. Typically, users must install an artificial intelligence app to automate tasks and gain insightful data.
With an AI-driven ERP program, companies can gain a significant edge in data processing. The technology can provide innovative ways of uncovering information from large and varied data sets; reducing loading time; improving data validity, and so on.
In addition to artificial intelligence, present-day ERP solutions can be integrated with marketing capabilities. Businesses can leverage social media platforms and perform various tasks such as gathering of links, publishing posts, getting analytics, and more.
This new trend is crucial to data analysis because social media usage in Australia and other countries is growing. Furthermore, organisations should effectively manage their social media networks and taking advantage of the digital marketing aspect of ERP will help them do just like that.
Cloud ERP software is here to stay
Cloud-based ERP system is one of the biggest breakthroughs in the software industry. Through this software, companies can manage all aspects of their businesses from human resources, to accounting, sales, marketing, and the like.
While ERP software has been around for many years, it's still projected to stay this 2020 and beyond. It will remain a critical business tool because of its indisputable functionality, mobility, and mind-boggling technological advancements that are coming down the pipeline.
This means investing in an ERP solution can be the best decision that business leaders will make. However, they must understand first which product suits their business size, caters to their industry, and provides all the important features and functionalities they need.