If you are a fan of cakes with an incredible cream cheese based icing then you need to get a hold of this carrot cake.
The effortless of it combined with how it tastes will definitely make it a hit at any household or event.
For many people with a sweet tooth that haven't tried the dish before they can be a bit hesitant to eat something with vegetables in it.
However once you sink your fork into a slice of carrot cake you will never want to eat anything else again.
There is even an Asian adaptation of the recipe in which they would make pancakes from the mixture.
Who doesn't love this classic cake? It's perfect and easy to make!
Below is the carrot cake recipe for the most moist and simple: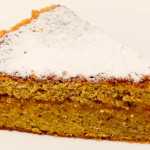 Print Recipe
Carrot Cake
Easy and healthy carrot cake recipe.
Ingredients
260

gram

of plain flour

1

tsp

of salt

2

tsp

of baking soda

1.5

tsp

of ground cinnamon

295

ml

of vegetable/canola oil

200

gram

of sugar

200

gram

of brown sugar

1

tsp

of vanilla extract

4

psc

large eggs

6

psc

medium sized carrots

100

gram

of walnuts or pecans

65

gram

of sultanas
Instructions
Preheat your oven to approximately 180°C and grease two round cake tins.


Mix your flour, baking soda, salt and cinnamon in a large mixing bowl.


In a separate bowl whisk together some oil, sugar and vanilla. Whisk in one egg at a time until all are combined.

Add the dry ingredients to the batter mix making sure it is combined evenly.

Stir in your carrots, nuts and sultanas once all combined.


Divide the batter into the cake tins and place in the oven.


Bake it for 45 to 50 minutes or until it has a spring like effect.


Let the cake rest for 15 minutes


In a large bowl beat your cream cheese until it is creamy.


Add in your sugar in small increments until it turns fluffy.


Pour in your cream and beat it for another minute or so.


Place the icing in the fridge to chill before adding it to your cake.

Once every part is cooled, frost in between the two layers and the top of the upmost layer.

Sprinkle nuts on top to serve.
Notes
Here is a video to similar Carrot Cake recipe
History of carrot cake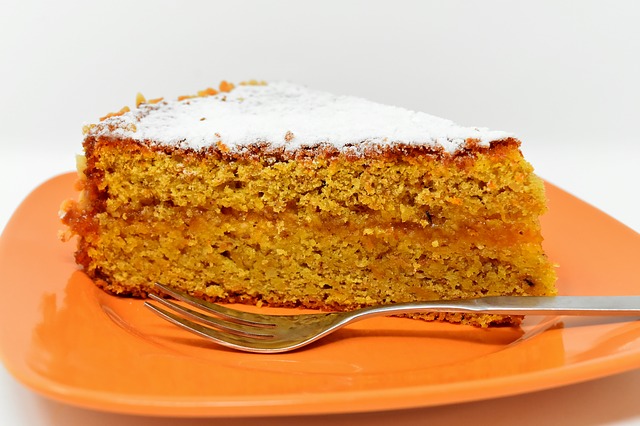 Carrot cake has a very shady origin with not a lot of people knowing where it actually came from. It is theorised to have developed from carrot pudding which was a hot commodity during the medieval time period. During the Middle Ages sugar and other sweeteners were very pricey or were simply hard to come by. From such the people had to develop new ways to create a desert and hence the development of carrot cake.
Like most recipes that originated years in the past, it would adapt to what was readily available at the time. It has seen many different styles such as being baked in pastry, steamed and served with a garnishing sauce and even in baked puddings with icing on top.
There is even an Asian adaptation of the recipe in which they would make pancakes from the mixture. While the recipes and variants differ over time the reoccurring feature is the carrots as the base with some sort of icing.
It is estimated that the cream cheese icing became a thing during the 1960's. While Europeans have a wide variety of cream cheese based deserts, it is theorised that the icing was adapted from these recipes as an icing for the cake.
Fun did you know fact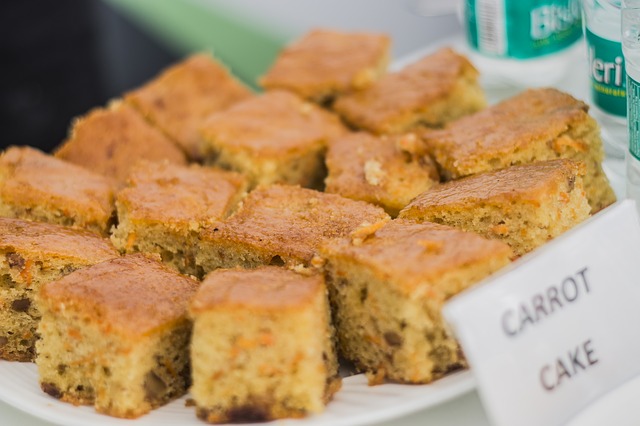 While you may have heard the old wives tale that carrots can help you see in the dark, that in fact is a myth. If your eyesight is below average eating carrots will help you see in the dark but not anymore than the average person. The myth around the vegetable giving you superhuman sight in the dark was actually a war propaganda campaign developed by the English during the Second World War.
During this era the German troops would strike in the dead of night as to use the darkness as their cover. To make it harder for the Germans to hit their targets, the British at the time would order nationwide blackouts so it was near impossible for them to know where they were aiming.
The British Royal Air Force was then able to take care of the German planes at night thanks to a new and secret technology known as radar. To keep this technology hush hush so their enemies were left unaware, the British claimed that their pilots were eating lots of carrots so that they could see in the dark.
When news reporters asked the pilots how they were so good at fighting at night, they would claim it was because of all the carrots they were eating.