Nothing is better on a cold winter's day than a cauliflower soup that simply warms your whole body.
If you haven't had this dish before it may not sound super appealing but trust me, it will be one of the greatest things you have ever tasted.
A big thing with di it yourself recipes is that people want something that is simple to make yet tastes really good.
Below we have just that as we take you on a journey with our cauliflower soup recipe.
Storage note
This soup refrigerates very well so if you have some leftovers you don't need to worry about it.
You should be good for up to 4 days in your fridge or even months if you decide to freeze it.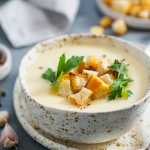 Print Recipe
Cauliflower soup
This cauliflower soup will simply warms your whole body.

Ingredients
1

psc

large cauliflower cut into small pieces

3

tbsp

of extra virgin olive oil

1

psc

Sea salt

1

psc

chopped medium sized red onion

2

psc

cloves of garlic

4

cups

of vegetable broth

2

tbsp

of butter

1

tbsp

of lemon juice

0.25

tbsp

of nutmeg

1

psc

Chopped parsley, spring onions and chives for garnishing
Instructions
Preheat your oven to approximately 220°C and grease a baking tray.

Toss your chopped up cauliflower onto the tray along with some olive oil. Ensure that it is coated evenly.


Once arranged, sprinkle some salt over the top and bake for 25 to 35 minutes. Toss the cauliflower around the 15 minute mark.


When your 25 to 35 minutes is almost up, heat the remainder of your oil in a soup pot.


Add in your onion and some salt.


Cook and stir for 5 to 7 minutes.


Add in the garlic and stir for 30 seconds before adding in your broth.


Transfer the roasted cauliflower into the pot and increase the heat to medium-high. Once that heat is reached reduce it to a simmer.


Cook this mixture for 20 minutes while stirring occasionally.

Once the soup has finished cooking, remove the pot from the heat and let it cool for a couple of minutes.

Transfer the soup to a blender, work in small batches if you require it.


Add butter into the soup and blend it until it is smooth.

Add some lemon juice, salt and nutmeg and blend it again.


Transfer from the blender to your bowls, garnishing the dishes with some chives, spring onion and chopped parsley.
Notes
Here is another Cauliflower soup recipe
History of cauliflower soup
Cauliflower soup is a dish that dates back to the beginning of the 20th century. It is believed that the dish stems back to Danish culture where they would use the ingredients that had in the area at time to put into the soup. This piece of information is very valuable as tradition and the context of a recipe is what makes it taste different.
You would have most likely experienced this in your own life where an older family member cooks the same dish as you but it tastes completely different. That's because in the way you cook something is how you get a certain taste.
Many traditional cauliflower soup recipes from their Danish origins require ingredients from that particular time period. For example of lot of soup recipes call for you to include some sort of stock into the dish.
The recipe we listed above even had one as we recommend using vegetable stock. For the traditional recipes you would have to create your own stock to give it that unique flavour.
The true brilliance of a dish is in the small details. A store bought stock will taste nothing like a homemade one which in turn will give you an even better end product. If you do have the time on hand to make your own stock we definitely recommend it, otherwise this recipe is still remarkable with bought stock.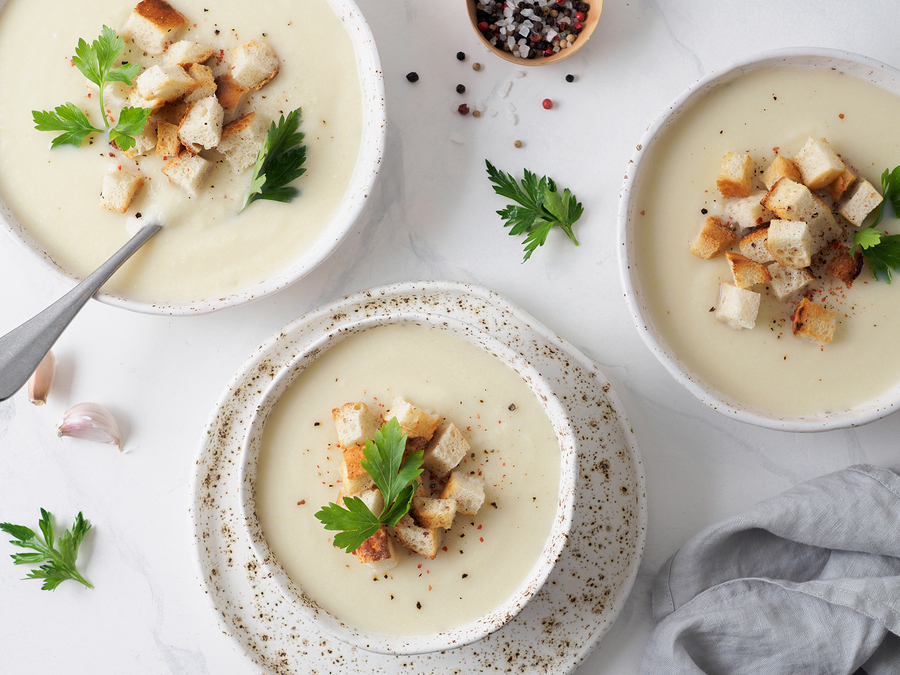 Fun cauliflower facts
The vegetable of cauliflower is pretty much that shy person at a party. They may not have that super extraverted personality, attracting attention to themselves. But when you get to know them they are actually pretty cool and have a lot of interesting things to say. This vegetable can be seen as the same thing as it doesn't have the bright colours of other vegetables yet it is has so many uses.
Cauliflowers are a great rice substitute where you can break it down into very small pieces. It is also related to cabbage and kale. This vegetable belongs to the Brassica oleracea family which is the same species as kali, Brussels sprouts, cabbage and even broccoli! Cauliflower is essentially the flower buds of the plant that is harvested before it fully blooms.