When the weather starts to cool down nothing can make you happier and filled with joy like a warm desert.
This apple crumble recipe will be a fan favourite with even your nana asking you for the recipe.
This desert has a tender, cinnamon centre topped with a golden crumble that will simply melt away in your mouth.
It also isn't overly sweet which can be a common mistake for those who don't know entirely what they are doing.
If this desert sounds like it is right up your alley continue reading as we dive into how you can make it yourself.
Serve the desert warm with some vanilla ice cream for the maximum crowd pleasing experience!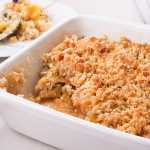 Print Recipe
Apple crumble
Delicious apple crumble recipe
Ingredients
Filling
1

kg

Granny Smith Apples

1

tbsp

plain flour

0.5

cup

white sugar

2

tbsp

lemon juice

0.5

tbsp

ground cinnamon
Crumble topping
1

cup

rolled oats

1

cup

plain flour

1

cup

brown sugar

0.5

tsp

baking powder

0.5

tsp

cinnamon powder

0.5

cup

melted unsalted butter

1

pinch

of salt
Instructions
Preheat your oven to approximately 180°C and grease a baking dish.

Peel your apples and then cut them into small cubes, approximately 2 cm in length.

Put your flour, sugar, lemon juice and cinnamon into a bowl along with your diced apples.


Mix thoroughly then spread it across your baking dish.


Place all of your topping ingredients into a bowl and mix it until it starts to form clumps.

Once the mixture has been thoroughly mixed, place it over the top of your apple layer. You should be crumbling the topping over the apple layer.

Bake the dish for 30 to 40 minutes or until you can see it has turned golden brown.


Remove the dish from the oven and wrap it in foil to rest for 10 minutes.


Serve the desert warm with some vanilla ice cream for the maximum crowd pleasing experience!

History of the apple crumble
The apple crumble has been rumoured to have appeared in Britain during the Second World War. The goal of the recipe was to produce an apple based desert without the extravagance of traditional apple pie based recipes. The first recipe was not found on actual paper though until 1924. Since then, many different variations of the original procedure have emerged each with their own individual twist. In today's age it is common for apple crumbles to be served during the colder seasons when apples are in season. From so you if you are visiting a cold city or country during winter or autumn there should be warm apple based deserts a plenty.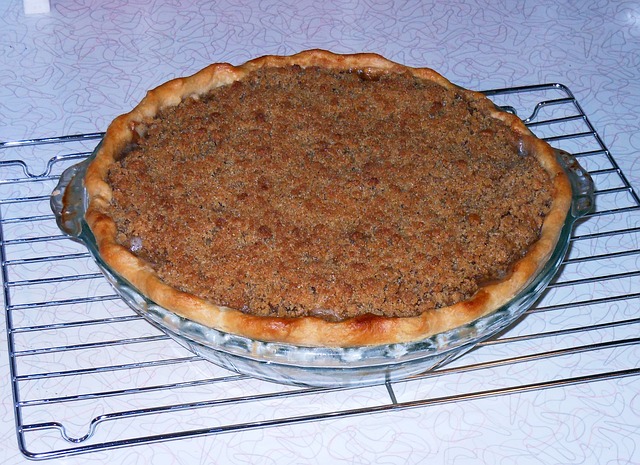 This particular dish really took off because of how simple it is to make. People with little to no baking experience can replicate this dish while making it still taste like a master chef created it. One of the more popular variations on the method is called the apple brown betty where the desert is made from using layer of buttered bread and apples. It is then served with some kind of sauce to give it that extra oomph. Apple cobbler is also another common variation where stewed apples are topped with a biscuit batter on top.
In America the dish is referred to as an Apple Crisp yet still stays true to the traditional recipe. You will find that most variants consist of cooked apples, cinnamon, butter and flour served with cream, custard or ice cream.
Health benefits
Now I know what you're thinking, a dish with nearly 400 calories in it surely doesn't have any health benefits to it. While all that sugar and cream occupying your bowl you may have overlooked the apples that are present. They may be covered in sugar and carbs yet apples still provide many health benefits to your body. Below are just some of those many benefits that your body loves from the fruit itself.
Improves your neurological health
There was a study in 2006 that published in the Experimental Biology and Medicine journal that quercetin was one of two compounds that helped reduce the cellular death of the neurons in your brain. Quercetin is an antioxidant that is commonly found in apples which can help correlate the results to the fruit.
Lowers your cholesterol level
Fruit and vegetables are very effective in keeping your body healthy and apples are no exception. They have proven that the nutrients in fruit have helped reduce the cholesterol levels in your body allowing you to have improved health. Lower cholesterol means less strain on your heart and lower chances of contracting heart disease.
Check the Warm and delicious beef stroganoff recipe – easy to make.