Bread and butter pudding is a classic recipe that is great for the whole family. It is super simple to make which means it is also a great opportunity to get your kids involved in the baking process.
Nothing is more fun than teaching your kids new skills while also having some sweet and yummy at the end.
Essentially all you have to do is cut up your bread and pour all of your ingredients over it.
If you want an extra yummy sweet serve it warm with some cream or ice cream on top.
Serving note
To really spice up your desert serve it warm with a side of vanilla ice cream.
The juxtaposition of the warm pudding accompanied by the coldness of the ice cream is simply delightful.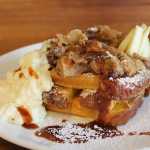 Print Recipe
Bread and Butter Pudding
Classic bread and butter pudding super simple to make
Ingredients
4

psc

whisked large eggs

0.25

cup

caster sugar

2

tbsp

Demerara sugar

0.25

tsp

ground cinnamon

1

tsp

vanilla extract

2

cups

milk

8

psc

thick slices of bread with the crusts removed

300

ml

pure cream

40

gram

softened butter

0.5

cup

of sultanas
Instructions
Preheat your oven to approximately 180°C and grease a deep baking dish (at least 5cm).

Add your whisked eggs, vanilla extract, cinnamon, caster sugar, cream and milk into a large bowl.


Butter both sides of each slice of bread and cut them diagonally.


Place half of your bread on the base of the baking dish and cover it with sultanas.

Repeat with the rest of your bread and sultanas for an additional layer.

Pour your egg mixture over all baking dish making sure it is distributed evenly.

Sprinkle the top with Demerara sugar and bake for 30 to 35 minutes or until golden brown.

Let it sit for 10 minutes and then serve it warm with ice cream or cream.
Notes
Here is a video of similar bread and butter pudding recipe
History of bread and butter pudding
Bread and butter pudding has a long history as being a dish that was for those of lower class. Today it has found its way into many upscale restaurants flaunting how impressive the dish can be. Food historians have roughly dated the dish back to the 11th and 12th century where cooks would use stale leftover bread as a desert. In those times you would not waste any food and hence why they made sure to recycle the bread no matter what. By the 13th century the dish was referred to as the more man's pudding as it grew in popularity amongst the lower class.
Even though traditionally the recipe called for old stale bread to be the main ingredient, it has grown to become a comfort and easy to make desert for many people. It has become so popular in our time as well that even restaurants are jumping on the trend and are adapting it themselves.
The amount of different bread and butter pudding recipes there are proves just how versatile the dish is. Any type of bread can be used with many Michelin star chefs even adapting recipes from sourdough and wheat and grain loafs. Additionally the desert isn't limited to just leftover bread either. Masters of the cuisine have stated that you can use leftover brioche, cake, muffins, croissants, danishes, donuts and even hotdog buns. The fun part about this recipe is seeing what leftovers you have in your household and transforming it into something new.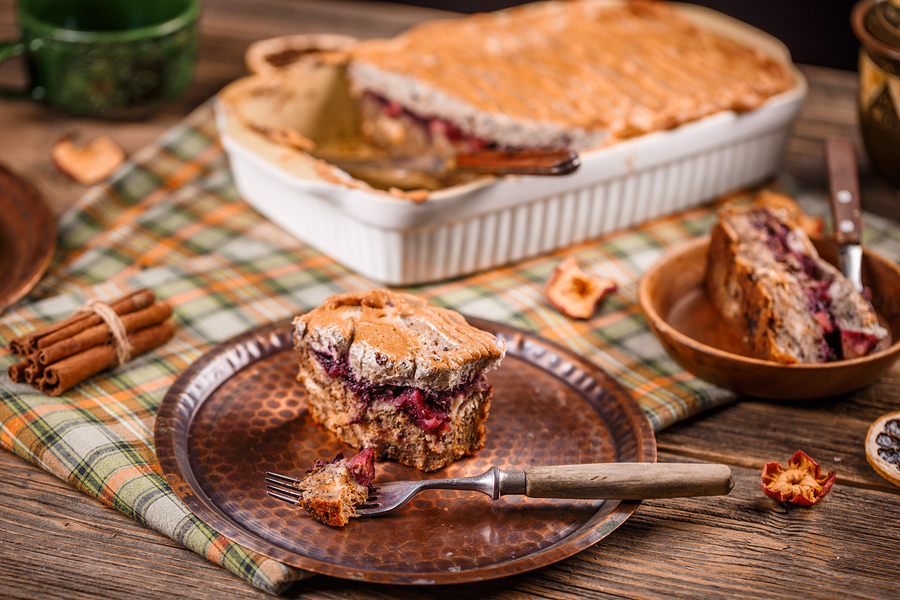 Health benefits
Now while a pudding may not be packed to the brim with health benefits, it does have bread in it which has some goodness for you. Bread is a key staple food in many diets around the world because of how nutritious it can be. Below we are going to explore just some of the many health benefits that it has to offer.
Calcium
Many people know that calcium is good for your body as it makes your bones strong. White bread is filled with calcium to the point where if you were to eat 4 slices that would account for a third of your total calcium intake for the day.
Fibre
Bread also has a tonne of fibre in it which is important to help keep our digestive system healthy. It also helps control our cholesterol levels and blood sugar.
Low fat
If you are looking at cutting back on fats in your diet you should definitely be eating more bread. This snack has very little fat in it which makes it very popular amongst low fat diets. The most important thing to remember though is while it may not have a lot of fat in it itself, the toppings and sandwich fillings you decide to use do.