Today's modern diet of processed foods and soft drinks are bad for the body. Sugary drinks can be especially disastourous for our teeth. With a lot of us forgetting to clean our teeth as often as we should we often end up needing the professional work of a dentist.
Because of how important the health of your teeth is you won't want to compromise on the quality of the dentist you choose. This is why it's so important to make sure you get the best dentist you can.
Let's take a look at the 4 local dentistry practices in Perth so that you can rest easy knowing your teeth are in good hands.
| | | | |
| --- | --- | --- | --- |
| No.: | Business: | Website: | Best feature: |
|    1 | LifeCare Dental | www.lifecaredental.com.au | 7 day service with 30 dentists |
|    2 | Aria Dental | www.ariadental.net.au | Specialty services |
|    3 | Sing Sing Dental | www.singsingdental.com.au | Affordable and diverse services |
|    4 | Dental O So Gentle | www.dentalosogentle.com.au | Commitment to patient comfort |
LifeCare Dental
With locations in Perth CBD and Kingsway, LifeCare dental has kept Perth's teeth healthy since 1980. Maintaining a team of over 30 dentists this well established practise has expertise from Dental Corporation of Australia presenters, University of Western Australia tutors and winners of awards in dentistry.
With a collective dental experience of over 150 years, LifeCare is a true coming together of the best dentists in Western Australia. Dr Alex Negoescu, the principal dentist, has more than 35 years dental experience, completing over 1,500 implants and over 40,000 tooth extractions.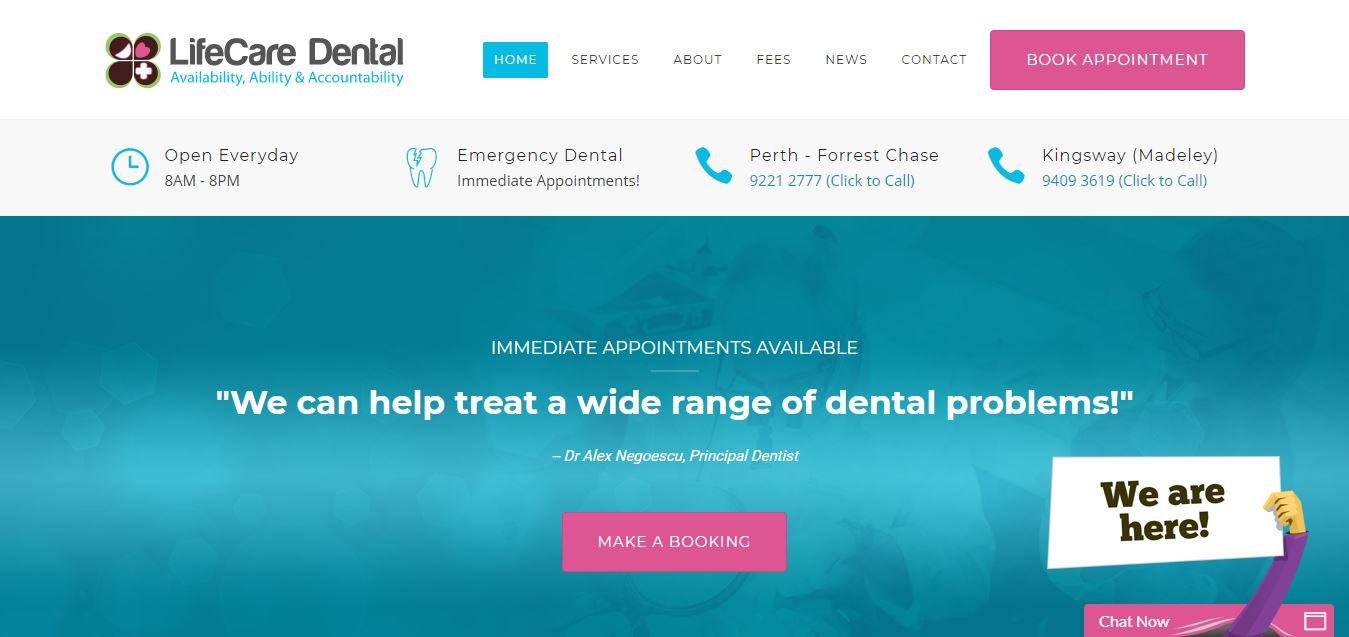 LifeCare also has specialised dental workers who can answer any and all questions a patient might have. With their extensive collection of educated and experienced experts, patients are in very good care.
The diverse staff are able to speak over 30 languages, making them able to expertly serve many different patients. All of the dentists at LifeCare are members of the Australian Dental Association.
Every dentist at LifeCare attends Continual Professional Development classes to make sure that they are always up to date with the latest knowledge, equipment and techniques in dentistry. LifeCare actually hosts these lectures and invites not only their own staff but anyone in the dental or medical fields that are interested.
Beginning with just Dr Negoescu and his nurse Jean, LifeCare has grown over the past 30 years to become Perth's principal provider of 7 days a week dental care. Apart from the 30 qualified dentists LifeCare has a robust support network of dental assistants, hygiene specialists, equipment technicians and other support staff.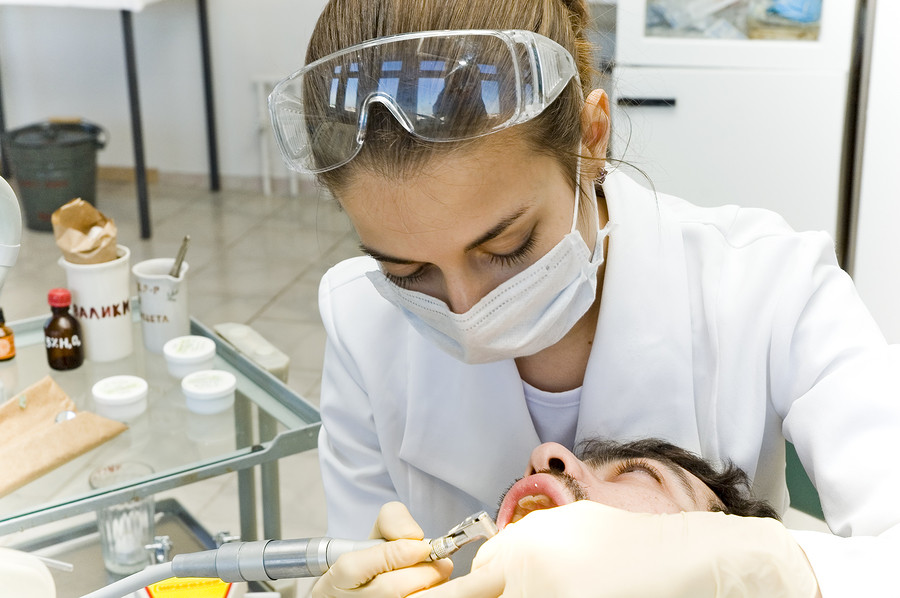 The large and mutually supporting team and LifeCare helps to keep patient waiting times to a minimum and created a stunningly seamless workflow that has accounted for their continued success. Dealing with everything including emergency dental, wisdom teeth removal and bad breath treatment, there's almost no dental task that LifeCare won't be able to handle quickly.
With their 7 days open practise, large team of experienced dentists and commitment to staying at the cutting edge of dentistry it's clear why LifeCare is so popular in Perth. They are definitely one of the safest choices for dentistry in Western Australia.
Aria Dental
Located in Perth CBD, Aria Dental is one of Perth's best dental practises specialising in dental implants. Principal dentist, Dr Michael Zaninovich is a highly accredited member of a wide range of prosthodontic and dental implant associations across Australia and internationally.
Aria Dental maintains a specialised clinic that aims to provide high quality and professional dental care to patients. Aria works hard to maintain a positive and comfortable environment for all patients no matter how they might feel about dentistry.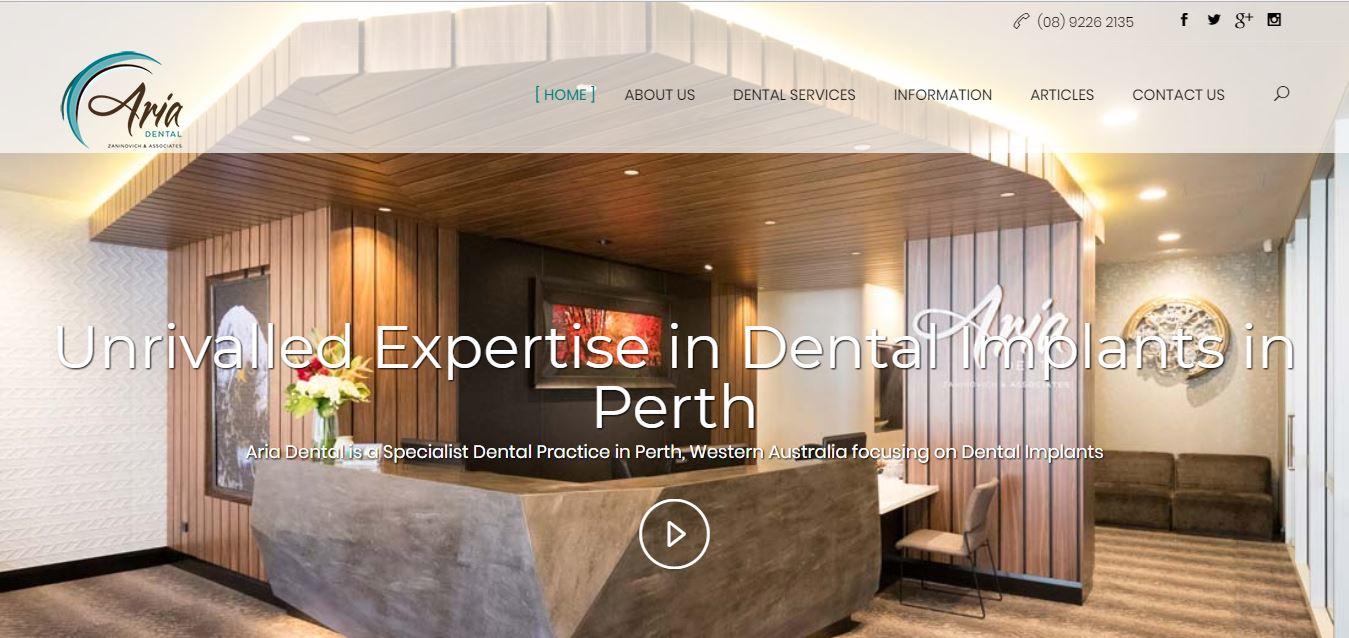 The clinic has a client focused, individualised approach that serves to give special attention to every one of their patients. The modern facility has a luxurious waiting area with comfortable lounges and state of the art televisions.
The advanced technology at Aria is not just limited to the waiting area; with the clinic maintaining the most technologically advanced equipment available for dentistry. This abundance of high performing technology allows the Aria team to deliver optimal results to patients.
Every treatment room has a large TV which patients are able to take advantage of during their procedure. For anyone who has dreaded staring at the celling during a visit to the dentist it will come as a nice surprise to be able to enjoy some light entertainment that relaxes you during the procedure.
Aria acknowledges that many people don't enjoy or are downright unenthusiastic about taking a visit to the dentist. With a combination of ambient lighting, scented air and relaxing music, Aria has worked hard to make the experience as pleasant for patients as possible.
Aria are great for specialist dentistry services like dental implants, cosmetic dentistry, veneers, dentures, mouth reconstructions and tooth wear. While offering state of the art general dentistry Aria has a reputation for delivering high quality specialist work.
This practise is clear in the philosophy behind the work it does, valuing the importance of not only healthy teeth but the positive impact of cosmetic work. Aria believes that the self-esteem boost of having a beautiful smile is just as important as the functionality of the teeth themselves.
Aria knows that health and beauty go hand in hand when it comes to dentistry. They use this knowledge to design a clinic that understands the transformative power of great dental work and delivers this to as many patients as possible.
With a reputation for specialist services and a relaxing ambience it's no wonder that Aria is so popular with patients from every corner of Perth. This clinic is definitely high on the list when it comes to great dentists in Perth.
Sing Sing Dental
Sing Sing Dental, located in Perth CBD, is another great dental practise in the region. Sing Sing's mission is to provide excellent service that ensures their patients leave the clinic with a smile they can be proud of.
This clinic treats all of their patients, from small children to busy adults with the same care and attention that they require. Sing Sing knows how sensitive people can be with their teeth and offers a highly discreet yet professional service.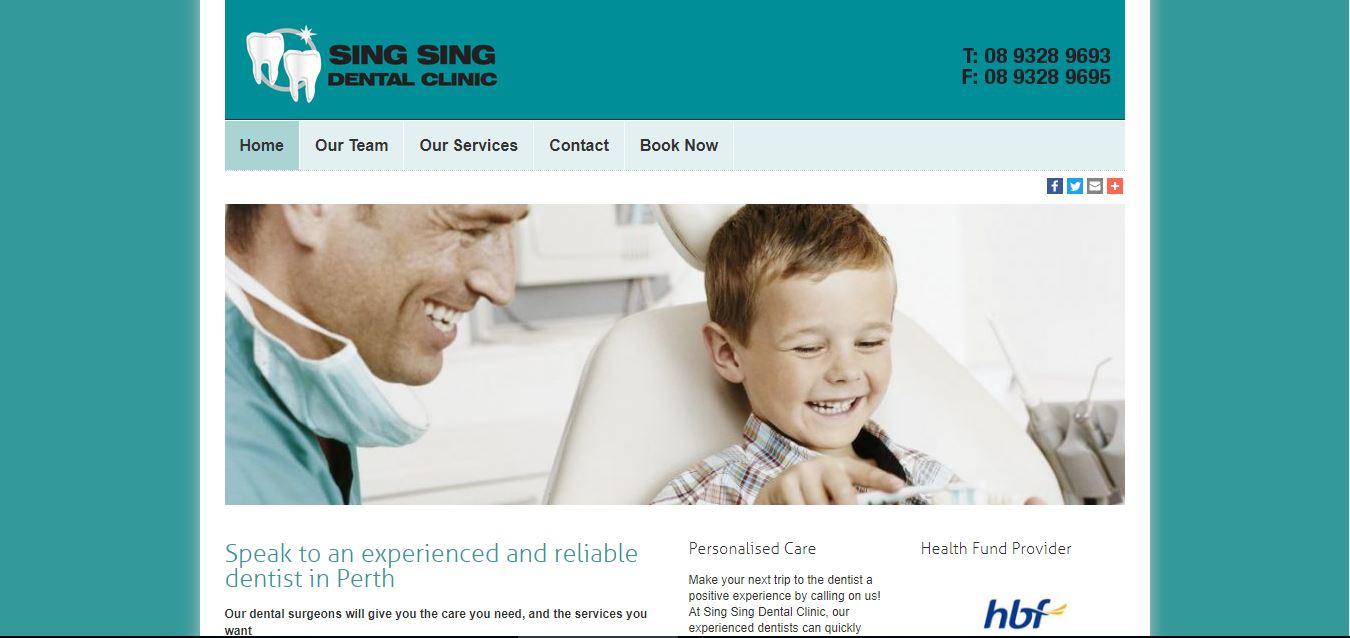 Sing Sing focuses on providing dental care that is both effective and affordable for its patients. All of the dentists working at Sing Sing are fully trained and accredited in all major aspects of dentistry.
The goal of Sing Sing is to make the dentist experience as quick and painless for patients as possible. This is because they understand that dental work can be seen as an inconvenience by many people who just want to get it over and done with.
Whether it's a general check-up or advanced emergency care, Sing Sing has the team and resources to get you back to doing what you love as quickly as possible.  With highly personalised care the team is able to diagnose and treat all issues relating to dental health.
Principal dentist, Sing Sing Teoh, settled in Perth shortly after graduating with her degree in Dental Surgery. She has a strong personal belief that dentistry should not be a scary prospect for patients and does her best to ease any concerns, making the experience of working with her very pleasant.
Fluent in many languages including English, Cantonese and Mandairn, Sing Sing is able to serve a diverse range of clients with her personal touch. She has also made it her personal goal to learn even more languages, including Japanese and Korean.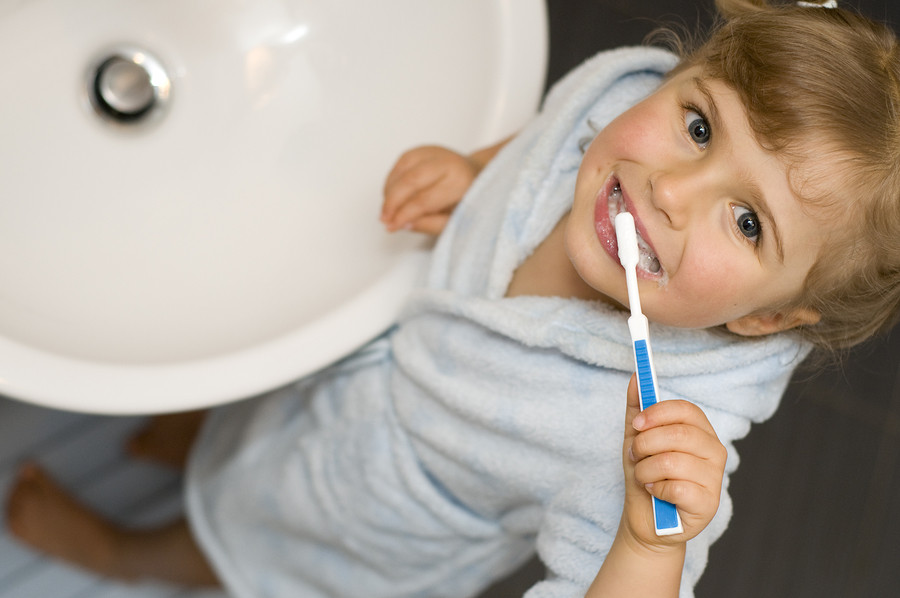 Dr Sing Sing is supported by Dr Christina Lin who grew up and was educated in Taiwan, New Zealand and Australia. Dr Lin uses her experience to help her relate to people from diverse backgrounds. She has a particular interest in the restoration of oral health, function and aesthetic appeal.
Dr Lydia Hii, another dentist at Sing Sing is an accredited professional who also makes it her goal to get to know patients as much as she can. Dr Hii believes knowing her patients and making them feel comfortable is the best way to reduce their anxiety about dental work.
The philosophy at Sing Sing is that everyone in the community should have access to stunning and healthy teeth. This can be seen in their flexible payment methods for those without medical insurance.
Sing Sing keeps its rates highly competitive and openly discusses options with patients. This has helped the clinic become one of the most affordable practises in Perth.
With an all-female team of dentists and a competitive pricing structure, Sing Sing has established itself as an extremely welcoming practise for a huge range of Perth residents.
Dental O So Gentle
As the name implies, Dental O So Gentle has a focus on providing a highly comfortable environment that aims to combat the fear some people have about visiting the dentist. Their customised clinics in Perth and Beldon have a focus on providing the most comfortable environment possible for patients.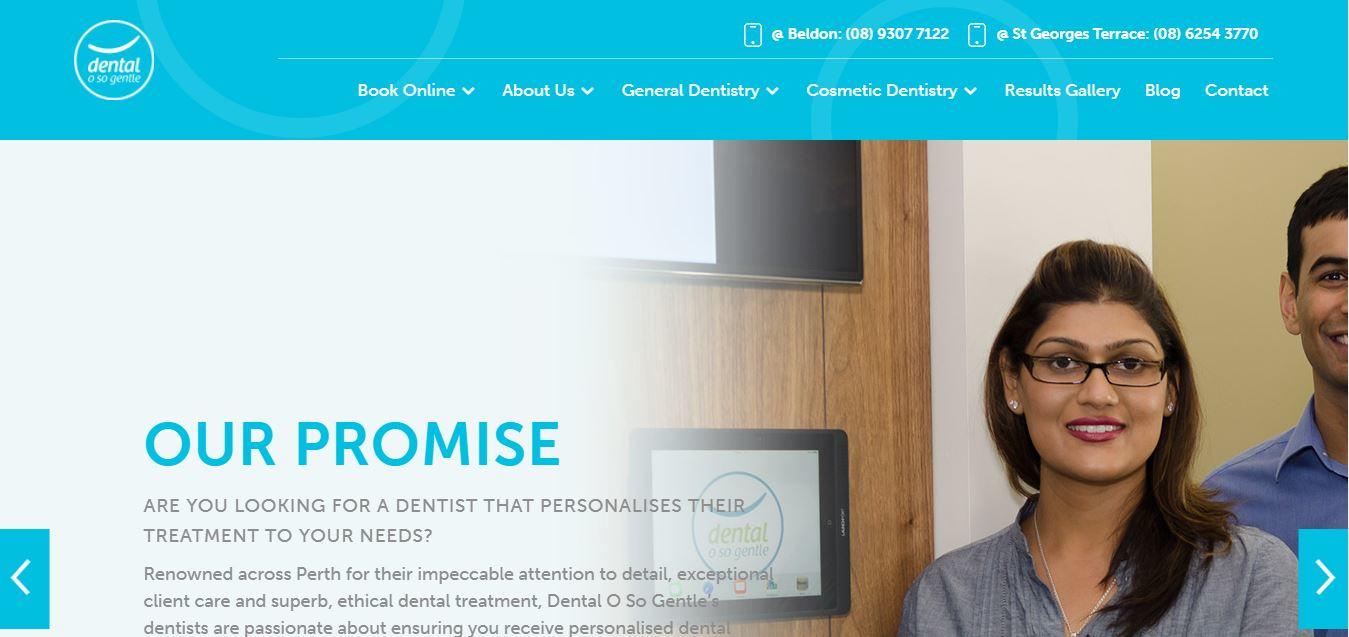 Using the latest treatments and procedures, O So Gentle has a great track record in ensuring positive patient outcomes. With a reputation across Perth for their attention to detail and ethical treatment, O So Gentle has become one of the best clinics in the region.
The dentists at O So Gentle are all trained and accredited professionals that work to deliver a highly personalised treatment. The dentists all use their communication skills to have an open dialogue with patients to help diagnose the root cause of their issues and to help stop them from reoccurring.
The O So Gentle clinics maintain a high standard of dental care that rests on a cosmetically sensitive approach. This approach is highly personalised to deliver the best individual results.
Having operated for over 20 years, O So Gentle has a proven history with a diverse range of clients with different dental issues. Their ethical and professional service as earned them a great deal of trust with the Perth community.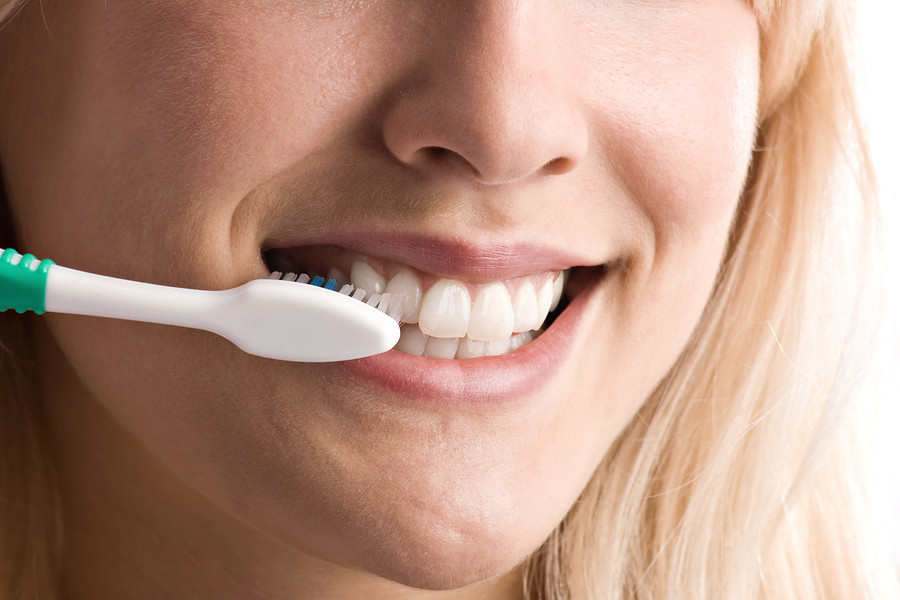 Principal dentist Dr Jeff Broude has a special passion for his work and reinforcing the tenants of oral care in patients. He believes the best dentistry is the type that people do at home by watching what they eat and practising thorough oral hygiene.
The rest of the team at O So Gentle is highly diverse and experienced in dental care. They all have been taken on board for sharing Dr Broude's vision and trained to meet his high standards in every element of their work.
Every member of the team freely admits that seeing someone who was worried about their teeth walk out with a smile is its own reward. This dedication to positive patient outcomes has given O So Gentle an inspiring presence in the dental field.
With a high attention to detail and ethical dental philosophy O So Gentle is a great choice for anyone needing general or cosmetic dental care. Their trust in the community is well earned through their dedication to their core values of professionalism, integrity and patient outcomes.
Which dentist in Perth will you consider visiting?
It's clear that all 4 of these practises share a desire to provide high quality dental care to as many patients as they can. The clinics differ in small ways that may be very important to different types of patients.
LifeCare definitely has the biggest and most experienced team of dentists. This large pool of talent has allowed the clinic to operate over 7 days, ensuring the same high quality care throughout the week.
Aria and O So Gentle share a belief in the importance of patient comfort. They recognise that patients are often bored or terrified when visiting the dentist and try to mitigate those feelings through elements of their clinic design and approach to care.
Sing Sing serves as the most affordable option, especially for those without a dental insurance plan. They also have an extremely down to earth approach to patient care.
When you start to see signs that you need a dentist then hopefully this list can help you make a choice. Perth clearly has many options when it comes to achieving dental health outcomes so choosing the best option will depend on your personal needs and comfortability with dental work.