Your car is an important part of your lifestyle, one that you might even take for granted. When it breaks down or encounters signs that it needs repair, you'll likely find yourself needing the help of a mechanic service.
Luckily for you there are plenty of highly competitive mechanic businesses out there that are eager to demonstrate their expertise with your vehicle. However, we have all heard horror stories about less than reputable mechanics that end up delivering a poor service.
The last thing anyone wants is a mechanic that is rude, lazy or creates more problems than they solve. For these reasons most automotive repair centres will seek to specialise not only on their workmanship but their customer service as well.
There are many different options on the market and that's why we have put together a list of the 4 local mechanic businesses in Brisbane to help you narrow down your choice for an auto repair service that will get you back on the road quickly!
Who are the best mechanic businesses in Brisbane?
| | | | |
| --- | --- | --- | --- |
| No.: | Business: | Website: | Main feature: |
| 1 | United Car Care | www.unitedcarcare.com.au | Highly experienced team |
| 2 | Auto Stop | www.autostop.com.au | Truck repair specialists |
| 3 | Northside Automotive | www.northsideauto.net.au | Modern vehicle specialists |
| 4 | Athena Automatics | www.athenaauto.com.au | Vintage vehicle specialists |
United Car Care
United Car Care is a well-established, family owned and operated auto-repair business in Brisbane that has been in business since 1982. They take pride in their promise to look after their customer's vehicles as if they were their own.
The team of 5 qualified auto and electrical technicians have a combined experience of over 200 years in the industry. Their expertise and experience has enabled them to repair almost every kind of vehicle that comes through their doors.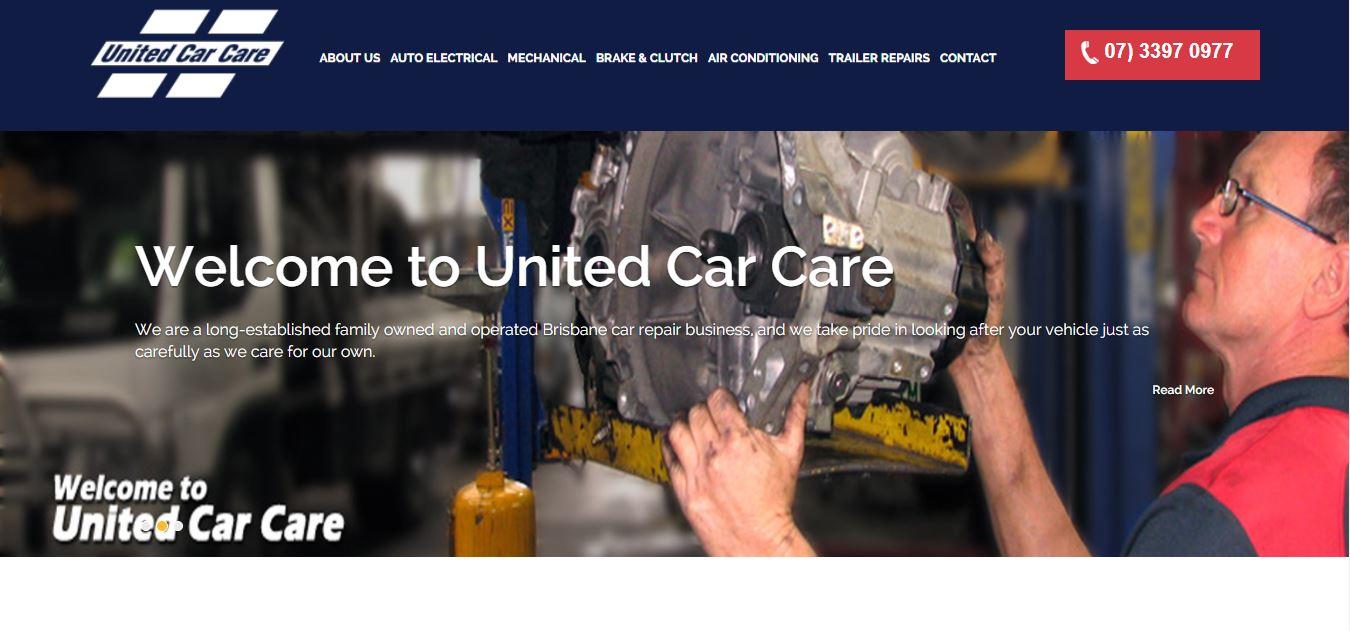 The United Car Care workshop is well-equipped for all issues relating to clutch or break repairs, mechanical repairs on either petrol or diesel vehicles as well as diagnosing and repairing all auto-electrical equipment such as air conditioning systems or radios.
They also take care of car servicing with many Brisbane motorists as well as fleet managers. The team can take care of log book or new car servicing.
The United Car Care team also specialise in repairs and servicing of trailers. Boating and caravanning hobbyists often rely on the team at United to take care of their trailers. The team provides expert guidance, advice and repair work on all types of trailers.
Many motoring enthusiasts across Brisbane depend on the United crew to carry out professional mechanic and auto-electrician work. The workshop is conveniently located within walking distance of Cooparoo Train Station as well as Brisbane bus stops.
Whilst offering a comprehensive and reliable auto maintenance service United Car Care is also well-known for its honest, friendly approach and reasonable pricing. All of the repair and servicing work that is carried out is backed up with a full guarantee for quality workmanship as well as warranties on all manufacturer components that are used.
Taking a look at the United Car Care website shows the complete range of repair and maintenance services that are on offer. Potential customers can call or email to receive and obligation-free quotation for whatever work they need done.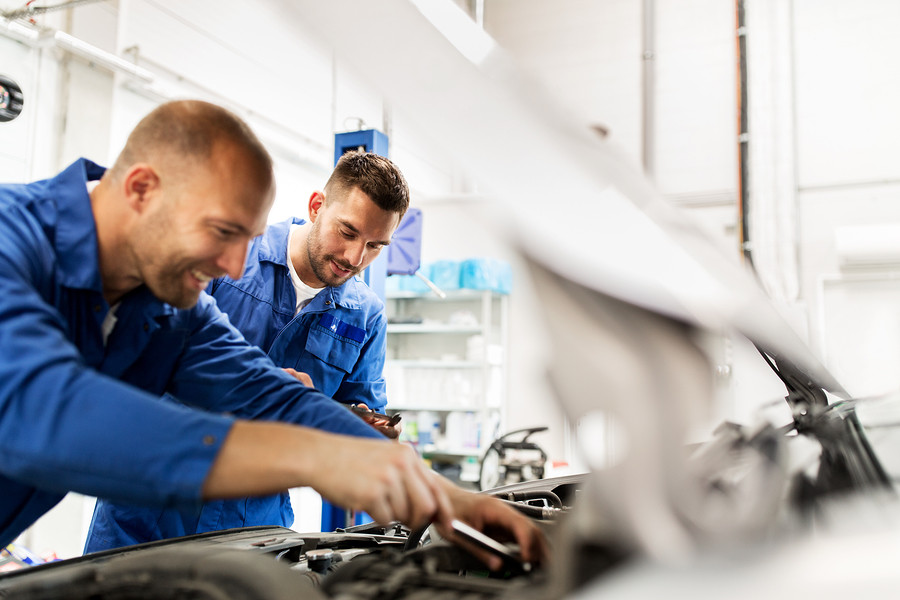 The top priority for United Car Care is the safety of customers and their families. The team works hard to make sure all of the work they do is of the highest standards of performance and safety.
United Car Care carries out Queensland Safety Certificates alongside its log book and new vehicle servicing. When they do any type of servicing they perform a complete check of the vehicle and reveal any urgent mechanical repairs to customers, explaining the implications as well as what works needs to be carried out.
The team does not carry out any mechanical or electrical repairs without express authorisation of the customer. When identifying less urgent issues United Car Care will provide a free quote for repairing them.
Computer assisted diagnostic systems help the United team to locate any faults both quickly and accurately. The team, using technology and their experience, can confidently fix issues in several areas like steering, suspension, wheel alignment, wheel balancing, tyres, transmission systems, cooling systems and radiators.
Whether customers are looking for simple car servicing, maintenance or complex mechanical or electrical repairs they can rely on the dedicated work of the United Car Care team. With their commitment to workmanship, reliability, honesty and competitive pricing they definitely stand out as one of the best mechanic businesses in Brisbane.
Auto Stop
Auto Stop is a Queensland based mechanic business that wants to be your one stop for all auto repairs. With servicing locations in Salisbury, Brisbane and Arundel on the Gold Coast they are able to repair all makes and models of vehicle they encounter.
As part of a program supported by Repco Authorised Service Centres, Australia's biggest network of high quality service and repair centres, Auto Stop offers a nationwide warranty on all its vehicle work. They are also recognised as a Motor Trades Association of Queensland member for their speciality car and truck repair service.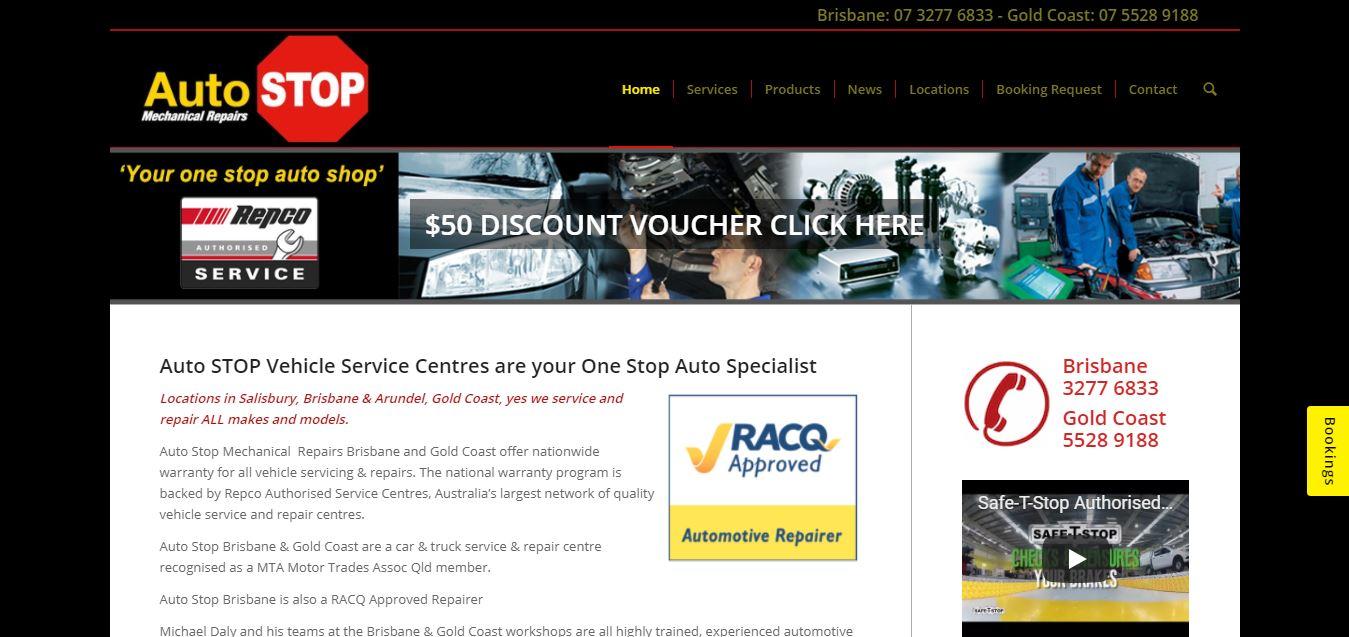 The teams at the Brisbane and Gold Coast locations are well trained and experienced vehicle technicians. Auto Stop has built a reputation for offering accurate advice and delivering high quality repair work with a focus on excellent customer service.
Auto Stop's vision is to provide the best of the best in vehicle servicing to the community of South East Queensland. The Arundel and Salisbury locations are known to have some of the region's best vehicle repair and diagnostic equipment allowing the team to fix almost any kind of vehicle issue.
The Flanders Street centre in Salisbury has a stop dedicated to truck repair to help the local industry get back into operation as soon as possible. Auto Stop aims to be one of the best value truck service and repair options in Brisbane.
In keeping with their focus on customer service, Auto Stop maintains a comfortable waiting lounge where customers can enjoy a cup of coffee while watching TV. The centre is happy to have you relax in their lounge while the crew works quickly to resolve your vehicle's issues.
Several glowing testimonials on the website highlight Auto Stop's friendly attitude and personal touch to their correspondence with customers. Many have expressed how satisfied they were with the speed, professionalism and care that was given to their vehicle's repairs.
Auto Stop is able to deliver on a wide range of services from repairs, safety inspections and re-conditioning. They are also able to provide a courtesy car while your normal ride is being worked on.
Northside Automotive
At their Everton Hills centre in North Brisbane, Northside automotive is operated by Peter and Cathy Eacott. Living, working and spending time with their children, the Eacott's support many other locals businesses in their community.
Peter has operated his automotive repair business for 15 years and spent the last 12 working out of the modern Northside Automotive Service Centre. Recently acquiring a new receptionist, Peter has been able to focus on developing the quality of the workmanship and his mechanic centre.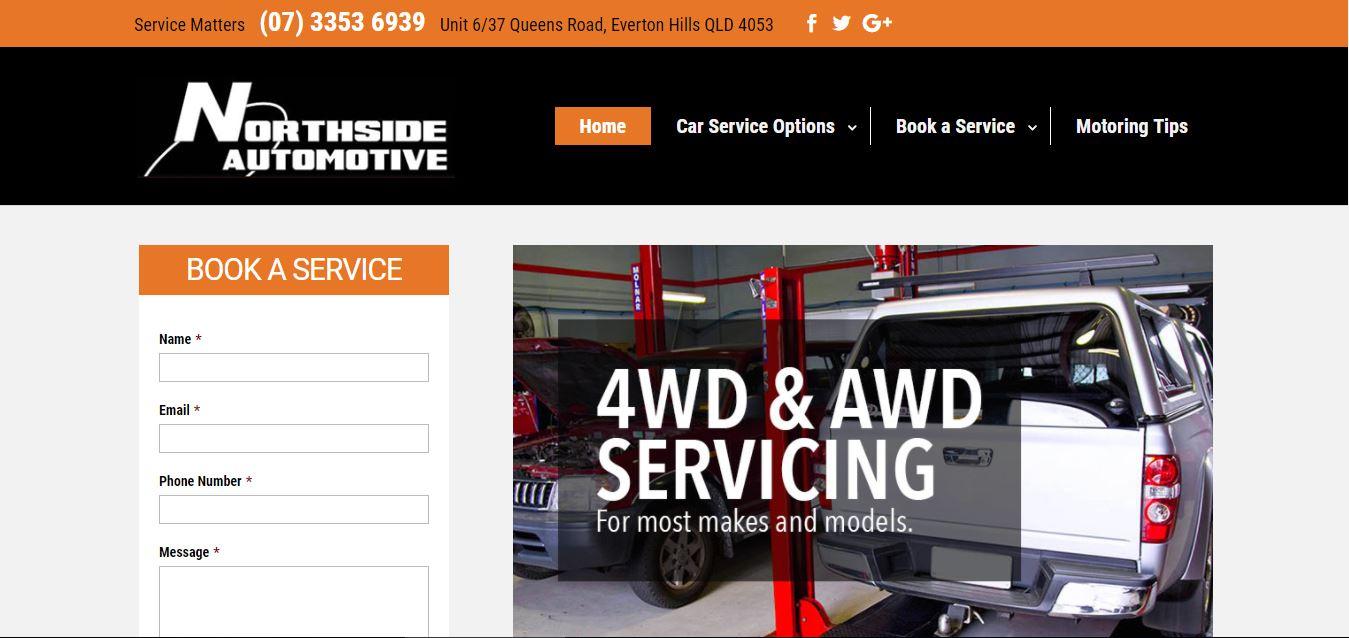 Having built up a team of talented technicians, Northside has been able to expand its services to cover any and all vehicle issues. The centre has designed a complete range of services that are able to cater to the complex vehicles in the modern market as well as older ones too.
As the technology behind modern luxury cars changes the Northside team is constantly re-educating its team on how to service the newer vehicles. This allows them to service as many new cars as possible whilst maintain the same high quality workmanship.
Northside has a unique 'Silver Band' service that caters to their customer's specific needs and budgets. It serves as a fresh starting point for the customer's vehicle that makes it perform as well as it can for as long as it can.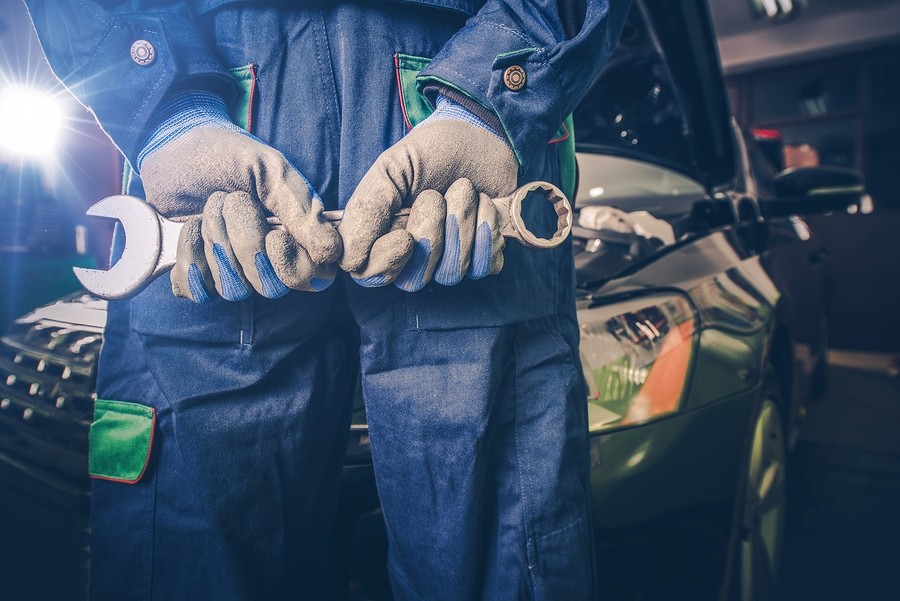 The comprehensive Silver Band report covers 69 different points of vehicle performance and ranks them in order of priority. This report gives customers an easy to understand idea of what parts of their vehicle need urgent servicing and what it will take to make it function as brand new.
The service report is designed to be as detailed as possible and leaves no room for errors or areas that can be compromised. Northside works hard to make sure that every element of the repair is carried out properly to ensure the safe operation of the customer's vehicle.
Northsides' service is best summarised as being both modern and comprehensive. Their customer focused approach provides a service that is both easy to understand, customisable and budget friendly.
Athena Automatics
Athena Automatics stands out as one of the best vehicle mechanic services in East Brisbane. The team at Athena are automotive experts who combine their knowledge and experience to deliver the quality workmanship and customer service expected of a mechanic.
With a promise to their customers to provide honest and diligent service, Athena believes strongly in their ability to provide an unrivalled vehicle repair service to the Brisbane community.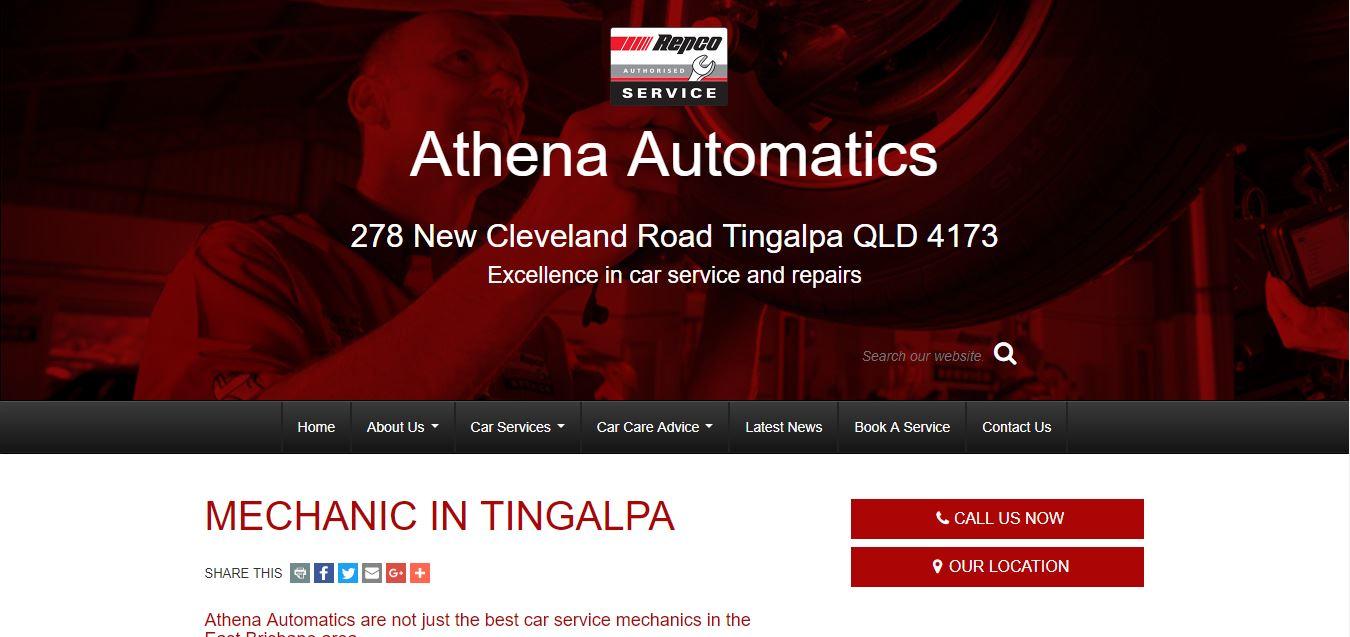 No matter how small or complex the job is, Athena's team are dedicated to deliver the same attention to detail and personal care to all of their customers. Athena makes sure to maintain the highest quality modern equipment so that no part of their job is compromised.
Athena aims to give its customers only the most fair and reasonable pricing for it services that can be expected. The centre also covers a comprehensive range of vehicle faults  including transmission overhauls, brake servicing, fuel injection cleaning, electrical diagnostics, air conditioning repair as well as fleet servicing.
The fully qualified and close knit team of technicians provide high quality and approved repair work that works to restore vehicles to the highest levels of performance that is possible.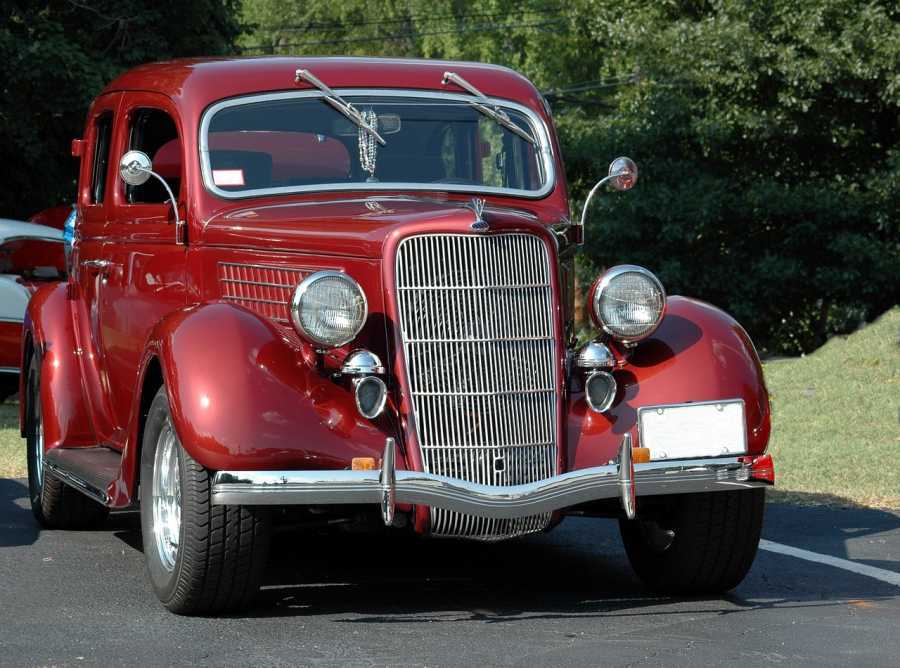 Athena have a unique specialisation in servicing and repairing enthusiast and classic vehicles. The team has extensive experience in working on early to mid-20th century vehicles in sports, performance and classic varieties.
Athena also offers loan cars to its customers so as to minimise the impact of their main vehicle being unavailable. Being affiliated with the MTAQ and RACQ, Athena is able to ensure the highest standards of competency and professionalism to its customers.
Alongside their commitment to high quality service and repair work Athena is also a member of the Repco Auto Tech training program. This means that each Athena technician is actively educated and trained on the most modern vehicle repair methods that are available.
So, which mechanic business will you pull over at?
All of the best mechanic businesses offer comprehensive services that are able to address most if not all possible faults with your vehicle. When choosing from the best of anything, the differences you make a decision on are going to be minor but ultimately very important.
United Car Care rests at the top of the list because of the combined experience of a team of lifetime mechanics. These veterans of the automotive industry have seen it all and can fix it all, offering a seasoned perspective that can't be bought or trained in.
Auto Stop meets all of the requirements of a reputable and quality automotive repair shop and has the benefit of serving multiple locations, one with a dedicated truck repair wing.
Northside and Athena both demonstrate the value of a market mixed with different ages of expert. While Northside has a modern focus, Athena is able to market itself as specialists that can service the vintage and performance car enthusiast market.
Each for their own reasons, these 4 mechanic business are easily the best in the Brisbane region. If you are in Brisbane and need vehicle serving or repairs you can't go wrong with any of these reputable businesses.