There is no greater form of individual expression than through dance. Whether you need important wedding dance lessons for your big day or just want to rip up the dance floor on a casual weekend, learning to move your body to music is simply a great way to have fun, learn and get some exercise all at the same time.
Needless to say though that not everyone out there is born to move it like Jagger. Perhaps you are a tad uncoordinated, lack the confidence to execute properly or just unsure about how to partake, it can really help the situation to get a bit of advice from a professional before venturing forward with your unique maneuvers.
This leads us nicely to an industry that is one the rise, both internationally and domestically. Dance studios do have quite the overlap with two different and distinct fields – entertainment/the arts and gyms/yoga studios.
The balance between fun, expression and fitness is not lost on those that join in with a friendly and open dance studio, making it a more enjoyable past time than lifting weights or running on a treadmill; or the pressure that comes with performing in front of an audience.
Many looking in from the outside might know of one or two alternative styles of dance, but the array of options is almost limitless. Deriding from a variety of cultures all across the globe, modern dance studios can teach you everything from:
Mambo
Rumba
Salsa
Zumba
Cha Cha
Ballet
Flamenco
Blues
Jazz
Waltz
Folk Dance
Tango
Breakdancing
Krumping
Twerking
Grinding
Whatever your personal taste or necessity, there will be a dance studio out there for you to cater to this need. For any Sydney locals who are on the search for an open environment that teaches groups and individuals how to get the most out of their dancing moves, check out the following four locations.
Which are the best dance schools in Sydney?
Make taking the first step easier by getting one of the best dance studios in Sydney!
Care To Dance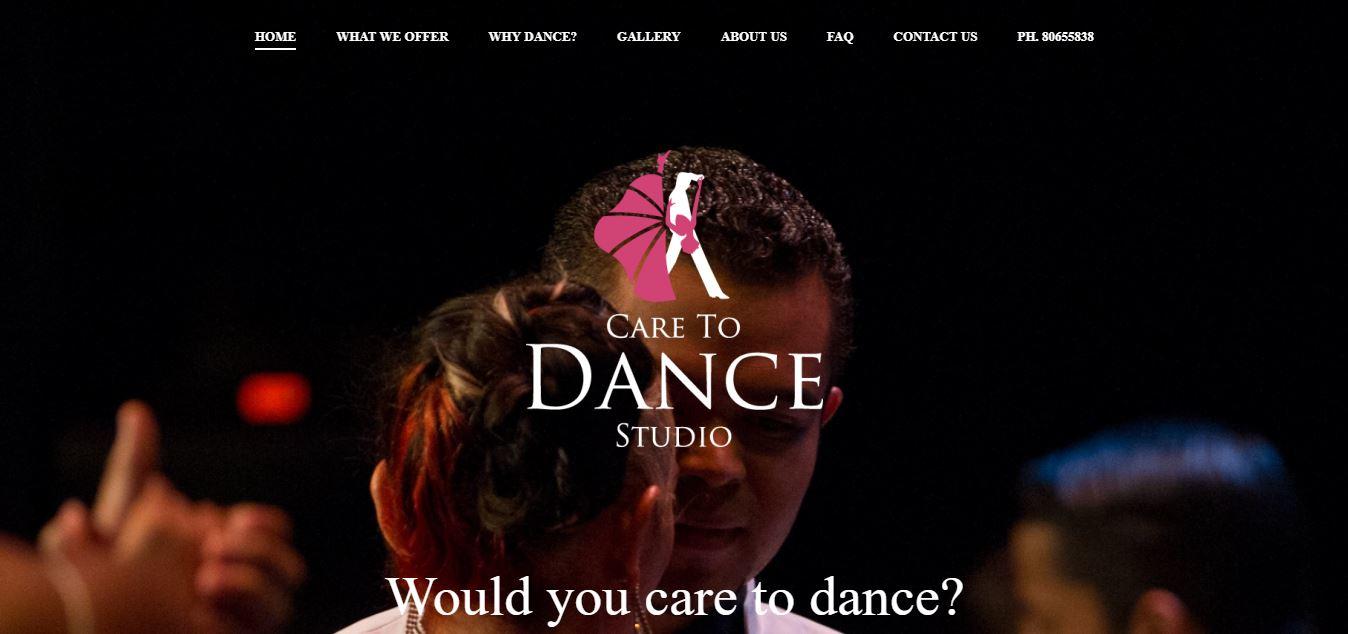 Situated in the heart of Sydney's Inner West, Care To Dance is the invitation you will have been searching for. Open to appointments and only closed on Sunday, this enterprise is considered an elite boutique dance school that places a priority on a personalised teaching experience.
The majority of visitors usually arrive from one of two different scenarios – either among a social group wanting to bond and socialise over a dance activity, or individual students who will often have an event coming up like a wedding or performance of some description.
Classes and sessions are held for parties from both disciplines, yet Care To Dance will specialise in the following styles:
Ballroom
Disco
Rumba
Tango
Salsa
Waltz
The organisation seeks to give people an added move to their repertoire, allowing them to dance with confidence rather than watching others enjoy all the fun when the music starts.
If their own press does not exactly convince you that Care To Dance is the place to be to receive these helpful tips, then take it from those who have experienced it for themselves.
The glowing 5-star reviews illustrate how well instructors Alexia and Christian go about their work, catering to amateurs that require a great deal of patience, or those that are wanting to fast track their education.
Giving customers a cup of tea or coffee while they wait or have a much warranted break from the slick movement on show, everyone from their late teens to late 70s or 80s have championed the wonderful atmosphere that doesn't lecture or preach to newcomers.
Issuing 5 stars at Big Review TV, Celeste Poulton has been blown away by her time with the studio:
"My fiancé and I started taking lessons here to build our dancing confidence and have fun together," she wrote. "We are having the best time! After two lessons we already have so many more steps to use than I thought I'd ever remember. It is so much fun."
Kylie Davis echoes those sentiments, arguing that the techniques given to the students makes the process all more easy, even without you realising it at the time.
"We love our lessons at Care To Dance. Christian is a great instructor and they have their program really well thought through that breaks down the different dances into segments."
L.I.K.E. Dance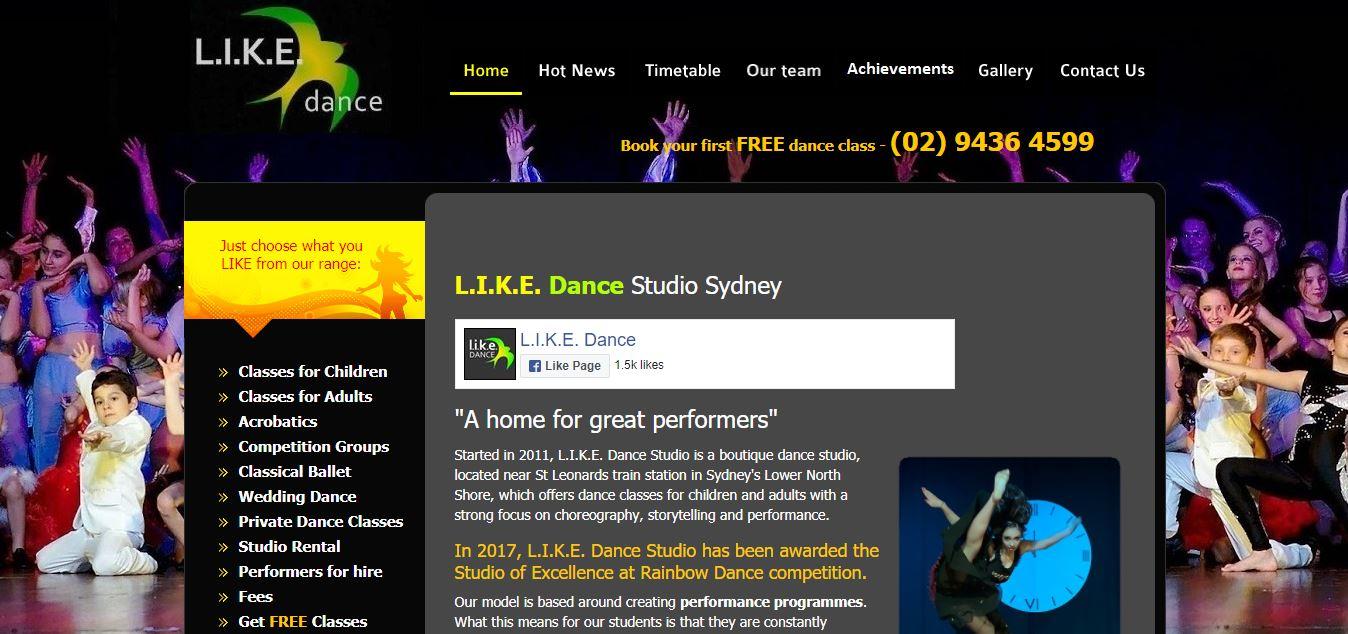 For those that take their dance a little more seriously than just a hobby or for a one-off event, then L.I.K.E. Dance at St Leonards would be a better option.
Having recently been handed the 2017 Studio of Excellence award at the Rainbow Dance competition, this studio is considered one of the greatest breeding grounds in Sydney for children and adults who are keen on developing their choreography and articulating dance through a mode of storytelling.
Open to studio rental for people or parties that would like the space for their own dancing ventures, L.I.K.E. Dance offers a first up free dance class for newcomers and even performers for hire for those wanting professionals on hand at an event.
This incentive to draw people in clearly works, as their program is open to all manners of styles and disciplines of the craft:
Children classes between 3 and a half years old to 17
Adult classes that range from technical to hip-hop, jazz, modern and contemporary styles
Acrobatics classes
Classical ballet
Competition groups
Wedding Dance
Private classes
The team led by creative director Elena don't just see dance as a happy past time, but a mode of expression that demonstrates character and emotion. Her team is complimented by some of the most gifted and certified dance teachers in the city, including acrobatics coaches Jackson, Josephina, Lana and choreographer Katerina.
Fees will vary depending on the nature of the class you have selected, but they do offer one month of free classes under the following conditions:
Bring a friend along for an introductory class before they enroll in at least two classes per week, under the explicit understanding that they were introduced by yourself
Spotted only 10 minutes walk from St. Leonards train station, this spacious surround between the Small, Medium and Large Halls are kitted with air conditioning, mats, bars, mirrors and sound equipment to ensure the acoustics elevate the dancing experience.
Dance Central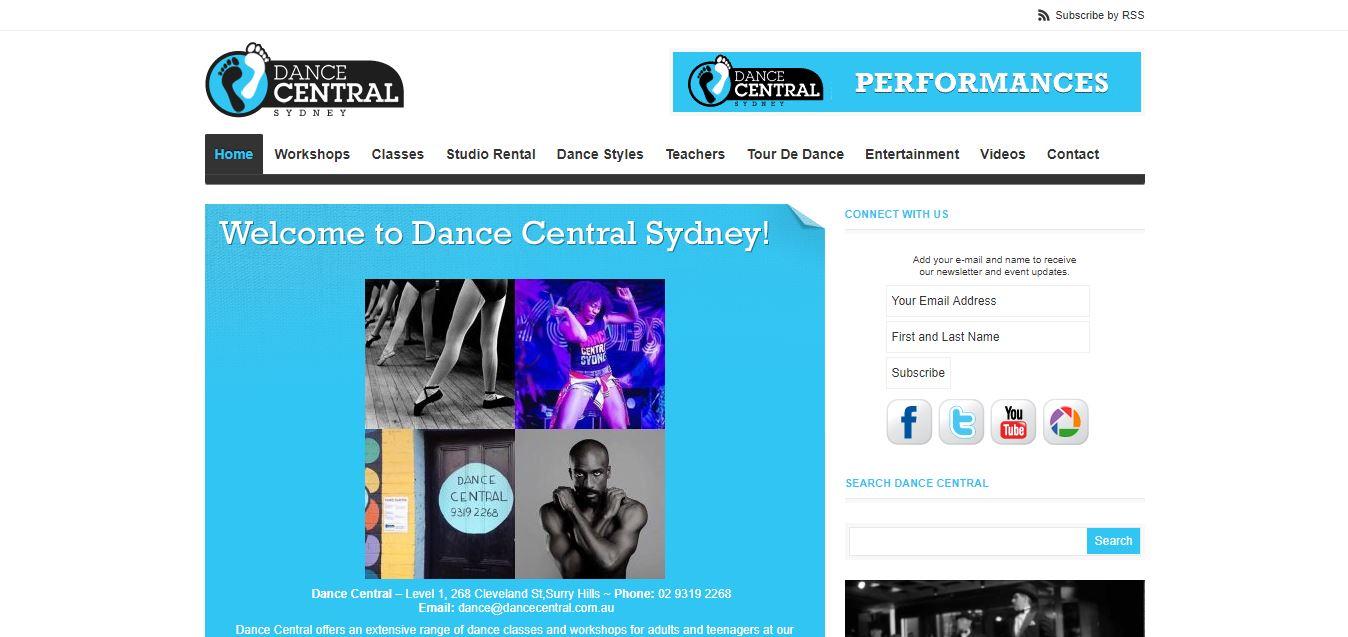 With a proud history that dates back to 2002, Dance Central is a thriving hub of activity with a legion of great teachers.
From new age styles to the old classical dances, professionals from B Boy Red to Dan Hu, Jean Chritz, Kate Turner Mann, Rosie Cicchitti, Crystal, Yannick, Sam Woods and many more can cater to a variety of cultures and interpretations.
The challenge with Dance Central is not trying to find a dance that suits your needs, but sifting through the sheer weight of options on hand. Essentially every dance genre possible is on the table, including sub-genres that delve into the techniques and meanings behind the movements.
Take any number of these dances as a study, either individually or as a group:
Burlesque
Afro Fusion
Break Dance
High Heels
Jazz
Samba Reggae
Tap
Modern Tango
Hip Hop Beginner/Street Funk
Belly Dancing
French Cancan
Club/Party Dance
Musical Theatre
Jamaican Dancehall
Hawaiian Hula
Contemporary
The studio happens to be an open venue ready to hire for private events, inclusive of Hen's parties. Dance Central hosts the annual Tour De Dance to showcase their array of talented performers, kicking off in October to put on a show complete with Brazilian Samba, Hip Hop, Burlesque and much more!
Brand new workshops are being developed consistently, such as Loren Robinson's "Filthy" Hip Hop workshop in recognition of Justin Timberlake's new album. These workshops are a great method of expressing the teacher's creativity with new material, something that you will not find across many studios in Sydney.
To sign up to one of these programs, you must have been pre-paid and pre-signed, yet Dance Central is an environment that welcomes first timers to Surry Hills. Recommended to attend at least 5-10 minutes before an open class begins, no bookings are required to get involved.
Crossover Dance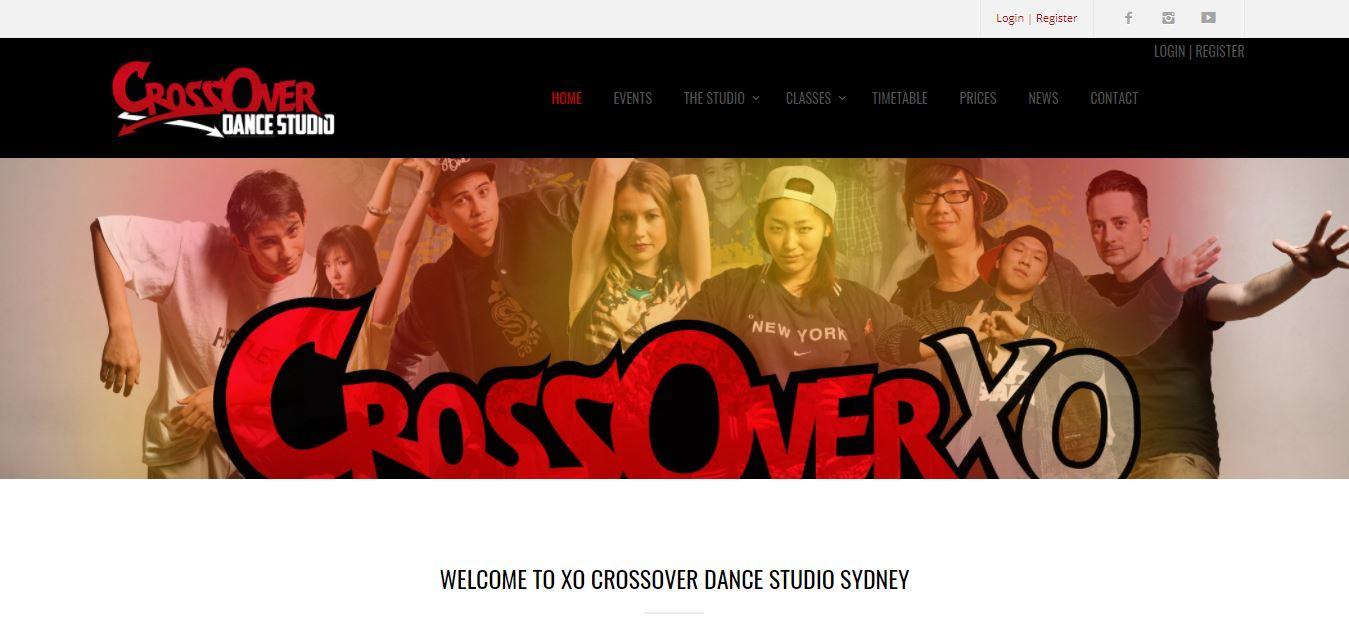 The XO Crossover Dance Studio situated in Sydney is the city's premiere location for all things dance. Performers from all over the country have congregated to this center to learn, educate and showcase their skills on the dance floor.
There are a number of features that illustrates why this enterprise is on the cutting edge of the industry. For starters, there is an online Crossover App available on Google Play and the App Store for regulars and occasional visitors. This allows a 10-Class Pass for a cut down price of $150 (until April) and is designed around easy of use and speed of access.
Class registration is accelerated through the app and bookings can be made instantaneously. Each consumer who switches their 10-Class Pass onto the app also scores a free water.
This modern dance facility is home to variety of dance styles:
XO KPOP
Breaking
Street Dance
House
Popping
LA Style (Urban)
Locking
Hip Hop
Catering different groups of instructors to these respective disciplines, Crossover provides specialty wedding classes that involves the salsa, waltz and various street interpretations for the couple's big day.
The Asian influence runs throughout the studio, taking inspiration from the culture of the southeast region. Each and every instructor brings their unique interpretation and experience to the center.
As the owner and director of Crossover Dance Studio, Jaye Sutanto is considered one of the true pioneers of Kpop dance in the Western world.
That background translates to the team of teachers and artists he has personally assembled, bringing aboard forward thinking and bold dancers who strive to push the boundaries and discover something new about the industry.
The central objective that Jaye embodies is to provide a studio that is fun and interactive where Sydney locals and outsiders can get involved. His personal profile has amplified after various segments on Google and SBS Pop Asia, providing the groundwork to feature at The Sydney Opera House and Sydney Town Hall respectively.
Modern music is a common thread that also happens to run through the studio. From Kpop to Jazz, R&B and House music, this is an ideal environment for teens, 20 and 30-somethings to really tap into their love for music and dance. Although it must be noted that this is not an ageist policy – open to people of any generation.
The location is ideal for commuters traveling by foot, bus or train just minutes away from Central and Town Hall stations.
Which dance studio will you make a step towards?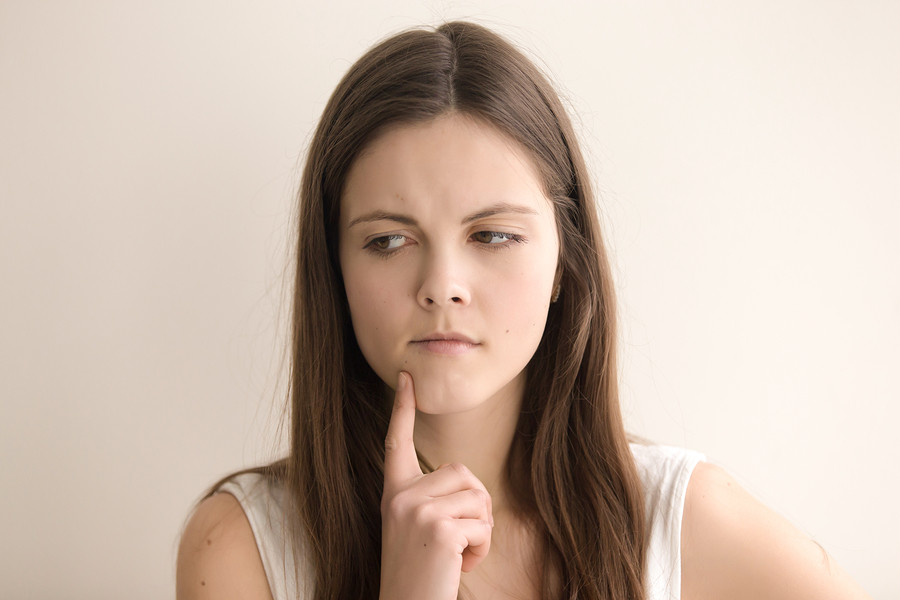 These studios all have a great level of personality and are led by instructors who clearly have a passion for teaching dance. They not only tech you technical skills but boost your confidence and self-esteem.
The studio you choose will likely depend on your individual tastes about what you want to learn. While Care To Dance caters to more classical and refined styles of dance you might gravitate towards Crossover's mix of up and coming dance styles.
Whatever you choose, whether you want a large group experience or just to just brush up with special private lessons, you are definitely in safe hands with some of the best dance studios in Sydney!