Home
Authors
Posts by Krunal Soni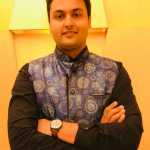 Krunal Soni is the founder and CEO of Thrillax Private Limited, a
digital marketing company
. He holds expertise in diverse fields. His 15+ year spree in this field has earned him clients, and their faith in his tactics. His intelligent strategies have put Thrillax among the leaders of Digital Marketing as per the Clutch report of 2019. A systematic approach, transparent processes and friendly mentoring have allowed him to prioritize and manage a work-life balance.
After a fan noticed that Kaitlynn Carter is looking "too thin" in her recently posted bikini selfies, the reality star was seemingly ticked off....
In the last few days, Coldplay has teased new music with a campaign that sent fans into a frenzy. Now the alternative rock band...