Home
Authors
Posts by Russ Whittaker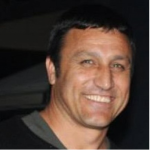 Tucker Barbecues
& has been in the BBQ industry for over 30 years; He is also a keen surfer on Sydney's northern beaches.
Sharon McCarthy is from International Talent Showcase, an annual event in Florida that helps aspiring actors, singers, dancers and models to make industry contacts...
ABC's Stumptown is the television adaptation of Greg Rucka's graphic novel of the same name. The series stars Colbie Smulders as veteran woman Dex...