Bali remains one of the favourite destinations of all Australians. Who doesn't like the sun, the beach, and culture, and the people that you can meet and see in Bali? For many, Bali is a pure gem as it is fairly close to Australia but provides a lot of different and exotic experiences that you can't get anywhere else. We all know that Australia is too far from the rest of the world, which means that not everyone can afford exotic travels. This explains the love and popularity of Bali even more.
With this guide, you'll discover many new things in Bali regardless of if you've visited already or not. This amazing place has something to offer to anyone and everyone. Whether you like to lounge on the beach, stroll through history, or party with the locals- Bali will have a corner of the island reserved just for you.
Of course, setting foot in such a magnificent country isn't all easy. Before you head out, you'll have to check what kind of documentation you need and what type of visa you need during your stay. This will ensure you have a safe and comfortable trip and that they don't turn you right back around when you go to the airport.
Here's what you definitely can't miss when visiting an extraordinary country such as Bali:
1. The passport
Even though the visa regulations of Indonesia have been simplified over the years, you're still going to need a visa to visit Bali and other places in Indonesia if you are an Australian citizen. There are a few rules and regulations you need to follow in order to have a safe and fun trip.
The general rule is that your passport needs to be valid for at least another 6 months on the day of your arrival to Bali. The airline at your departure airport can even deny you the boarding if your passport isn't valid for at least another six months. This is why it's imperative to check the validity of your passport before you start planning your trip. As well as that, the passport needs to have enough space in it for the visa stamp
2. The visa
When getting your Bali visa, your purpose of travel must be clearly stated. This way you'll get the right visa for your travels. To ensure you get the right visa, make sure you state tourist visit as your travel purpose. As most Australians come to Bali as tourists, there shouldn't be a problem obtaining such a visa.
Being a tourist means that you're not engaging in any form of business activity and employment. You're not receiving any form of compensation, salary, or payment while visiting. In other words, you can't be employed.
If you're staying for less than a month and have an Australian passport, you won't need a visa. The immigration counter will give you what is called a visa exemption stamp. This doesn't even cost you anything as it is not a visa in the traditional sense. The stamp does, however, allow officials to track your length of stay. Note that the visa exemption for Australians can't be extended past 30 days. After that, you will need a visa.
3. Where to stay
Accommodation in Bali varies, like in many other places, but you surely won't be disappointed with the options. Like any other place on Earth, there are a lot of hotels, which is suitable for those who want a classic holiday. If you want to treat yourself to a little more luxury and experience true Balinese life, though, you should definitely rent out one of Bali's exotic villas. Each city has villas for rent, and they're all luxurious and worth every penny.
Villas are also excellent choices for those travelling with families. Everyone will have their own little corner to just relax and be themselves. This family vacation doesn't have to be unbearable when it doesn't feel like you're all stuck together.
Couples who want to enjoy a romantic vacation should also consider renting out a villa as they'll have all the privacy and the romance in the world. Staying in Bali and not renting out a villa almost feels like you haven't even really visited Bali.
4. The beaches
Wherever you go in Bali, you'll need at least one day to just lounge and relax on the beach. The beaches in Bali are one of the most beautiful in the world. Even though Australians have high standards thanks to the amazing beaches in the Gold Coast, Cairns, Brisbane, and the like, you're going to love what Bali has to offer.
The crystal-clear waters and the warm sand between your toes will be enough to make you fall for Bali harder than you've fallen for any other place before. Don't pass up buying a fine summer cocktail and the beach bar and letting the sun take over for the day.
If you're a fan of water activities, you're going to love a good swim in the waters of Bali. As well as that, don't forget your snorkelling equipment. This part of the world has rich sea life that you should definitely get to see while you're there. In some places, even diving is possible. Of course, you'll also find plenty of beaches which offer opportunities for other water sports.
Whether you're travelling alone, with a loved one, or with your family- the beach is just the right place to have some well-deserved fun in the sun.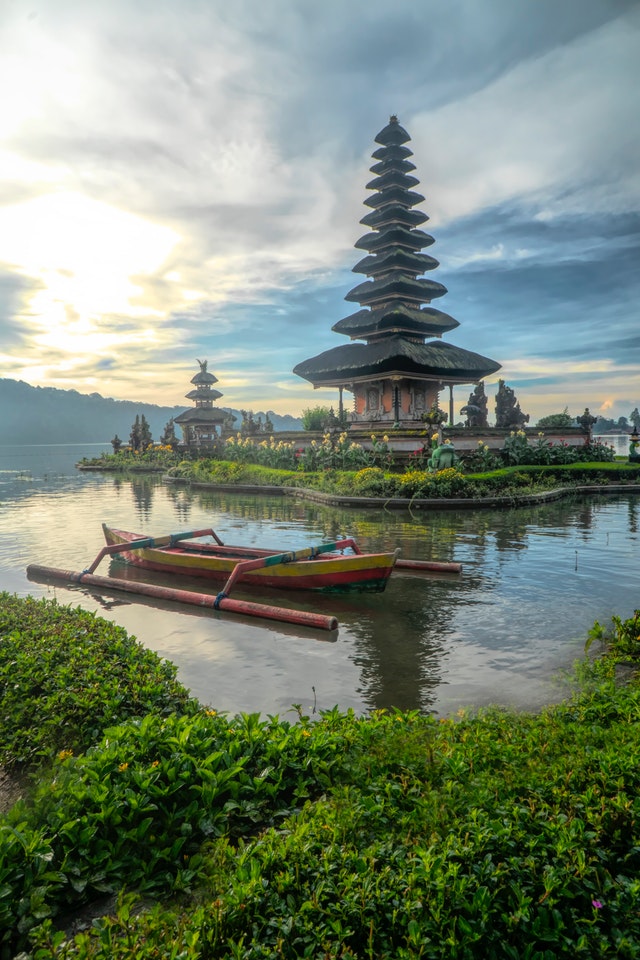 5. The temples
No matter how religious and spiritual you are, you'll have to make time to see Bali's temples. This is one of the best things there is to witness in this country. The temples have been built ages ago and still thrive today thanks to the devotion of the wonderful people living here. They're a testimony of a time long time which still left its mark on today's world.
The ancient temples are true wonders of architecture, too. They're one of the most beautiful buildings you'll ever witness and unlike any other buildings you'll ever see again. Don't forget your camera, but be respectful about when and where you take photos because it's not always polite to do so.
The temples themselves give an air of serenity and tranquillity, making you calmer than you've ever been before. Booking a tour to see the temples is definitely a good idea. Who knows, maybe you'll discover something new about yourself, too. Spirituality and religion don't have to be your strong suit for the temples to completely overtake you and show you a world you've only seen in movies.
With heightened senses and an increased sense of self, you'll be able to experience this trip on a whole other level and leave the island with a much better connection to the world and yourself.
6. When to go
One of the most important things to think about when travelling is the weather in Bali. You'll want to go when the weather is nicest and avoid all the inconveniences that come with wet weather common for these parts of the world.
In truth, Bali is hot and humid with temperatures that don't change much during the season. An average day in Bali will be just under 30 degrees Celsius regardless of the time of the year. If you want to visit a place that's a bit cooler, you should visit Ubud which is located in the centre of the island.
The amount of precipitation you encounter will change throughout the year, though. If you want to avoid the rainy season in Bali, don't visit it during December, January, or February. Of course, the rainy season can always be a nice break from the Aussie heat and give you a more tropical feel while you're on vacation.
Since this isn't the popular season when people visit Bali, you'll also get to enjoy lower prices and fewer crowds around the main attractions.
7. The people
Last but certainly not least, you'll get to meet Bali's amazing people. The Balinese are known for their hospitality and kindness towards tourists as well as their general love of people. When going to Bali, you won't have to worry about running into anyone who wishes you anything but good fortune. Of course, there might be pick-pocketing problems in bigger cities like anywhere else in the world, but tourists are generally not at risk.
Use the hospitality to your advantage. This is your opportunity to get to know as much as you can about a whole different culture, way of life, and language. When's the next time you're going to see anything other than the common Australian life? Live your Bali days to the fullest by completely immersing yourself in the culture and getting to know the people.
Ask them about their customs, learn the basics of their language (at least learn how to say "hello" and "thank you"), and pick up a new recipe you'll get to show to your Aussie friends. This is the true meaning of travel in general and now is your time to discover that. The people make the place you're visiting amazing, and the Balinese are definitely the main reason so many Aussies keep coming back to Bali, no matter how many times they've visited it before.
Don't forget to add your new friends on social media so that you can keep up with what's going on in their lives and so you can easily plan your next visit while including hanging out with them in the agenda.
Conclusion
As you can see, there truly is a lot to see and experience in Bali. From meeting new people to staying at the best places to walking through a culture like you've never seen before, Bali has it all. Your trip is going to be like discovering a side of life you didn't think was there before. The Earth has a lot more to offer than we're aware of or that an average person gets to discover in their lifetime. Bali is your chance to see this hidden side of the world that few get to experience and to live like few have lived before. No matter how many times you come back to this amazing place, you'll get to discover something new and find something you haven't encountered the last time you were here. Bali will be your sanctuary from your daily life and the concrete jungle. We're confident that you'll get to see the best of it with this ultimate travel guide written to evoke the adventurer within.