Portugal is a hidden gem of Europe with its stunning landscapes, historic cities, and delicious cuisine. Located in southwestern Europe, it is a relatively affordable travel destination compared to other European countries. The country has also been investing in tourism infrastructure in recent years.
Discovering Portugal's unique charm requires more than just knowing where to go; it also involves understanding the local way of life. For first-time travellers, there are things to prepare and know to maximise your trip, ensuring a seamless experience.
Preparing your trip
Portugal has a Mediterranean climate, making it a year-round destination. Before booking your ticket, plan your itinerary based on the time of year.
Spring is a beautiful time to explore cities and enjoy outdoor activities. The weather is mild, flowers are blooming, and crowds are smaller. If you love beach vacations and vibrant festivals, summer is the time to go. Be prepared for warm temperatures and crowded tourist spots, especially in coastal areas.
Wine lovers and hikers would prefer early autumn. Around September to November, vineyards come alive with harvests and vibrant foliage. While Portugal has a mild winter compared to many European countries, it's still the rainy season. This is an excellent time for budget travellers to explore cities with fewer crowds and lower prices.
For accommodations, there are three main options to choose from and fit your budget. For hotels, their rates range from luxury to budget options. Look for pousadas, traditional Portuguese inns often located in historic buildings. Hostels are famous among budget travellers in main cities like Lisbon and Porto. If you travel with a group or plan an extended stay, consider renting apartments or villas to save your budget.
To savour delicious meals without breaking the bank, opt for dining at local cafes and tascas. These are small eateries that offer wallet-friendly Portuguese cuisine bursting with flavour.
When navigating the country, utilise the cost-effective and efficient public transportation systems, from trains connecting major cities to buses serving smaller towns. The Alfa Pendular and Intercidades trains offer comfortable and fast journeys. If you plan on doing a lot of train travel in Portugal, a Eurail Pass can save you money.
If you visit Lisbon and Porto, they have well-developed metro and tram networks. Taxis and ride-sharing services like Uber are also readily available in major urban areas. Buses are a cost-effective way to explore smaller towns not served by trains. Meanwhile, car renting is ideal for exploring rural areas and the countryside.
Another important thing to prepare before your trip is to purchase a Europe SIM card. These digital SIMs are more versatile because you can easily switch between plans during your travel.
Using an eSIM can also save you money on roaming charges. Carriers like Holafly offer eSIM plans that are specifically designed for travellers. These plans often include unlimited data and text messaging, and they can be cheaper than your home carrier's international roaming rates.
Understanding the locals
Embracing Portugal's local customs and etiquette can enhance your travel experience and encourage positive interactions with the friendly locals. While Portuguese is the official language, don't fret if you're not fluent; many locals, especially in tourist areas, are proficient in English.
When it comes to greetings, a customary handshake is the norm, but among close friends and family, don't be surprised if you encounter the warm exchange of kisses on both cheeks as a sign of affection. Punctuality is highly valued in Portuguese culture, so whether it's appointments, reservations, or meeting up with locals, being on time demonstrates respect and consideration.
To blend seamlessly with the Portuguese, consider dressing neatly, as the locals generally take pride in their appearance. This is especially important when dining in upscale restaurants or exploring cultural venues, where smart-casual attire is often more appropriate.
In dining establishments, tipping is appreciated as a gesture of gratitude, even though it's not mandatory. Typically, rounding up the bill or leaving a modest 5-10% is customary and considered a thoughtful practice.
Portugal is generally a safe destination, but staying vigilant for a worry-free experience is essential. Petty theft can occasionally occur, particularly in bustling tourist areas, so it's wise to keep a close eye on your belongings and use secure bags or pouches.
Familiarise yourself with the emergency number 112, your go-to contact for any urgent situations during your stay. The country has excellent healthcare facilities, but adding travel insurance to your budget can give you peace of mind.
Popular attractions and activities
Portugal has many cities to visit and a lot more things to do. The capital city, Lisbon, is a beautiful city with a rich history and culture. There are many things to discover, including visiting the Jerónimos Monastery, the Belém Tower, and the São Jorge Castle. You can also ride on the iconic Tram 28 or wander through the narrow streets of the Alfama district. Portugal's second-largest city, Porto, is known for its stunning riverfront views and world-famous Port wine cellars.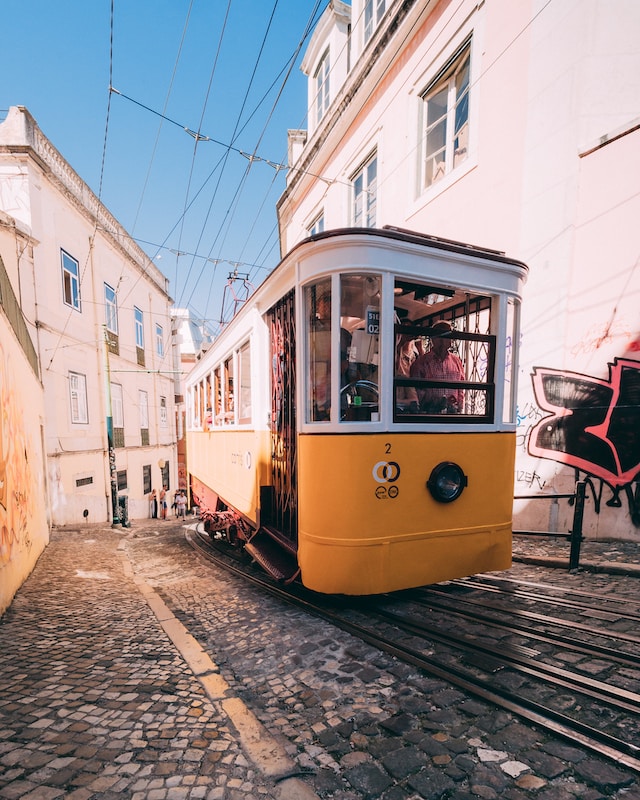 The Algarve is a popular tourist destination if you like visiting cultural attractions. It is known for its stunning beaches, golf courses, and resorts. Faro, the gateway to the Algarve region, offers beautiful beaches, historic architecture, and a charming old town.
The Azores and Madeira are two archipelagos located in the Atlantic Ocean. They are known for their stunning scenery, volcanic landscapes, and mild climate. Meanwhile, a trip to the Douro Valley is a must for wine enthusiasts. This picturesque region is famous for its terraced vineyards, wineries, and scenic boat tours along the Douro River.
For hikers, the Serra da Estrela mountains are the place to be. You can also go skiing or snowboarding in the winter. A charming town in the hills, Sintra is a UNESCO World Heritage Site known for its beautiful palaces and gardens. The Pena National Palace is a must-see, as is the Quinta da Regaleira, a mysterious estate with underground tunnels and chambers.
Monsaraz is a picturesque medieval village overlooking a vast plain, while Aveiro is known as the Venice of Portugal for its canals and colourful boats. Another UNESCO World Heritage site, the Convent of Christ, is in Tomar.
During your travels to various cities, there are a variety of Portuguese cuisines and dishes to try. Bacalhau à Brás is a flavourful codfish dish mixed with eggs and potatoes. If you prefer a hearty option, try Francesinha. It is a sandwich from Porto, filled with meat and smothered in a spicy sauce. Meanwhile, desert lovers should try Pastéis de Nata, sweet custard tarts that you'll find all over Portugal.
You can also immerse yourself in the local culture by exploring bustling local markets, discovering fresh produce, indulging in snacks, and finding unique souvenirs while staying within your budget. It's common to bargain in Portugal, so don't hesitate to ask for a lower price.