A wedding day can be the most important day of someone's life. It is a special day and the bride and groom will want to ensure that everything will be perfect, from the fitting of the dress to the decoration of the cake. With so much to consider, it's easy to become lost but one detail in particular can help you ground your entire planning process and provide a sturdy starting point – the venue.
Choosing the venue, however, is a common challenge for couples. With the choice of home or overseas becoming a viable one for many eager couples, this is made even more difficult simply because there are so many positives for both choices!
While the decision is partly based on how much you have budgeted for the venue of the wedding, we're taking a deeper look at some other pros and cons of both home and overseas weddings, so you can decide for yourself.
A wedding overseas
If you are thinking of having your big day overseas, the first step is to work out exacrly where you want to go. If you were to choose the UK, for example, you might like to spend your day somewhere in the beautiful, British countryside. If you dream of a picture perfect manor house for your venue, then Wedding Venues Somerset could be the ideal choice, with scenery and greenery stretching for miles around. The UK has a variety of great locations with amazing wedding packages to ensure you get everything you want on your wedding day for the best deals. A wedding in the UK is typically traditional, but what if that isn't your cup of tea?
However, due to the overseas location, it is likely that not all of your guests will be able to attend due to work commitments or monetary restrictions in some cases. While this means that you will have more of an intimate and personal occasion, for those who want all of their family beside them on their big day, jetting off for your wedding might not be the best choice. However, with an intimate wedding you really can celebrate with each of your guests on a more dedicated scale.
A lot of people who get married overseas have a reception for all their family and friends who couldn't make the wedding when they are back in the UK so you can spend time with them too. What's not to love? – it means you get two weddings!
A wedding overseas won't necessarily be more expensive, but paying for the holiday around it will cost more. The flights and the hotel will be the difference in price from a wedding in the UK.
A wedding at home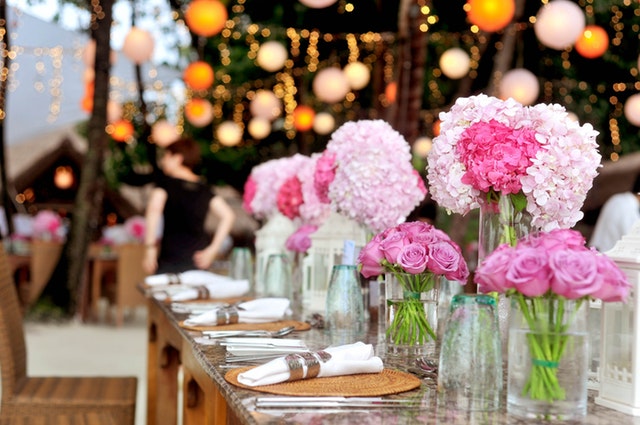 A wedding at home in Australia pretty much guarantees that you will have amazing weather if you plan your big day right and with plenty of unique locations available, you're truly spoiled for choice. You could have your wedding on a sandy beach overlooking the blue sea – imagine the photos! – or even opt for lush countryside with acres and acres of land for you to enjoy.
While this isn't often a traditional choice for tourists travelling for marriage, for those already residing in Australia, opting for these lesser-demanded venues could actually work out in your favour too.
One of the biggest benefits of having your wedding at home is the simple fact that your family and friends  are more likely to be able to attend as they don't have to pay to go overseas. Some may not be able to afford the trip to another country and some may not be able to get time off of work for long enough for a break or have other commitments.
Some of your elderly or ill relatives might not be able to attend the wedding if it is overseas because they may not be fit or healthy enough to fly, but with a local, home-based wedding, you only have to cater for getting them from their home to the venue without worrying about navigating an airport.
Whatever you ultimately choose, as the bride and groom you have to weigh up the pros and cons of having a wedding both at home and overseas. This is often a matter of personal choice but hopefully our guide has helped you work out just what you want from your big day.