Traditionally when a man proposed he presented his bride-to-be with an engagement ring. These days many couples are choosing this special ring together.
The engagement ring symbolizes the bond between a couple and it is common for the couple to shop for it together after the proposal. This article gives an insight into engagement ring settings, and the four Cs – cut, clarity, carat and color. If you have already announced your engagement, it's definitely time to go ring shopping!
Choosing an engagement ring
Choosing an engagement ring is dependent on several things – the couple's taste, particularly the bride-to-be's as she'll be wearing it for the rest of her life, and the couple's budget. While diamonds are the most popular choice, other stones can also be used such as birthstones, rubies, emeralds, amethysts and sapphires.
When choosing a diamond engagement ring, certain factors such as the ring setting, clarity and carat weight should be considered.
Engagement ring style
Deciding on an engagement ring style is a matter of personal choice and there are several options available. Ring styles include classic, vintage, color and sidestone and couples can choose from solitaires to clusters, 2-stone, 3-stone, 5-stone and almost anything in between.
The shape of the diamond is how the diamond is seen from above and while each shape has its own attributes. It is really just a matter of which style the bride-to-be prefers. Diamond shapes include:
Princess
Round
Heart
Marquise
Oval
Pear
Cushion
Asscher
Radiant
Engagement ring settings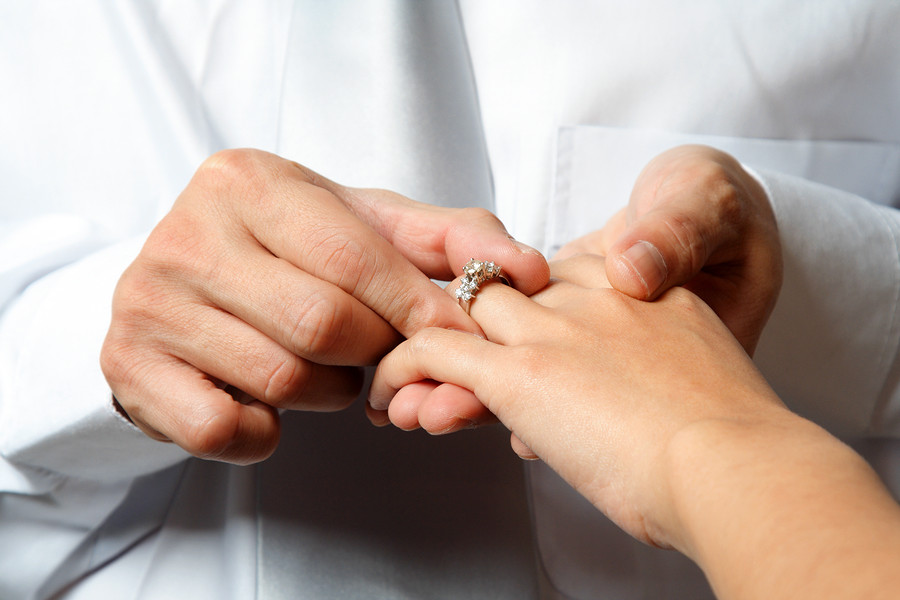 Engagement ring settings are how the diamond is secured to the ring and couples usually base their decision on the look of the ring and the durability of the setting. Ring settings include:
Prong Settings: Where the diamond is held in place by 4 or 6 prongs.
Pave Settings: Made up of many small diamonds close together and held in place with small beads of the ring metal, making it look like a continuous cover of diamonds.
Bezel Settings: Where the diamond is held in place by a piece of metal that encircles the diamond.
Channel Settings: Where the diamonds are set in a metal channel, so that the diamonds are all next to each other without being separated by any pieces of metal.
Invisible settings: Where a series of diamonds are set in the metal framework, which is below the diamonds so the metal appears "invisible."
Selecting a diamond engagement ring: cut, clarity, color and carat
When shopping for a diamond ring, consider the gemstone's cut, clarity, color and carat weight.
Cut: The diamond ring's cut does not refer to its shape, but rather the diamond's proportions and how it is sculptured geometrically. The better the diamond's cut, the sparklier it will be, as it will reflect more light.
Clarity: It is rare to find a diamond that is perfect, as almost all diamonds have some flaws. Couples should check for imperfections as these can affect the way the light reflects off of the diamond.
Color: A diamond should have "no color." A white diamond, one containing little or no color is better than a diamond that has a tinge of color.
Carat: This is the measure of the diamond's weight and size. One carat is divided into 100 points, so a .75-carat diamond is equal to ¾ of a carat. The larger the carat the better, provided the quality of cut, color and clarity are also high.
The diamond, can of course, be set in different grades of gold based on preference. These include yellow gold, pink gold, white gold and platinum. Eighteen or 24 carat gold is better quality than 9 carat gold which can contain other metals.
So while there is a lot to think about when choosing an engagement ring, taste is probably just as important as budget. It is unwise to choose something that will date, that is uncomfortable to wear, or that catches on things. While budget is certainly a factor, the engaged couple should buy the best quality ring they can afford, so that it is not only beautiful, but will last too.
Also, it's important is to purchase a ring in the correct size. Rings that need to be re-sized can alter the settings and loosen the diamonds. Once you have purchased your engagement ring, don't forget to invest in engagement ring insurance.