They are everywhere. From highways to homes, you may not realise they are in fact retaining walls.
Commercial retaining walls are more common than residential properties (larger scale ones). They are commonly found surrounding sports fields, in dips and along gutters on highways or surrounding slopes in schools, hospitals, and any other commercial property.
A residential retaining wall will usually be of a smaller scale, for example around a garden bed to keep the soil out or at the front of a property that is on a slope or has a sloped yard.
However, you don't need to have a sloped property to put a retaining wall in, and it could be precautionary or an excuse to jazz up your home's outdoor area or front fence!
Why use them?
For support and stability to prevent land slipping and soil erosion. A retaining wall offers stability for homes and properties especially on slopes or in areas of heavy rainfall and history of flooding etc.
If your home or property has areas of bare soil and no ground cover (grass or plants) a retaining wall can reduce the likelihood of any landslips especially in areas which experience regular rainfall.
A retaining wall is designed to manage water runoff one of the leading causes of soil erosion (what a retaining wall is built to protect).
The management of water runoff can be capitalised by capturing redirecting water to a tank, garden bed or pond away from any erosion sensitive areas.
No retaining wall will stop a landslide or landslip, but it does provide some protection especially when used with good ground coverage and when designed and installed by a professional.
Types of retaining walls
Below are the most common forms of retaining walls you will find used in residential properties.
Timber
A more traditional choice, the simplest of retaining walls although not the cheapest. Keep in mind that timber retaining walls aren't as strong and will need replacing sooner than both interlocking and stone walls.
Timber retaining walls are perfect for small scale garden beds and veggie gardens! If your retaining wall is purely for looks timber can be a great option when paired with a stronger material such as an existing wall to add a modern and refreshed look.
Concrete interlocking blocks
The cheapest option for a retaining wall. Concrete block is generally more for a structurally functional retaining walls (i.e. not for aesthetics) found in and around commercial properties. However, depending on your taste, it could be for those wanting a modern rustic theme.
Natural stone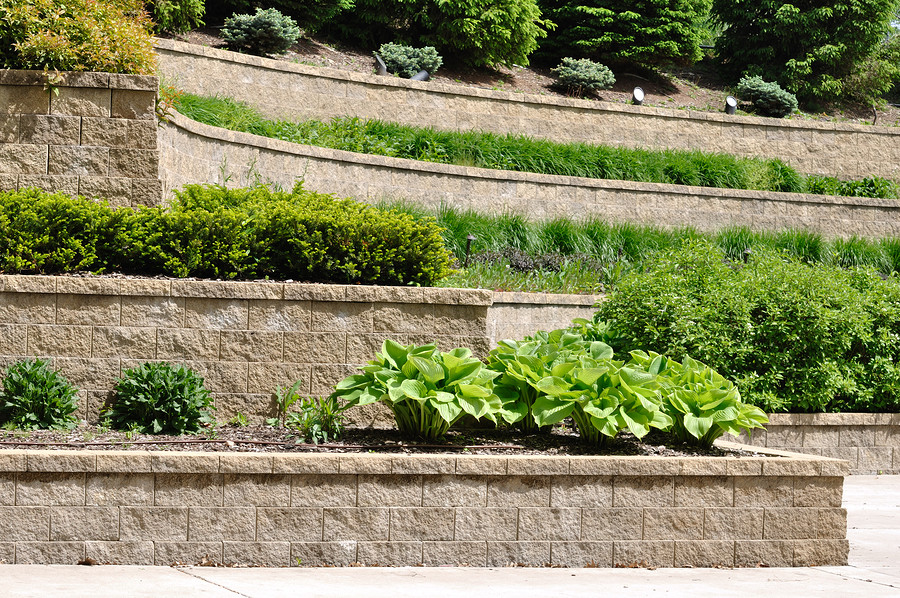 The most expensive option of retaining walls, although the most attractive or bold. For a home may it be a small section or a complete wall a natural stone retaining wall will act as the main attraction.
There are endless options of natural stones, and depending on your style and preference you can go for the smaller rough mosaic stones or, the larger flush blocks.
Retaining wall DIY?
It greatly depends on the scale of your retaining wall, its purpose and the material of choice. Let's briefly go through which retaining walls are feasible to be done on by the DIY savvy and those that should be left to the professionals.
The scale of the retaining wall
If you need/ want a larger size retaining wall, we are talking a 4-metre-high wall there a few hoops you need to jump through and more.
You will need:
More than likely require a building permit or permission from your local council
Need to get materials trucked in and possibly craned up if hard to access
Excavation depending on the amount a bobcat or excavator
Pretty much a given, that any large retaining wall unless you are a licences builder with a bobcat, crane and licence you should leave these to the professionals.
Yes, you can design, plan and order materials yourself, however, that is it! Leave it to the professionals who do what they do best!
The purpose of the retaining wall
If it is purely for looks or is a garden bed, yes it should be functional however if you do somehow make a mistake you will not be jeopardising the stability of your home or land.
Retaining wall material
Timber, concrete, and stone retaining walls require different installations, some more precise and specialised than others.
If you are DIY savvy and can follow instructions and blogs you may be able to install a smaller retaining yourself, but again for larger walls it is recommended you leave it to the professionals.
For concrete blocks and natural stone walls it is a general rule if you are going up more than three levels it is recommended you get a professional to correctly line it up and ensure it lasts.
After all you have probably spent good money on materials alone, having your retaining wall collapse or damage is a waste, forking out some extra cash to get a professional is worth the cost.