Whether you're planning to host a work function, birthday party or wedding, catering is an essential part of the process. The food you provide (or don't provide!) can make or break an event, so it's important to give your guests the best.
Paella catering – www.paellaamor.com.au provides a delicious, attractive and unique meal solution that your guests will rave about. Paella Amor has been serving up world-class paella at corporate and private events throughout Sydney since 2013, taking the pressure off hosts by doing all the work and clean up themselves.
Here's a guide to organising perfect paella catering for your next event.
Know your guests (and the event)
Truly knowing the profile, preferences and needs of your guests (and having a sense of the type of event you're hosting) is crucial for organising catering. Things to consider include:
Guest and event profile
Are you hosting a casual cocktail event or a formal wedding reception? The type of event you're hosting may affect the food you provide, as will as the age, profession and ethnic backgrounds of your guests. The good news is that paella works for all types of events and appeals to a wide range of people, from coeliacs to vegans!
Preferences and special needs
Find out if, and how many, guests have any dietary or religious requirements, allergies or food preferences. You may want to provide several types of paella, including meat and vegetarian or hot and mild options. Paella is usually gluten-free and dairy-free, but check with your supplier.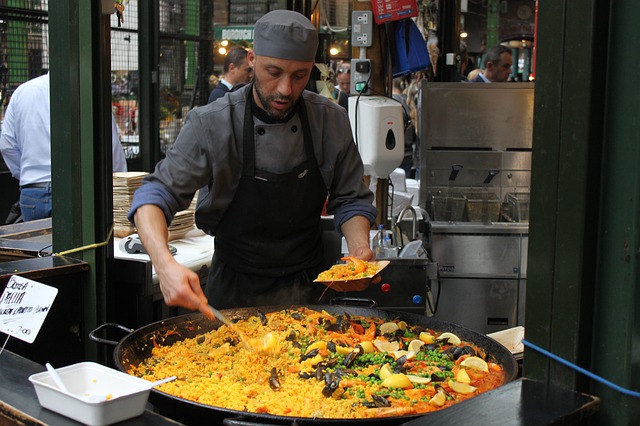 Create a suitable room and table setup
Providing the right environment to serve paella in is essential. An area of around 2m x 2m (preferably in an undercover area if it might rain, and with a power source if you're hosting at night time) is ideal for giving your paella team space to set up – they love showing off their cooking in front of your guests!
Additionally, ensure that your tables are big enough for the paella to be served to your guests; it is served in a large pan, so small tables may not be practical. Don't fret about cleaning up – most catering providers will provide and clean up cutlery, plates and bowls (check to see if this comes at an additional cost).
Once you've established this information, you'll want to decide on the menu you want. Most paella businesses are flexible, allowing you to order custom-made paella that suits your event needs. Some options you may want to consider include vegetarian, seafood, chicken, chorizo, or mixed paella. The number of guests attending your event will also affect how much paella you order.
Book in advance
Avoid making your booking at the last minute as most paella catering providers require 5-7 days' notice for events and final guest numbers. They may also require a deposit.
Some paella businesses may also offer event planning services such as liquor supply and wedding planning, so getting in touch earlier may be extra beneficial for your event!
Conclusion
Paella provides a delicious and novel way to entertain your guests. Its rustic charm and versatility makes it suitable for a wide range of events.