Shopping for clothes online is both exciting and frustrating – with all the sizes, numbers, and letters, it may even seem impossible to get a garment that will actually fit you, let alone look like it's tailor-made. We all know how online shopping works – it spares you the hassle of going to the mall, trying out clothes and spending hours trying to find the garment that fits like a glove. But online shopping does have its bad sides, and when not done carefully, can result in reckless spending and disappointment when the order arrives. So, how does one shop for clothing online and get what they're hoping for? Scroll down to find out.
Get your accurate measurements at the tailor's
The alpha and omega of online shopping, precise body measurement can be incredibly useful when it comes to finding the clothing that fits. It would be best if you'd visit a local tailor to get your body measurements. Just be sure to call ahead and check whether they do that, and how much it'll cost. While some might charge for it, it can still be quite handy to have a professional take your body measurements so you know exactly what they are next time you decide to order clothes online. 
Always check the sizing charts
Now that you've got super accurate measurements, it's time to dive into shopping. Be sure to write them down though, or keep a note in your phone so you can access the information whenever you need to. Size charts are your best friend when shopping online, and since you can't try the clothes on, you'll have to rely on charts to show you the size you should get. Never rely on the size of the dress because manufacturers label clothes differently. Always check for the sizing chart on the website you're buying from to ensure the garment you're purchasing fits your measurements.
Shop for specific silhouettes
Worried about getting the right size of the garment you like? Look for clothing that doesn't require that much work when it comes to measurements. It's easier to get the sizing right for an A-line skirt than it is for a pencil skirt, since the former requires only the precise waist measurement, while for the latter you need to get accurate measurements both for your hips and your waist. This also applies to dresses – tent and shift dresses are more likely to fit you perfectly than others. Look for dress stores online that offer both garments with silhouettes and figure-hugging models to distinguish the style that best fits your body shape.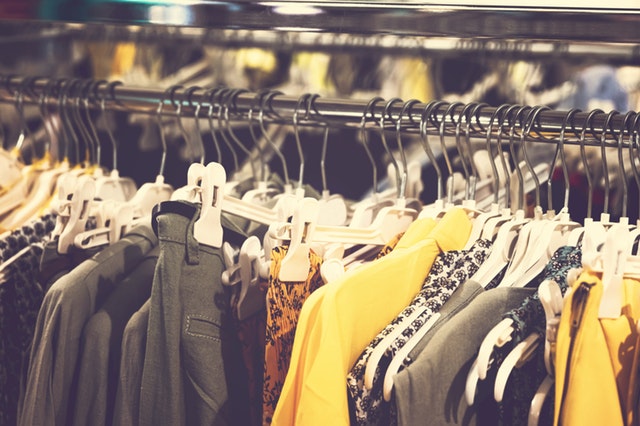 Find out what type of clothing fits your frame
As mentioned before, getting the right clothing for your body shape is a crucial component of ordering clothes that will fit perfectly. This requires you to do some research and find out what works best for your body in terms of your height, shape, and frame. If you're someone who's rather petite, a shorter dress or skirt with an above-the-knee hemline will look great on you. And in case you were gifted with broad shoulders, it'd be best to avoid tops with detailing and stick with thicker straps and scoop or V-necks to play them down a little bit.
Be aware that sizing fluctuates from brand to brand
Just because you're a size 6 in one brand does not mean you're 6 in every brand there is. Different brands use different sizes, and to be able to fully comprehend this, you'll have to order a few times to determine what your size is according to the brand in question. After a couple of purchases, you will have figured out which size, cut, and style best fits you, and consequently, you'll be able to spot the garments that'll work for you, without having to worry about label sizes. 
Or…simply use an app to get a sense of what size to pick
If you find reading charts and looking for your size rather confusing, consider using an app to make your online shopping experience easier. Certain apps will show you when you have to size up or down when shopping particular brands, while others will let you know what size you'd be in a popular brand based on the measurements you input. That way, you don't have to worry about being either left with clothes too small to wear as a shirt or so large you can wear them as a dress.
A great style at bargain prices – online shopping brings so many benefits, yet it can be a bit frustrating to try to find the garment that will fit you perfectly. However, with these six tips in mind, you're sure to get perfect fitting clothes without having a fit ever again.