About mera peak
Mera Peak is the highest Trekking Peak in Nepal. It is the most popular trekking destination for the adventurous and experienced climbers. The mountain has a height of 6,654 m from sea level and it is located in a remote area of Nepal.
The most popular trekking peak attracts hundreds of climbers every year. It is the highest permitted trekking peak at 6,461m. Arguably, Mera peak is an accessible climbing peak. Mera Peak features a non-technical and straightforward climbing route and is considered slightly difficult to climb. So, how difficult is Mera Peak Climbing? Let's find out.
Mera Peak was first climbed by Col. Jimmy Roberts and Sen Tenzing in 1953. And since then, this peak has attracted many elites as well as novice climbers. This peak also serves as an introductory peak for those who wish to plunge into mountaineering. It is best suited for those climbers who have high-altitude trekking experience. The real question here is can you do it?
Climbing Mera Peak is a combination of trekking and climbing adventure for those who are looking for a challenge. The mountain is the first highest in Nepal for trekking, and it offers some of the most spectacular views in the 8000m peaks including Mount Everest.
The trek to climb Mera Peak starts from an elevation of about 3,200 meters, and it takes about 8 to 10 days to complete. The final destination is the summit at 6,654 meters above sea level.
Mera peak climbing difficulty
Yes, you can. In fact, anyone who is healthy and fit can climb Mera Peak. Only basic mountaineering skills are required to ascend, making this peak a popular climbing peak in Nepal. You can admire stunning views of Kangchenjunga, Lhotse, Makalu, Cho Oyu, Everest, and surrounding peaks from the top of the view.
Mera Peak is a non-technical climbing peak and comprises a straightforward ascent. Climbers need not require special climbing maneuvers. That means first-time climbers can ascend to the top of Mera Peak without many complications. Although it is the highest trekking peak, it is easier than the Island peak. There are few challenges in comparison to Island peak climbing.
Island peak vs mera peak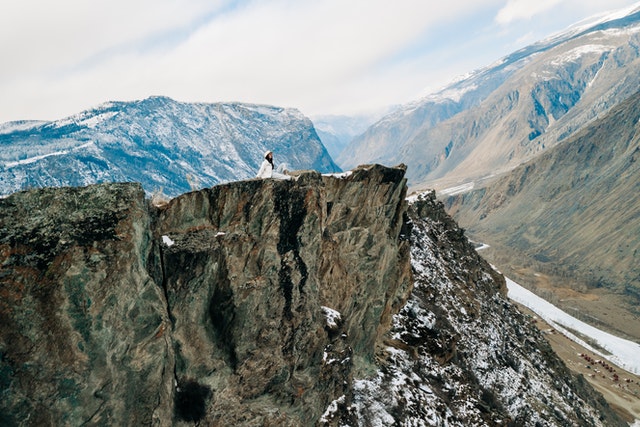 Island Peak has one technical section through ice slopes and crevasse from a technical perspective. For this very reason, Island peak climbing is comparatively difficult than Mera peak climbing. But since we are talking about Mera peak difficulty, rest assured you can summit the peak.
Climbing grade
Graded as Alpine Grade PD in the alpine grading system, Mera peak is relatively slightly difficult to novice climbers. Climbers with little to no mountaineering experience have climbed the peak successfully. While climbing the peak, most section of ascending involves walking in a glacier using crampons and ice axe.
High altitude contributes to the difficulty level of this peak. The final stretch involves 8 to 9 hours of the climb above 5500m, which means there's a high chance of altitude-induced sickness. Mera Peak High Camp at 5,780m is the last stopover before summiting the peak. Before reaching this point, trekkers need to acclimatize at Khare.
Khare, also known as Mera Peak Base Camp, lies at the bottom of Mera Peak. It is a popular resting ground for acclimatization day. Here, you will spend a day acclimatizing and learning climbing maneuvers from your climbing leader. In other words, you will have a pre-climb training day at Khare. Pre-climbing training is useful and valuable to learn the proper use of climbing equipment (like ice axe, crampon, harness, etc.) and basic techniques to scale the peak.
One should be absolutely prepared and trained to climb Mera peak. Climbing a 6000m peak poses real risks and challenges. For the most part of the climb, you will need to trek through rugged terrains over 5000m. For about 10 days, you will indulge in high-altitude trekking up to Mera peak High Camp.
How to get mera peak?
To get to the peak, you need to fly to Lukla and trek for several days to the High Camp. The trekking section could be challenging to you as it involves crossing a high altitude pass. For this very reason, the itinerary entails acclimatization day. Once you reach High Camp, you should be ready for the final push to the peak.
The climb starts with an easy hike until you reach the high altitude mera peak base camp which is at 5,350m/17,552ft. meters above sea level. From this point, you have to take a rest day before proceeding with your climb to Mera peak summit
You should start climbing at around 2 am and reach the peak at around 10 am. It is generally an uphill non-technical hike to the top of the peak. After ascending the top and celebrating the moment, you will need to descend quickly to the High Camp. Like we said earlier, climbing is non-technical, so you should not anticipate any problems. Besides, your climbing guide will be there to aid you with climbing.
Best time to climb mera peak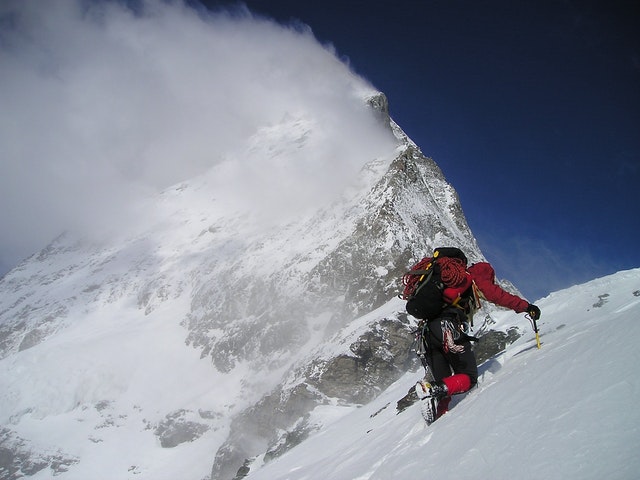 April, May, Late September, October, and November are the best months to climb the peak. Please remember, winter and monsoon seasons are not recommended for Mera peak climbing. The unpredictable weather in the Himalayas can cause changes in the itinerary and therefore, we recommend including contingency day in your Mera peak climbing itinerary. This means you have to be fully prepared for a successful climb.
In conclusion
You can always consult with guides or travel consultants for the climb. Discover the thrill of climbing! Join an experienced mountaineer and explore the majestic peaks of the Himalayas. Enjoy a once-in-a-lifetime adventure of a lifetime. Doing some prior research will be beneficial, and gaining insight into the trek and climb will be valuable. Assess your health status and fitness before flying to Lukla. Saying again, if you are physically fit and can walk for 5-6 hours a day, you are ready for the climb. Last tip: ensure that your climbing partner or guide is highly experienced and professional. If you make sure of all these, the climbing experience will be great.