Ever known a child who doesn't tap afoot to music? No, right! They all love to dance to their favourite songs. Kids don't need a special occasion to celebrate like adults. They can dance anywhere and anytime. But how about treating them with a silent disco party on their school graduation or birthday, or even during their holidays?
Won't they love you for this amazing surprise? You would be the hero of your kids and their tiny little friends for this fun event. And your neighbours won't even complain, as there would be no noise.
Now hang on, where's the catch? Neighbours never let you organise such an event without creating havoc. But not this time, this disco party is going to be silent! Keep on reading to know more.
What is a silent disco party?
By saying a silent disco party, we mean a disco party using high-quality wireless headphones to listen to music. They are comfortable and completely safe to be used by children. The kids can control the volume of the music being played. A DJ can manage the choice of songs to be played. Children can listen and dance to the music they love, and this won't even bother your neighbours.
How to organise a memorable silent disco party
As with any other party, these are the basic steps to arrange a silent disco party for kids.
1. Invitations aren't old-school, they are important 
First things first, you totally need a rocking invitation card to invite your little guests. Design an invitation card on your phone, including all the necessary details and you don't even need to print it and waste paper. Just circulate this image on social media with the parents whose children you wish to invite. Doing so will remove all the ambiguities regarding the date, time and venue of your party. People can refer to the invitation if they fail to remember the details. An invitation can also be your call for a possible dressing theme to be followed.
2. Prepare the ambience for dancing
Atmosphere matters. Kids don't appreciate boring places and besides what fun is a party without some decorations. Choose a place for this party carefully. It shouldn't be too secluded or too public. Decide a place that is safe and spacious enough to provide room for all the tiny people. Because our target audience is hoards of small children, try and select a place where the kids don't hurt themselves. Then, you can decorate it with dancing figures, lights, balloons, confetti, or anything you find handy. Just remember to keep it colourful, kids love colours.
3. Arrange a photo booth for unforgettable moments
If you can arrange a photo booth, do it. There's nothing like clicking pictures of children. They will be great memories to cherish in future. Their parents will be grateful for such thoughtfulness. Your silent disco party will be remembered for a longer time than you think.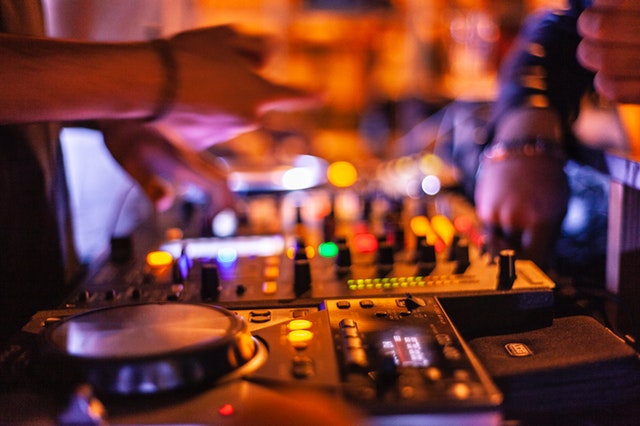 4. Do not forget the snacks
You can view recipes for kids online and decide which ones you can manage to prepare on time. Choose something healthy as well as easy to eat, because the kids are going to have a pretty little time for eating. All their focus is going to be on those headphones and the songs they have to dance to. Party themed cookies, cauliflower pizza, lemonade, etc. can be included.
5. Return gifts are a way to tell them you care
Besides the photographs, keep in mind that the kids need to take home a memento of your amazing party. You can give them stationary, bags, keyrings, mugs, or toys based on the disco theme. These can also be personalised to display your kid's name. After all, you need to also take care of your children's rapport with their peers. You cannot afford to let down their name. And, for things like this, little people are more conscious than us adults.
6. Hire a DJ for a helping hand
With a bunch of gleeful kids at your place, you will need all the help you can get. And therefore, you can hire professional DJ to take care of the music to be played. DJ can maintain the tempo of the party by playing songs that match the tasks the kids are doing. Dancing numbers when the kids are on the floor to move it, light soft music when kids are eating, and creating a joyful atmosphere can all be done by professionals. You can cater to other important needs. DJs can be your saviours.
7. Don't forget to include games 
Interactive and fun games can also be included in the itinerary besides disco. Games can keep children interested in the proceedings. Also, the DJ can monitor these games by providing instructions to children via headphones. Winners of these games can be rewarded with some more disco merchandise.
These are some of the ideas to prepare for inviting children to your silent disco party. Only remember the fact that your target guest list is going to be full of little, energetic, and bouncy kids. You need to do everything that will please them.
This event can be a 2-hour long spectacle if you do everything right. But listen, don't be too hard on yourself. Even if you cannot prepare the whole menu, the most important thing is to make your kids happy. Don't try or expect everything to be perfect. Where there are so many kids, there are going to be some mistakes. Just remember to keep it safe for the kids.
Silent disco parties are better than the normal ones as they do not bother anyone in the neighbourhood. Also, kids can better concentrate on the proceedings with their personalised headphones. Try this new method of partying and see your children beam with joy.