When it comes to jazzing up birthday parties and corporate events, few things are as tried and tested as balloon centrepieces. These colourful, budget-friendly orbs inspire positivity and joy, and are a sure-fire way to impress your guests.
But with the sheer number of ideas out there for designing your décor, how do you decide what to do? This handy guide outlines how to prepare your décor step-by-step.
1.      Choose a colour scheme
Let's start simple. One of the easiest ways to get started is to decide on a colour scheme, and to do that, think about what mood you want to create. Is it sophisticated and stylish? Go for silver, black or grey. Kids' birthday party? Go for bright blue, red or yellow. Keep in mind that you can also have special effects like ombre (two-toned orbs), glitter or translucent/lightly tinted.
2.     Select a material
Mylar is a good option for outdoor and child-friendly events – it's a crinkly material which is not easily popped. Latex balloon centrepieces pop easier, especially when there are kids around, so you might want to save those for indoor or adult-only events.
3.     Decide if you want them to float
Helium orbs allow you to have them float up in the air – this can have a lovely effect. However, helium can be expensive. Non-helium orbs are cheaper but you need to be savvy when putting them on display so that they look nice – they work well in arches! You can buy a DIY helium kit or get someone to do it for you. Helium balloon centrepieces generally stay up in the air for 24 hours.
4.     Consider quantity
The size of your location and the number of guests attending can affect how many orbs you end up needing. Naturally, the larger the venue, the more orbs you will need. Depending on the material and your budget, you may want to get more or less – latex orbs are very cheap, whereas Mylar can be quite costly.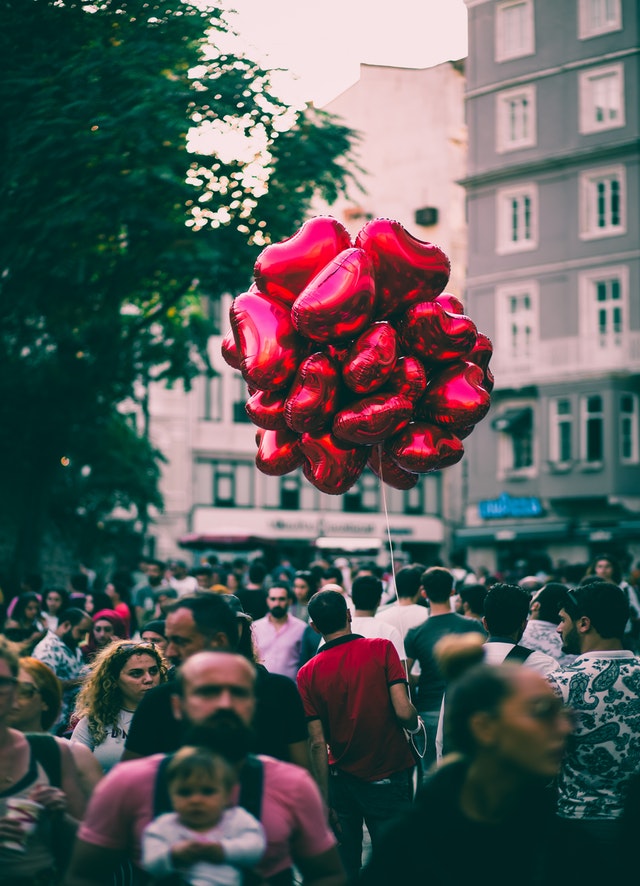 5.     Choose a design(s)
Now that you've covered the basics, it's time to let your creative juices flow! Here are some popular design ideas for balloon centrepieces:
Create an arch: this is a great option for putting at entrances and exists to guide guests into your venue and get them excited (or you can put them above the food table)
Put them on tables: tying large orbs to a weight with string and placing them on tables creates a stylish and fun atmosphere; you can decorate and arrange them however you like
Floating on the roof: inflating your orbs with helium and letting them drift up to the ceiling creates a pretty, dreamy atmosphere – this is a good option for kids' parties
Create shapes: your imagination is the limit when it comes to designing balloon centrepieces; you can design unicorns, racecars, dinosaurs – anything you like!
Fill them: filling them with glitter or confetti (ideally if they're translucent) can look very nice, and suits girls' parties and weddings.
And of course, you can choose to incorporate more than one of these ideas at your event.
6.     Get them delivered (on time!)
The final step is to order your balloon centrepieces with plenty of time in advance of your event. You don't want to order them too late and have them not arrive in time! Make sure you get them for a price that you're happy with, and check your provider's online reviews to ensure for quality.
Conclusion
And that's it! Incorporating balloon centrepieces at your next event is easy if you follow these steps.