One of the most important sections of your home is the roof. Not only does it add
beauty and character, it also protects you and your property from the elements. As such, it is versatile and necessary. Despite being designed and built to last a long time, the roof eventually begins to show signs of wear and tear.
The roofing materials can begin to crack or chip off. In this case, the ideal solution is to restore and repair it. Not only does this reinstate the beauty and function of this part of your home, it also adds value to your property. Roof restoration and regular repairs can add value and help you sell your home when the time comes.
To restore or not to restore?
You can get the best value by installing a brand new roof altogether as you will increase the structural integrity of your home and make it more formidable against the elements.
A new roof is an investment which is bound to grant you a more handsome return when you put your home on the market. Therefore, it is clear that restoring or repairing your roof will increase the value of your abode. If you neglect or put off any repairs over the years it will hit you harder in the hip pocket in the long run. So constant maintenance will not only save you money in the short term but it will add value in the long term. However, exactly how much value will it add?
There are several factors that determine the value of a new or restored roof:
Current condition
One of the factors which determine how much value you can get from a new quality roof restoration and repair is its current condition. If it is significantly worn out, then some restoration or repair is bound to breathe some life into the structure. This will add value to it. You can visit any website online for affordable roof repair.
Roofing materials
Roofing materials can be quite expensive. Those that are beautiful and durable can cost you a pretty penny. Therefore, restoring or repairing your roof is quite a substantial investment. However, it has a good return because home buyers prefer to purchase high quality homes. This is because they will not need to perform any repairs in the foreseeable future.
Effect on efficiency
The roof plays an important part in determining the efficiency of your home's HVAC
system. It can provide insulation during the cold season and prevent the transfer of heat to the surroundings. This eventually helps in reducing the cost of energy at your home. If you add some energy accessories such as solar panels to your roof, the value of your home increases exponentially.
Ensure the gutters are in good shape
You cannot ignore the role the gutter plays in making sure your roof is in good shape. A deteriorating gutter will lead to accumulation of water in your roof leading to faster decay of the materials used to make the roof. Look at you gutter and ensure it has the right slant, remove any debris that may block it and ensure it is in good working condition. As a result, you will not have to bear the costly repairs that come as a result of carelessness and lack of maintenance.
There are many other good reasons why you should install a new roof: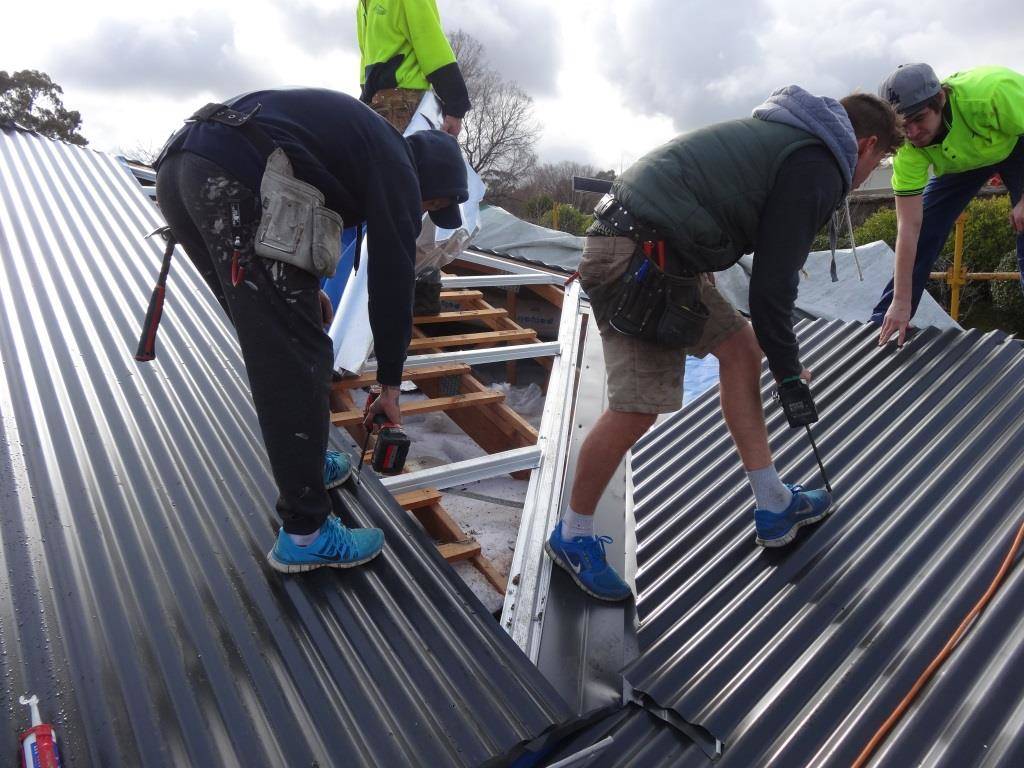 Improve its look
A new or restored roof is guaranteed to improve the appearance of your home. There are many colors and styles of roofing materials. As such, you can quickly transform the appearance of your home by restoring your roof or installing a brand new one.
Extend the warranty
Roofing materials normally have warranties from their manufacturers. You can extend the warranty period by installing new materials on your roof. If you perform
an extensive repair or restoration effort and install some new roofing, they collectively increase the warranty period of your roof. For example, shingles made of asphalt have a warranty period of up to 5 decades. Using them for roof replacement or repair is an ideal way to increase the lifespan of your roof.
Comfort
A brand new roof provides much more comfort than one which is cracked or leaking. Therefore, restoring or repairing your roof is a sure way to increase your physical and mental comfort. In addition to that, having a restored or new roof provides an assurance that your house will fetch a better price if you decide to put it on the market.
Everyone agrees that the roof plays an important role in the overall structure of your
home. Not only does it crown your house, it also provides protection from the elements as well. Notably, restoring or repairing your roof increases the overall value of your home. Therefore, carrying out some repairs or replacements on your roof is an essential activity to perform before putting your home on the market. Consider speaking to several professional roof repairers before committing to one company. It is the safest way to ensure you are getting the best deal.