Henry Xu is from EraSmart, a printer manufacturing company based in ShenZhen, in China. They produce DTG and UV printers which are then shipped around the world.
DTG (direct to garment) printers are perfect for putting slogans or patterns on t-shirts, while UV printers dry the ink as soon as it hits the material.
Henry, how did you get involved in manufacturing printers?
We design a small A3 size DTG printer, suitable for store and small batch processing, DIY customization, a printer that can be used anywhere, no noise and small size. Reduce the investment cost of customers and achieve greater benefits.
What makes your printers better than other options?
Our printer is suitable for small-volume printing, with low volume and low noise, and good printing results.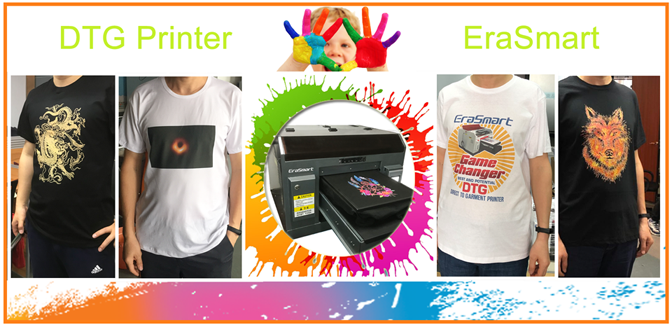 What fabrics can your DTG printers print on?
Best Shirt Fabric for DTG Printing. There three types of fabrics: natural fabrics (i.e. cotton, linen, wool, silk), synthetic fabrics (i.e. polyester, spandex, nylon), and a mix of both (i.e. polyblends, tri-blend). Inks used in DTG printing are water-based.
Are your UV printers only suitable for using on paper, or can they be used on other materials as well?
UV printers can print on many materials such as leather, plastic, wood, glass, metal, ceramic tile, PVC, TPU acrylic, etc.
Do you provide spare parts to people who buy your printers?
We provide spare parts free of charge during the warranty period.
Do you offer much support to your customers?
We provide pre-sales consultation, after-sales support to help customers use the printer quickly, we will quickly answer questions encountered in customer use.
Thank you Henry for your sharing your thoughts!
You can follow up with Henry Xu at www.erasmart.com