Halong, often denoted as Ha Long, is a traditional Vietnamese word that means 'descending dragon.' The Ha Long Bay, which sits in northern Vietnam, is well-known around the world for its stunning emerald waters, rainforests and limestone islands.
For anyone looking to explore parts of Vietnam and southeast Asian, Ha Long Bay is truly a site to behold (and a must-see destination on your holiday list). In practice, the best way to see Ha Long Bay in all its glory is to organise a series of cruises throughout the Ha Long Bay region.
Still not convinced? Here's everything you need to know about cruises in Halong.
They are affordable
One of the best features of organising a Halong Bay cruise is the affordability. You can find some amazing weekend cruise deals that'll only set you back around $150-$170 per person (2 days, one night). You'll be able to relax on a beautiful cruise ship, overlooking the amazing scenery of the Ha Long Bay. There's no place you'd rather be!
Hottest Deals with BestPrice Travel:
Have a look at some special cruises from www.bestpricetravel.com:
Mon Cheri Cruise Halong Bay
price – starts at $168 pp
Price Includes:
Luxury cabin with air conditioner
Welcome drink, cold handkerchief, two bottle of mineral water in each cabin
English speaking tour guide
All meals aboard as mentioned in the itineraries (02 lunches, 01 dinner, 01 breakfast)
Activities: kayaking, cooking class, Tai Chi exercise, bamboo boat, swimming (if weather permits), squid fishing, movies, music entertainment
Sightseeing entrance fees
If you long for the finer things in life, seek a little adventure and take pleasure in feeling special, let's come and enjoy the glamourous life style on board the 5-star Mon Cheri Cruise.
Peony Cruise Halong Bay
price – starts at $148 pp
Price Includes:
English speaking tour guide on boat
Luxury Cruise through Halong Bay – Lan Ha Bay
All meals aboard as mentioned in the itineraries, (01 lunch, 01 dinner, 01 breakfast, 01 brunch) for 2 days 1 night, (02 lunches, 02 dinners, 02 breakfasts, 01 brunch) for 3 days 2 nights
Kayaking, Cooking class, Tai chi exercise, Bamboo boat, Swimming (if the weather permits), Movies, Squid fishing, Music entertainment, satellite TV, Local wine experience, Tea ceremony
Sightseeing entrance fees
Luxury cabin with A/C
Day boat for exploring Viet Hai village, kayaking, swimming and tour guide for the 2nd day of 3 days/2nights package
Welcome drink, cold handkerchief, fresh flower and fresh fruits basket, two bottle of mineral water in each cabin
Peony Cruise will offer you an unforgettable experience in this earthly wonder without losing your budget. Let's join with us now to enjoy your wonderful trip!
Sena Cruise Halong Bay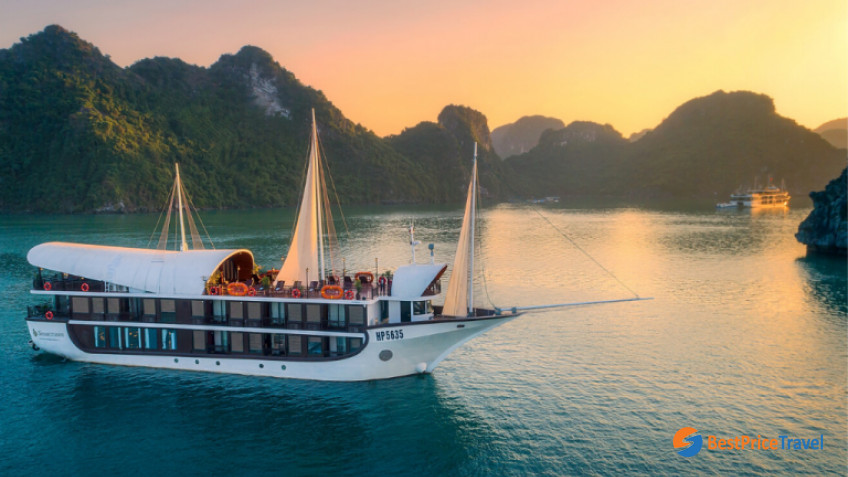 price – starts at $148 pp
Price Includes:
Fully furnished cabin with private Ocean View Balcony.
English speaking guide onboard.
All meals onboard mentioned (02 lunch, 01 dinner, 01 breakfast).
Complimentary 2 bottled water in each Cabin.
Entrance and sightseeing fees.
Tea Ceremony, Tai chi.
Kayaking (2 people sharing)
Sena Cruise follows the itinerary through Halong Bay and Lan Ha Bay that help its guests get the ideal vacation in the two most beautiful areas in the Gulf of Tonkin. Let's join with us now to enjoy your wonderful holiday!
There are heaps of activities
Furthermore, there are heaps of amazing activities you can do on your cruise. You can relax and enjoy the view, or you can get involved in some cooking classes, where you'll learn some of the basic techniques and styles that underpin traditional Vietnamese cuisine.
You can also get involved in some amazing boat trips of kayaking, which will often take you via the cave systems along the bay. You'll be privy to some of the most beautiful stalagmite and stalactite caves, including the Trung Trang Cave. The Trung Trang Cave is a large system of smaller caves (approximately 150), all of which vary in size and light intensity. It is one of the region's most popular tourist destinations.
"I want something less touristy"
If your goal is to do things that are less touristy, then do not fret because there are many great, quieter places to chill out and have a great time. The Lan Ha Bay, which lies adjacent to Ha Long is a perfect place to relax with loved ones and friends. It's also a lot less populated (even during peak tourist periods), meaning you'll be able to properly admire the amazing sunset as it falls over the Gulf of Tonkin.
The rooms are awesome
Because the rates are so affordable, it's easy to assume that the quality of the rooms are probably low. However, this couldn't be further from the truth. Check out some of the amazing suites available for bookings.
With modern furnishings and spacious surrounding (up to 70 square metres), it's easy to see why so many people are opting for cruises during their summer vacations. Many suites even come with their own private balcony, meaning you can watch a glowing sunrise from your very own suite every morning.
Fair cancellation policy
It's common practice for many cruises to be incredibly strict and unforgiving when it comes to cancelling a booking. Thankfully, booking your cruise in Ha Long is a much safer bet, especially if you need to cancel prior to the day. For a group under 6 cabins, you can cancel up to three weeks prior to your stay and receive a full refund. From 4 to 10 days prior, you'll receive at least 50% of your rate back (which isn't a bad deal, considering that's a very late call to be terminating the booking).
Having said this, for larger groups, you'll need to a little more proactive if you want to get all your money back. Groups of more than 6 cabins need to cancel at least 60 days before the booking to get a full refund. Cancelling 31 to 60 days prior to the booking will see you charged 30% of the booking fee.