Below is a list of the top and leading Employment Lawyers in Melbourne. To help you find the best employment lawyers located near you in Melbourne, we put together our own list based on this rating points list.
Melbourne's Best Employment Lawyers:
The top-rated employment lawyers dealing with an area that governs the employer-employee relationship but includes many subjects are:
Jewell Hancock Employment Lawyers
Nevett Ford
Anderson Gray
Sharrock Pitman Legal
Jewell Hancock Employment Lawyers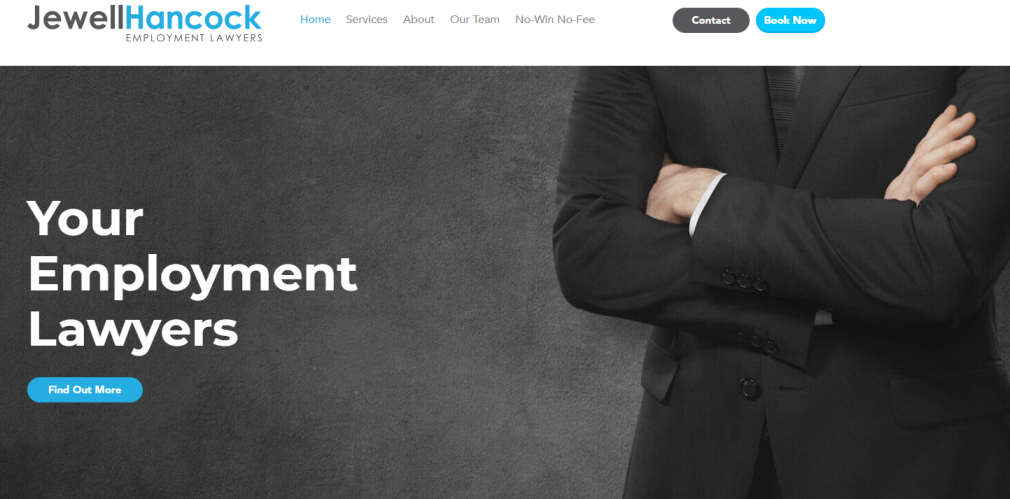 Jewell Hancock Employment Lawyers founded by dynamic duo, Andrew Jewell and Trent Hancock, who between them have over two decades in the legal field. After working side by side at a boutique law firm, the two decided to pair together to create a supportive, affordable, and realistic legal service for their clients. Recently awarded as a 'Leading Employment Law Firm' by Doyle Guide in 2021, their lawyers focus on providing high-quality legal support that makes sure you get the best outcome out of your case.
They provide cost-effective solutions, making sure that all legal costs are transparent and are on a fixed fee basis, so that you know just exactly what you are getting out of their service. For those with a busy timetable, they offer appointments over the phone, email, through video, and in-person appointments based on your schedule. The firm prides itself on offering a reliable and tailored service, promising you with a legal professional you can trust and is suited to your particular situation. With their help, they can get you off the ground in no time!
Products/Services:
Unfair dismissal, General protections, Contract advice, Workplace bullying, Redundancy advice, Workplace discrimination, Underpayment claims, Sham contracting, Misleading and deceptive conduct, Executive employment, Migrant employment, General negotiation, Enterprise agreement breaches, Whistleblower complaints, Performance improvement plans, Written warnings, Disciplinary meetings, Independent contractors, Workplace investigations, Unlawful termination, Modern award breaches, JobKeeper disputes, Sexual harassment, Constructive dismissal
Reviews:
"We called on Trent Hancock at the very last minute to assist with an issue I was having with an employer. Having never gone through something like this before I was unsure what to expect. Trent met with me via video call within a few hours of reaching out. He was understanding, clearly articulated all possible scenarios and was extremely professional. Without Trent's work, I would not have gotten the outcome I did. It was a huge weight lifted off my shoulders and I felt so confident in Trent. Any matter with an employer where you are unsure, it is definately worth having a discussion with either Trent or someone within their business who are extremely knowledgeable and a pleasure to deal with. Thank you so much Trent." – Martin
"I was hesitant to start a process with the Fairwork Commission as my knowledge of this particular area of law was very limited. I contacted Jewell Hancock Employment Lawyers and received a free consultation with Trent to discuss my concerns with him.
Trent immediately put me at ease with his no pressure approach and his knowledge of Employment Law. The cost was also much less than the other firm that I had spoken to. I proceeded with my claim and I am delighted with the outcome.
Trent made the entire process not only stress free emotionally but stress free financially as well.
I would highly recommend this company. They are professional, courteous, knowledgeable and compassionate. The service was second to none. Call Trent to discuss your concerns…..you really won't regret it!" – Debbie
"Trent and his team provided excellent advice at a very reasonable cost. I loved that they offered clear options and set fees so I could make an informed choice and also their generosity in making time to talk when things felt urgent. They got me a quick and very satisfying outcome with my employer when nothing else had worked. I highly recommend them." – Heather
Nevett Ford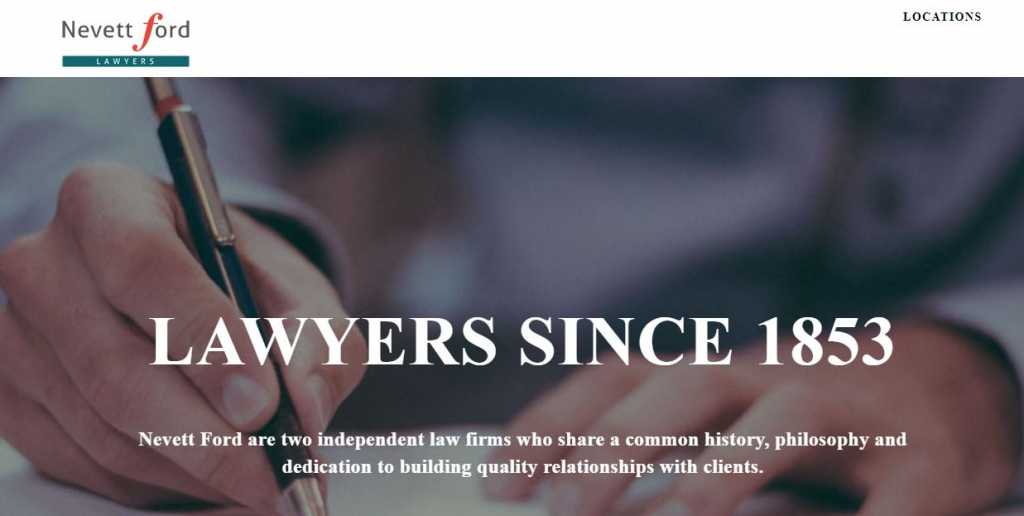 Nevett Ford has grown from a firm founded during the gold rush in Central Victoria to a full-service law firm in the Melbourne CBD. Our company's philosophy is based on providing personalized, friendly and prompt delivery of high-quality professional services at reasonable fees. Nevett Ford has a team of lawyers, paralegals, and administrative staff who are committed to providing a personalized, friendly and prompt delivery of high-quality professional services. They pride ourselves on building quality relationships with their clients and work to ensure satisfaction and value.
Products/Services:
Corporate & Business, Employment & Workplace Damages, Litigation & Disputes, Corporate Migration.
Location:
Address: Level 16 Rialto South Tower, 525 Collins St, Melbourne VIC 3000
Phone: (03) 9614 7111
Website: www.nevettfordlawyers.com.au
Reviews:
"Ryan Curtis-Griffiths was the lawyer in charge of finalizing my PR application. He's very quick, detail-oriented and truly professional. Paperwork can be annoying at times so a personal touch is all that takes to make a difference. I highly recommend Nevett Ford lawyers. Will definitely come back for immigration assistance in the future."- Jason Scott
Anderson Gray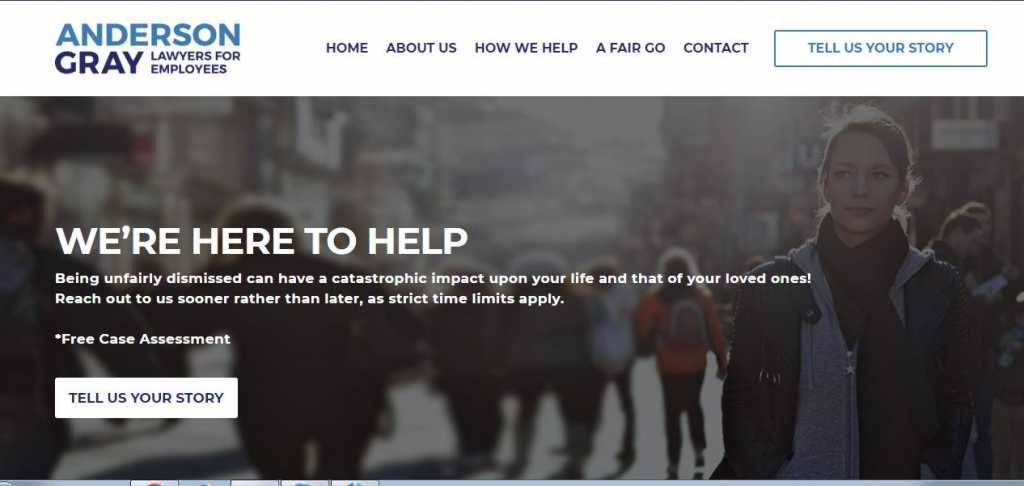 Anderson Gray They are a group of like-minded workplace lawyers who specialize in the business of providing expert workplace legal advice to employees. Their main objective is to provide their expert legal advice, to as many employees as possible, in a safe, confidential and professional environment. Too often when legal issues arise in the workplace the employer has access to expert human resource managers, experienced management and specialist workplace lawyers. The founding directors of Anderson Gray Lawyers recognize that this situation creates an unequal playing field for employees and decided it was the time that a law firm focused its efforts solely on helping out workers, and that's how they arrived at our core motto: Lawyers for Employees.
Products/Services:
Unfair Dismissal, Discrimination, Sexual Harassment, Unpaid Wages Claim, Employment Contract Advice, Under Paid Wages.
Location:
Address: Suite 3, Level 1/488 Victoria St, Richmond VIC 3121
Phone: 1300 851 430
Website: www.andersongray.com.au
Review:
"Anderson Gray helped me when I needed it most when other firms had barely heard my case before denying me flat out. The result was beyond belief, and the team went above expectations to fight for me and push back against wrongdoings.  As well, they handled a delicate case with all the respect and care I could have possibly hoped for. Thanks again."- Adriana Hardy
Sharrock Pitman Legal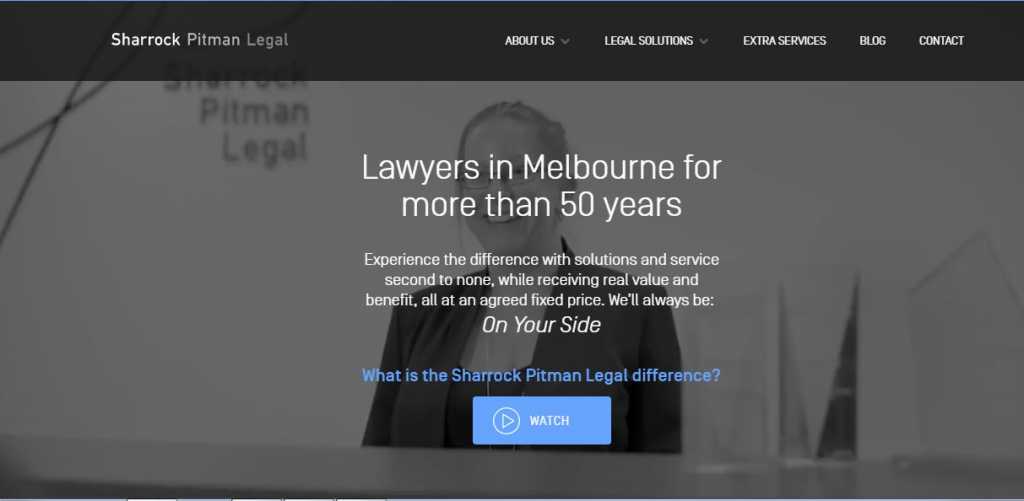 Sharrock Pitman Legal Their law practice is located on the ground floor of modern, multi-level premises, adjacent to the busy retail and restaurant precinct in Glen Waverley. The building is a real commercial hub, with some 25 other businesses located there. Customers are afforded comfort, convenience and good access to the premises. There are bus and train transport nearby, with plenty of free car parking opposite the building off Montclair Avenue and behind the building off Bogong Avenue.
Products/Services:
Unfair Dismissal, Workplace Disputes, Contracts, General Protection Claims, Woekplace Harassment.
Location:
Address: 2/40-42 Montclair Ave, Glen Waverley VIC 3150
Phone: (03) 9560 2922
Website: www.sharrockpitman.com.au
Review:
"Working with Amy was fantastic. Amy was able to help us through the various legal and process maze. And expert communication with other organizations made our lives easier. Thanks very much, Amy."- Hinson Chan