It wasn't that long ago that maternity wear meant donning oversized tees, smock dresses and clothing that was 100% comfort and 0% fashion. The old joke about stealing your husband's football jersey and wearing tights instead of pants became less of a joke and more of a reality as the months pass towards the end of the pregnancy.
Generally, there was a feeling that expecting mothers would 'get by' without buying maternity clothes and stick out the nine months until they could presumably return to their normal wardrobe.
How things have changed.
Even over the past couple of years we've seen a plethora of famous social influencers and celebrity expecting mums bringing on a new trend that is dressing the bump or #dressingthebump #bumpstyle or #preggonista all becoming popular hashtags on Instagram.
Celebrities like Kim Kardashian, Jessica Alba and even Beyonce have all embraced opportunities to wear maternity dresses and bump flattering outfits during their pregnancies, often receiving significantly more attention than they'd normally garner.
You only have to watch last month's Brownlows to see the women on the best dressed list were all pregnant. These celebrities have all had a part in bringing glamour and a celebration of pregnancy to the everyday expecting mother.
While we all may not have a red-carpet event to attend while six-months pregnant, this influence has seen women finding new and creative ways to embrace, instead of hide, their changing bodies while not losing out in the fashion stakes.
So what is dressing the bump and how has it changed from simply being pregnant and wearing clothes? Dressing the bump is a new way of styling yourself and your changing figure so that you're flattering your shape rather than hiding it.
It may be difficult for some people who are used to dressing a certain way and choosing styles that they wouldn't normally choose.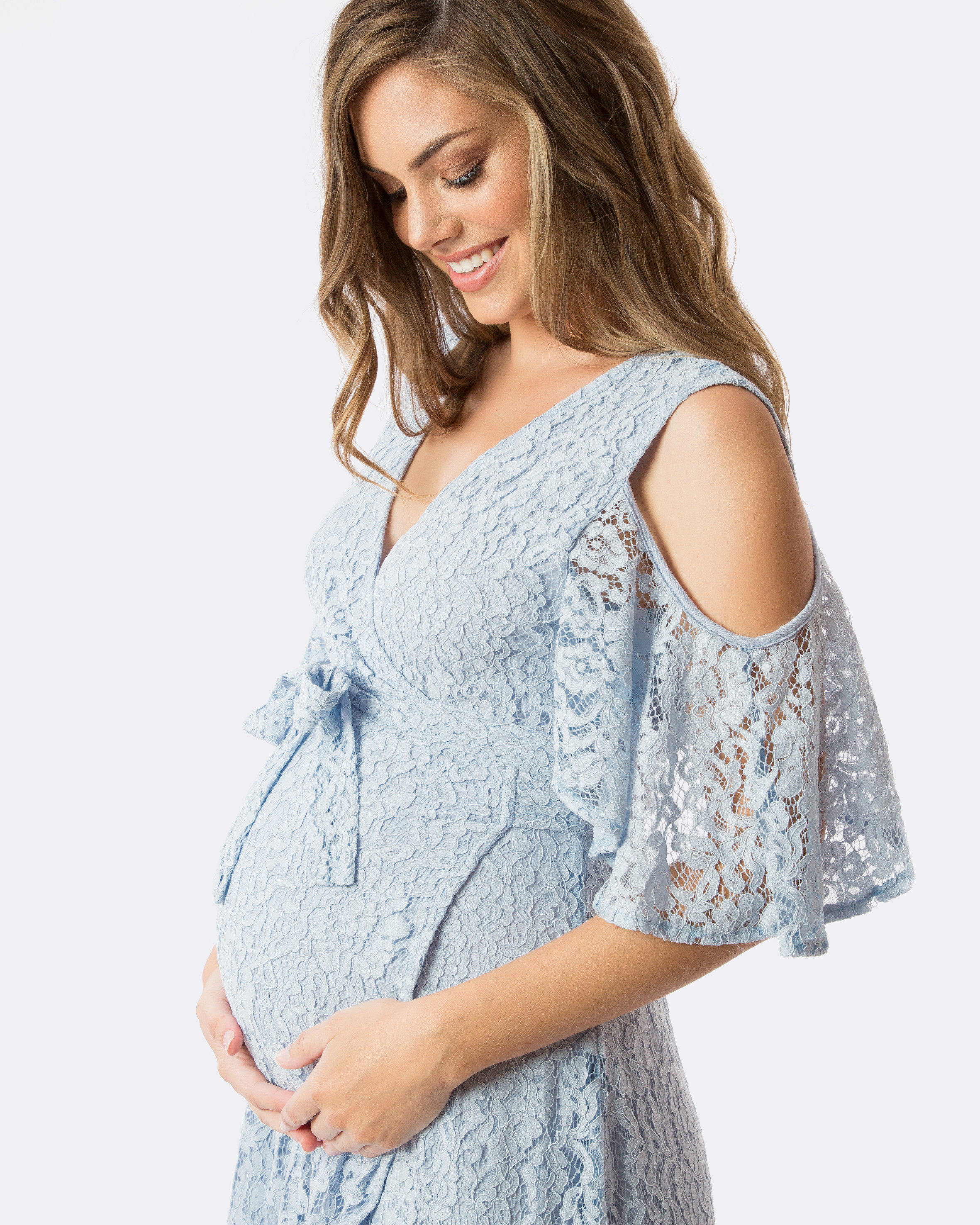 Here are some of the stronger maternity style trends that have been embraced by celebrities during their pregnancies:
Figure Hugging Styles
Even if you weren't into the bodycon before you fell pregnant, these snug fitting dresses are a little more forgiving when you're pregnant because they accentuate the bump and usually flatter the rest of your figure.
Bodycon or body-contouring dresses are usually a really comfortable option as well and lend themselves to easy layering which makes them perfect for all seasons.
Chrissy Teagan became famous for often wearing figure hugging dresses that were usually layered with long line kimonos, blazers or trenchcoats and paired with block sandals and large sunglasses making for a clean, chick look.
Maxi Dresses or Maximum-Length Dresses
These are a pregnant women's best friend (especially in summer) as they gently glide over the pregnant stomach.
Some maxis such as the maternity wrap dresses from Maive & Bo have been designed to also gently clinch in above the bump giving the wearer a flattering shape whilst not taking away from their pregnant belly. These dresses are hugely popular for baby showers, special occasions and weekend wear.
Above the Bump Skirts or Pants
Non-maternity stretchy skirts or skirts with side rouching can be pulled above the bump for and paired with a matching top for an uber-stylish look. This is also a perfect pair if you're working in an office or corporate environment during your pregnancy.
With the popularity of dressing the bump comes the rise of new, stylish maternity brands that design on trend styles to help you dress the bump. Boutiques such as Maive & Bo  or larger stockists such as The Iconic have maternity specific clothing that will help you dress the bump for any occasion – red carpet or not!