While you may escape the nine months without a special event; weddings, christenings, Christmas and work events are likely to pop up at some stage. What's more if you're planning a baby celebration such as a baby shower, gender reveal party or maternity photoshoot then it's likely you'll be typing 'maternity dresses for special occasions' into your Google browser in no time!
We've rounded up some things to keep in mind when looking for a maternity event dresses to help make your search that little bit easier and hopefully help you find something that not only makes you look and feel amazing but doesn't break the bank either.
Where to buy an occasion maternity dress?
Specialty maternity stores or larger department stores should have a small range maternity occasion dresses but be aware the cost is generally higher. Consider how often you'll need a maternity occasion dress during your pregnancy, whether you're likely to need it for a subsequent pregnancy or if it's a nursing-friendly occasion dress that you'll be able to wear once the baby has arrived.
Sometimes you'll be able to find a non-maternity occasion dress that fits your new figure such as a maxi shift dress or empire line style however it can take a lot of searching. If going for a non-maternity option, we recommend ditching online so you're able to try on your new purchase.
If you're looking for a more affordable option, try online maternity stores such as Maive & Bo or The Iconic maternity section where you'll have a much greater variety of dresses at reasonable prices. When buying online, do consider allowing some time to receive the item and exchange for another size if necessary.
When should I purchase?
You'll want to buy the dress far enough out from the event to ensure you receive It on time but close enough that your body shape doesn't change too dramatically in that time. If you're choosing a maternity dress then you can generally rest assured that they're made to fit throughout the entirety of your pregnancy and purchasing in advance won't affect the size you choose. Do consider, if buying online, to purchase 2-3 weeks ahead of the event to allow for exchanges if the size isn't quite right. Generally, most online stores will only take a few days to ship at most but always check before purchasing.
Another thing to consider is the weather and whether you'll need to wear some outerwear to the event. Maternity jackets can be difficult to find so consider purchasing a jacket approximately two sizes larger than your normal size or alternatively, purchasing a knitted shall or kimono that can easily cover your belly until you arrive at the event. Shalls and kimonos are also really great for when you're feeding a baby and post-pregnancy wear so they're definitely worth the investment.
What shape should I go for?
No matter which style of maternity dress you go for, the most important thing is that you're comfortable wearing it and it's not restricting in any way. If you can't find a formal enough dress that is comfortable, consider dressing up a more casual dress with accessories to make it appropriate for the event. Make sure it can be worn with shoes that won't hurt your feet if you may be required to stand up such as at a wedding or similar event and ensure that you'll be able to wear a comfortable bra and underwear underneath.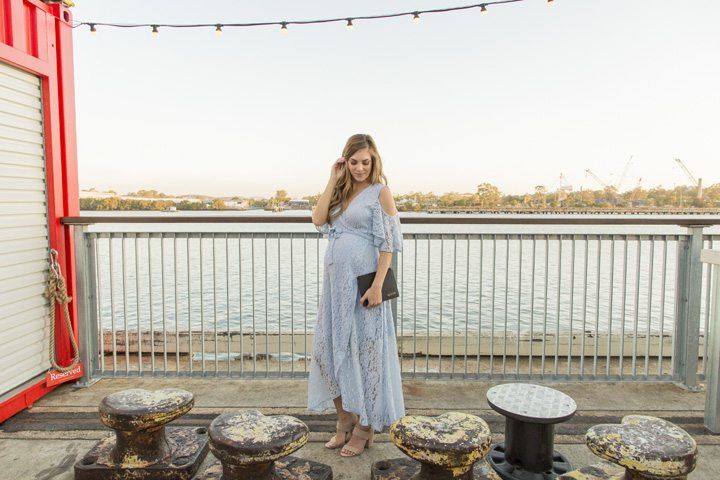 Maternity Dresses for Special Occasions
The Maternity Wrap Dress
Suitable for so many events (and that's why they're so popular) you can never go wrong with a maternity wrap dress for a special occasion. Maternity Wrap Dresses can be dressed up for weddings and baby showers or down for casual weekend wear. Pick fresh floral fabrics and colours that complement your skin tone. If you're concerned with covering your arms, maternity wrap dresses with short or long sleeves are your best option. Maive & Bo (online store www.maiveandbo.com.au) are the largest provider of maternity wrap dresses in Australia featuring maternity wrap dresses with short, long and cold shoulder sleeve features. Some of the more popular maternity dresses for special occasions include the Aria Cold Shoulder Maternity & Nursing Wrap Dress in Blossom and the Harlow Maternity & Nursing Wrap Dress in Tuscan Sun.
The lace dress
A fabric that's never out of style – a lace maternity dress is perfect to wear to more formal events such as weddings, black tie events or even a more formal baby shower. Loved by pregnant women as they elude class and femininity, lace dresses can be worn alone or with a simple shift underneath depending on the exact style and need little dressing up with accessories and shoes. Generally, lace is a more expensive fabric so be prepared to cough up a bit more for this occasion dress however if you're planning to wear it to a few things then it's well worth the money and will provide you with sensational pics. Well known maternity lace dresses can be found at Tiffany Marie Maternity and Maive & Bo or search a larger range of lace dresses on The Iconic's maternity section.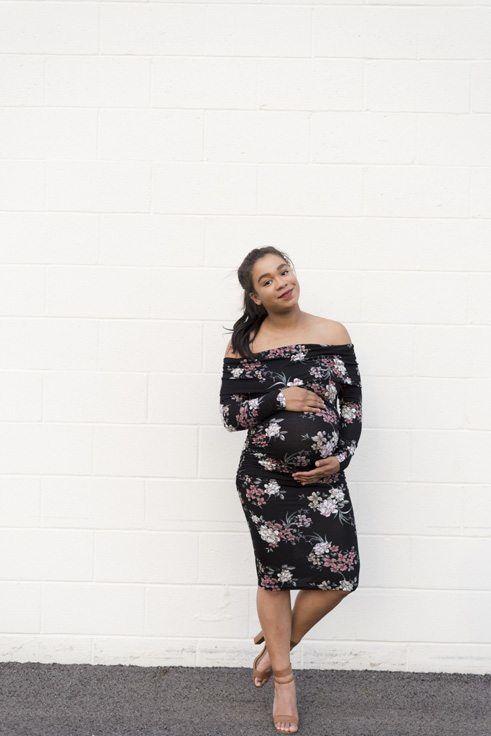 The 'show off the bump' dress
Body con dresses are can be easily dressed up for special occasions easily with the right amount of accessories, shoes and by layering with a jacket. Available from most online maternity stores and maternity shops, bodycon dresses can often be found in non-maternity stores as well making these a popular choice for expecting women simply because they're so easy to find! What's more, bodycon maternity dresses are incredibly comfortable and breathable as they're generally made from cotton and they show off a bump beautifully. Basic body con dresses (non-maternity) are available from Cotton On or maternity body con dresses you can get from Maive & Bo or Asos Maternity.