The acclaimed Latino physician, clinical scientist, and author discusses his research into Asian wet markets, breaking out of his comfort zone, and societal disparities around the world.
Recently, LA Weekly characterized Dr. Nissola as a "Global Phenomenon Immunologist," Growing Up Getty author, and writer at large for Vanity Fair, James Reginato endorsed Dr. Nissola's most recent book, "The Immunity Solution," as an "essential reading," and CBS News has interviewed him live hundreds of times since the early stages of the pandemic, establishing the Latino, Brazilian-born physician as an international medical authority.
The investigations by Dr. Nissola assessed human health, medical data, and the safety risks connected to medications, technological gadgets, and biological materials. Dr. Nissola conceived, written, and carried out Phase I and II clinical programs throughout his career. He has led complicated, adaptive, multi-stage, and platform studies for oncology and immunotherapy in the U.S., transforming implausible concepts and thought-provoking breakthrough science into clinical development plans.  Through his work at The Parker Institute for Cancer Immunotherapy and fellowship at MD Anderson Cancer Center, he assessed DNA-based vaccines, innovative drugs combinations, novel compounds, and experimental cancer treatments in prestigious academic institutions in the United States.
Even so, from conducting early-stage complex clinical programs in America to digging into wildlife wet markets in Asia called for an exclusive interview with a Latin American superstar who has received support from Nobel Prize winners and is frequently featured as a medical expert on networks like BBC, CBS, FOX, MSNBC, NBC, and other international press outlets.
Q&A
Dr. Nissola, COVIDActNow referred to you as "a keyplayer" on their team and said that your work " has informed their epidemiological model in the early days of 2020." You have built, evaluated, and designed data-driven COVID-19 models, some of which were featured by the White House in press briefings. Did your work with COVID change your perspective on work-life balance?
COVID fundamentally transformed my life. Every aspect of my life has been impacted by this pandemic. Previously, I was a Senior Clinical Scientist at the Parker Institute for Cancer Immunotherapy, a groundbreaking research facility established with the audacious goal of eradicating cancer through never-before-seen collaborations between the world's top medical brains with a focus on immunotherapy. Prior to that, I was a Research Fellow at the University of Texas MD Anderson Cancer Center. However, as a first-generation Brazilian immigrant in America, I had always had a strong desire to give back to my community, and I was aware that surrounding myself with legends was a wise move.
Even still, managing medical affairs for billion-dollar global pharmaceutical corporations did not fulfill my inner heart's desire to do good. I've also always felt compelled to share what I knew in a way that non-doctors could comprehend. I have a unique life experience and have sought out ways to ensure that my voice is heard. In many respects, the chaos of the epidemic motivated me to walk away from my duties as a scientist in order to speak up without worrying about the consequences. Looking back, my only regret is not having being louder sooner.
Dr. Nissola, The Hill published your opinion piece that argued that "America needs an Operation Warp Speed for cancer," and most recently, President Biden announced that his administration "reignited the cancer moonshot to end cancer as we know it." Your firm, FirstBio Research, was co-founded with Tyler Dos-Santos Tam, former Chair of the Democratic Party of Hawai'i and currently a councilmember in Honolulu. Are you a political person, and do you have political aspirations?
I was a member of the coalition called Doctors for Biden. As a first-generation immigrant who had yet a vote to give, all I was able to provide was my best advice and support. I've had the good fortune to meet good people in government and see firsthand how much work it takes to accomplish anything for the good of the public. COVID exposed so much that needs fixing. Besides, when I was called to serve, I gave my all, both generously, sparingly and without any financial exchange. It's often a thankless job, but even so I am proud of that.
For public officials, organizations, and life-sciences stake-holders that base their decisions solely on headlines, my research firm offers evidence-based solutions. Our scientific advisory provides international leaders with intel and real data in addition to corporate training—not "the right message." We have seen from the past few years that those promoting "the right message" end up being wrong and having to walk back their advice.
I make every effort to avoid speaking on topics I don't fully understand, but I am an ardent advocate of human rights even though I have no desire or interest in holding any elected or appointed governmental position in this lifetime. I've seen enough, and it's not amusing to me.
I will continue though to use my voice, my platforms and my life experience to battle to put an end to LGBTQAI+ conversion therapy experiments both domestically and internationally because as a teenager I was lured into a religious anti-gay conversion therapy experiment in California, and shockingly that place is still operating. That's a cause I'd like to help more broadly, but it has nothing to do with my research firm and it should not be a political matter.
Dr. Nissola, you are the only Brazilian to have ever been accepted into the highly selective program at the prestigious First Faculty of Medicine at Charles University in Prague, one of the oldest medical faculties in Central Europe and the eleventh-oldest medical institution in the world. And now you are an author of W.W. Norton, alongside notable authors like Dr. Carl Jung and Neil Neil deGrasse Tyson. Your book, The Immunity Solution, which at some point outsold a royal's much-awaited memoir is available in the U.S., the U.K. and Commonwealth and is soon to be published in China and Brazil. Why did you take the risk of traveling mid-pandemic to Asia and investigating wet wildlife markets?
I am a global citizen at heart and was born into a family of immigrants. I also strongly believe that fast-growing economies set to accelerate worldwide growth and connectivity will push humanity forward, through BRICS, for example. But I have a stubborn sense of skepticism, so I wanted to see for myself what I read on the news about those markets and see those places and meet their people.
I make an effort not to rely solely on media coverage for my information, I encourage citizen journalism, and am a humanitarian at heart. I heard and read so many absurdities since the early days of the pandemic that I needed to fact-check it myself.
Regarding the books, I decided to base my health philosophy on published research since I was sick of seeing health books give bad advice and promote "snake oil" and "miracle cures." Although some people might find my book dull, I did not write it to appeal to people who chronically eat ultraprocessed foods.
I consider it an honor to have worked with The Knight's Agency and that W.W.Norton U.S. and U.K. sold the publication rights to my most recent book to Highbridge Audio, Aluade Alta Group for Brazilian Portuguese rights, and China Translation and Publishing House for Chinese Simplified Character rights (PRC).
Dr. Nissola, that is all impressive, but how did you find the experience of visiting those wildlife markets, and what are some of your learnings from visiting them?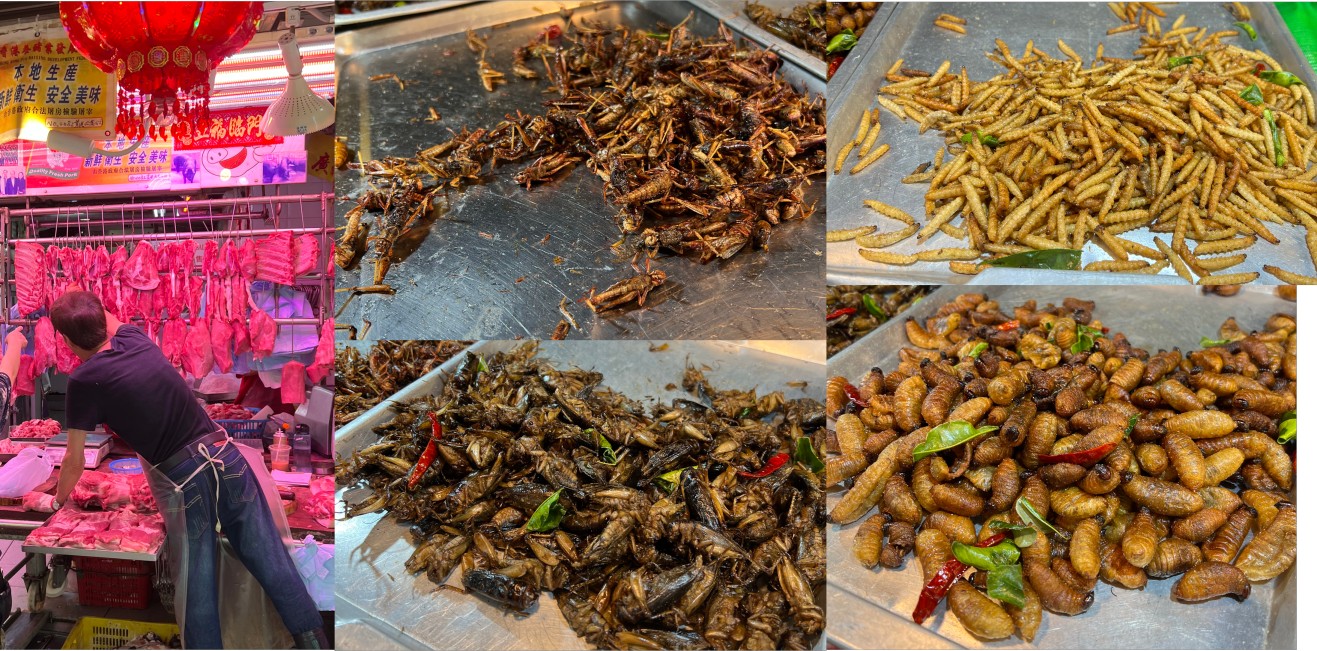 A wet market was something I had never visited before going to Asia. Some places sell live domestic animals for sustenance, while others sell dead domestic animals, whilst others sell live wild animals for a variety of purposes.
But I had to conduct research on the pandemic and I had to see it all with my own eyes because of how much it had affected me, my life, my family, my job, and my community as a whole. Over the past few years, if you spent enough time on Twitter, you would have noticed that loud western medical experts seemed to be overly convinced of things that science did not yet know for sure.
I therefore traveled across oceans to find the answers to my research concerns rather than taking tweets from pandemic-profiteers at face value. I had to learn everything I could about them, and the more I did, the "curiouser and curiouser" I became.
After visiting more than 20 wet markets throughout the world and traveling to over 30 countries on 6 continents in my life, it is clear to me that while we may all share the same timelines, our realities are very different. Too often, we preach gospels written by outsiders, so I ventured outside of my comfort zone to see it for myself. The world outside of our pixelated screens is much more complex, vivid, and understandable.
In short, wet marketplaces vary widely in terms of their structural makeup, product offerings, accessibility to wildlife, and perceived and actual hazards. Press reports in the West frequently portray events as if everybody in the world was brought up in Palo Alto and worked at a tech company and feed their families off doordash. The truth I saw is different, and the experience I had with the Asian people I encountered were wonderful, if not magical.
Not everyone has access to "life's winning tickets," and the majority of people in the world today are left to fend for themselves and try their best to survive. This social aspect is something the media rarely covers, and this perspective is missing from the narrative of the architects in charge. Our place of birth, nationality, and freedom to live in safety and dignity appear to be the product of luck because, in some ways, life looks like an unfair human lottery and many who have a platform judge instead of help.
After working as a physician on the outskirts of South America, studying in Europe, working at world-class medical centers in the United States, and having access to people who had never experienced hardships in their lives while living in California, I can confidently tell you that those who did not receive "winning tickets" have a harder time, and many of those who are able to help and shape our reality have absolutely no clue what the real world is like. I think we have a responsibility to help individuals who were not born with "winning tickets," but that is a topic we can discuss another day.
Dr. Nissola, thanks for all you have done and still do. After working in cancer and COVID research, what is next for you?
I'm working on my next book focused on longevity and advise public leaders and investors in life sciences. At a personal level, I'm not looking for sanctity, purity, or proximity to the powers that be. I've had access to it to some extent, but it wasn't fulfilling. I meditate daily, and perhaps my months in the wonderful Kingdom of Thailand inspired me even more to be more present and appreciate every day as they come. But I aspire to be fully human in this life—to feel, to give and take, to laugh, and to love. What else is there if not to explore life and enjoy the company of good-hearted people?
You can follow Dr. Leo Nissola on Instagram @DoctorLeo and on Twitter @LeoNissolaMD