If you need paternity testing, then you want to make sure the process is professional and accurate, no matter what you hope the results are going to be. While the circumstances around the need for a paternity test can be tricky, the process of going to get one should be stress-free and straightforward.
To help you weigh up your choices, check out the list below. The following are the 5 Best Paternity Tests in Australia, based on this rating points list.
3 Best DNA Paternity Tests in Australia:
DNA Bioservices
EasyDNA AU
DNA Solutions
1. DNA Bioservices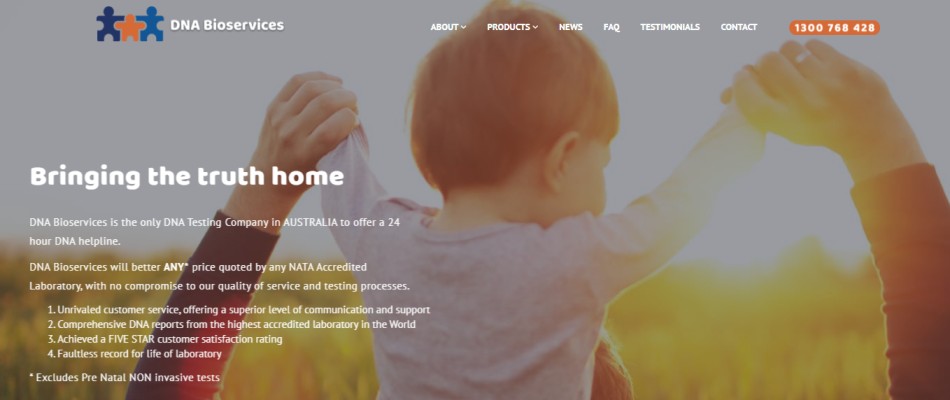 DNA Bioservices is an Australian owned and operated DNA testing company that has been delivering safe and accurate DNA services since 2005. The company is partnered with DDC (DNA Diagnostics Centre), which is one of the largest and most highly accredited DNA testing laboratories in the world.
The DDC laboratory has a series of international and national accreditations to its name, with an Australian accreditation that is overseen by NATA (National Association of Testing Authorities). It is the only laboratory to achieved perfect inspection ratings in the world.
The testing conducted by DNA Bioservices is often requested by private law firms as well as government bodies like the Department of Child Protection, the Immigration Department, and Legal Aid. They acknowledge that their work is essential for giving people peace of mind and closure regarding sensitive issues of parentage.
The organisation is customer-driven and performs over half a million tests every year. Unlike many of their competitors, DNA Bioservices has a minimum analysis threshold of 20 genetic markers (rather than other companies that only to 15-16 markers).
They also provide court-approved DNA testing that requires legal paperwork concerning Child Support issues. DNA Bioservices has also received extensive media coverage on programs like A Current Affair and ABC News for their expertise in DNA testing.
The DNA Bioservices team is excellent at guiding customers through the process and ensuring that they fully understand every aspect. They have a turnaround time for paternity tests of between 5-10 business days, allowing customers to quickly get the answers they need with full confidence in the accuracy of the results provided.
2. Easy DNA AU
Easy DNA AU is the Australian branch of the international DNA testing agency that has a well-earned reputation for providing accurate, reliable, and confidential testing for both the public and the private sector. The EasyDNA team has worked in the industry for over a decade and have used their experience and expertise to create one of the leading international networks of DNA testing clinics.
With an internationally accredited laboratory, EasyDNA has performed over a quarter-of-a-million DNA tests for a wide range of different implementations, including paternity matters. They know that DNA testing can be a trying and sensitive experience for people, and this is why they prioritise customer care and guiding people through the process from beginning to end.
The services of Easy DNA have been featured in a variety of TV programmes and is internationally recognised for its quality and accuracy. The laboratory has also been used in solving high-profile cases, such as determining the parentage of Keith Mitchell.
3. DNA Solutions
DNA Solutions is a DNA testing company that is both Australian owned and operated. They are accredited by NATA and specialise in parentage testing, including paternity tests. The company is a holder of dual accreditation in DNA kinship and DNA parentage testing.
Since its establishment in 1997, the company has offered its DNA services to a variety of clients both locally and overseas. These clients include the ADF, CSIRO, and other public service departments like Legal Aid and the Department of Human Services.
The team at DNA Solutions has strived to be one of Australia's best providers of DNA testing services, including paternity tests. This is achieved through a combination of excellent facilities, customer service, and turnaround times.
The company values confidentiality and takes special care in all discussions regarding sensitive parentage issues. Cases are only ever discussed with the adult parties that are involved, and passwords can be set to create even greater levels of security for those who want extra peace of mind.
DNA Solutions takes a lot of pride in its work and has earned a reputation for professionalism in the DNA testing industry. They provide customers with comprehensive support from start to finish throughout the process.
Choosing a provider
Those are just the 3 best paternity tests in Australia according to an evaluation of experience and customer feedback. It's essential to make the right choice in regards to paternity testing so that you can get a quick and precise answer on questions of parentage.