When you hear that someone is cutting his/her hair at home, you may think that the result will be disastrous. On the contrary, the outcomes can be amazing, and may be even better than a pro…but how?
You go to your barber and ask for new styles of haircut that requires experience and full control on your hair. You cannot imagine doing the same work at home by any means since you still want to look and feel your best.
At first, visiting your barber for a short haircut will cost you at least 20 dollars or more, depending on your needs, the style you choose and experience of your barber and fame of their hair salon.
For short hair, you may need to refresh your haircut every month. As a result, if you do the same work at home, you could save more than 200 dollars per year.
Do those saving sound good to you? If so, read on to see how to do a haircut at home with some basic tools to save money and time.
Choosing the right tools for home use
When it comes to haircutting, you will need some basic tools that will help to give you the comfort and ease you require. Your work will need a hair clipper, hair trimmer, scissors, comb, brush, blades, and a razor. However, your haircut requires a hair clipper, but if you plan to use scissors, it will be harder.
Choosing the best hair clipper for home use will be your first goal. You need consider some basic features before choosing a good hair clipper.
First, the motor of the clipper should be reliable to cut through all kinds and types of hair. You need a quiet motor that do all the required work with less vibration, which may make you unable to control the machine.
In addition, hair clippers come with two different power systems of corded or cordless tools. The corded clippers will give continuous power supply, but you should notice that it would make you restricted to the cord length. On the other hand, cordless hair clippers have built-in batteries that provide freedom of movement for cutting.
When you choose a cordless clipper, be sure that the battery has quick charging and it provides enough run time for long sessions. For most cases, a good cordless hair clipper needs 2 hours for full recharging and it will give you 60-90 minutes of continuous haircutting.
Adjustability of the hair clipper is a factor to consider when choosing a home use tool. Your hair clipper should have adjustable blades and guide combs to fit all hair length and cutting methods. Most hair clippers come with 6 adjustable hair length settings and some guide combs.
The blades of the tool determine the quality and durability of the hair clipper. You will find that these blades are made of stainless steel or titanium. Both materials perform well, but the most important aspect is the durability of the blades and their required maintenance.
The best hair clippers have blades that are self-sharpening to make the lifetime of the blades longer. You need to have a cleaning brush and machine oil inside the kit for maintenance.
To complete your tools for a home haircut, you need a comb or different sizes of comb, which you can get within a comb kit. Furthermore, it will be useful to get hair-thinning scissors, front and back mirrors and a small vacuum to clean all the cut hair.
Choose your haircut before using the clipper
After preparing all the required tools for your home hair salon, you will need to choose a haircut or style. You can surf the internet to pick your target haircut and print out the diagram of the style.
Start with longer guide combs or long setting on your hair clipper to be on the safe side. Then, you can cut shorter until you reach the required length.
A haircut to suit your face shape is an important point of consideration. For round faces, it will be better to shorten hair on the sides of your head and the hair near cheeks, which will give you a shape of longer chin. However, for heart-shaped faces and square shape try to choose a haircut that provides volume on the sides of the face.
Tips before cutting your own hair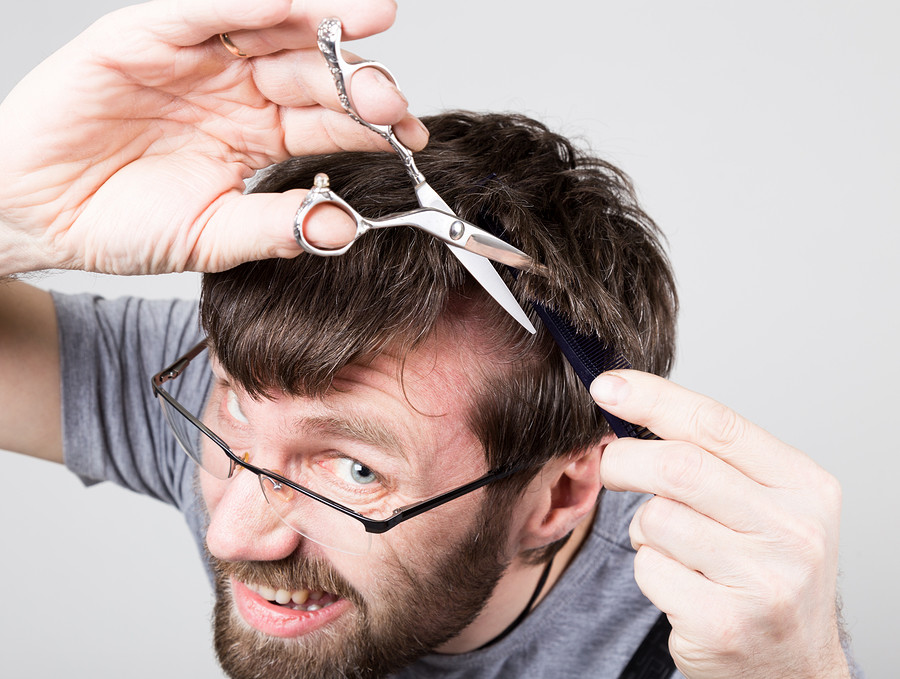 You get all the tools and the print out of the style you will do for your hair. Now, start to know much about these tools; and how to use, because it is perhaps your first time to touch your hair with a clipper. Your orientation can help with how to change the guide combs, guards and switch the length settings.
You need to know everything before you start to avoid checking the user's guide of the tool while you do your haircut. Run your fingers over your head to find the direction of the hair. Then, cut your hair the opposite direction of the original hair growth.
Sides of your head
You are not a professional barber to start your work with one side of the head and then to go around the back to reach the other side. For home haircutting, you need to start with the right side if you use your left hand and with the left side if you use the right one.
Do not go around to the back, but rather with the other side. This will give you the opportunity to compare both sides of the head and fix the differences.
Back of your head
When it comes to the back of the head, you will find that it is harder than with the sides. You should use two mirrors for this part to get full vision. For the first time, you can employ some help to get it well cut.
Moreover, lay one of your hands horizontally as a guide on the back. Begin with longer guide comb and run it along with your guide hand, and try to fade hair from bottom to top.
Top of Your head
Choose a suitable guide comb for the top of your head, which has the longest hair. It will be better to grade the length from the sides to the top. The style you choose for your haircut will determine the length of the comb you should use.
For thick and long hair, use your scissors to manage long hair shafts before running the clipper on the top. Using scissors is an easy process for long and thick hair, but be careful when using them on the sides and back of your head.
Will you try a DIY haircut?
Cutting your hair at home can seem like a daunting task and if you're not prepared it's probably better to go to one of the best hairdressers instead. Professional exist for a reason and if you're going to do a comparable job at home you'll need the right tools and practise.
Regardless, cutting your hair at home is very much achievable and is a great way to save on time and money.