Finding a quality hairdresser that provides outstanding service and an open, friendly environment can be hard to source. Many outlets might tick one or two boxes, but in a thriving marketplace that is as dense as Sydney, sorting the decent from the good to the best can be a difficult task to say the least.
The industry itself continues to evolve and change as consumer habits switch from traditional and local practices towards something that is following the latest and greatest beauty trends.
The shared economy has forever altered how we think about common services like hairdressing, making it imperative for businesses to adapt to the current landscape.
This is inclusive of elements like apps for bookings and updates, social media to open communication pathways and encourage shared content. Enterprises like Uber, Air BnB and Menulog are case studies in how to operate a modern venture that caters to a local economy.
It must be said that there is no genuine equivalent for this in the hairdressing industry, placing the emphasis on local outlets to promote their own brand and brandish their catalogue of styles and customer service.
There are services in the market that allows individuals to teach themselves about homemade makeovers and colouring, but this avenue really doesn't address the issue at hand. It is always recommended to leave something as sensitive as hairdressing to the professionals after all.
So which outlets in the city are best for you? Any main street in town will feature a barber or salon that can provide the basics.
From big frizzy hair to bangs, flattops, shaved heads, Caesar and crew cuts, sideburns, mullets, undercuts, perms, ponytails, pigtails and everything in between, it is not so much the what but the how that really differentiates the quality of service.
Professionals who take genuine pride in their work, are open to the community, provide training and education to new apprentices and are environmentally and socially conscious are all factors that can influence your decision.
So, who are the best hairdressers in Sydney exactly?
| | | | |
| --- | --- | --- | --- |
| Rank: | Business: | Website: | Top Feature: |
|    1 | Planet Hair | www.planethair.com.au | Japanese style that uses unique dry cut philosophy to save time |
|    2 | Lily Jackson Hair & Makeup | www.lilyjackson.com.au | Complete package of service catering to newcomers & professionals |
|    3 | RAW | www.rawhair.com.au | Internationally acclaimed outlet visited by the biggest names in beauty |
Make the process that little bit easier by getting one of the best hairdressers in Sydney on your side!
Planet Hair Sydney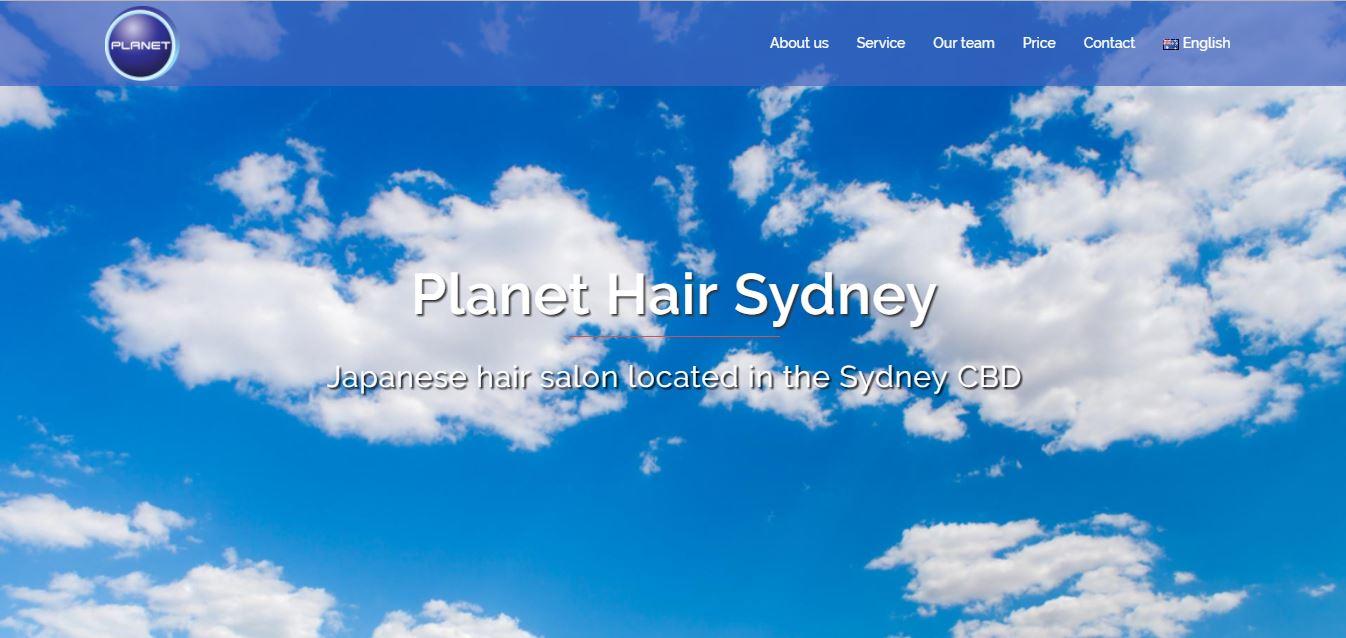 Planet Hair Sydney was established back in 1997 right when a new approach to the industry was taking place. Located only around the corner from St. James and Town Hall stations, this is an operation that started from humble beginnings before establishing itself as arguably the premier salon in the city.
Now boasting no less than 15 seats via a space of 192 square metres, Planet Hair Sydney has ventured beyond operating as a simple service center. The spacious environment is ideal in the waiting area for friends, family or colleagues as they can admire the city views adjacent to all the nearby shopping malls and entertainment precincts.
Director Kousuke's Japanese heritage and cultural background has given him and his team a unique approach to the art of hairstyling and hairdressing. Rather than take a traditional Western perspective, he has implemented some of the most cutting edge techniques from the East and brought it to the Sydney marketplace.
He is ably supported by a collection of friendly, confident and talented stylists in Sydney. These include Yin, Masa, Kai, Naoko, Kurumi and Wakana.
Prices are catered towards different types and styles, from small to medium, large, extra large and men. They will also differ depending on the hairdresser on hand for the appointment, scaling between a general stylist to top stylist or a premium price should the director take charge personally.
Each of their services with pricing is available on the website, outlining any of the following:
Shampoo and Cut
Shampoo and Blowdry
Colour and Cut
Up Style
Herbal/Treatment and Cut
Herbal Colour and Cut
Highlight
Japanese Digital Perm/Air Wave
Hair Extension
Wedding Up Style, Make Up
What Planet Hair Sydney attempts to emphasis is the need to avoid wet-only haircuts. Arriving from the Japanese school, they preach the virtues of dry haircuts to deliver on time efficiency and quality of service.
So if you happen to be like millions of other Sydneysiders whose schedule is time sensitive, then Planet Hair Sydney is an ideal environment to be catered to inside an hour without spending an entire morning or afternoon in the salon chair.
There is more than practicality to this dry cut philosophy however, with the enterprise arguing that the shape and texture is enhanced without the need to drench your hair in water. The aesthetic process can be viewed in real time, eliminating the hassle of waiting for the hair to dry before you discover if the end result is what you had asked for.
However, Planet Hair Sydney do provide washed and blow dry options for those that are happy to spend more time looking after their hair. Should you be indecisive about which service to opt for, a consultation is available to talk over the pro's and con's with your individual stylist.
All of the team at Planet Hair Sydney are happy to field your questions and feedback as they are open 7 days a week.
Lily Jackson Hair & Makeup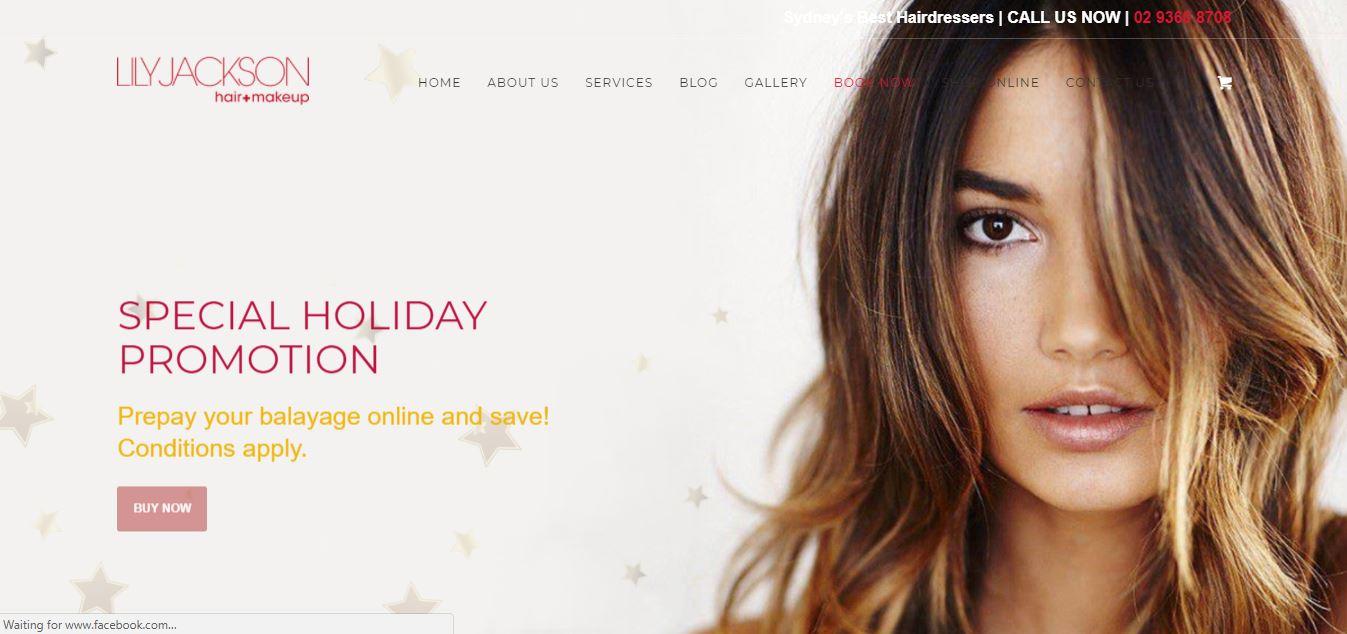 If the CBD or Eastern Suburbs of Sydney happens to be where you are situated, then Lily Jackson Hair & Makeup comes highly recommended. This is an operation that emanates professionalism, passion and creativity, blending their unique take on various stylings for casual visitors or those requiring an aesthetic ideal for a commercial shoot.
Lily Jackson is a brand synonymous with quality, seeing customers even arrive from overseas to secure the look they have been striving for. Take a note from any of their services on offer once you obtain an appointment and walk through the door throughout Tuesday to Saturday:
Haircuts
Hair colour: hair contouring, Balayage hair colour, Organic hair colour
Sydney hair extensions
Makeup: Edi minerals, Lash bar
Hair straightening: Japanese permanent hair straightening, Sydney's best Keratin treatment
Bridal hair and makeup
Professional hair products
Commercial hair and makeup
With a history that dates back to the year 2000, Lily Jackson understand that it can be either daunting or awkward switching hairdressers for the first time.
To ease that transition, the outlet encourages newcomers to phone up and organise a consultation before partaking in an inaugural appointment. Undertaking this process enables the customer to avoid any unwanted changes to occur, opening a dialogue between the stylist and yourself.
Many visitors will arrive with either a clear understanding with the look they want, or a rough concept of what they are striving for.
By speaking with the hairdresser one-on-one beforehand, you are both able to arrive to a scenario where you both know the healthiest and best mode of styling the hair that suits your individual needs. To accelerate this process, it is recommended that you bring a photo/image of the look you want so nothing is lost in translation.
Led by salon director Jules Peacocke alongside creative director Graeme Cumming, Lily Jackson has accumulated some of the most talented hairdressers from a domestic and international background.
From Trish Hurley to Samantha Jupp, Nadine Behrendt, Carlos Sanchez, Natasha Newman and Kaatya Keuneman, each bring their unique approach to the field with a desire to bring a degree of flavour and passion to their work.
Some have arrived to Lily Jackson with a resume complete with commercial shoots from the advertising or entertainment world with music videos. Others have spent years overseas honing their craft and learning from some of the most cutting edge professionals in the business, importing that knowledge and skill to the heart of Sydney.
Should you have left the outlet delighted with the end result or remembering a style that caught the eye, Lily Jackson's online store gives you access to products that can be sent straight to your front door. Pick from any of the following:
Shampoo
Treatments
Conditioner
Recon-Structants
Colour Enhancements
Styling Tools
Serums
Value Packs
Styling Products
Orders over $100 within Australia come complimentary with free shipping, with the option of a free pickup in store if you happen to be close to Darlinghurst.
Lily Jackson pride themselves on being more than just a hairdresser that will promote a brand simply for financial reasons, wanting to give their customers the same degree of attention and care day-to-day that they showcase with their customers.
Brands like Dualsenses and Oribe have an array of shampoos and conditioners that they trust, so they will be prominent in their in-house store.
Their blogging page on the company's website will give regular tips on men's and women's haircuts, including techniques to avoid and ways in which trends are evolving. Should you be on the fence about making a consultation, they advise to check out their gallery of previous styles.
RAW
When Anthony Nader established RAW back in 1997, he would have held out hope that the salon would have still be in operation beyond the year 2000. Now into 2018, this is an outlet that has gone from strength to strength, ensuring that it is one of the businesses held in the highest regard not only by customers but by their peer group.
Placing service and comfort top of their agenda, RAW is a unique case study. They happen to be a popular favourite with locals, with visitors from interstate and overseas, as well as a string of high profile celebrities who bank on Nader's reputation.
These include:
Cate Blanchett
Abbey Lee Kershaw
Hanne Gaby Odiele
Gisele Bundchen
Hugh Jackman
Malgosia Bela
Lily Cole
Lindsey Wixon
Daria Strokous
Margherita Missoni
Miranda Kerr
Nicole Richie
This does not just occur by chance, as Nader's history and networking connections have opened pathways to some of the biggest names in the style and beauty industry. The artist has had a hand in directing such shows all around the globe, from New York to London, Milan and Paris in conjunction with Mercedes Benz Fashion Week.
Nader's passion for customer service runs parallel to a desire to offer his expertise to a new generation. Alongside a dedicated team of first, second and third year apprentices, the hairdresser compliments his own work next to colleagues Novak Djurdjevic, Joshua Salib, Stella Greenwood, William Jamison and fellow directors Marc Armstrong and David Shaw.
This is the backbone behind what Gritty Pretty classified as "the most luxurious hair salon in Sydney." Yet a hairdressing outlet can only be as good as the brands and products they associate themselves with. From Nader's standpoint, he has established a strong association with the following:
Twin Turbo
YS Park
Wahl
BabylissPro
Mason Pearson
Beachwear
R+Co
David Mallett
MUK
Oribe
Visitors will find little pretense for a business that operates under the simple but effective philosophy of "Keep It Real," communicating to all in sundry that this is an open and honest environment that puts the customer first.
Having won multiple AHFA awards, RAW offers a variety of styles of haircuts with prices to suit people of all persuasions.
From second year apprentices that begin at $40 all the way up to personal treatment form Nader himself at $350, there are tints, highlights, blowouts, Olaplex, Balayage and Keratin treatments available as well depending on your requirements.
Due to such high demand, early bookings are recommended to secure your place. Rescheduling or cancelation must be done at least 24 hours before the appointment, otherwise a 50% fee of the original service will incur.
Bookings can be made online, but business is closed on Sunday and Monday respectively. Check out their array of stylings via the official RAW gallery to see today what would suit your stunning look.
Which hairdresser sounds right for you?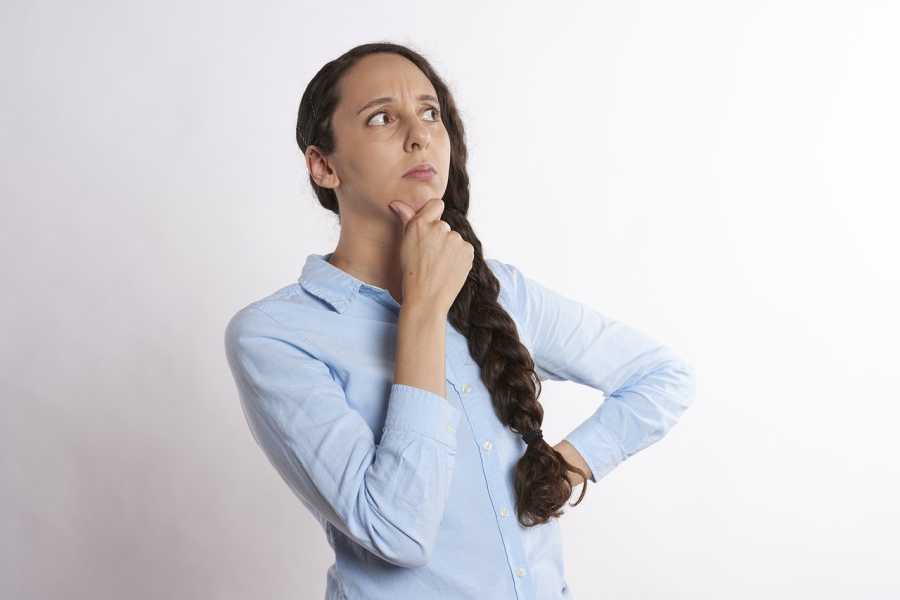 Each of the above hairdresses has their own special styles and techniques, with different things inspiring them. Depending on the look you want, you might try one or the other.
Your hair is obviously quite important to you and taking care of its look is part of looking and feeling your best. Don't take a chance going to a bad salon that will make you regret it. Visit one of the 3 best hairdressers in Sydney for a style and cut you'll love!