Life and road trips are all about the journey, not just the destination. Hitting the open road with your family for your next holiday is the quickest way to make lifelong memories.
Whether you're a lifelong adventurer or setting out for the first time, a road trip can be daunting and requires lots of planning. One must-have for a successful road trip is the perfect set of wheels. Make sure yours combines muscle, comfort and reliability. A midsized SUV is always a trusted choice and won't let you down. Now that you've got the car sorted, let's look at what else is important.
Here are our top tips for how to plan a family road trip that you'll be talking about for decades.
Plan ahead
Adventurers, you may be rearing to hit the road, but make sure you plan ahead. Try to plan when you'll have stops and have paper maps available in case your comms go down. Throw in enough food & water that also takes into account any unexpected delays.
Choose an SUV
To guarantee plenty of space for the whole family, plus luggage, food and any other essentials, a midsize SUV is a winning option. You have to keep in mind that you'll be spending long hours in the car. So extra space to stretch your feet and let the kids nap is gold.
Plus, top-quality versions will make the gas in your tank last longer, an important detail when road-tripping. The GWM Tank 300 matches comfort, fuel efficiency with all-terrain driving and the latest tech.
Check your car before setting off
Make sure there are no issues with your car before heading off on a long road trip. You don't want to be stuck out in the middle of nowhere with a car that doesn't start. Here's how to check your car to make sure its in top condition.
Any paperwork and documents should all be in the car. Also, make sure you've got a spare tire, jack and First Aid kit handy and working. It's better to prepare for the worst than to be left empty-handed in the outback.
Bring lots of entertainment for the kids
The secret to road-tripping with kids is distractions. Bring plenty of them and then some. Just be aware of the connection issues of where you're travelling. If you're heading out into the bush, you'll have limited access to the internet. Try to have some cartoons etc., downloaded so they can play even without the internet.
Portable DVD players are useful so the kids can watch movies. Throw in colouring exercises, puzzles, cards and picture books to help pass the time.
Audiobooks are a perfect option. They'll keep the kid's screen time low but are still stimulating enough to make the hours fly by. Bonus points if you can find audiobooks with a big adventure story to get the kids excited about the open road.
Get the kids involved
Making road trips fun for kids is all about including them in the journey. Besides the luggage you've already packed for them filled with their holiday clothes, give the kids their own backpacks or a small bag.
Let them pack this bag themselves with all the items that will come in handy during the drive. Things like drinks, snacks, games, favourite toys, binoculars etc would all be useful.
By giving them this small task to do, it will give them a sense of independence and responsibility. Keep this bag near their seat, so if they need something, it will be easy for them to grab it.
Pillows & hand wipes are a must
There are lots of essentials you'll need to take with you on a road trip, but these two might not be top of mind but are so useful. When the kids start to doze off, a neck pillow or even a pillow from home will help keep them comfortable and snoozing for longer.
You'll probably have limited access to the bathroom when on a long drive, so hand wipes are a must. After snacking and drinking, they'll be the perfect way the whole family can feel clean and fresh again. Plus, it reduces the risk of sticky fingerprints all over your brand-new car.
Go with a 4WD
If you're road-tripping in Australia, you'll definitely want a rugged vehicle that can handle tough conditions. A 4×4 SUV is the perfect car for the job.
When you're out in the bush, the best places are often off-the-beaten track, where you'll need a more powerful set of wheels than your average city car. It will help take you to hidden beaches and secret spots far away from crowds.
In your 4WD, look for features like adaptive cruise control, an off-road setting and roof rails. The GWM Tank 300 has all of these and more. Packed with endless safety features for maximum peace of mind, it also includes seven years unlimited kilometre warranty so that you can rack up the miles without stress.
The hard-as-nails exterior hides the touches of luxury inside. Cooling and heating on seats, Apple CarPlay, and a 12.3″ multimedia touchscreen are all premium features of the GWM Tank 300.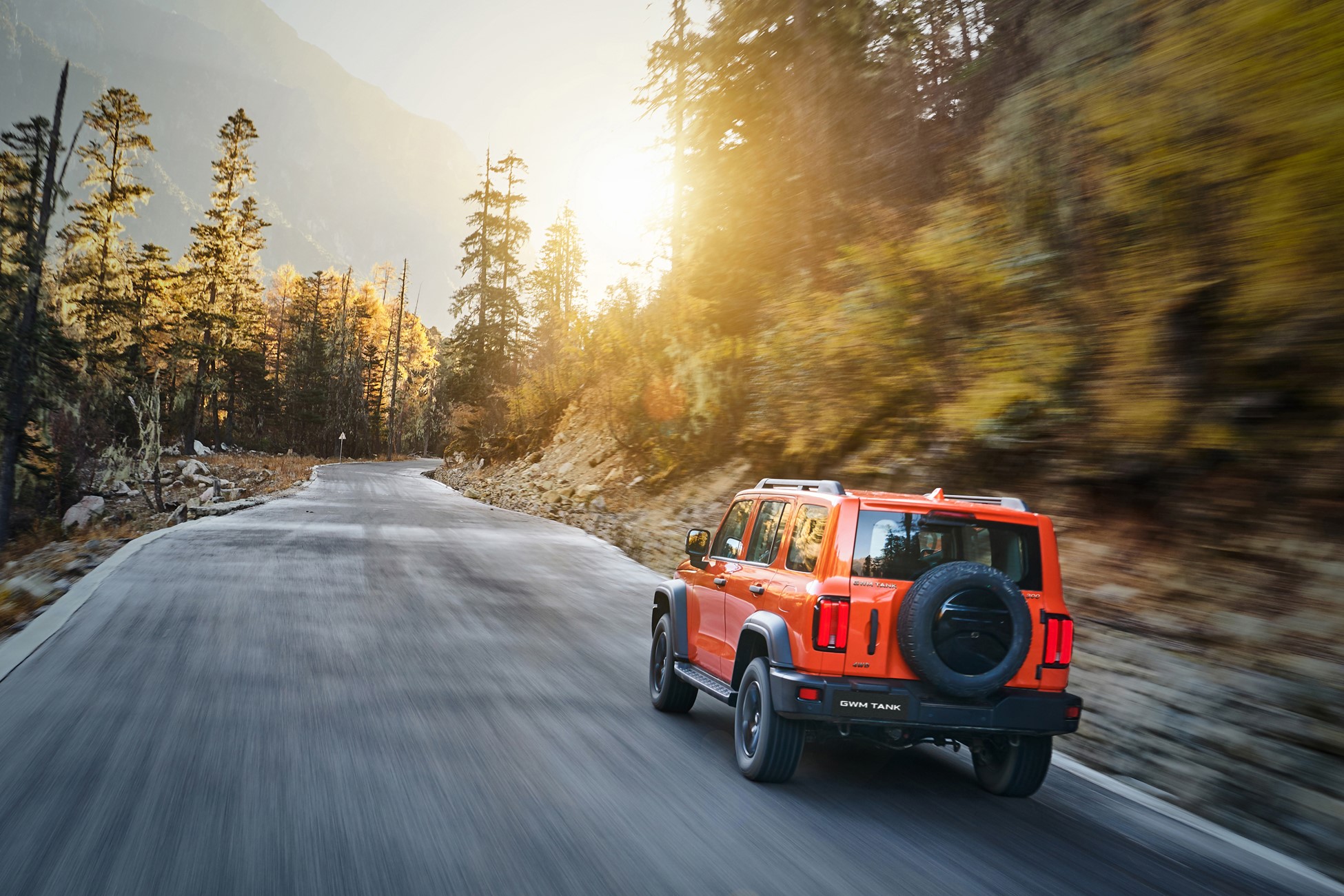 Tips for driving in Australia:
Try not to drive during the night or at dusk. Especially if you're driving on outback roads at these times, you could risk hitting wildlife. Cars hitting kangaroos is sadly quite common.
Check conditions before you hit the road. Make sure to check the weather and road updates. In Australia, the riskiest conditions to keep an eye out for are bushfires, cyclones and hurricanes. Listen to a local radio station to stay updated.
Be aware of road trains. This one only applies to rural areas, but if you're used to city driving, it's something to keep in mind. Road trains are massive trucks that can be more than 30 metres long and are often found on outback roads. Be careful when overtaking them because of how long they are.