Similar to all law and legislations, understanding your rights, interests and responsibilities can be an extremely difficult task without any guidance. The best way to access proper and objective knowledge is to visit a government or organisation based legal website which can properly inform you. Check out what we consider the three property law websites for you to navigate! 
The Law Society of New South Wales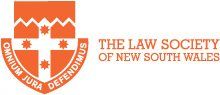 The Law Society of NSW is an organisation that attempts to act as the voice of the legal profession, and exists to help assist regulating and enforcing professional standards. It attempts to unite law as a profession through its networking opportunities and guide the profession. So can this website serve as a great place to learn about property law? In short, yes it can.
The website grants access to the Law Society's Property Law Committee with is a forum for younger individuals and students to express their views and explore further information regarding legislative detail. The purpose of the Committee is to provide members and users of the website with property law information ranging from conveyancing, leashing, franchising, mortgages, taxations, planning, strata, building, construction and the sale of a business.
For specific detail or legal guidance, the Law Society of NSW is a valuable website.
Australian Legal Information Institution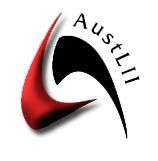 AustLII is Australia's largest and leading access to Australian legal information for free. Its one goal is to promote and improve access to justice by properly informing as many people as possible. It is a joint faculty between the University of Technology Sydney and the University of New South Wales, containing collections of primary and secondary materials.
For users of the AustLII website, it provides legal information that is purely objective, precise and accurate. The only downside to the website is its bland and often difficult to read design, however the specificity it provides more than makes up for it. For example, AustLII has comprehensive and extremely detailed information regarding the Real Property Act 1900 and the Conveyancing Act 1919.
If you are looking for specific and hard to find detail regarding your legal case, AustLII will have more than enough information available and applicable to your case.
Queensland Government: Legal and property rights
One of the most comprehensive and extensive websites available was produced by the Queensland government for its citizens. What it offers is a myriad of information regarding your legal and property rights. It serves as an official, and as such, a reliable basis to inform yourself about what can and cannot affect you. More so, the information has been condensed and simplified in such a way that you do not need a great understanding of Australia's current legal technicalities to understand the information available.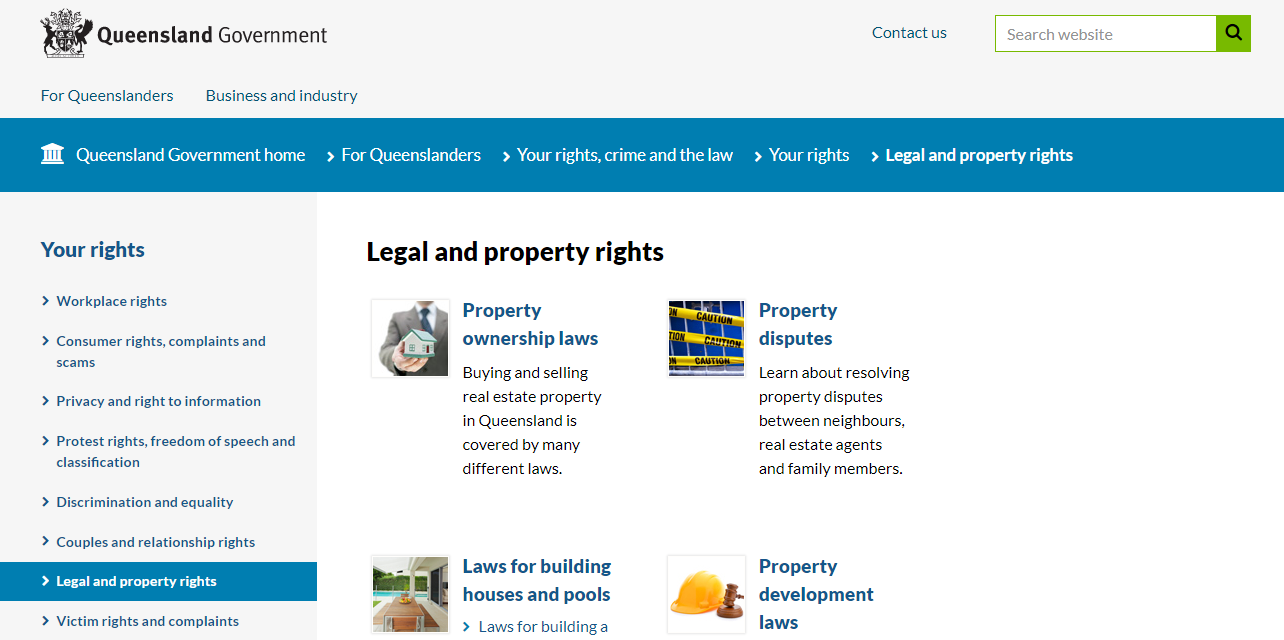 For example, the Queensland Government legal and property website offers vast and considerable information regarding property ownership laws and how such laws cover buying and selling real estate property. Furthermore, there is substantial information regarding property disputes and how to resolve property despites that may occur between neighbours, real estate agents and family members.
Other categories that the Queensland Government websites branches into are the laws for building houses and pools. Rather, what is and what is not considered viable for your property interests. Also available is advice and support for owners of properties from other relevant associations, and niche information regarding government land acquisition and resumption, and the access to property for mining.
However, not only does the website aim to inform you of the small legal differences, it also suggests to you the best course of action outside of just legal rights. What the Queensland Government website does right is that it attempts to always keep your best interests in mind.  Even if you are not from Queensland, this website serves as a great basis to keep yourself somewhat informed.
***
This article is a private opinion based on private research and it shouldn't be considered as advice.