Whether you're local to or just visiting the fantastic city of Adelaide you'd be missing out if you didn't check out the vibrant restaurant scene. The city has a great mix of mouth-watering offerings from a variety of the world's best cultural cuisines.
There's no better way to treat friends and loved ones than to take them to one of the city's best dining locations. No matter what style of food you prefer, there's something amazing on offer.
If you're hungry and want to find something amazing to eat in the South Australian capital then look no further than our list of the 5 local restaurants in Adelaide!
What are the 5 best restaurants in Adelaide?
| | | | |
| --- | --- | --- | --- |
| No.: | Restaurant: | Website: | Top Feature: |
|    1 | Andre's Cucina | www.andrescucina.com.au | Best Italian food with new dishes |
|    2 | Georges on Waymouth | www.georgesonwaymouth.com.au | High class European dining |
|    3 | Botanic Gardens Restaurant | www.botanicgardensrestaurant.com.au | Incredible garden location |
|    4 | Social Street S2 | www.socialstreets2.com | Intimate and friendly eatery |
|    5 | Golden Boy | www.golden-boy.com.au | Great group package deal |
Andres Cucina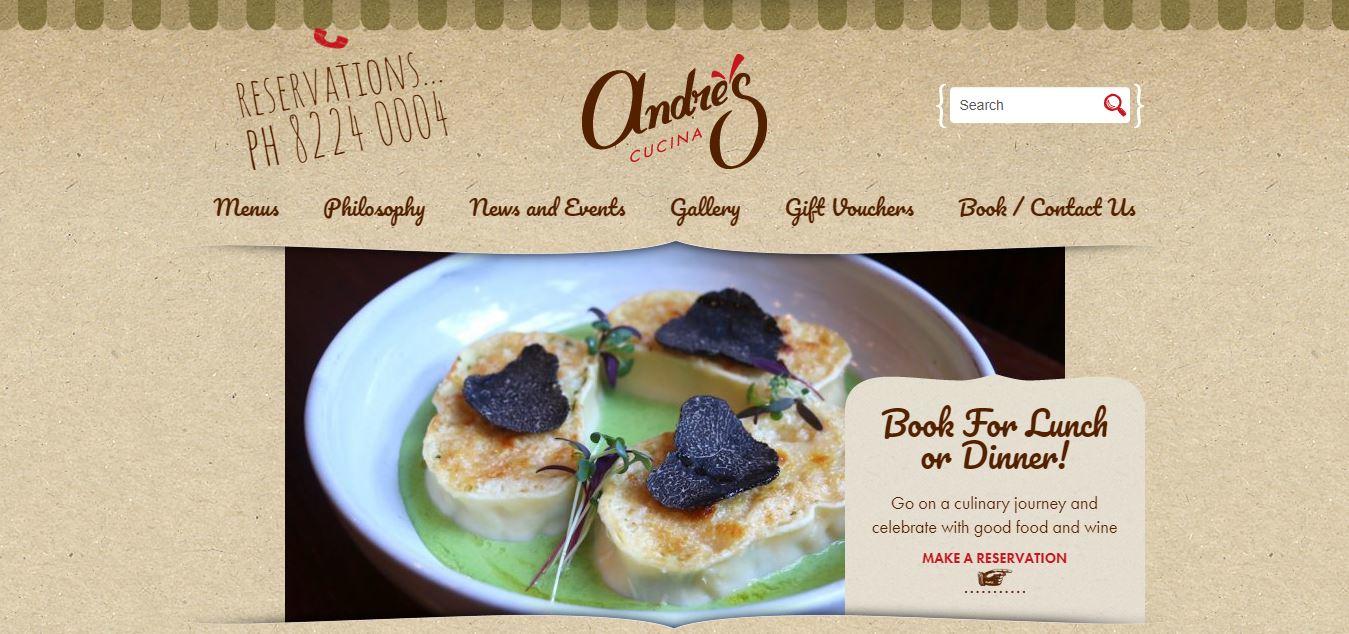 Andre's Cucina is the premiere Italian dining experience in Adelaide and it's easy to understand why. Their focus on sophisticated yet casual and lively dining provides the absolute best experience in Italian cuisine.
Andre's focus on high quality ingredients cooked by top shelf chefs works to provide diners with an experience that is second-to-none. This restaurant prides itself on its ability to provide an unforgettable dining experience using the true sights, sounds and (most importantly) flavour of regional Italian cooking.
The restaurant has a simple philosophy that guides them to serve fresh and simple dishes that are authentic to their regional Italian roots. Andre's makes sure to respect the ancestry behind its cuisine through its historical context of many talented chefs building upon favourite recipes.
Italian cooking is some of the most well-loved and replicated in the entire world. Because of its popularity, Andre's knows that it must differentiate itself by offering truly authentic Italian dishes that put other incarnations to shame.
Andre's is a family friendly eatery that focuses on providing quality meals and refreshments in way that is designed for sharing. Fresh produce, high quality coffee and wine as well as their signature polenta all keep customers coming back for more.
Andre and his kitchen team decide each day on what they will prepare and serve based on the seasonality and freshness of ingredients. They are also very conscious of any dietary requirements their guests might have.
This restaurant is unique in that while it provides menus, it discourages guests from using them. Instead, Andre's wants guests to let go and let the kitchen decide what to cook for them.
New dishes are created daily and many of them will never be printed onto a menu, so the best experience is to simply encourage the creativity of the chefs. With their kitchen garden located close by in the Adelaide Hills, the ingredients are always fresh.
It's hard to do better than Andre's when it comes to authentic Italian food in Adelaide. Their mix of passion and creativity has earned them the top spot on our list!
Georges on Waymouth
Established in 2002 by George and Voula Kasimatis, Georges on Waymouth has since formed a reputation for serving fresh seasonal produce with outstanding service in a classic and refined European setting.
Conveniently located in the beating heart of the Adelaide CBD, George's is a definite crowd pleaser for both locals and their many international guests. Striving for excellence in all elements of their service, this restaurant definitely brings to mind ideas of what the quintessential dining experience should be.
The décor is stylish with a minimalist, crisp design. Wooden floorboards, linen tablecloths and high ceilings work together to create a wide and spacious dining room.
With a definite Mediterranean influence, the George's menu uses several seasonal elements combined with their delightful dishes. Favourites like morcilla, rhubarb, scallops and pumpkin puree are all taken advantage of.
Georges on Waymouth has won several culinary awards, including 2 for best European restaurant. The highly refined aesthetics combined with high class dishes leave even the toughest critics very impressed.
With a distinct emphasis on quality in food and service, Georges leaves no room for error by its staff. Both the kitchen and front of house staff are sourced for being hospitality professionals who excel in every way.
The menu, constructed by Head Chef Jon Kimber, is highly refined and is focused around making the most out of the local, fresh produce that is available. Jon's high attention to detail means diners are treated to meals that are, if not close to, perfect.
Georges also has a highly robust wine list which is sourced from the best vineyards both locally and internationally. Next to their food, the wine is probably the best thing on offer at Georges.
No matter if you're dining for the perfect first date or a family birthday dinner, the award winning Georges team are sure to impress you with their excellence. In both food and service, Georges will transport you into an almost surreal dining experience.
Botanic Gardens Restaurant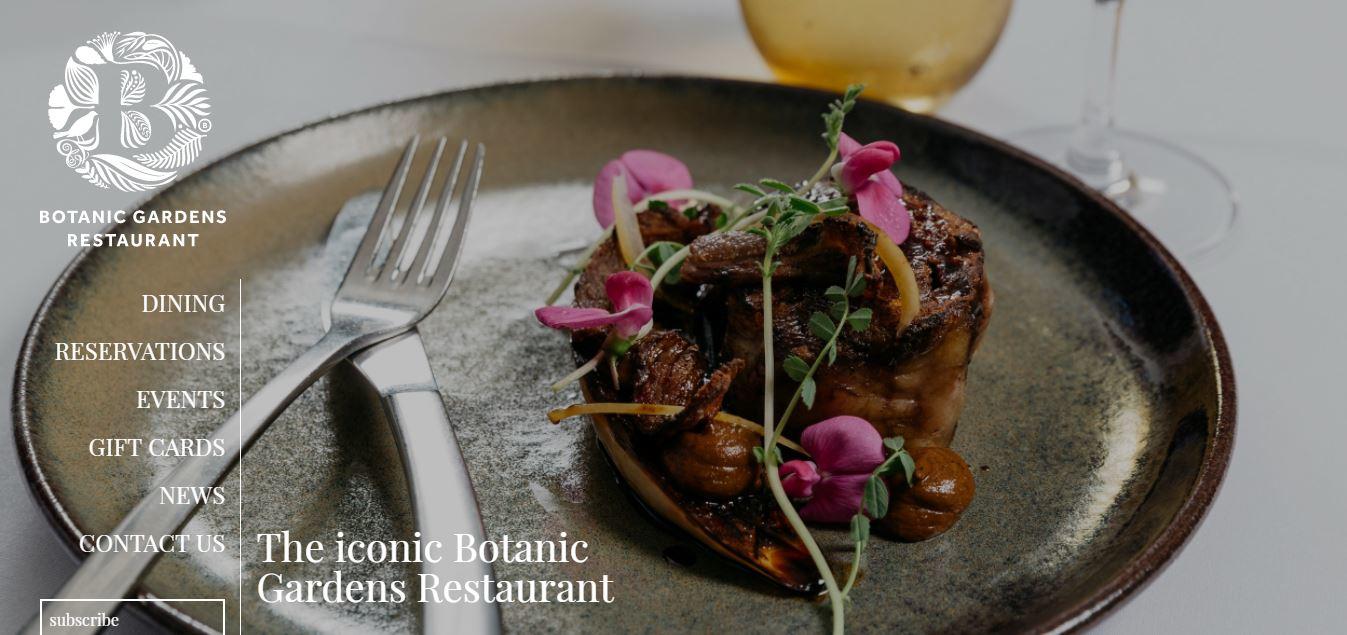 The Botanic Gardens Restaurant is a multi-award winning heritage rotunda located within the stunning Adelaide Botanic Gardens. With spectacular pond and garden views combined with a fresh contemporary décor, this is easily one of the most gorgeous dining destinations in the city.
The restaurant's setting makes for a truly unique dining experience amongst the sights and sounds of the botanic gardens. The earthy greens and natural browns accentuate a feeling of freshness that is only matched by the food itself.
This absolutely enchanting establishment is led by Paul Baker, a highly acclaimed chef in modern Australian cuisine. This menu is ever changing and focuses on seasonal ingredients that are ethically farmed and remain sustainable.
The South Australian produce, vegetables and herbs come from the 51-hectare kitchen garden that is harvested daily. In order to minimise food wastage as much as possible, Botanic follows a philosophy of "garden to plate".
The menu is well-balanced and features an incredibly diverse use of the fresh produce that the restaurant has available. Diners will not be disappointed with the incredible colourful and delicious dishes they are served.
Having won both of Adelaide's restaurant of the year and chef of the year awards in 2017, the staff at Botanic are proud to be serving at one of the best dining locations in their city. After you finish you meal and have taken in your surroundings, you'll quickly understand why they're so popular.
The beverage menu consists of the finest local, national and international selections. Beers, wines and botanically inspired special cocktails are infused with ingredients sourced directly from the gardens. The restaurant's own brand of Botanic Blond beer is very popular amongst diners.
The staff are attentive, friendly and highly knowledgeable about the unique menu offerings. There is a great range of delicious choices that will leave you curious about what you didn't get to try.
Between the prestigious awards, unrivalled garden atmosphere and unique flavours it's no wonder why the Botanic Gardens Restaurant is so popular with Adelaide residents. This is definitely a top pick for those wanting to try something a little different in setting of unrivalled beauty.
Social Street S2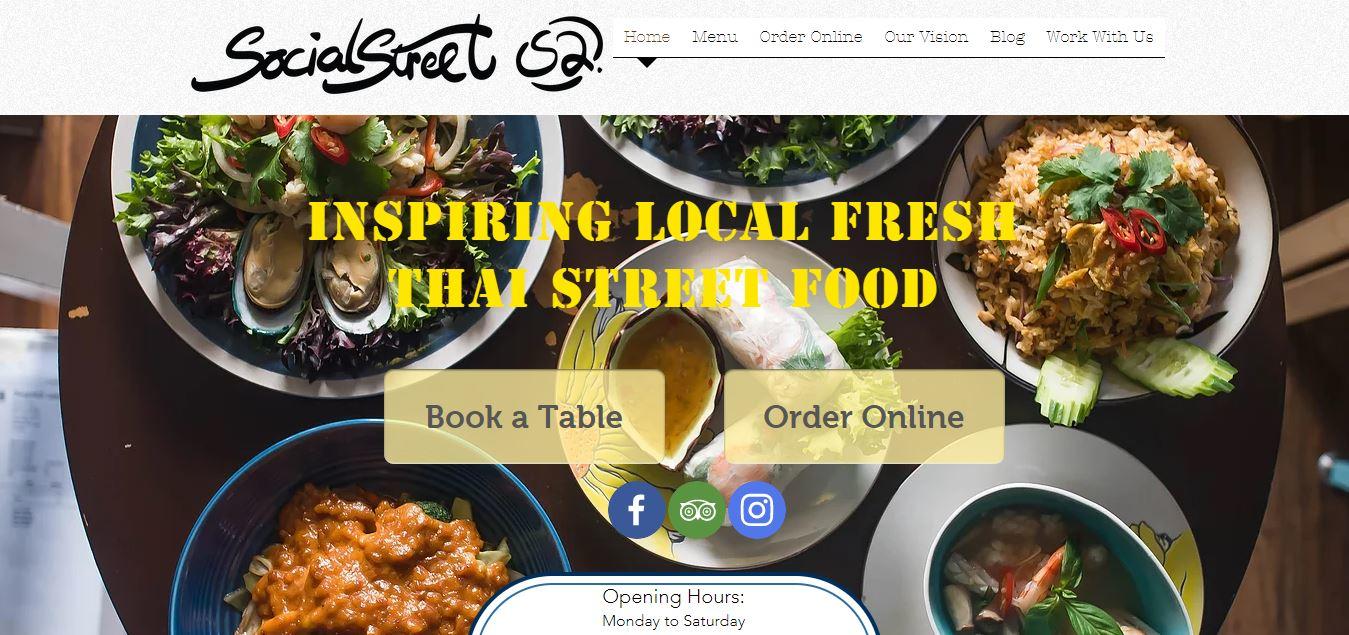 Social Street S2 is the quintessential Thai street food restaurant in Adelaide and is king of the pack for some very good reasons. The intimate establishment rests on one of Adelaide's most historic streets and is incredibly close to the Havelock Hotel.
With an incredible mix of food, ethnic culture and enthusiasm for service, Social Street is a favourite spot for many locals. The team are people pleasers who have a passion for hospitality and high standards of customer service.
With their speciality in Thai street food, Social Street makes no big claims about the refinement of their dishes. This place is about simple, filling and enjoyable meals that bring groups of friends and family together.
Social Street knows that many people have tried Thai food and been surprised by how spicy it was. For this reason the restaurant has a grading system ranging from, no heat to extremely hot and beyond.
The restaurant offers an impressive menu of some of the best Thai food that everyone should try. There is a new favorite waiting to be discovered by everyone who dines here.
With a focus on using the freshest vegetables, herbs and produce, Social Street makes consistently amazing meals every time. They open kitchen encourages diners to have a look at the process and see their food being made in front of them.
The dream of Social Street is all in the name, to provide a socially engaging street food experience in the comfort of their warm and inviting restaurant. They know that your life is busy and make sure that you are relaxed the entire time you dine with them.
Social Street isn't trying to be anything fancier than it is because it wants to draw in everyday people who see the value in a friendly and intimate dining experience. The simple cooking with fresh ingredients means food that is hearty, filling and tasty.
With their partnership with UberEats, Social Street makes it easy for those who love their food to order it to their homes. They know how addictive their meals can be and that diners will want to try it again from the convenience of their homes.
Social Street has a lot of things going for it. If you want a warm, social and tasty dining experience it's hard to find something more simply excellent than Social Street S2.
Golden Boy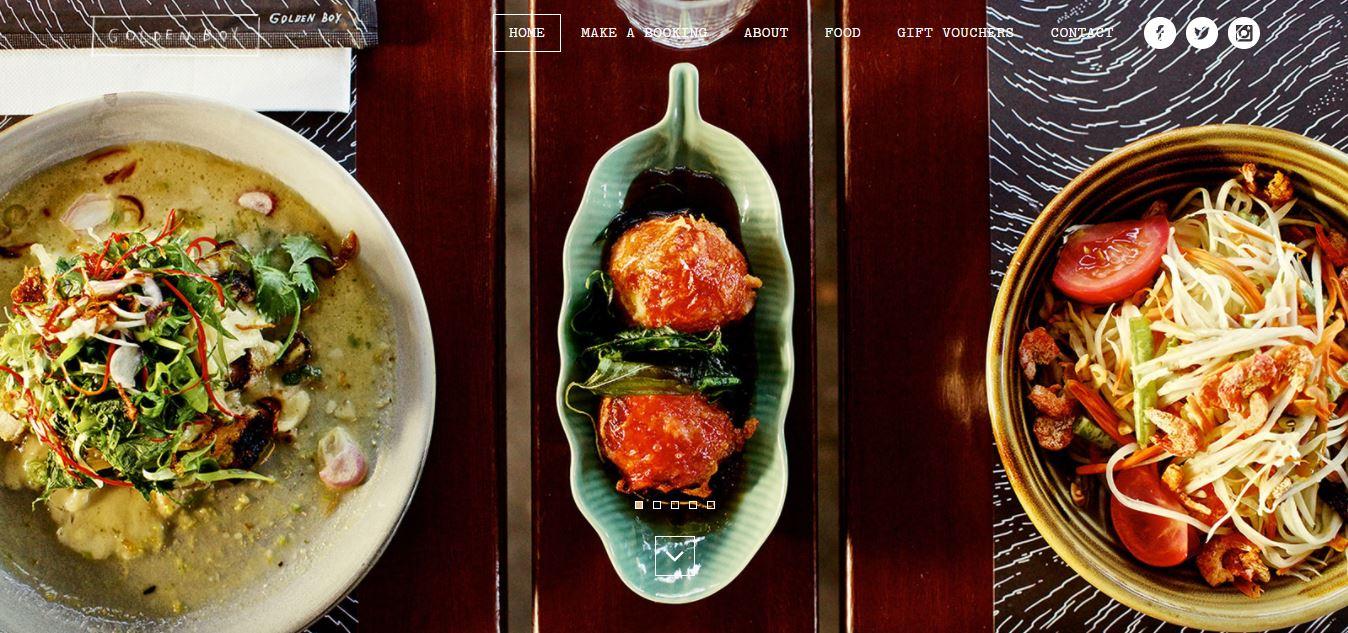 Golden Boy is a contemporary Thai eatery in the east end of Adelaide and winner of several culinary and service awards in the city. The restaurant is all about creating an authentic Thai dining experience that accurately translates the truest tastes of the cultural cuisine.
The menu is designed for sharing by medium to large groups of friends and family. Golden Boy serves its signature "Tuk Tuk" menu that is complete dining package including deserts.
The friendly and highly trained wait staff present diners with their entire menu and make special note of any dietary requirements. The Tuk Tuk package takes into account these requirements and quickly serves diners with high quality food that is well suited to them.
Golden Boy uses the absolute freshest seasonal ingredients and produces their own authentic sauces. All of their relishes and pastes are made in-house with a close attention to detail.
The beverage list has been hand-picked to closely match the Thai cuisine while still supplying some of the best South Australian wines, including some of the best wines in Australia. The menu focuses closely on authentic Thai while still leaving room for some contemporary twists to comfort their diners.
The interior décor is very spacious and inviting with a distinctive artistic style. The minimalist design gives off a modern sophistication while still incorporating enough elements to let you know it's Thai.
Which Adelaide restaurant will you make a visit to?
While each restaurant offers different cuisines and overall experiences, they all share the common elements that make them fantastic restaurants. Their commitment to fresh ingredients, seasonal variations in cooking and inviting décor make them all excellent dining locations in Adelaide.
This is definitely a hard list for anyone to choose from since all of the options sound so great and you wouldn't be crazy to want to try them all. Get your friends and family together and take them to one of the 5 best restaurants in Adelaide to have a wonderful night of food and fun.