If you are charged with a crime by the police, you absolutely need to find and hire a criminal lawyer to advise and represent you.
While trying to remain objective during this situation and make the best decision can be challenging, the anxiety you are feeling is precisely why you need a capable legal representative on your side.
Below is a list of the top and leading Criminal Lawyers in Canberra. To help you find the best criminal lawyers located near you in Canberra, we put together our own list based on this rating points list.
Canberra's Best Criminal Lawyers:
Here the top rated criminal lawyers that offers the best legal representation:
Capital Lawyers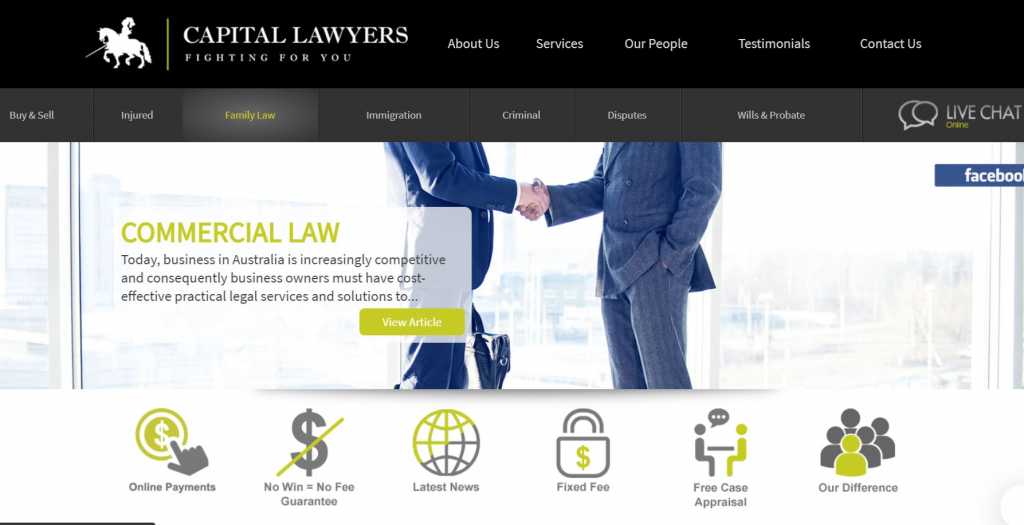 Capital lawyers being arrested or charged with a criminal offence can be a daunting experience. It can often be your first interaction with the legal system. At Capital Lawyers, they take the time to help you understand your rights, and give you the advice you need to best protect them. Whether it be a minor traffic matter, or a more serious offence, they are there to help you. No case is too small or too big for them.
Products/Services:
Asset forfeiture, Assault Offences, Computer Offences, Drug Offences, Firearm Offences
Family Violence, Sexual Offences, Stalking, Theft Offences, Property Offences, Offences Involving Dogs
Location:
Address: 9/1 Hobart Pl, Canberra ACT 2601
Phone: (02) 6262 5355
Website: www.capitallawyers.com.au
Review:
"I had a great experience with Daniel Steiner from Capital Lawyers. He was always attentive and answered any questions I had. We mainly dealt via email which I really liked which outlined exactly where my case was up to and we both knew what we needed to do throughout the case. I was very happy with the outcome."-John Sant
Armstrong Legal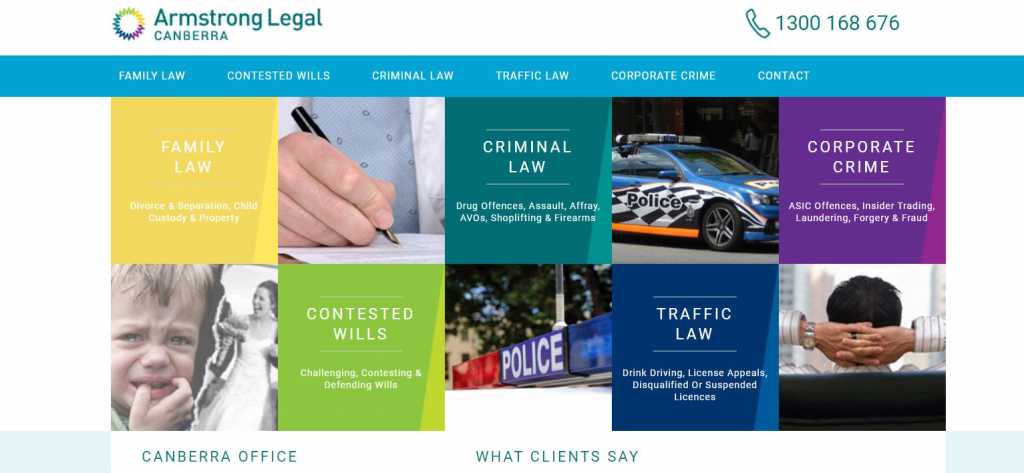 Armstrong Legal Canberra criminal charges can have serious consequences on all aspects of your life. Most people who seek their advice are charged with offences that could result in severe penalties including a custodial sentence. In these kind of circumstances, you need a firm that specializes in criminal law to ensure that you will receive the best possible results. Their team of criminal lawyers handle a wide range of criminal cases, including burglaries, sexual assault, stealing, assault occasioning grievous bodily harm, assault police, drug charges and fraud. With former prosecutors among their team they view your matter from every perspective. Going to court can be a confusing and overwhelming process and their lawyers will help guide you through along the process and keep you fully informed of your court dates and all developments in your case.
Services:
Assault Offences, Computer Offences, Drug Offences, Firearm Offences, Family Violence
Sexual Offences, Stalking, Theft Offences, Property Offences, Offences Involving Dogs
Location:
Address: 5/1 Farrell Pl, Canberra ACT 2601
Phone: (02) 6288 1100
Website: www.canberra.armstronglegal.com.au'
Review:
"Got the outcome I wanted thanks to Cara from Armstrong legal."-Jack Finley
Kamy Saeedi Law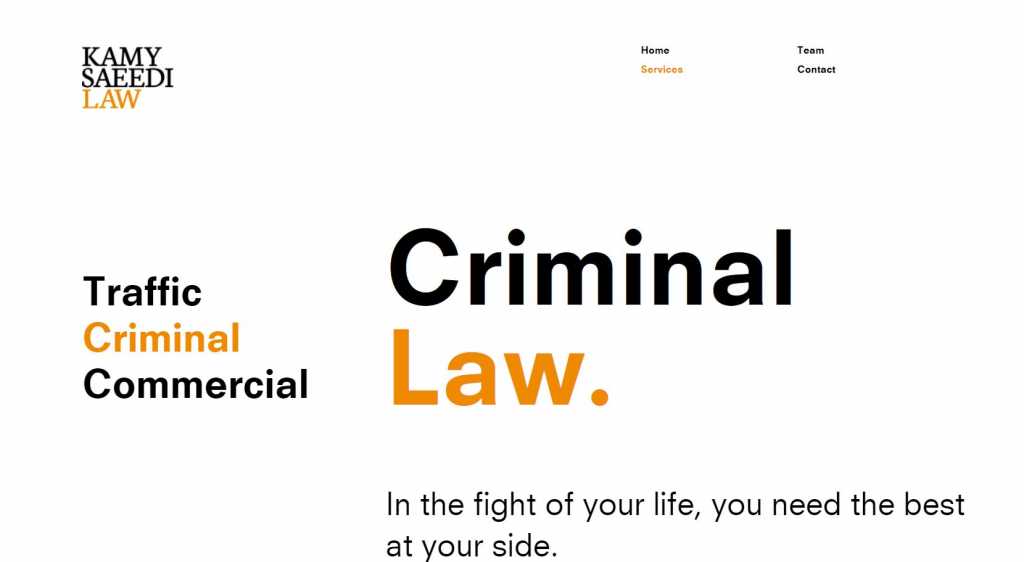 Kamy Saeedi Law have the talent, the experience and the track record to help you back on your feet when life knocks you down. They understand just how confusing and intimidating the process can be. That's why they will deal with the police, prosecutors and courts on your behalf. In fact, they were available 24 hours a day if you find yourself in an emergency. So whether it's police interviews, forensic procedures or bail applications, theywill be at your side in no time.
Services:
Drug Possession, Trafficking and Importation, Driving Offences and License Related Matters, Assaults, Bail applications, Confiscation of Criminal Assets, Criminal Appeals
Murder/Manslaughter
Location:
Address: 1 University Ave, Canberra ACT 2601
Phone: (02) 6230 6600
Website: www.kslaw.com.au
Review:
"I highly recommend Taden Kelliher from Kamy Saeedi Law, He is a true professional and goes above and beyond for his clients. Thank you Taden for all your hard work! It is greatly appreciated. All the best!' -Dylan Texeira
Andrew Byrnes Law Group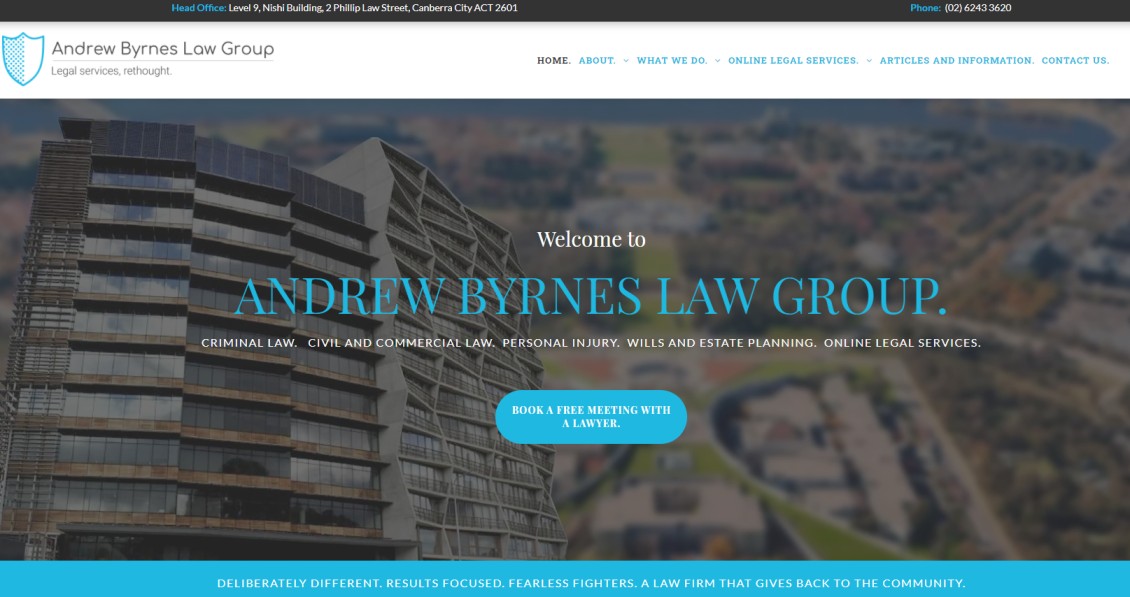 Andrew Byrnes Law Group is a law firm in Canberra that is results-focused and operates differently to traditional, old-fashioned law firms. Their commitment to doing things differently has allowed them to minimise operational overheads and pass on cost savings to you. This ensures you get high quality, tailored, and affordable criminal defence representation which costs no more than it needs to.
With an established reputation as criminal lawyers in Canberra that fight fearlessly and aggressively for its clients, Andrew Byrnes Law Group has represented those facing criminal charges in an extensive range of serious cases. The firm's founder and director Andrew Byrnes has a depth of experience and expertise in criminal law, and he is highly client-focused.
Services:
Traffic, Drink Driving and Drug Driving Offences, Apprehended Violence Orders (AVOs), Personal Protection Orders (PPOs) and Family Violence Orders (FVOs), Drug Offences, Murder and Manslaughter Charges, Fraud Charges, Assault Charges
Location:
Address: Level 9, Nishi Building, 2 Phillip Law Street, Canberra City ACT 2601
Phone: (02) 6243 3620
Website: www.andrewbyrneslawgroup.com.au
Review:
"I highly recommend Andrew Byrnes. He helped me out in a really tough situation and managed to get me and even better result than I was expecting. The amount of detail and attentiveness he showed working on my case was impeccable. Thank you again Andrew! Easy 5 stars from me" – J Elle
Sharman Robertson Solicitors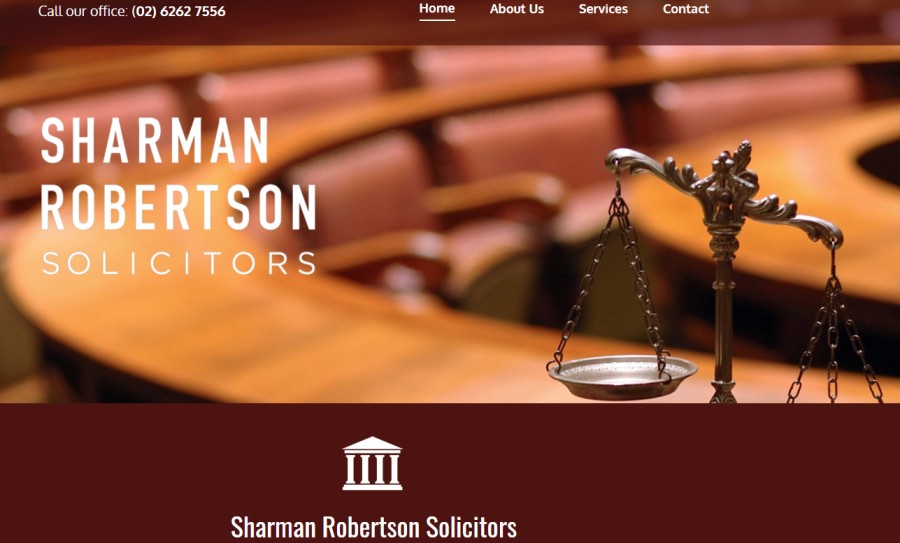 A small yet competent firm in Canberra, Sharman Robertson Solicitors is made up of highly experienced, passionate lawyers who provide impactful advice and representation to their clients. Covering all aspects of criminal and traffic law, partners Tim Sharman and Jacob Robertson both have a high degree of experience to draw on for the benefit of their clients and provide a highly professional service. Since Sharman Robertson is a smaller firm than most, it maintains the flexibility to take a personal approach with each of its clients.
Services:
Assault Offences, Drug Offences, Firearm Offences, Family Violence
Location:
Address: Level 3, AMP Building 1 Hobart Place Canberra City, ACT 2601
Phone: (02) 6262 7556
Website: www.sharmanrobertson.com.au
Review:
"Amazing caring lawyer's. Can't ever thank jacob enough." – Dimitra Xenoulis
Find the Best Criminal Lawyer in Canberra
The following will go through a few of the things you should look for to find the best criminal lawyer.
Experience and Expertise
Not all criminal lawyers are the same, and there can be a vast difference in quality between them. The criminal justice system can be incredibly complex, and only the most experienced practitioners can navigate it confidently on your behalf.
Because of what's at stake (such as your freedom and future career prospects), you don't want to take any chances when it comes to hiring a criminal lawyer. The most high-profile lawyers may be too expensive for you to hire, but this does not mean you can't find an experienced and effective lawyer to represent you at a reasonable price.
Evaluating a lawyer's experience is about more than just looking at the number of years they have worked, you need to see what kind of experience they have with cases like yours and what results they have gotten in the past. For example, if you face a drug supply charge, you would benefit from hiring a criminal lawyer who has experience handling drug cases.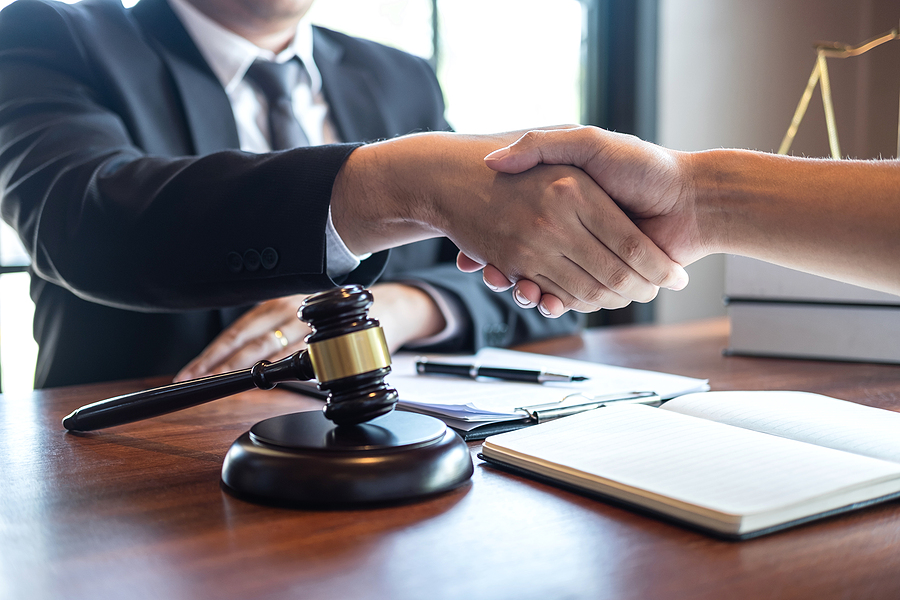 Passion and Enthusiasm
Criminal lawyers deal with the most serious types of cases where the freedom of their clients is at stake, and this means they need to be passionate, motivated advocates on their behalf. You wouldn't want to put the fate of your case in the hands of someone who seems like they don't really care about what they are doing.
This is not just about making you feel looked after – passionate criminal lawyers who enjoy a challenge are those who get the best results for their clients. They often have excellent attention to detail and can identify ways to undermine the prosecution's case against you to secure you the best possible outcome.
Communication
Due to your situation's seriousness, you would undoubtedly want to hire a criminal lawyer who maintains frequent, honest communication with you. The solicitor you work with should be eager to keep you updated on any new developments and be available to answer any of the questions you will undoubtedly have during the process.
Of course, communication is a two-way street – you need to be honest and upfront with your lawyer for them to be able to do their best work on your behalf. Don't worry, your criminal lawyer will be sworn to confidentiality and will work in your best interests.
Facing criminal charges is one of the most stressful and anxiety-inducing experiences you can face, so having an experienced, passionate, and communicative criminal lawyer on your side will be extremely impactful in not only the outcome of your case but for your peace of mind.